Straits Times, Singapore, 4 January 2008
Brothers in trouble
Siblings get 24 strokes each for robbery
By Elena Chong
Court Correspondent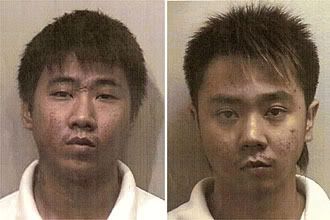 BROTHERS IN CRIME: Jackson (left) and Jackie Teo (right) were sentenced to jail and caning.
BROTHERS Jackson and Jackie Teo will be getting a painful reminder to give up their life of crime: Each will be caned 24 times.
Yesterday, on top of their caning sentences, they were also sent to jail for their involvement in several robberies in which Chinese nationals were the victims, as well as other crimes.
Jackson, 23, received a total of six years and one month. Jackie, 22, was jailed for six years and three months. He was also banned from driving for five years.
District Judge Lee Poh Choo heard that the brothers - together with See Ming Shun, 22, and an accomplice known as 'Kim Mo', plus another suspect Quah Rong Hui, 23 - had robbed Ms Jie Tang, 28, and another Chinese national.
The incident took place along MacPherson Road on Sept 17 last year. Items totalling $1,100 were taken from Ms Jie.
Three days later, Jackson and two others entered a Balestier Road shophouse and robbed masseuse Liu Xiaoji, 44, and her colleagues Ms Liu Yannan, 27, and Ms Ding Chune, 28.
All were Chinese nationals, as was Ms Han Mei Mei, 29, who was not robbed.
All four women had their hands tied behind their backs, but they wriggled free and gave chase.
Two policemen in their patrol car spotted the four women giving chase and joined in the pursuit. Jackson was arrested after the taxi he had hailed was ordered to pull over to the shoulder of the Central Expressway.
Cash amounting to $1,109 and RMB13,393 (S$2,600), as well as three cellphones and a bunch of keys, were seized from him.
In an unrelated case, Jackson had assaulted 22-year-old Ng Wei Heong at a pub on Circular Road on Nov 8, after accusing Mr Ng's friends of disturbing his girlfriend. Mr Ng denied this.
Jackie admitted to three counts of robbing women, all Chinese nationals, of cellphones and cash totalling $2,878 in a different location on Balestier Road on Sept 20. The MacPherson hold-up was taken into consideration.
He also admitted to stealing a $4,000 motorcycle on Nov 2 and riding without insurance coverage the next day.
The brothers' lawyer Kertar Singh said Jackson had lost heavily on soccer bets and borrowed money from loan sharks. Jackie, too, had borrowed from a loan shark.
See is now in jail for robbery while Quah's case is pending. 'Kim Mo' is at large.
Copyright © 2007 Singapore Press Holdings Ltd.
---
---
Straits Times, Singapore, 11 January 2008
Jail and caning for robber who hurt two prostitutes
By Elena Chong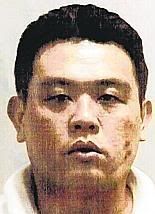 GUILTY: Tan Gee Kang was sentenced to five years' jail and 12 strokes of the cane for robbing and hurting two women.
A MAN who robbed two prostitutes from China at a boarding house in Lorong 28 Geylang, was jailed for five years and ordered to be given 12 strokes of the cane yesterday.
Tan Gee Kang, 36, who is unemployed, admitted to one charge of robbery with hurt.
The court heard that at about 5am on Nov 9 last year, Tan and an accomplice punched and kicked Ms Zhou Gongjiao, 24. They took her handbag, cellphone, passport and cash totalling $1,624.
The case against his alleged accomplice, freelance technician Tay Hock Soon, 36, is pending.
A second similar charge involving Ms Yang Junxia, 26, and a charge of voluntarily causing hurt were considered during Tan's sentencing.
A district court heard that Tan and his accomplice picked up the two women for sex at $70 each.
They booked a room for an hour at the boarding house.
When asked to pay up first, Tan took out a POSB ATM card and gave it to Ms Zhou, who said she wanted cash payment.
She suggested that they withdraw money before engaging in sex.
She was about to open the door when Tan pulled her arm and hair. Ms Yang shouted for help.
This resulted in the two women being punched and kicked. They were also tied and gagged before the duo fled with their handbags.
At about 5.30am, odd-job labourer Ng Boon Chye, 47, was meeting his friend, Mr Lim Tian Soon, 49, at a coffee shop nearby, when they heard shouts of robbery in Mandarin.
The two chased Tan and his accomplice, both of whom put up a struggle. The duo also picked up some beer bottles before stopping a cab and telling the cabby to drive off.
By then, a gathering crowd had stopped the taxi from moving off. Police were called and the two were arrested.
Copyright © 2007 Singapore Press Holdings Ltd.
---
---
Straits Times, Singapore, 18 January 2008
Man gets jail, cane for raping stepdaughter, 14
He receives maximum 14 years' jail and 24 strokes
By Elena Chong
A MAN who raped his stepdaughter - who is almost 30 years his junior - was sentenced to 14 years in jail and ordered to be given 24 lashes yesterday.
The sentence of seven years and 12 strokes on each of two rape charges is the maximum allowed at district court level.
Judge Wong Keen Onn, in sentencing the 44-year-old man, said rape is an inherently violent act and familial rape will not be condoned by the courts.
He quoted from three High Court cases.
The sentence is also in line with the Chief Justice's tough stance on sex offenders who prey on their own children.
CJ Chan Sek Keong, who sat in the Court of Appeal on Tuesday, said sentencing must reflect the abhorrent nature with which such offences are viewed in society.
The appeal court then upped a 55-year-old man's sentence of 16 years for raping his daughter to 24 years.
In yesterday's case, the unemployed man, who cannot be named to protect his 14-year-old stepdaughter's identity, raped her in June 2006 and in March last year. He had pleaded guilty last month.
He also admitted squeezing her breasts one night in June 2006. For this he was given one year and three strokes which will run concurrently with the other two sentences.
Eight other rape charges were considered.
Deputy Public Prosecutor Jean Kua said one night in June 2006, the accused called the victim to his room.
He gave her eight white pills to swallow. She then felt dizzy and lay on a bed.
Later, she felt someone pulling her clothes off. The accused, who was naked, then molested her.
She returned to her own room to sleep. But when she awoke, she felt some stickiness in her private parts.
That same night while she was watching TV in her room with her younger step-siblings, the accused asked her to get them to bed.
She too fell asleep but the accused awoke her and asked her to go to his bedroom. There, he raped her.
He had earlier accused her of having sex with her boyfriend.
He raped her on another occasion after midnight in March last year, said DPP Kua.
The offences came to light when a teacher asked why she was doing badly in school. She revealed that her step-father had sexually abused her.
The teacher reported this and eventually the victim made a police report which led to the man's arrest.
Copyright © 2007 Singapore Press Holdings. All rights reserved.
---
---
Straits Times, Singapore, 24 January 2008
Caning, jail for bid to flee from court
26-year-old robber tried to escape while handcuffed to another accused
By Elena Chong
Court Correspondent
GUILTY: Noorhairy gets a total of 5½ years' jail and 15 strokes of cane.
FOUR months ago, two men handcuffed together saw their chance to escape from a courtroom when their escort guard was distracted.
But they landed themselves in further trouble. They were injured when they jumped about 10m down from a ventilation fan room.
Yesterday, one of them appeared in court in crutches because of a broken left hip, as a result of the escape bid.
Mohammad Noorhairy Khairuddin pleaded guilty to the charges of escape from legal custody, robbery with hurt, and vandalism.
A fourth charge of disorderly behaviour was considered.
The 26-year-old part-time mover received a total of 5½ years behind bars and 15 strokes of the cane.
On the robbery itself, Assistant Public Prosecutor Evelyn Lee told District Judge Sarjit Singh that Noorhairy and a 25-year-old accomplice - who is at large - had trailed 16-year-old Mohammad Fazuan Johari to the youth's block in Bedok North Road on Aug 26 last year.
Then they tripped him up, pointed a sharp object at his abdomen and demanded his wallet and cellphone.
When the youth had difficulty pulling out his $300 cellphone from his pocket, one of them threw a punch at his face and hit his right eye.
The victim was later warded for two days and given 21 days' medical leave.
The two robbers sold the phone and split the $100 equally. Noorhairy was later arrested.
On Sept 20, Noorhairy was taken to the Subordinate Courts for his case to be mentioned at about 8.30am. He was handcuffed to another man, Rizuwan Roslan, 23.
That was when they slipped away while the guard was distracted.
Escaping from the Court 26 dock on the ground level, the two men entered a secured passageway and ended up on the top floor, Level 9.
But finding the doors locked at Level 9, they walked down to Level 8 and got into a narrow ventilation fan room, which had an opening to a wire mesh top located above the public corridor at Level 7.
They jumped 10m down from the wire mesh and landed at Level 7, semi-conscious and injured. They were taken to hospital.
Rizuwan injured his right pubic area, among other injuries. Last month, he was sentenced to 10½ years' jail plus 18 strokes for robbery with hurt, escape from legal custody, burglary and drug consumption.
Copyright © 2007 Singapore Press Holdings Ltd.
---
---
Straits Times, Singapore, 24 January 2008
Ex-inmate to seek court redress for 3 extra strokes
By K. C. Vijayan
Law Correspondent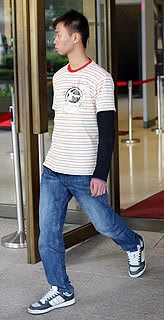 Dickson Tan (above) was sentenced in February last year to a total of nine months' jail and five strokes of the cane, but was caned eight times by mistake. -- ST PHOTO: LIM SIN THAI
THE spat over how much compensation ex-inmate Dickson Tan should get for having been wrongly caned three more strokes is now headed for the courts.
On Thursday, the family's lawyer Joseph Chen said three rounds of mediation talks with the Attorney-General Chambers, held between last July and November, had failed to reach an agreement.
Tan, 20, was sentenced in February last year to a total of nine months' jail and five strokes of the cane for abetting an illegal moneylender in harassing a debtor. But on March 29, he was caned eight times by mistake.
The Government has acknowledged the error and expressed regret, but at issue was how much compensation he should get.
Tan's family had indicated before the talks started that they would settle for $300,000 in compensation. But apparently there was a gap between the government's offer and what Tan's family was prepared to accept.
Mr Chen said it was 'not feasible' to accept what was being offered by the Attorney-General's Chambers.
He stressed that the family does not want to handle this case 'in an antagonistic manner.'
Said Mr Chen: 'There are no precedents for this. What we want is for the courts to decide whether this is just a personal injury claim, or the amount should reflect the court's view that a legal wrong had also been committed affecting the integrity of the system.'
He pointed out that a court hearing 'will provide an opportunity to introduce case law references, not just from the UK but from the American courts as well, to reflect the norms expected of a First World country.'
Copyright © 2007 Singapore Press Holdings Ltd.
---
Follow-up: 20 August 2008 - Caning error: Ex-inmate accepts mediated settlement
---
---
Straits Times, Singapore, 26 January 2008
Video sex offence
Child rapist caught on clip molesting fiancee's daughter
Be Selina Lum
A 29-YEAR-OLD man who repeatedly raped his live-in fiancee's daughter was caught after he used his camera-phone to record himself molesting the girl.
Yesterday, the man, a vegetable packer who had previous convictions for sexual offences, was put behind bars for 26 years and ordered to be caned the maximum 24 strokes.
He cannot be named to protect the identity of the girl, now aged 11 and a Primary 6 pupil.
The High Court heard yesterday that the man met the girl's mother in 2004 when she was going through a divorce from her second husband.
Later that year, they got engaged and he moved in with her and her two children.
The girl was first raped in 2006, when she was nine years old.
She was sleeping off a fever in her room when he woke her up and raped her.
She was too frightened to tell anyone about the assault.
Following this attack, he raped her four more times, between May 2006 and July last year.
Late one night last August, the man sneaked into the girl's room while birthday celebrations for his fiancee were going on in the corridor outside.
He started to molest her, and used his camera-phone to record it.
Unexpectedly, the girl's mother walked in and asked what he was doing.
He quickly moved away and said he was cooling himself with the fan in the room.
She did not do anything then.
But a day later, while he was asleep, she checked his phone and found the video clip.
She confronted him and made a police report. He was arrested the next day.
Yesterday, the man, who was unrepresented, pleaded guilty to two charges of rape and one charge of outrage of modesty. Three other rape charges were taken into consideration.
He pleaded for leniency and promised to turn over a new leaf.
But Deputy Public Prosecutor Francis Ng argued that the accused had evidently not learnt his lesson after doing time for prior offences.
The court heard that the girl was so traumatised, she was unable to give a statement about how she felt.
In passing sentence, Justice Kan Ting Chiu took into account that the man had abused his position of authority as a father figure and preyed on a young and defenceless girl.
Copyright © 2007 Singapore Press Holdings. All rights reserved.
---
---
Straits Times, Singapore, 29 January 2008
Sea chase: Smuggler jailed
THE seven Indonesian smugglers had already landed on Changi beach, and were offloading their contraband cigarettes.
When a Police Coast Guard boat shone its powerful spotlamp at them, they scrambled into their speedboat and took off.
During the chase, last Saturday, their boat's engine malfunctioned. All seven then jumped into the sea and swam in different directions.
Four were arrested subsequently. The others, including the boatman, are missing.
Yesterday, one of the four arrested, Zainal Majid, 28, pleaded guilty to illegal entry, importing dutiable cigarettes and not paying goods and services tax on the goods. He was given a total of seven months and two weeks in jail plus four strokes of the cane.
A district court heard that police arrested Zainal along Nicoll Drive 3½ hours after the high-speed sea chase.
Earlier, at about 2am, a patrol boat had spotted the men in a fibreglass speedboat heading towards Singapore.
It tailed the Indonesians to the beach. The chase then took place.
The other three men arrested will be charged later. The speedboat, together with 100 cartons of Marlboro cigarettes weighing 20kg, was seized. Duty on the cigarettes would have been $7,040.
Copyright © 2007 Singapore Press Holdings. All rights reserved.