Straits Times, Singapore, 2 February 2008
Over 100 Penal Code changes take effect
These include stiffer sentences for crimes driven by race or religion
By Khushwant Singh
(extracts)
OVER 100 amendments to Singapore's Penal Code, including harsher sentences for racially motivated crimes, came into effect yesterday.
These will apply for offences committed from midnight on Thursday. A check at the Subordinate Courts revealed no one has yet been charged under the new laws.
In all, 56 offences had their maximum fines raised, 110 had their maximum jail time increased, and penalties for 208 remain unchanged.
[...]
Life imprisonment has been removed from 13 offences, including counterfeiting currency, which officials said is becoming increasingly uncommon.
Judges will also have the option of ordering caning for five new offences, including joining an unlawful assembly while armed with a deadly weapon, manslaughter and causing hurt with poison.
In an e-mail to The Straits Times, the Ministry of Home Affairs said the amendments ensure that criminal laws remain relevant. 'We will continue to ensure that our laws and policies are effective in protecting our people and maintaining public order in Singapore.' the ministry said.
Three years in the making, the changes were passed by Parliament last October. The penalties for some 360 offences were reviewed by the Ministry of Home Affairs, in consultation with the Attorney-General's Chambers, the Ministry of Law and other agencies, with feedback from the Law Society and the public.
Copyright © 2007 Singapore Press Holdings. All rights reserved.
---
---
Straits Times, Singapore, 9 February 2008
Jail, cane for repeat offender since 15
38-year-old on the run for five years put behind bars for six years and two months; gets six strokes of the rotan
By Khushwant Singh
AT THE age of 15, William Ng was sent to the Singapore Boys' Home for three years for robbing and hurting a victim.
He proved too troublesome there and was packed off to the Reformative Training Centre.
After his release, Ng, now 38, continued to get in trouble with the law. He has been jailed for fighting and causing hurt, theft, drug possession and consumption, as well as fined for traffic offences.
On Wednesday, he was sent to jail again, this time for six years and two months and ordered to be caned six times for a host of crimes. He committed some of the offences in 2002 while still under supervision for consuming drugs a year earlier
He and five friends had been drinking in Orchard Road on Feb 19, 2002. At 3am the following day, the group assaulted another man for no apparent reason, after which they fled.
The victim, Mr Tan Lip Soon, then 32, was punched and kicked repeatedly, leaving bruises. Doctors also found some suggestion of brain swelling. But Mr Tan left before the medical examination could be completed.
Some 10 days later, Ng was also caught with drugs. A month later, he was found riding a motorcycle without a driving licence and without insurance. He tried to deceive police officers with a licence belonging to someone else.
Ng did not appear for his court case in July 2002 and had been on the run till December last year, when he was nabbed at the Woodlands Checkpoint.
Deputy Public Prosecutor Lim Tse Haw told the court that four of Ng's accomplices were jailed for three years and six months and caned six times while the fifth was jailed for three months for being part of an unlawful assembly.
Asking District Judge Jasbendar Kaur to be lenient, Ng's lawyer, Mr Ong Peng Boon, said: 'The assault was not deliberate. It was merrymaking time and spirits were high.'
Mr Ong said Ng had pleaded guilty to save the court time. The judge said that the court could not ignore the fact that Ng had been on the run for five years when evaluating his guilty plea to the seven charges.
In addition to a three years and six months jail term for rioting and causing hurt, he was jailed for two years and six months for drug possession, and two months for using someone else's driving licence. In total, he will serve six years and two months and be caned six times.
He will also serve jail terms for drug consumption, missing a urine test and the two other traffic offences at the same time.
Copyright © 2007 Singapore Press Holdings. All rights reserved.
---
---
Straits Times, Singapore, 15 February 2008
Satay man gets jail, caning for molesting girl, 9
By Radha Basu
Community Correspondent
REPEAT OFFENDER: Samion was arrested in 2005 for molesting an eight-year-old.
EIGHT years ago, lawyer Shashi Nathan was able to get satay seller Samion Noordin off the hook for charges of raping a teenage girl.
But yesterday, Samion, a father of 10, was sentenced to 15 months' jail and six strokes of the cane for molesting a nine-year-old girl.
He had initially claimed trial but then submitted a guilty plea last month after half a day of hearings, in which his victim gave evidence in a closed-door trial.
The 47-year-old admitted to using criminal force to pull down the girl's shorts and underwear. He then molested her in a staircase landing of an HDB block in the Holland area. The crime was committed in March last year.
Mr Shashi, a partner with law firm Harry Elias Partnership, told The Straits Times yesterday that, after having heard her testimony, he felt she was telling the truth.
'I asked my client to plead guilty and he agreed, so there was no need for the girl to be cross-examined,' said the lawyer, who did the case for free.
Deputy public prosecutor Luke Tang asked for Samion to be jailed for at least 18 months.
Pleading for a lighter sentence, Mr Shashi said that 18 months was 'a bit on the high side' given that his client had pleaded guilty before the victim was cross-examined.
The maximum sentence for the crime is two years.
The $800 Samion earns as a satay seller is used to support his Indonesian wife and four children from his second marriage. He has another six children from a first marriage.
The lawyer added that Samion, the sole breadwinner, also had health problems. He had donated a kidney to his first wife, who has since died.
After meting out the sentence, the judge said that Samion would be sent for a medical examination to see if he was medically fit to be caned.
The Straits Times understands that this was not Samion's first brush with the law with regards to such offences.
In 2000, Samion was acquitted of three charges of rape as the case could not be proved 'beyond reasonable doubt'. The 18-year-old girl was unable to answer most of the questions during cross-examination. She was around 14 when the crimes had allegedly occurred.
Samion was also arrested for molesting an eight-year-old girl in Clementi in 2005 but was let off with a stern warning by the police.
Senior counsellor Cheng Sheue Ling from the Singapore Children's Society, who spoke to the victim in the present case, said that the girl and her family would be 'relieved' by the judgment. 'They were really keen for justice and some closure,' said Ms Cheng.
Copyright © 2007 Singapore Press Holdings Ltd.
---
---
Straits Times, Singapore, 16 February 2008
No absolute cap on cane strokes: Jaya
But as a general norm, courts won't impose more than 24
By Peh Shing Huei
LEGALLY, an offender could be caned more than 24 strokes in Singapore, said Law Minister S. Jayakumar yesterday.
But as a general rule, decided in 1990 by the Attorney-General (AG), the courts would not impose more than that number.
This is because the AG assessed that 24 strokes, together with the jail sentences which are usually meted out in cases of multiple charges, would be enough of a deterrent measure.
This is done by the AG proceeding only on a limited number of charges upon each occasion where an accused faces multiple charges.
Professor Jayakumar, who was replying to Non-Constituency MP Sylvia Lim, added that the Government will reflect this practice in its review of the Criminal Procedure Code, which governs how criminal cases are conducted.
Ms Lim had asked if there were cases in which prisoners had been caned more than 24 strokes, and if so, how it came about.
Prof Jayakumar, who is also the Deputy Prime Minister, said in his reply that Ms Lim's query could have been prompted by recent media publicity about the case of Mr Qwek Kee Chong.
Mr Qwek made the news last month when his accomplices made moves to seek compensation amounting to several million dollars from the Government.
He was part of a four-man gang that carried out a spate of violent armed robberies in 1987. He was convicted that year of four charges of armed robbery and sentenced to 10 years' imprisonment and 48 strokes of the cane.
In 1991, the year after the AG made his ruling for 24 strokes, Mr Qwek sued the Government and later, he was given a token ex-gratia payment after he decided to drop his suit.
Prof Jayakumar clarified yesterday that the token payment was made 'not because his claim was meritorious or he deserved it or had any legal right to it'.
'But rather, the AG made the decision on ex-gratia payment, among other things, in order to save time and cost involved in arguing the case before the High Court and probably even before the Court of Appeal,' said Prof Jayakumar, in response to Ms Ellen Lee (Sembawang GRC) who asked why payment was made to Mr Qwek.
The minister also further clarified that while no offender is caned more than 24 strokes at one session, that does not mean no offender will ever be caned beyond 24 strokes.
He said that if there is an absolute cap of 24 strokes, the state is giving a serial offender 'permanent immunity' from further caning.
'Take the case of a serial offender who, say, over a period of weeks or months is tried on several occasions for several different offences,' he said, in response to Ms Indranee Rajah (Tanjong Pagar GRC) who wanted to be sure about the maximum caning given.
'The first set of offences, say, maybe this week, could involve rape, then in the following week, he may commit armed robberies, then the third week, he may commit rioting with a deadly weapon. These are all serious offences.
'We cannot treat such a multiple offender who has committed 50, 60 or 100 offences the same way as an offender who has committed say, two offences.
'So there may be a limit of 24 strokes of the cane in any one caning session but that doesn't mean that if he has been tried for different offences, that when he's sent to prison, he may not be receiving different sessions of caning.'
Copyright © 2007 Singapore Press Holdings Ltd.
---
Straits Times, Singapore, 16 February 2008
Parang gang's vicious spree
QWEK Kee Chong was a member of a parang-wielding gang behind a spate of violent robberies of 38 gambling dens and hair salons in 1987.
They were described as vicious as victims were slashed with parangs if they were slow to obey instructions.
The gang made off with cash and valuables amounting to more than $230,000 between January and August 1987.
QWEK Kee Chong was a member of a parang-wielding gang behind a spate of violent robberies of 38 gambling dens and hair salons in 1987.

- TNP FILE PHOTO
They were described as vicious as victims were slashed with parangs if they were slow to obey instructions.
Qwek was reportedly the headman of the 'Sio Sar Ji' Secret Society operating in Upper Cross Street.
In a robbery in June 1987, Qwek and his gang robbed an illegal gambling den in Hong Kong Street. They held up nine people and took jewellery, watches and $8,000 in cash before escaping.
A month later, his gang robbed a Balestier Road private apartment that was used as a gambling den.
The robbers used long parangs and held up over 30 people there. They took the belongings of at least 17 people, including cash amounting to $24,000, jewellery and watches.
They slashed three people who were slow to squat or tried to move.
Gang members, including Qwek, were caught in August 1987 and charged with armed robbery for the June incident and with gang robbery for the July incident.
Qwek was sentenced in November 1987 to 12 strokes of the cane on each of three charges of gang robbery and one charge of armed robbery - a total of 48 strokes. He also received jail terms of varying lengths, which amounted to a total of 10 years.
Gang member Chia Teck Kiam, who faced the same charges, received similar caning and jail sentences as Qwek.
Another member, Kwek Hak Seng, was sentenced to five years in jail for each charge of gang robbery - to run concurrently - and 12 strokes of the cane for each of three gang robbery charges.
A fourth member, Loh Chou Fei, was sentenced to a total of five years in jail and 36 strokes of the cane for three gang robbery charges.
Copyright © 2007 Singapore Press Holdings. All rights reserved.
---
---
The New Paper, Singapore, 27 February 2008
She sees familiar name of man caught with NSF who ran off with rifle. Then she realises:
That's my son, the pimp
By Chong Shin Yen
(extract)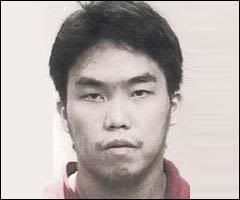 SHE was tucking into a bowl of noodles and watching the news when a familiar name in English flashed on the screen.
A chill went through her as she looked at the letters one by one.
The Mandarin news report on 5 Sep last year was on how Dave Teo Ming, an army corporal on national service, had been caught and charged after he allegedly went missing from camp with a SAR-21 assault rifle.
But it was another man who caught her attention - a pimp had been charged that day for being in the company of Teo.
The woman's adopted son, Ong Boon Jun, 22, had the same name and age as the pimp.
The 56-year-old woman, a hawker's assistant who wanted to be known only as Madam Ang, told The New Paper in Mandarin: 'I was stunned and kept staring at the television screen.
'I don't understand English but I recognise the letters and know how his name is spelt.
'There was no footage of the man and my heart was pounding very fast as I wondered if it was my son or someone else with the same name.'
Madam Ang then called out to her husband, Mr Ong, 57. They tried frantically to call their son.
Mr Ong, a retired provision-shop owner, said: 'We couldn't get him and, sensing something amiss, we rushed to the nearest neighbourhood police post.
'We kept praying in our hearts that he wasn't the person mentioned in the news.'
Mr Ong said he asked a police officer to help them check. About an hour later, his phone rang.
Their worst fears were confirmed.
Madam Ang said: 'I couldn't believe it. Just two days before that, he was at home helping me to sweep and mop the floor.'
Ong pleaded guilty to one charge of being with Teo, knowing that he had a dangerous weapon.
Yesterday, he was jailed 6½ years and given six strokes of the cane.
The court heard that Teo had contacted Ong when he wanted to book the services of a Thai prostitute.
Ong took the woman to Teo's room at Champagne Hotel around 3.45am on 3 Sep last year.
He left after dropping her off, but not long after, Teo called him again and told him to return.
When they were in the room, Teo showed him the rifle, which was loaded with eight rounds of ammunition. He allegedly told Ong that he had stolen it to commit robbery.
Following an island-wide manhunt, Teo was arrested at the third-storey male toilet of Orchard Cineleisure.
Ong was arrested the next morning.
Ong's lawyer, Mr Amolat Singh, said in his client's mitigation that Ong had kept quiet because he was afraid Teo would go after him if he managed to evade arrest.
In passing sentence, District Judge Liew Thiam Leng said that the safety of the public and the security of the nation could not be compromised.
He said: 'As a former national serviceman, the accused was well aware of the importance of preserving the security of the country.
'The facts showed that the accused had ample opportunities to report the co-accused (Teo) to the authorities. It was incumbent upon him to report to the police... More so in this case as the accused was informed by the co-accused that he intended to commit robbery.'
Ong remained calm in the dock after hearing the sentence.
Through his lawyer, he asked to speak to his mother before being taken away.
Madam Ang later told The New Paper that Ong wept inconsolably when he saw them.
'He told us he was sorry,' Madam Ang said. 'We told him to treat this as a lesson, although it is an expensive lesson.'
[...]
Copyright © 2005 Singapore Press Holdings Ltd.
---
Picture of Ong is from Channel News Asia, 1 March 2008.
Follow-up: 8 July 2008 - NSF found with rifle in mall: He told 3 tales to 3 people
See also: 8 July 2008 - Culpable, just being in his company (Critical comment by a lawyer on the above case)