Straits Times, Singapore, 12 March 2008
Robber who hurt 2 prostitutes gets jail, cane
By Elena Chong
Court Correspondent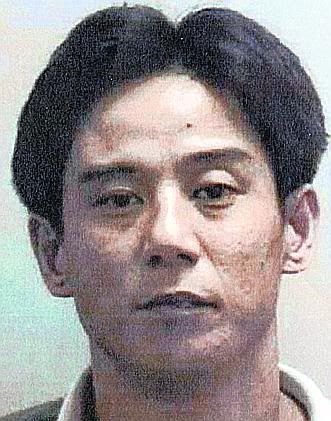 ASSAULT: Tay Hock Soon was sentenced to five years' jail.
A MAN who robbed two prostitutes from China with an accomplice was given the minimum five years' jail and 12 strokes of the cane yesterday.
Odd-job worker Tay Hock Soon, 36, admitted to punching and kicking Ms Zhou Gongjiao in a Geylang hotel room on Nov 9 last year.
Following the beating, he took the 24-year-old's handbag containing her mobile phone, passport and cash amounting to $1,624.
His accomplice, Tan Gee Kang, 36, is now serving a similar sentence.
The pair also robbed and hurt Ms Zhou's friend, Ms Yang Junxia, 26. This charge, together with a third of causing hurt, was taken into consideration during sentencing.
A district court heard the two men offered the women each $70 for sex. Tan then rented a room in Geylang Lorong28 for an hour.
While inside, Ms Zhou asked them to pay up first.
Tan gave his POSB ATM card to Ms Zhou, who said she wanted cash payment. She suggested they withdraw money from a nearby ATM.
When Ms Zhou was about to open the door, Tan pulled her hair and arm while Tay grabbed her by the neck, the court heard.
When she tried to open the door with her other hand, Tay pulled her back and she bit one of his fingers. Ms Yang screamed for help.
Both women were then assaulted and gagged.
The two robbers got away with Ms Zhou's handbag but were soon stopped by two men who heard the women shout 'robbery' in Mandarin.
Copyright © 2007 Singapore Press Holdings Ltd.
---
---
Straits Times, Singapore, 14 March 2008
Freed from Thai prison, jailed for 1980s crimes
By Elena Chong
HE JUMPED bail to dodge charges of housebreaking and other crimes committed in the late 1980s.
He fled overseas, only to end up serving 14 years in a Thai prison for murder. No information is available on that crime.
Sent back here by the Thai authorities last month, Lee Seow Poh, 46, was yesterday sentenced to 2½ years' jail and six strokes of the cane for those charges from about two decades ago.
He pleaded guilty to breaking into Tan Siong Hock Provision, a shop in Strathmore Avenue, and stealing items totalling $15,600 on Nov 22, 1986.
He had five accomplices and all but one have been dealt with.
In the break-in, one of his accomplices cut the wire mesh along the side of the shop and three padlocks on its door.
The others then entered the shop and carted away cigarettes, liquor, lottery tickets, a safe, a Singapore identity card, some keys, documents and cash.
Lee, whose share of the loot came to $600, was arrested in Havelock Road in June 1988.
Two months before his arrest for the break-in, the police stopped a taxi which was ferrying him and two others along Lower Delta Road.
Lee, who was in the front seat, was caught with a 13cm-long keris and an 18cm-long knife which he had hidden under the driver's seat.
Investigations showed that he had the weapons with him because one of his friends was expecting some trouble with others at Bugis and had asked him for help.
Four other charges, including those for possession of another person's identity card and obscene and uncensored films, were considered during sentencing.
Copyright © 2007 Singapore Press Holdings. All rights reserved.
---
---
Straits Times, Singapore, 20 March 2008
Cleaner jailed, caned for molest
A CLEANER was jailed a year and nine months and will be caned six times for outraging the modesty of a 25-year-old Indonesian domestic worker on Jan 22.
Yan Jiayi, 23, also molested a 11-year-old student on Feb 16. On both occasions, he pressed their right breast.
The district judge considered two other charges when sentencing on Thursday.
This included an obscene act last December when Yan rubbed a piece of carrot cake on his private parts, which he had exposed to a 30-year-old woman.
Copyright © 2007 Singapore Press Holdings. All rights reserved.
---
---
The New Paper, Singapore, 21 March 2008
1999... Secret society rebel kills clerk in hawker centre fight and gets jailed
Dad's sudden death made me repent
Now... He wins awards in hotel job, goes extra mile for guests as bellboy
By Chong Shin Yen
(extract)
HE could have been hanged for killing a man during a fight at the Newton Food Centre on Valentine's Day in 1999.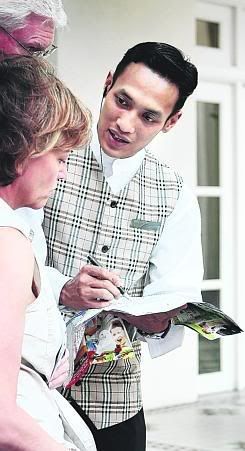 Mr Mohammad Rizal declared his past when he applied for work as a bellboy at InterContinental Hotel. There, he goes the extra mile to help guests. Picture: GAVIN FOO
But the murder charge was later reduced to causing grievous hurt and rioting.
And that was the first step back from the brink for Mr Mohammad Rizal Mohammad Sidek, who has since turned his life around.
From a gangster who was 'fighting at least three times a week', Mr Mohammad Rizal, 32, is now an award-winning hotel worker.
But his road to redemption was far from smooth.
When his father died while he was in prison, he attended the funeral in shackles. The sudden death also made him resolve to change for the better.
After his release from prison, he discovered that no one would employ him because of his criminal record. So he lied to get a job in a four-star hotel and was later found out.
By that time, though, he had rebuilt his life to become a happily married father of two and a top worker with several service awards.
And he wanted to share his story to inspire others that a criminal past was not the end of the world.
When he was just 13, Mr Mohammad Rizal began mixing with bad company and joined a secret society. The hot-tempered teen would fight over the most trivial things.
He said: 'If someone stared at me, I fight. If I were knocked into on the streets, I fight. Incidents like being stepped on in discos or when someone flicked cigarette ash onto my hand, I also fight.'
Then, in the wee hours of 14 Feb, 1999, his life changed forever.
He and three friends attacked shipping clerk Mohamed Yusoff Mohamed Ismail, 37, at the Newton Food Centre after an argument.
Said Mr Mohammad Rizal: 'I hit his head repeatedly with a glass bottle. When the bottle broke, I stabbed him from behind with the jagged glass. Till today, I don't know what the argument was about.'
He was jailed three years and eight months and given 10 strokes of the cane - the heaviest sentence meted out to the four friends. [Six strokes, according to this Nov 1999 report -- C.F.]
He found it tough finding a job after his release in August 2003. 'I would declare my criminal record and the response would always be 'Sorry, you're not suitable for the job'. So I decided to lie.'
Not long after, he was accepted as a bellboy at a four-star hotel in town. He was promoted twice within a year, first to guest services officer and then to concierge.
But a screening of the hotel staff during the International Monetary Fund meeting in September 2006 revealed his dark past.
He said: 'The hotel could have sacked me for lying. But they were willing to give me a chance on account of my good performance.'
He was at the hotel for almost four years. During that time, he won various awards.
They included Employee of the Month in 2006, Top Most Mentioned Front Office Employee in 2006 and 2007, and Top 10 Star Award for hotel category by the Singapore Tourism Board.
The hotel, which declined to be named, confirmed Mr Mohammad Rizal's account.
Earlier this month, he left the hotel to join InterContinental Hotel as a bellboy. This time, he was honest about his past.
Mr Al Thair Muchtar, the InterContinental's concierge manager, said they decided to give him a chance and they are happy with his performance so far.
Said Mr Muchtar: 'He would go the extra mile to assist guests with their inquiries. He would also offer them additional suggestions.'
[...]
---
---
Straits Times, Singapore, 21 March 2008
Man gets jail, caning after 10 years on the run
By Khushwant Singh
A MAN wanted for stealing more than $65,000 spent more than a decade on the run.
But yesterday, his luck came to an end - all because he got into a fight.
Goh Chee Kiong, 34, was sentenced to two years in jail and six strokes of the cane for an attempted robbery in 1998.
He also pleaded guilty to stealing a total of $45,400 from two companies and cheating a woman of $1,000, and will have to serve an additional seven months in jail.
A district court heard that Goh, an assistant manager with Studio Cinemas in 1997, stole $25,800 from the company's safe and went on the run.
A year later, he ambushed the new assistant manager as she arrived for work during a robbery bid.
He demanded that she open the safe. She insisted that she did not have the key and Goh fled.
He was arrested on Jan 7 this year, when the police were called to break up a fight between Goh and a Chinese national in Geylang.
While on the run, Goh had pretended to be the owner of his mother's flat in Eunos Crescent and collected rental deposits amounting to $3,800 from five people.
And he was back to his bad old ways: stealing from his employers.
In October 2004, as a salesman with Darling Photo & Electronics Trader, he cheated the company of $2,600 and stole $517, the court heard.
In September 2005, while working as a supervisor at Food Point in White Sands Shopping Centre, he stole nearly $18,000.
As a supervisor at the S-11 coffee shop in Tampines in January 2006, he stole $19,600.
Seven other charges were taken into consideration in the sentencing.
Copyright © 2007 Singapore Press Holdings. All rights reserved.
---
---
The New Paper, Singapore, 28 March 2008
S'pore engineer turns drug trafficker
He climbs academic ladder then falls
He's jailed for 25 years and given 24 strokes of the cane
By Celine Lim
(extracts)
HE was a 'self-made' man and 'role model' whom any parent would have been proud of.
From a polytechnic diploma, Koh Bak Kiang worked his way up the academic ladder, first getting an engineering degree, then a master's in business administration (MBA).
He landed a job as an engineer with a $4,500 a month salary and a car allowance.
But work-related stress made him lose sleep.
So Koh bought the banned drug Erimin-5 - a strong sleeping pill - to help him cope with his insomnia.
Costly decision
It was a costly decision that landed him in jail for six months and sent his life into a downward spiral.
His drug conviction caused him to lose his job.
And after his release from jail, Koh became mired in the shady world of drugs again. He became a runner for an organised drug trafficking syndicate.
In April last year, he was caught red-handed by Central Narcotics Bureau (CNB) officers.
Koh, 31, pleaded guilty to one charge of drug possession and two charges of drug trafficking on 31 Jan.
Three other similar charges were taken into consideration during sentencing.
He was jailed for 25 years and given 24 strokes of the cane.
Koh has begun serving his jail term, but will appeal against his sentence next month.
[...]
While District Judge Wong Keen Onn noted the accused's cooperation, he pointed out that Koh belonged to an organised group that had carefully planned and co-ordinated drug-trafficking activities.
He added that while Koh may not have been the mastermind, he had a 'crucial role in the success of the drug trafficking'.
The judge said: 'This was also not a one-off offence as the accused had admitted in his mitigation plea that he was involved in transporting controlled drugs for his accomplices on a regular basis.
'In addition, the accused had committed the act for financial gain. The aggravating factors in this case far outweighed the mitigating factors.'
Copyright © 2005 Singapore Press Holdings Ltd.