Straits Times, Singapore, 13 August 2008
Man slashed woman for resisting robbery
By Elena Chong
A 61-YEAR-OLD woman was slashed in the right arm a few times when she stoutly refused to give up her handbag to a robber, a court heard.
Her assailant Chu Kiew Wen, 33, was jailed on Wednesday for 6½ years and ordered to be given 18 strokes of the cane for attempted robbery with hurt and possession of a penknife.
He pleaded guilty to both charges.
Assistant Public Prosecutor Robert Tan told District Judge Sarjit Singh that housewife Sholiyah Mohamed Shariff was walking at the void deck of a block of flats in New Upper Changi Road in the early hours on May 11 when she saw Chu at a distance ahead of her.
When she was about to walk past him, he suddenly blocked her way and tried to grab her handbag.
She resisted by holding onto it and shouting for help.
During the struggle, Chu took out a 10cm-long penknife and pointed it at her abdomen to threaten her to release her grip.
When she refused, he slashed her right arm near the wrist four to five times.
APP Tan said although Madam Sholiyah was in pain, she did not release her grip and continued to scream for help.
Copyright © 2007 Singapore Press Holdings. All rights reserved.
---
---

Straits Times, Singapore, 16 August 2008
Trio spared the gallows
They get long jail terms instead after charges against them were reduced
By Khushwant Singh
THREE men caught trafficking heroin have escaped death sentences after prosecutors decided to reduce the charges.
The trio were nabbed after smuggling about 18.4g of the drug in from Johor - a total just above the 15g threshold that carries a mandatory trip to the gallows.
In the High Court yesterday, two of them pleaded guilty to ferrying 14.99g of the drug while the third admitted to possessing that amount.
Deputy Public Prosecutor Leong Wing Tuck told The Straits Times that the charges were reduced after discussions with defence lawyers, though he did not elaborate.
Malaysians Lim Chan Pung, 22, and Tai Kang Seng, 25, received the minimum sentence of 20 years in jail and 15 strokes of the cane; Singaporean Chia Teck Khoon, 40, was jailed 23 years and ordered to be given 15 strokes.
Justice Woo Bih Li reminded the three how lucky they were.
He said: 'You have been foolish to have been involved in the drug trade. You should also realise how fortunate you are not to face a capital charge.'
Legal observers said the decision was not uncommon.
'Nobody wants to send an offender to the hangman so easily. It's a very serious punishment,' said Mr Shashi Nathan of Harry Elias Partnership. 'The prosecution may determine that justice may be better served by the 20- to 30-year jail term.'
Lawyers for the three men told The Straits Times that the amount of heroin seized - less than 4g above the death sentence mark - likely contributed to the decision to reduce the charges. 'The prosecution may have felt it was too small an amount to demand the hanging of three men,' said Lim's lawyer A. Alagappan.
The trio were arrested last Oct 17 after the Central Narcotics Bureau (CNB) received a tip-off that Chia was planning to bring in heroin from Malaysia, the court heard yesterday.
After $4,250 was paid to a drug dealer in Johor, Tai and Lim drove through the Woodlands Checkpoint with the 30 packets of powdery substance containing the 18.5g of heroin, wrapped in a white plastic bag. Tai got out later and Lim drove to Circuit Road to pass the drugs to Chia.
CNB officers arrested Lim as he was returning to Johor and simultaneously raided Chia's flat. They found the heroin hidden in a suitcase in his living room.
Tai was arrested at Woodlands Centre.
All three men decided to plead guilty once the charges were reduced two weeks ago.
Yesterday, Tai's lawyer, Mr Amolat Singh, said that his client had just lost his job as a salesman and was desperate for money.
Mr Singh asked the court to hand his client the minimum sentence of 20 years and 15 strokes of the cane. 'As the eldest son, he wanted to provide financial assistance to his widowed mother.'
Mr Alagappan said Lim had also lost his job as a salesman. He had been promised RM$1,500 (S$634) for ferrying the drugs into Singapore.
Chia was the only accomplice with previous criminal and drug convictions. Defence lawyer Anand Nalachandran said Chia, who is single, had been a heroin addict since his 20s. He had already spent nearly a decade in prison for possessing and consuming drugs and now is looking to another two decades behind bars, his lawyer noted. He asked Justice Woo for a compassionate sentence as Chia was only trafficking to pay for his heroin addiction.
Copyright © 2007 Singapore Press Holdings. All rights reserved.
---
---

Straits Times, Singapore, 20 August 2008
Caning error: Ex-inmate accepts mediated settlement
Details cannot be disclosed but compensation believed to be much lower than the $300k sought by him
By K.C. Vijayan
Law Correspondent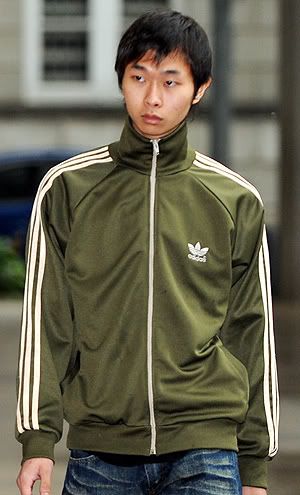 Mr Tan got three strokes more than the five imposed.
A DISPUTE between the Government and a former convict over extra caning he received in prison has been settled after a mediation yesterday.
As part of the agreement, details of the settlement cannot be disclosed. It is believed, however, that the compensation is much lower than the $300,000 Mr Dickson Tan initially sought.
Mr Tan, 21, was caned three times more than the five strokes imposed by a judge who convicted him in February last year of helping an illegal moneylender harass a debtor. He was also sentenced to nine months in jail.
Mr Tan arrived at the mediation session held on the High Court premises yesterday morning with his lawyer, Mr Joseph Chen, and mother.
About seven hours later, Mr Chen emerged and issued a short statement explaining that both parties were bound not to disclose any details except to confirm that the matter had been settled.
Retired High Court judge Thean Lip Ping was the appointed mediator.
The $5,400 mediation fees were borne by the Government, which was represented at the mediation session by Mr David Chong, the principal senior state counsel from the Civil Division of the Attorney-General's Chambers, assisted by two other officers from the A-G's Chambers.
While Mr Chen spoke outside the mediation room, thanking the Singapore Mediation Centre and Mr Thean, Mr Tan's mother, Madam Ho Gee Lin, stood by her son's side, looking a little worn down. She waved her hand and smiled slightly as she walked away with her son.
The settlement yesterday brought to a close a year- long dispute that sparked a debate in Parliament and had the Government coming out to admit the error and expressing regret at the incident. The extra strokes apparently came about because a court clerk mistakenly wrote down the wrong number of strokes on the warrant of commitment to be issued to the Prisons Department.
The clerk resigned after the case was brought to light. The judge who signed the warrant without spotting the error was also no longer allowed to do judicial work involving such warrants.
Mr Tan and the Government went through several rounds of talks to reach an agreement on the amount of compensation he would get, but his asking price of $300,000 was apparently too high. He initially demanded a sum of $3 million.
The deadlock led to Mr Tan filing a lawsuit in the High Court in March.
Last month, however, the Tans asked for the matter to be settled by mediation rather than go for a full trial.
It was understood they opted for this practical step to avoid the anguish of reliving the unhappy experience, the expense and the lack of resources that a High Court trial would have entailed.
A short statement from the Home Affairs Ministry issued last night also thanked Mr Thean, a judge for 18 years, for his assistance in resolving the case.
Copyright © 2008 Singapore Press Holdings Ltd.