Straits Times, Singapore, 2 June 2007
5 jailed for robbing man of fake gold chain
By Chong Chee Kin
ALL that glitters is not gold - a lesson which five Malaysian robbers learnt the hard way.
They attacked a Bangladeshi man and grabbed a 'gold' chain he was wearing - but it turned out to be a $10 fake.
The punishment, however, is real enough.
Sany Mainbar, 24, Zeno Lister Joeman, 30, Edwin Dabis, 23, and Ismuin Jobet, 23 were yesterday each sentenced to two years in jail and six strokes of the cane.
The fifth man - Jerey Anak Anjat, 23 - will get an additional six weeks and four strokes because he turned out to be an immigration offender as well.
A district court was yesterday told how Mr Main Uddin Patwary Badiul Alam, 35, was set upon by Jerey and his accomplices on April 28.
Mr Main had left City Plaza shopping centre in Geylang at about 4pm when he noticed Jerey and his friends loitering on the footpath outside.
As he walked past the group, Sany came from behind and grabbed his shirt with one hand and ripped the chain from his neck with the other.
As Mr Main struggled, Sany punched him in the face while the others grabbed him to prevent him from retaliating. They surrounded him, but Mr Main managed to struggle free and run off.
He called the police who nabbed the robbers shortly after.
Subsequent investigations later revealed that Jerey was earlier employed as a general worker but had his work permit cancelled in December last year when he quit his job.
However, he continued to stay here without a valid immigration pass or work permit.
The five robbers could each have been jailed for up to 10 years.
Copyright © 2007 Singapore Press Holdings. All rights reserved.
---
---
Straits Times, Singapore, 13 June 2007
Assault in clinic
Man who hit doctor gets jail and caning
By Elena Chong
Court Correspondent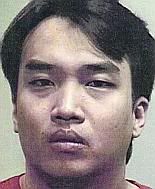 SENTENCED: Liong was jailed two years and given three strokes of the cane.
AN ODD-JOB worker who punched a doctor repeatedly on his face and fractured his nose was yesterday jailed for two years and ordered to be given three strokes of the cane.
Liong Kian Peng, 29, had pleaded guilty to causing grievous hurt to Dr Fong Kok Weng, 45, and three other charges.
The court heard that the encounter between doctor and patient took place last August in Cambridge Medical Centre at Rochor Centre.
Deputy Public Prosecutor Diane Tan had pressed for a stiff sentence, citing several aggravating factors. District Judge Hamidah Ibrahim agreed with her that a deterrent sentence was called for in this case.
Liong had gone to the clinic with a man known only as Alex to get Erimin-5 tablets for his sleeping problems.
As Erimin-5 was a controlled drug, the doctor was required to find out and record Liong's medical history and whether he had committed any drug offences.
During the interview, Liong - who had a previous conviction for drug trafficking - became impatient and agitated over being asked too many personal questions. He demanded a refund of the consultation fee.
As he became rowdier, Dr Fong asked his nurse, Madam Park Lay Tin - who is also his wife - to return the $30 fee to Liong. She then asked him to leave.
Liong, not satisfied, asked for his case notes to be handed over. When the doctor refused, Liong demanded that they be destroyed.
Dr Fong then tore up the case notes and threw them into the bin as he was afraid Liong might turn violent.
Liong, however, still refused to leave and started behaving aggressively and hurling vulgarities.
Fed up, Dr Fong muttered an expletive at Liong, who then lunged at him.
Madam Park, 42, came between them, but he forced his way past her, raining multiple punches on Dr Fong, whose spectacles flew off.
When the doctor tried to stop Liong from leaving because the police had been summoned, Liong signalled to Alex, who also began punching and kicking the doctor. Liong then returned to the consultation room and stole the torn-up case notes. Alex is still at large.
Defence lawyer Jayakumar Naidu said in mitigation that his client had also suffered injuries in the melee, and that it was only after the doctor had abused Liong that the events escalated.
'The victim, in fact, provoked the incident and should also accept part of the blame,' he said.
Copyright © 2007 Singapore Press Holdings Ltd.
---
---
Straits Times, Singapore, 30 June 2007
Vandal caned three strokes more than ordered
By K.C. Viyajan
A 20-YEAR-OLD offender who was sentenced to five strokes of the cane by the court was given eight strokes instead in an apparent mistake by prison officials.
The prisoner was serving a nine-month jail term at Admiralty West Prison in Sembawang for two offences when the caning was administered on March 29.
Lawyer Joseph Chen, who is acting for the family, notified the Attorney-General's Chambers on Thursday that they do not wish to go ahead with mediation on the issue and intend to take court action instead. Mr Chen added that he will apply for punitive as well as exemplary damages to underline the seriousness of the case.
It is understood the Attorney-General's Chambers is aware of the case and is looking into the matter.
The young man, who was convicted of offences involving vandalism and abetting an illegal moneylending operation, is currently on home detention. He is due to be complete his sentence in August.
Speaking to The Straits Times last week, his mother, Madam Ho Gee Lin, 52, said her son is being treated for mental trauma and depression.
Recalling the incident, she said she visited her son on the morning of the day caning was due to be administered. He told her he was to get eight strokes later that day and not five as prescribed in the sentence.
'I felt very helpless and upset. My son had told them about the mistake but they did not believe him,' she said.
Two weeks later, she visited her son again and learnt the punishment had been carried out.
She said eight strokes meant he was caned by two prison staff, each delivering four strokes, to ensure the last was as forceful as the first.
'I was very shocked and asked my daughter to call the officer at Court No. 19 to check on the sentence,' she said.
Her 32-year-old daughter, who was also present, said she later checked with a court officer named Kelvin Kwek to ask if the prison authorities had been told the correct number of strokes.
'He told me it was too late,' she said.
It is understood Mr Kwek has since left the Subordinate Courts.
Madam Ho said her son has not been the same since the incident. She explained that he was more active and talkative before, but is now quiet and withdrawn.
Madam Ho claimed that earlier this month, she was asked to accompany her son when he reported to a home detention scheme reporting centre in Selarang. While she was there, a legal officer apologised and offered her an undisclosed sum as compensation.
'I refused to accept,' she said.
This is not the first such incident.
In 1988, a 23-year-old offender convicted of armed robbery was given 48 strokes of the cane - twice the legal maximum allowed for an adult at a single trial.
He sued the Government but the matter was subsequently settled out of court, said senior lawyer Peter Fernando who acted for him.
The cause of the mix-up was not disclosed, but it is believed prison officials sought clearance from outside the Prisons Department before they went ahead.
'The terms of the settlement are confidential,' said Mr Fernando yesterday.
Copyright © 2007 Singapore Press Holdings. All rights reserved.
---
Follow-up: 1 July 2007 - 3 extra strokes for prisoner: Govt regrets error