Straits Times, Singapore, 4 May 2007
7 years, cane for phone jacking, break-ins
Linking phone to a distribution point, he made 129 calls, mostly to chatlines
By Elena Chong
Court Correspondent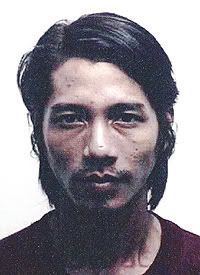 CONVICTED: Ibrahim's calls resulted in his neighbours being charged over $3,000.
A MAN who tapped three of his neighbours' phone lines to make calls and burgled homes in Tampines has been sentenced to seven years' corrective training and six strokes of the cane.
Ibrahim Mohamed Khairuddin, 34, was initially unrepresented but turned up with a lawyer yesterday - specifically to ask for a short jail term instead of corrective training.
Corrective training is an in-prison structured regime for repeat offenders. It lasts between five and 14 years, and unlike a jail term, does not offer early release for good behaviour.
District Judge See Kee Oon turned down the request for a jail term and pointed out that Ibrahim had committed more than 130 offences, including housebreaking and theft.
He also noted that although Ibrahim's phone-tapping activities were not very serious, the sheer number of offences tacked to his name had to be taken into consideration, along with a conviction in 2000 for housebreaking.
Ibrahim pleaded guilty in March to 60 counts of dishonestly using SingTel's telecommunication services in June last year by tampering with one of its distribution points at a staircase landing in a Tampines Street 22 housing block, where he lived.
Using telephone wire to link a phone to the distribution point, he made 129 calls - mainly to chatlines. This resulted in more than $3,000 in charges making their way onto his neighbours' phone bills.
Ibrahim pleaded guilty also to three charges of housebreaking and theft and one of having obscene VCDs.
One of the homes he broke into was that of his neighbour - who was also a victim of his phone-piggyback activities. He climbed into her flat through a bedroom window and stole $7,613 in cash and jewellery.
Ibrahim was arrested at his home in January.
His lawyer said in mitigation his client took to crime because he was unemployed and could not find a job. He was in financial difficulty and had to look after his mother, a cleaner.
---
---
The New Paper, Singapore, 16 May 2007
Jail, cane for man who got teens to rob woman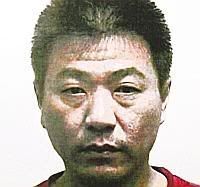 BAD INFLUENCE: Lee provided information, ski masks and a knife to three teens to help them rob.
AN UNEMPLOYED man who abetted three teens to rob a woman of property totalling $605 was sentenced to 27 months' jail and six strokes of the cane yesterday.
Lee Boon Leong, 41, admitted instigating Lien Jun Cai, 16, a 15-year-old who cannot be named as he is underage, and Toh Han Wei, 16, to rob Madam Tan Yew Huay, 60, by providing them with information, three ski masks and a knife on Jan 20.
The trio who robbed the woman at the fifth floor landing of Block 534 Bedok North Street 3 have each been placed on 24 months' probation.
The court heard that at a coffee shop a week earlier, Lee befriended Lien and Toh and told them he could help if they were in need of money. He suggested they rob Madam Tan, since she was known to carry around a lot of cash.
He said he would give them the information they needed to rob her in return for half of the loot.
Lien and Toh agreed to meet Lee again to discuss the matter further. Meanwhile, they recruited the 15-year-old to join in the robbery.
On Jan 20, the trio met Lee again. He described the victim and told them where to look for her and where she lived.
He also handed over three ski masks and a knife with a 20cm blade.
At about 3pm the same day, Lien and the 15-year-old spotted the victim leaving a coffee shop with her maid.
They followed the two women to the fifth floor, where Lien put on his ski mask while the younger boy held the knife.
Lien ran towards the maid and grabbed the handbag she was carrying for her employer.
The maid struggled, but seeing the knife, she quickly released her grip.
The $200 handbag contained $375 in cash and two ez-link cards with a total value of $30, as well as the victim's identity card.
Both robbers fled the scene via the staircase.
Madam Tan's shouts for help attracted a group of men who gave chase and detained the two youths.
Toh, who was in the toilet when his accomplices followed the victim, was later arrested as well.
Lee could have been jailed up to 10 years and caned a minimum of six strokes for abetting the robbery.
Copyright © 2007 Singapore Press Holdings Ltd. Co.
---
---
Straits Times, Singapore, 24 May 2007
Jail and caning for man who fooled cop into handing over gun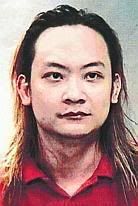 Picture of Andy Lai Chin Yeong from The New Paper, 25 May 2007
ANDY Lai Chin Yeong, who fooled policewoman Ervinna Kuan Sui Khuan into lending him her gun, was convicted of a series of offences in a separate hearing yesterday.
With four prison terms running consecutively, he will serve a total of 14 years and get 18 strokes of the cane.
The sentences include:
Five years and six strokes of the cane for obtaining a gun unlawfully from Kuan on March 22 last year;
Seven years and six strokes of the cane for carrying the gun into a New Upper Changi Road pawnshop two days later; and
Six months and six strokes of the cane for owning a knuckle-duster - a prohibited weapon.
He was also given jail terms of between two and three years on each of five cheating charges.
The High Court heard that in February last year, Lai, 32, told his wife's parents that he had been headhunted by an oil company.
He said he would get $50,000 a month, and a parental allowance of US$2,500 (S$3,832).
He then persuaded them to give him $34,000, which he claimed was the minimum sum needed to open an account with the company's designated bank and forged a letter to confirm the deposit. But his parents-in-law soon found out about the scam.
His lawyer, Mr John Abraham, said Lai had wanted to use Kuan's gun to commit suicide after his daughter's birthday on March 26 because his cheating activities had been discovered. However, he was arrested at 3am that day.
Copyright © 2007 Singapore Press Holdings. All rights reserved.