The Straits Times, Singapore, 2 April 2007
Man gets jail, cane for harassing debtors
A MAN who helped his uncle in harassing debtors was sentenced to 12 months' jail and ordered to be given 14 strokes of the cane.
Mohamad Azni Mohamed Sani, 22, pleaded guilty to eight charges of doing acts likely to cause annoyance to occupants of various HDB flats between Dec 15 and Jan 6. Twenty other charges were taken into consideration.
He harassed defaulters by mainly securing their flats with bicycle locks, splashing paint on the walls and writing their house numbers and O$P$ (owe money pay money) on the walls.
His uncle, Mohamed Jailani Ibrahim, 40, unemployed, paid him $50 a day, and had admitted being a runner for an illegal moneylending syndicate.
Copyright © 2007 Singapore Press Holdings. All rights reserved.
---
---
The New Paper, Singapore, 3 April 2007
Rayson Tan bares his bum for the first time in new Channel 8 drama, only to become...
The butt of jokes
By Wendy Teo
RAYSON Tan is baring his buttocks for the first time in his 16-year acting career.
In the new Channel 8 drama The Homecoming, which premieres tomorrow at 9pm, Rayson plays a lawyer who has to bear four cane stroke scars on his backside.
It was supposed to be the result of an arson crime committed with three friends when he was a teenager.
One of the scenes required him to flash his buttocks to his character's good friends, played by Li Nanxing, Brandon Wong and Zheng Geping.
While Rayson said he had no qualms showing his bum on national TV, his actress wife Chen Liping had one request.
To much laughter from his co-stars, Rayson revealed: 'She said, 'Please go and tan your backside first!'
Rayson is well-known for his fair complexion.
So the 42-year-old had his buttocks bronzed at a tanning salon and the effect was so good that even Nanxing praised Rayson's backside for looking 'solid'.
TEASED BADLY
Rayson, however, jokingly complained: 'He was looking me up and down like a pervert, I felt so 'molested'!'
It also didn't help that while Rayson was having special effects makeup applied on his backside, his three cheeky co-stars insisted on watching and teasing him about it.
Rayson griped: 'The three of them were sitting there drinking coffee and looking at my naked butt. How do you think I felt?'
And with boys being boys, the four actors pulled some pretty off-colour pranks on one another off set, with the chief prankster being Nanxing.
One prank occurred while filming the same scene which required Rayson to bear his butt.
As it was set in a spa, the other three actors were dressed only in shorts.
And just before the cameras rolled, Nanxing suddenly pulled down Geping's shorts, to the latter's horror.
Geping recalled: 'Luckily, my back was facing the camera and the female director.'
When asked about his mischief , Nanxing burst into laughter, before defending himself: 'Well, Geping's shorts looked like they were too loose and about to fall off, so I was doing him a favour by pulling it.
'It's just that I pulled it down instead of up!'
And by his own admission, Nanxing has always been a naughty boy from young - he is no stranger to the cane.
The third child of four children, Nanxing revealed that he was frequently caned by his parents because he didn't like to bathe or go to school.
The 43-year-old admitted: 'I always had guotiao (slang for cane marks) on my legs because I was caned so often! I had faded ones from previous canings and also fresh ones.'
Copyright © 2005 Singapore Press Holdings Ltd. All rights reserved.
---
---
The Straits Times, Singapore, 20 April 2007
$270 robbery left man dead: 4 jailed, get 24 strokes each
By Elena Chong
Court Correspondent

Roslan Dilah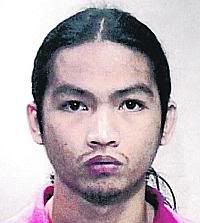 Willer Gibot


Elly Arpony Jalius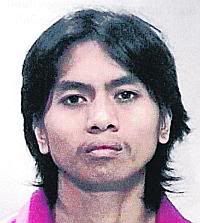 Victor Baragang
FOUR Malaysians originally charged with murder were yesterday jailed and ordered to be given the maximum of 24 lashes each on reduced charges of causing grievous hurt and robbery with hurt.
The four, all from Sabah, were Roslan Dilah, 21; Elly Arpony Jalius, 20; Willer Gibot, 24; and Victor Baragang, 20.
They had waylaid, assaulted and robbed fitter Ramalingam Mayavel, 30, in a tract of open land along Boon Lay Way last Aug 5.
They pleaded guilty yesterday to causing grievous hurt to the Indian national and robbing him of his valuables worth about $270.
Mr Ramalingam, who was kicked and punched on his head, died of serious head injuries the same day.
Roslan, Elly and Gibot were each given 6½ years and 24 strokes, while Baragang was sentenced to 12 years and 24 strokes.
Baragang also admitted to another robbery with hurt committed about a week earlier.
He, together with the trio and a fourth man who is at large, punched Bangladeshi worker Lokman Khalilur in the face and relieved him of cash and belongings totalling $774 at Aljunied MRT station last July 28.
Deputy Public Prosecutor Eugene Lee said police tracked down the four men on Sept 7 following investigations. Police had found out that when the four met at Aljunied MRT station on Aug 4, Elly suggested that they go to Boon Lay to commit 'pow' - a term used by people from Sabah to mean 'beat up and steal'.
On arrival at Boon Lay MRT station, they walked to an open field. Elly kicked the bicycle Mr Ramalingam was riding, causing him to fall and hit his head against a tree.
In the other case, Mr Lokman, 39, was resting on a raised platform at Aljunied MRT station when five men surrounded him at about 3.30am.
The charge against Roslan, Elly and Gibot for their part in this incident was taken into consideration during sentencing.
Baragang had four other charges considered, while Elly and Gibot had another each.
Copyright © 2007 Singapore Press Holdings. All rights reserved.
---
---
The Straits Times, Singapore, 25 April 2007
Man jailed, caned for role in cellphone heist
Driver admits feeding info to friend about cargo; $1.2m robbery left colleague dead
By Elena Chong
Court Correspondent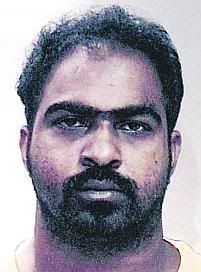 INSIDER: Ragu Ramajayam was jailed six years and given 12 strokes.
A DELIVERY driver was sentenced to six years in jail and 12 strokes of the cane yesterday for his part in planning a robbery that left one of his colleagues dead.
Ragu Ramajayam, a driver for freight-forwarding company Sterling Agencies, fed information to a friend about a delivery of cellphones being carried out by fellow driver Wan Cheon Kem on May 30 last year.
Mr Wan was transporting 10 pallets of Sony Ericsson phones worth US$823,500 (S$1.25 million) from the Changi Airfreight Centre to Henderson Road that morning when he was waylaid by three men, who staged a minor collision with his lorry along Changi Coast Road. He was assaulted and the cargo was stolen.
Mr Wan, 46, died of head injuries six days later in Changi General Hospital.
Yesterday Ragu, 37, admitted to an amended charge of abetting Arsan Krishnasamy Govindarajoo in the robbery.
He had given Arsan the registration number of Mr Wan's lorry and details of the cargo he would be carrying. They decided to target Mr Wan's lorry because, unlike many other drivers, he worked alone without a cargo hand.
Deputy Public Prosecutor Stanley Kok Pin Chin said Arsan told Ragu he would recruit others to commit the crime and reward him for the information.
On May 30, Ragu learnt that Mr Wan had been assigned to transport 2,700 cellphones. Telephone records showed Ragu and Arsan spoke 11 times between 5.31am and 7.25am.
Arsan, 39, together with his alleged accomplices - Nakamuthu Balakrishnan, 48, Daniel Vijay Katherasan and Christopher Samson Anpalagan, both 23 - waited for Mr Wan to emerge from the airfreight centre that morning.
Arsan is then believed to have driven off in a different direction to await Balakrishnan's call while the rest followed Mr Wan in another lorry.
Along Changi Coast Road, the trio then faked a minor accident, forcing Mr Wan to stop. When he got out of the vehicle, Mr Wan was bashed with a baseball bat. The trio then carried him into his lorry and drove both vehicles to a Pasir Ris Park carpark, where they loaded the mobile phones onto Arsan's lorry.
So far, 2,158 phones have been recovered.
Ragu was arrested on June 1.
DPP Amarjit Singh urged District Judge See Kee Oon to impose a sentence close to the maximum 10 years allowed.
Ragu, he said, had betrayed his company and colleague in giving Arsan and his accomplices information they would have otherwise found difficult to acquire.
'His conduct was motivated by greed and is utterly reprehensible and deserving of strong condemnation,' he said.
'It is clear...the accused had played a vital role in the ultimate orchestration and execution of the robbery plan,' said DPP Singh.
'Indeed, he was the vital cog in the wheel and without him and his information, the robbery would have been stymied at the planning stage.'
In sentencing, District Judge See considered Ragu's position of trust, the high value of the cargo and the fact that Mr Wan died.
The other men will be tried for murder in the High Court in July.
---
---
The Straits Times, Singapore, 26 April 2007
Man gets jail, cane for molesting 2 boys in his flat

PLEADED GUILTY: Bus driver Ivan Tay, a homosexual, got to know the two teenagers through a mutual friend. He molested them on separate occasions in March 2005.
INVITED to play computer games by a man in his flat, one of two teenage boys ended up being molested.
On a separate occasion, bus driver Ivan Tay Seng Huat molested the other boy.
After one of the 16-year-olds reported him for molestation, police raided his flat and seized pornographic VCDs which the 27-year-old had shown to his victims.
District Judge Liew Thiam Leng yesterday sentenced Tay to 13 months' jail, three strokes of the cane, and fined him $3,600 for outrage of modesty and offences under the Films Act.
He pleaded guilty to two counts of molesting the boys, whom he got to know through a mutual friend, at his former rented flat in Jalan Bahagia in March 2005.
He also admitted to having six VCDs containing films without valid certificates and CD-ROMs and VCDs with 51 obscene films at the flat on March 7 that year.
Deputy Public Prosecutor Samuel Chua said, on that day, the two boys were playing computer games at the flat when Tay started showing the blue films.
He then sat beside one of them, molested him, and placed a vibrator on the victim's private parts. The boy made a police report that day.
In the other incident, also in March that year, Tay stroked the groin of the second victim after playing a pornographic video. The victim quickly left the premises.
Pleading for leniency, Tay's lawyer, Mr S.S. Dhillon, said his client, a homosexual, lived with his married sister and mother, who is divorced.
Tay had merely performed 'minor sexual acts' on the boys and the obscene VCDs were for his own viewing, he said.
Another charge of molestation and two offences under the Films Act were considered during his sentencing.
---
---
The Straits Times, Singapore, 26 April 2007
Rapist gets 28 years jail and 24 strokes
By Selina Lum
HE RAPED 3 YOUNG WOMEN IN THEIR HOMES IN 9 DAYS

The monster of Balestier

Victim No. 1: Teen, 18, attacked repeatedly for hours

Victim No. 2: 20-year-old strangled till she passed out, then raped

Victim No. 3: 22-year-old tied up, then sexually assaulted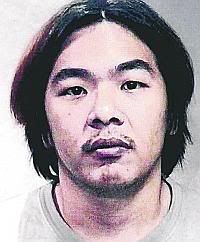 BRUTAL ASSAULTS: In between the rapes, Ser also molested a woman, 34, at a staircase landing. He was given a 28-year jail term and 24 strokes of the cane for his rape offences.
THEY were among the most brutal sexual assaults the country has seen in many years, carried out in the most brazen manner imaginable.
Serial rapist Ser Eng Siong simply knocked on his victims' doors in broad daylight, gained entry into their homes using simple deception, then brutally violated them over and over again.
Yesterday, the 33-year-old deliveryman was sentenced to 28 years in jail and 24 strokes of the cane for his attacks on three young women, all of them from China.
His first victim on Nov 3 was an 18-year-old girl, who had arrived in Singapore for the first time less than 12 hours earlier.
She had been taking a nap alone in her room when Ser woke her up by knocking on her window.
Pretending to be a repairman, he convinced her to let him in. After fiddling with the gas canister in the kitchen for a while, he told her it needed to be replaced.
When she went back to her room, he rushed in, shut the door and pushed her onto one of the beds, telling her he would strangle her if she struggled.
He then raped and sodomised her multiple times and forced her to perform oral sex on him. Afterwards, as he casually washed up, the teenager put on her clothes and locked herself in the toilet.
Enraged, Ser forced her to open the door and repeated the abuse all over again.
When he was finished, he wiped the surfaces he had touched with tissue paper, saying he was destroying evidence. He then told her he was a Malaysian and would be leaving Singapore immediately.
Ser's second attack took place eight days later on the morning of Nov 11 at a flat rented by two young women, aged 20 and 22, also from China, and their two housemates.
When he knocked on the door, the 20-year-old was having breakfast and the 22-year-old was still asleep.
When the younger woman answered the door, he told her he was looking for 'Xiao Chen'. It was a name he had plucked out of thin air, but by a fateful coincidence, someone by that name had been a recent tenant.
Seizing on this piece of luck, Ser said he wanted to return a camera and leave a note for her. After getting inside, he dragged the victim into the toilet, strangled her till she passed out and raped her.
He then went into her housemate's bedroom, woke her, tied her up and returned to the toilet.
The 20-year-old had just regained consciousness and began screaming, so he throttled her again until she passed out, then violated her with a toothbrush.
He then went back to the bedroom and forced the older woman to perform oral sex on him, then raped and sodomised her.
When the ordeal was over, he took a laptop, the two victims' mobile phones and a small amount of cash.
In between these two rapes, Ser had molested a 34-year-old woman at a staircase landing on Nov 8.
All the assaults took place in the Balestier area.
Despite attempts at covering his tracks, police were able to lift fingerprints from the scene of the first attack, which they eventually traced to Ser, who has a previous conviction for theft.
He was arrested in Geylang on Nov 12.
In the High Court, Ser pleaded guilty to a total of 13 charges for aggravated rape, unnatural sex, aggravated outrage of modesty and theft.
In urging the court to hand out a stiff punishment, Deputy Public Prosecutor Francis Ng said: 'The very places where the victims ought to have felt the most safe and secure instead became the setting for the accused to act out his sickening and depraved sexual fantasies.'
Reading out reports of psychiatrists who had assessed the women, he said the brutal assaults had left them with indelible mental scars.
DPP Ng said: 'In a short space of time, the accused has irrevocably altered the lives of three young women, whose undoing was their misplaced trust in human nature.'
A psychiatric report on Ser, meanwhile, stated that although he might have had a depressive episode at the time, he was not of unsound mind.
Pleading for leniency, Ser could only tell the court: 'I'm at a loss for words.'
---
RELATED VIDEO CLIP (1 min 29 secs) from Straits Times Interactive, 25 April 2007.

Video news report following the above court case. Reporter shows the buildings where the rapes took place and gives the details of the rapist's jail and 24-stroke caning sentence.




HERE IS THE CLIP: