Straits Times, Singapore, 1 March 2007
Jail, caning for 2 Nepalese students
TWO Nepalese students were each sentenced to eight months' jail and three strokes of the cane for burning the left cheek of a fellow Nepalese with a lighted cigarette.
Bikash Rana, 20, and Bhim Thapa, 22, had confined Niraj Prasa Upadhyay, 27, with a few others in a hotel room in Geylang on Jan 21 as they were not happy with the time the victim took to process their student passes and work permits.
Two days later, Niraj's friend learnt about the group's demand for $20,000 before the victim could be released. He made a police report the next day.
Niraj, who was recently jailed seven weeks and five strokes of the cane for overstaying, was involved in a freelance business of bringing in Vietnamese and Nepalese nationals to study and work here.
Copyright © 2007 Singapore Press Holdings. All rights reserved.
---
---
Straits Times, Singapore, 6 March 2007
Agent gets jail, caning for molesting 2 maids
By Tracy Sua
PLEADED GUILTY: Lim molested the maids in the agency pantry on the pretext of conducting a check. -- WONG KWAI CHOW
MAID agent Peter Lim Song Kia was yesterday sentenced to 14 months in jail and six strokes of the cane for molesting two domestic workers.
Admonishing him for abusing his authority, District Judge Tan Boon Heng said that maids depend on their agents for counselling and help in times of need.
'By outraging the modesty of the maids under his charge, he has completely abused the authority and trust placed in him,' Judge Tan said.
Lim, 39, who had initially claimed trial, gave up the fight last week. He pleaded guilty to outraging the modesty of the two maids in the pantry of his maid agency at Bukit Timah Shopping Centre on Dec 18, 2004.
That day, Lim, who owns Citi Harvest Agency, asked six maids to go into the pantry - one at a time - so that he could 'check' them.
Two of these maids, aged 23 and 24, ended up testifying in court that he touched their breasts after asking them to lift up their T-shirts.
The abuse was uncovered when one of the two maids went to the Indonesian Embassy to seek help in changing employers.
She told officials there that she did not want to go through Lim's agency and, when asked why, that he had molested her.
Yesterday, Judge Tan, noting that Lim had used the excuse of a check to 'disguise' the molestation, said the act was premeditated.
But taking into account that he has a clean record and that he had shown remorse by pleading guilty, the judge sentenced him to seven months' jail and three strokes of the cane on each of the two charges.
The sentences will run consecutively.
Going by sentences in similar cases, Lim could have been jailed for up to nine months on each charge.
This is the first time since 2001 that a maid agent has been convicted of outraging the modesty of a foreign domestic worker.
Copyright © 2007 Singapore Press Holdings Ltd.
---
---
The New Paper, Singapore, 7 March 2007
First charged with murder, then drug trafficking 15 years later. But...
He escapes hangman twice
1992
Charged with friend's murder at disco. Convicted for manslaughter
Sentenced to 6 years' jail
Yesterday
Charged with drug trafficking but escapes gallows
Sentenced to 25 years' jail and 15 strokes
By Kor Kian Beng & Chong Shin Yen
(extracts)
HE danced with death twice. And on both occasions, by a twist of fate, Lai Mun Leong avoided its deadly embrace.
The first time was around 15 years ago when he was charged with murder, which carries the death penalty. That charge was reduced to manslaughter.
The second time was when he was arrested in June last year with over 2kg of what was suspected to be heroin. Tests showed that the actual quantity was only around 120g. Still, that was enough for a death sentence. Anyone found trafficking in more than 15g of heroin faces death. But Lai's lawyers made representations to the Attorney-General's Chambers and the capital charge was amended.
So yesterday, the 36-year-old's life was spared when he was sentenced to 25 years' jail and 15 strokes of the cane.
It brought an end, at least for the moment, to a very strange life of crime, accidental killing and desperation.
[...]
DETAINED
Court papers showed that from February 1997 to April 2004, Lai was detained under the Criminal Law (Temporary Provisions) Act for suspected drug-trafficking activities. On his release, he was placed under police supervision until April 2005.
But a year after that, he found himself in trouble with the law again.
On 8 June 2006 - his birthday - at around 8.20am, Lai was arrested at the void deck of Block 1, Lorong Lew Lian, by officers from the Central Narcotics Bureau (CNB). He was carrying a white plastic bag holding five bundles wrapped with newspapers and plastic, each containing a granular substance. He later confessed that he had collected the plastic bag for an acquaintance, Mark (not his real name). Lai was supposed to take it to a coffee shop in the Serangoon area, according to court documents. He was to wait there for a call from Mark. Lai knew that he would be paid $1,000 for delivering heroin.
In his mitigation, his lawyers - Mr Peter Fernando and Mr Ramesh Tiwary - told the court that Lai had agreed because he owed Mark around $10,000 in horse-racing winnings.
FLED FROM SINGAPORE
In December 2005, Mark had fled from Singapore and the police and hid in Malaysia. From there, he asked Lai to help him place illegal horse-racing bets in Singapore. One of such bets later won Mark around $20,000.
But the bookie absconded and Lai was not able to collect the winnings for him, Mr Fernando said. However, Mark still demanded that Lai pay him the winnings.
Mr Fernando said Lai forked out $10,000 of his own money to pay Mark through the latter's friend in Singapore.
In May last year, Lai told him that he was unable to make further payments. That was when Mark asked Lai to help him collect and deliver heroin.
But Deputy Public Prosecutor Lee Cheow Han said Lai's offence took place shortly after the police supervision and the detention under the Criminal Law Act for suspected drug-trafficking offences. This showed that he hadn't learnt his lesson and was involved in drug-related offences again, DPP Lee said.
Lai looked despondent on hearing the sentence.
When approached at his flat in the east yesterday, the father told The New Paper in Mandarin: 'I don't know about his affairs. I didn't even want to go to court today.' It was Lai's mother and his relatives who showed up in court to hear his sentence.
Copyright © 2005 Singapore Press Holdings Ltd. Co. Regn. No. 198402868E. All rights reserved.
---
---
Straits Times, Singapore, 10 March 2007
Rapist gets 16 years, 10 strokes
By Khushwant Singh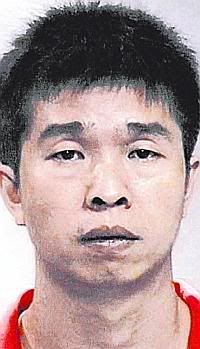 PREYING ON THE YOUNG: Toh Lam Seng's claim that he was set up by the 14-year-old student was rejected by the judge.
A 36-YEAR-OLD pet shop owner was handed a 16-year jail term and 10 strokes of the cane yesterday for raping a 14-year-old student, after the judge rejected his claim that the young girl had set him up.
Toh Lam Seng told the court the student had invented the charge as a way to get back at him for trying to change her wayward lifestyle.
The victim was among a group of teenagers who used to hang around regularly at Toh's pet shop, and she developed a friendship with him.
He said he wanted her to do well in school and told her to keep him informed of her whereabouts so she would not stay out late and mix with bad company.
He denied raping her.
However, three of her friends testified that they had seen Toh dragging her up a hill in a park near Marsiling Road at 2am on March 18 last year.
No one raised an alarm as they said they were afraid of Toh, who had bragged to them about his gang connections.
Justice Kan Ting Chiu did not buy Toh's claim that the victim had set him up, citing a catalogue of past offences.
'You've committed a whole series of offences for more than half a decade, comprising causing hurt with a weapon, theft, robbery and possession of drugs,' he told Toh.
'It's very depressing and all your counsel can say is this is the first time you've been charged with rape.
'It's not the first time you have been brought to court and now, you've raped a 14-year-old on whom you had some influence and instilled some fear.'
When he heard the sentence, Toh shouted in Mandarin: 'No clothes, no evidence, no law,' referring to the lack of DNA evidence on the victim's clothes.
The victim made a police report only on March 27 and by then, the clothes she wore the day she was raped had been washed.
The court was told that Toh had been detained for gang activities from 1997 to 2000.
In 2003, he was jailed a year for causing hurt with a weapon and another year in 2004 for fighting. He had also been convicted of drug possession.
For rape, he could have been jailed for 20 years and ordered to receive 24 strokes of the cane.
---
---
Straits Times, Singapore, 13 March 2007
8 years' jail, 21 strokes for robber who cornered girls, woman in lifts
By Elena Chong

TERROR: Azhar Abdullah used a dagger or knife to frighten his victims.
AN UNEMPLOYED man who cornered two girls and a woman in lifts and robbed them was yesterday sentenced to eight years in jail and 21 strokes of the cane.
Azhar Abdullah, 27, pleaded guilty to three counts of robbery and one of taking Subutex.
A district court heard yesterday that he would follow his victims into lifts and use a knife or dagger to frighten them into handing over their phones and wallets.
On Dec 21 last year, he saw a 16-year-old girl holding a mobile phone and wallet while waiting for a lift at Bedok Reservoir View.
He followed her and a male resident into the lift.
After the man got out on the seventh floor, Azhar whipped out a knife and shouted at the victim, demanding that she give him her wallet and $350 phone.
The frightened girl complied, and Azhar fled when the lift opened at the 13th storey.
He took $27 from her wallet before throwing it away, and sold the phone to a second-hand dealer for $200.
The next day, he robbed a 15-year-old of her $350 phone and her wallet, which contained $25 and personal documents. He sold the phone for $175.
On Dec 27, he followed a 27-year-old woman into a lift at Bedok Reservoir View, taking her $200 phone and wallet. Once again, he sold the phone, this time for $220.
Azhar's luck ran out on Jan 10. Acting on a tip-off that he had been selling stolen mobile phones, police arrested him at a void deck in Bedok North Street 1.
Apart from the charges he pleaded guilty to, five others - including for attempted robbery and theft - were taken into consideration.
Azhar has previous convictions for drug consumption, desertion from the Singapore Civil Defence Force, housebreaking and failing to report for urine tests.
---
---
Straits Times, Singapore, 15 March 2007
Man gets jail, cane for role in robbery
By Elena Chong
Court Correspondent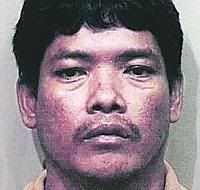 AT KNIFE-POINT: Pah Foh Soon and another man tied up and blindfolded their victim.
A 45-YEAR-OLD man who tied up, blindfolded and robbed a woman in her home was sentenced to 10 years' preventive detention and 12 strokes yesterday.
Pah Foh Soon pleaded guilty last month to robbing Madam Lee Hwee Cheng, a 56-year-old carpark attendant, of cash and valuables totalling more than $2,200 with three others on Jan 9.
The others - Madam Lee's former colleague and close friend, Asmah Ahmat, 43, her husband Khalid Hassan, 45, and Lim Kian Lee, 59 - have been dealt with.
Pah also admitted stealing $2,000 from Madam Lee with his accomplices by using her ATM card. Three other theft charges involving $6,000 were considered during the sentencing.
A district court heard that Madam Lee had loaned Asmah money a few times.
During one of those occasions when the pair went to an automated teller machine (ATM), Asmah saw Madam Lee's personal identification number and bank balance. She plotted with her husband to rob her friend. But since Madam Lee could recognise them, they enlisted the help of Pah and Lim.
While the couple acted as lookouts, the two men waited at a staircase landing near Madam Lee's home on the evening of Jan 9. When she was about to enter her flat, Pah and Lim approached her with a knife and asked her to open the door. Once inside, they tied her up, blindfolded her and ushered her into a room.
Asmah and her husband then turned up. The four helped themselves to cash and other valuables in the flat. And while the two men stood guard over Madam Lee, Khalid left for a petrol kiosk in Upper Aljunied Road to withdraw $2,000 from the victim's account.
He shared the money equally with the rest.
---
---
Straits Times, Singapore, 17 March 2007
10 years' jail, cane for man who tried to rape 13-year-old
By K.C. Vijayan
Crime Correspondent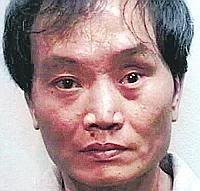 NO REMORSE: Lim continued to threaten the 13-year-old girl for two days until his arrest.
TRAWLING Internet chatrooms, 37-year-old Lim Seong Yeong befriended a 13-year-old in cyberspace, flirted with her using SMS messages, and finally appeared at her doorstep. She turned him away, but he persisted, made his way in and sexually assaulted her.
Yesterday, the building maintenance supervisor and father of two admitted to attempted rape and grossly outraging the modesty of the Secondary 2 student.
He will serve 10 years in jail and get 14 strokes of the cane.
Lim's wife, a 27-year-old China national who was in court with his seven-year-old daughter and several relatives, buried her face in her hands when the sentence was passed.
Justice Kan Ting Chiu said the victim had told Lim she was 13 years old, and he did not deny this anywhere in his plea. 'This is not a situation where the offence was committed because he lost momentary control of himself,' said the judge. He continued to threaten her for two days until his arrest. 'Any remorse came only after your arrest,' said Justice Kan.
Lim, who was represented by lawyers Wee Pan Lee and Christina Goh, said in mitigation that he was blind in his left eye and suffered from occasional fits.
Three other charges were taken into consideration, including his possession of 10 obscene films on the day of his arrest.
Lim first chatted up the girl on the Alamak Internet chatroom in August 2005. She said she was 13, but he lied, saying he was 28. They exchanged phone numbers and, after a while, Lim asked if she would be his girlfriend. In one SMS message, he asked her for sex. Her reply: 'Can'.
On Aug 23 that year, they agreed to meet at her flat. He then admitted his true age to prepare her for the way he looked. He also told her he was bringing condoms along as he wanted to have sex. When he showed up, she had second thoughts and got him to leave, saying her mum was due back soon.
Lim left, but waited at the void deck, where, for 75 minutes, he sent her threatening SMS messages telling her to let him in and 'satisfy' him. Fearful of Lim, she let him in, sat on the sofa and sobbed, telling him she did not want sex. It did not stop Lim, who molested her on the sofa before carrying her to the bedroom, where he continued to grope her. He stopped as he was attempting to rape her, wiped himself on her clothes and fled.
The next morning, the girl told her mother what happened as she got up for school, still crying. Police were informed and Lim was nabbed near his workplace when he responded to what he thought was an SMS message from the girl.
The girl, who is the only child of a single mother, is still recovering from the trauma of the attack. She has feelings of guilt and is still fearful of older bespectacled men. Mention Bugis - where Lim worked - and memories of the attack come flooding back.
---
---
Straits Times, Singapore, 24 March 2007
Burglar has 24 strokes halved, jailed 3 more years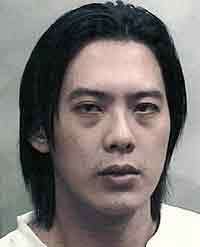 While serving his eight-year jail term for those burglaries, Weng Kei sat for his O- and A-level examinations. -- CRO
A HIGH court judge on Friday told a burglar, who returned to a life of crime just as he was starting his final year in university, that it was a 'real shame' he did not take the opportunity to change his ways.
Once dubbed the 'Spiderman' burglar, So Weng Kei was facing the court in an appeal to reduce the number of strokes he would have to be caned.
While Justice V. K. Rajah halved the number of strokes to 12, he also upped So's jail term by three years.
In sending the 27-year-old to jail for 10½ years, he said he hoped the young man will use this time to reflect, rehabilitate himself and 'chart a new course' when he is released.
Last September, So was jailed by a district judge for 7½ years and ordered to be caned the maximum 24 strokes for breaking into 11 homes.
So had been jailed in 1999 for break-ins and was dubbed the 'Spiderman' burglar, as his trademark was to climb into flats through open kitchen windows.
While serving his eight-year jail term for those burglaries, he sat for his O- and A-level examinations.
He was released in 2004 and got a place at the Arts and Social Science faculty at the National University of Singapore, where he completed his first two years successfully.
In May 2006, he found out that there was not enough money in his father's CPF account to continue paying his tuition fees.
He broke into homes again and was arrested in July 2006, a month before his third year was to begin.
On Friday, his lawyer Chia Foon Yeow argued that 24 strokes of the cane was excessive, crushing and an 'overkill'.
He noted that So had stayed out of trouble for two years and was driven by financial difficulties and depression into reoffending.
These two factors overwhelmed him, clouded his judgment and made him resort to burglary again.
Deputy Public Prosecutor Leong Wing Tuck said that while it was sad to see So reoffend after making good his past, the fact remained that the return to burglary was 'one of his own choosing'.