Today, Singapore, 4 November 2010
Rapist who 'helped' victim gets 16 years and 6 months in jail, 20 strokes
By Zul Othman
SINGAPORE -- A man who dragged his victim into the bushes and raped her on Sept 8 last year has been sentenced to 16 years and six months for the crime.
Yesterday, Justice Choo Han Teck also ordered Dai Yun Fa (picture), a 32-year-old China national, to be given 20 strokes of the cane.
On Monday, Dai -- who is married with a child in China -- pleaded guilty to three charges of abduction, aggravated rape and resisting arrest.
The court heard that, on the day of the offence, the 25-year-old victim -- also a China national -- was on her way home at around 11pm.
She had alighted from a bus when Dai pounced on her and dragged her into the bushes near an expressway in the Jurong area.

Click to enlarge
The victim, who cannot be named, begged him to let her go, offering Dai her mobile phone and money.
Dai, who came here in 2008 and last worked as a welder, ignored her and raped her.
Later, he offered to be friends with the victim and said he would look for her missing handphone and shoes. They recovered the shoes and Dai promised the victim to return the next day to search for her handphone, which was lost during the struggle. He even gave the victim his phone number, presumably so they could keep in contact.
---
---

The Straits Times, Singapore, 9 November 2010
Killer dads
He killed toddler over cigarettes
Bus driver who killed teenage step-daughter escapes hanging, but Court of Appeal stiffens sentence of father who caused toddler's death
Be Selina Lum
SALLEHAN ALLAUDIN
What he did: Beat his almost two-year-old daughter to death
Original sentence: Six years' jail
Sentence upon appeal: 10 years' jail and 10 strokes of the cane
Judge says: A 'shocking and horrendous case'; original sentence was 'manifestly inadequate'.
A FATHER who beat his almost two-year-old daughter to death had his six-year jail sentence raised to the maximum 10 years yesterday, with a judge calling it 'one of the worst cases' he had seen.
Sallehan Allaudin, 28, was also ordered to be given 10 strokes of the cane by the Court of Appeal.
'This is a sad, shocking and horrendous case,' said Justice Chao Hick Tin as he delivered the three-judge court's decision, saying the original sentence was 'manifestly inadequate'.
Sallehan killed Natalie Nikie Alisyia after coming home to find the 23-month-old chewing on his cigarettes on Jan 6 last year.
The cleaner and his wife had left Nikie and her two younger sisters - one a year old and the other two months old - at home while they went to buy her a birthday present.
When the couple returned to the family's Boon Lay flat, Sallehan flew into a rage. He said he scolded Nikie, and began slapping and punching her. His wife testified that he also kicked and stamped on the girl, although he denied this.
An autopsy found that Nikie died from a tear in a major vein, probably from a hard punch, kick or stamp.
Sallehan was tried for murder at the High Court, but he was cleared and was instead found guilty of a lesser charge of culpable homicide.
He was sentenced to six years, but the prosecution appealed for him to be given a more severe sentence.
Describing Sallehan as a man 'who decided to teach his child a lesson because of cigarettes', Deputy Public Prosecutor Cheng Howe Ming urged the court to impose caning to show that extreme violence against one's own children cannot be tolerated.
Justice Chao said Sallehan had resorted to force against a helpless child. 'I would have thought that... children are by nature playful, they are by nature curious. Anything you put in front of them, they will chew it up,' said the judge.
He said Sallehan had told the toddler off for the same thing two days before, yet chose to place his cigarettes within her reach. 'If anyone needed disciplining, he needed disciplining,' said the judge.
Sallehan's lawyer, Mr N. Kanagavijayan, said he was by all accounts a loving father and had punched the child's back as it was the 'strongest part of the body'.
Justice Kan Ting Chiu asked: 'Is that supposed to be a suggestion of love?'
Separately, Justice V. K. Rajah took issue with how the prosecution had narrowed its focus on the murder charge.
He said the child had injuries to her genital area and 22 healed wounds on her body. He also expressed doubts about whether both parents had been candid.
But the DPP said the prosecution wanted to focus on the murder and avoid prejudicing the child abuse charges that Sallehan faced separately. These charges were withdrawn after his conviction.
With the usual two-thirds remission for good behaviour, Sallehan may be out in six years. The court highlighted that his two remaining daughters will still be very young when he is released.
Justice Chao asked prosecutors to arrange for welfare services officers to keep tabs on them before and after his release.
Copyright © 2007 Singapore Press Holdings. All rights reserved.
---
---

The Straits Times, Singapore, 13 November 2010
Jail, caning for man who robbed pregnant woman
A ROBBER who followed a pregnant woman home, slapped her and then stole her handbag was yesterday sentenced to three years' jail and 12 strokes of the cane.
Muhammad Noh Mohammad Jais, 24, was given the minimum sentence after District Judge Ng Peng Hong heard he has an IQ of only 42, which is considered moderately retarded.
The car washer followed Ms Mardonna Retiro, who was 7½ months pregnant, from Simei MRT station into a lift at Block 146, Simei Street 2 in July. He slapped her twice on the abdomen. When Ms Retiro, 32, refused to let go of her handbag, he slapped her face and right hand.
Ms Retiro ran out of the lift when it reached the fifth floor. Muhammad Noh fled to the ground floor and escaped.
He kept $350 in cash and threw the bag, a cellphone and personal documents into a bush near Kembangan MRT station. He was arrested the next day with about $27. He pleaded guilty to robbery. The court was not told whether Ms Retiro was injured.
Muhammad Noh's lawyer, Ms Nadia Yeo, said her client, a former student of the Minds special school, had been exempted from national service.

Click to enlarge
In a psychiatric examination, he said he committed the robbery because he wanted to "enjoy" and to go to Geylang to "find girl".
Another charge of robbing a 31-year-old woman, who was eight months pregnant, in a lift in Bedok Reservoir Road a day earlier was taken into consideration by the judge in sentencing.
Muhammad Noh could have been jailed for up to 14 years and given up to 24 strokes of the cane.
Ms Yeo was assigned to his case under the Criminal Legal Aid Scheme, which helps those unable to afford a lawyer.
---
---

The Straits Times, Singapore, 16 November 2010
Swiss vandal released from prison
Fricker out after spending less than five months in jail
By Teh Joo Lin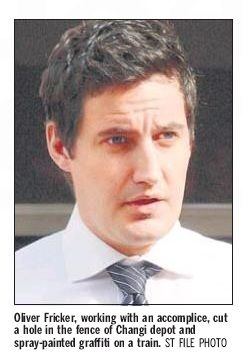 A SWISS IT consultant who broke into a depot and spray-painted graffiti on a train was released from prison yesterday morning.
Oliver Fricker, 32, had been sentenced to seven months' jail and three strokes of the cane for trespassing and vandalising an SMRT train in mid-May. The unprecedented act was seen as a serious breach and sparked a review of the security of the public transport network.
Fricker spent less than five months in jail after he received a one-third remission for good behaviour.
He left the Changi Prison Complex in a bus shortly after 8am. It is believed he was taken to the Immigration and Checkpoints Authority (ICA) building in Lavender for repatriation procedures, although it was not known last night if he had been deported to Switzerland.
It was also unclear whether he would be banned from re-entry in the future.
An ICA spokesman said it cannot comment on individual cases for reasons of confidentiality. Fricker declined to be interviewed when a request was conveyed through the Swiss embassy.
Mr Peter Zimmerli, the deputy head of the mission, said a representative had visited him occasionally during his prison stay and given him consular assistance.
Before his arrest in May, Fricker had lived in Singapore for 18 months and worked as an IT consultant for Switzerland-based company Comit. A company spokesman said yesterday that he remained contracted, but did not elaborate.
Between May 16 and 17, Fricker and an alleged accomplice, Briton Dane Alexander Lloyd, 29, cut a hole in the fence of the Changi depot with a wire-cutter.
They then spray-painted graffiti on a train with the words "McKoy Banos" -- the signature of two graffiti artists believed to have spray-painted trains around the world.
Fricker was arrested two days before he was scheduled to return to his home country on May 27, when his employment contract here expired. Lloyd, who is believed to have fled to Hong Kong, remains at large.
The breach raised questions about public transport security, and led to a Government-led review that is expected to be due before February.
Click to enlarge
After the incident, SMRT beefed up security at its train and bus depots. The Straits Times reported a fortnight ago that the transport operator was calling for tenders for stronger fences, electronic eyes and "smart" fence systems that can detect intruders at its train depots.
A spokesman said the transport operator is reviewing the tender submissions.
Meanwhile, the jury is out on whether Fricker and Lloyd are the two graffiti artists behind the well-known "McKoy Banos" tag.
A 34-year-old graffiti artist, who declined to be named so as not to be seen as "betraying" the tightly knit community, said: "There's no doubt about it. I don't think they would have gone out of their way to do something and not put their names."
But days after Fricker was arrested, videos surfaced in Europe of trains that bore the tag. Artist Mazlan Ahmad, 34, said no one can be sure unless he knows the artist on a personal basis. He said: "And if someone knows, he won't be telling it through the media."