The Straits Times, Singapore, 5 October 2010
Fatal mobile phone heist: Duo get 15 yrs and 15 strokes
By Khushwant Singh

TWO men, who were originally convicted of murder two years ago, were yesterday sentenced to 15 years in jail and 15 strokes of the cane for robbery with hurt.
Daniel Vijay Katherasan and Christopher Samson Anpalagan, both 27, escaped the gallows after the Court of Appeal ruled last month that the pair did not know a third accomplice, Nakamuthu Balakrishnan, 51, would cause the death of lorry driver Wan Cheon Kem.
They were then convicted of robbery with hurt, but are appealing against their sentences.
The duo were part of a three-man team who ambushed a lorry loaded with 2,700 mobile phones in May 2006, with the intention of taking the loot worth $1.3 million.
During the robbery in Changi Coast Road, Nakamuthu bashed the lorry driver with a baseball bat. Mr Wan, 46, who took at least 15 blows to his head and body, died six days later in hospital.
Deputy Public Prosecutor Amarjit Singh asked Justice Tay Yong Kwang to mete out a sentence of not less than the 16½ years' jail and 24 strokes of the cane handed to Arsan Krishnasamy Govindarajoo, 40, one of two men who hatched the plan.
He said Daniel Vijay and Christopher Samson did not bother to seek medical attention for the badly injured victim, who might not have died if he had had medical help.
DPP Singh also said the plan called for taking over the lorry by force and the two men must have known Mr Wan would be hurt.
In reply to arguments for leniency by defence lawyers -- that both men had turned themselves over to police custody voluntarily -- DPP Singh said this counted for little as the police were on to them and it was only a matter of time before they would have been caught.
In their submission for a lighter sentence, Daniel Vijay's lawyers James Masih and Amarick Gill said their client had gone absent without official leave during his national service in 2006 to support his wife and three children, now aged six, nine and 10.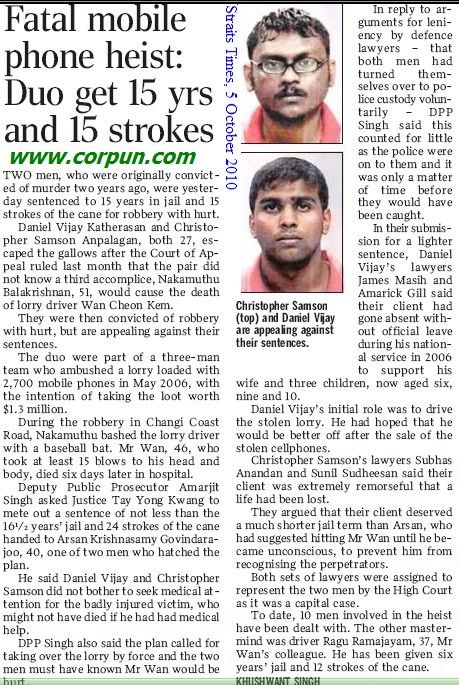 Click to enlarge
Daniel Vijay's initial role was to drive the stolen lorry. He had hoped that he would be better off after the sale of the stolen cellphones.
Christopher Samson's lawyers Subhas Anandan and Sunil Sudheesan said their client was extremely remorseful that a life had been lost.
They argued that their client deserved a much shorter jail term than Arsan, who had suggested hitting Mr Wan until he became unconscious, to prevent him from recognising the perpetrators.
Both sets of lawyers were assigned to represent the two men by the High Court as it was a capital case.
To date, 10 men involved in the heist have been dealt with. The other mastermind was driver Ragu Ramajayam, 37, Mr Wan's colleague. He has been given six years' jail and 12 strokes of the cane.