The New Paper, Singapore, 6 September 2010
His youngest victim is only 10
Woodlands serial molester cycles around estate looking for women in shorts or skirts
By Veena Bharwani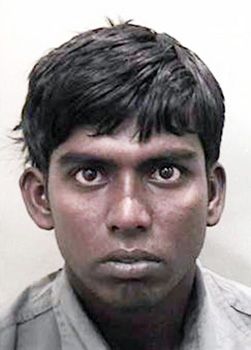 Thangavelu Tamilselvam, a 23-year-old construction worker from India, cycled around the Woodlands area molesting young women who wore shorts or skirts. He molested five victims in HDB lifts, one of them was just 10 years old.
FOR 19 days, he pounced on women in the Woodlands area.
He was the molester on two wheels, cycling around the area in search of potential victims. He wore a cap to hide the top half of his face so his victims could not identify him. And when his dirty deed was done, he rode off.
Thangavelu Tamilselvam, a 23-year-old construction worker from India, did not travel far to seek out his targets - young women who wore shorts or skirts.
He was staying at a dormitory in Woodlands E1 Industrial Park in May when he molested five victims in HDB lifts. One of them was just 10 years old.
Fortunately, his crime spree was cut short, thanks to his last victim's quick reaction in alerting the police.
On 30 May, a 30-year-old woman was returning home from work at about midnight when he molested her in the lift of a block in Woodlands Crescent.
Thangavelu shoved her in the lift, touched her breasts, then jumped on his bicycle and fled. Within seconds, the woman, who was Thangavelu's oldest victim, called 999 to report the molest.
Given the four earlier molests, the police had already stepped up patrols in the area.
Within five minutes, Corporal Muhd Adnan Mohamed, 26, from the Woodlands Neighbourhood Police Centre (NPC) task force was at the victim's HDB block to interview her.
Said Cpl Muhd Adnan: "I suspected that this case was linked to the other four and we wanted to catch the guy."
Of the victim, he said: "She was traumatised but she wasn't crying. Her husband was with her. "She gave me what we needed - a good description of what the molester was wearing that day and the fact that he was on a bicycle.
"Then I knew (for sure) this case was related to the other four."
After the interview, Cpl Muhd Adnan and a colleague drove off in their patrol car to look for the culprit.
After 20 minutes, they saw Thangavelu on his bicycle at Woodlands Avenue 6 cycling towards Woodlands Avenue 7.
Said Cpl Muhd Adnan: "We stopped him and told him that we needed to speak to him. He spoke English with a strong Indian accent. He appeared nervous."
The victim was taken to a HDB block nearby so she could identify Thangavelu without him knowing. She confirmed him as her molester.
So Cpl Muhd Adnan arrested Thangavelu. Then, two officers from the Investigation Branch (Violence Against Persons) of the Jurong Police Division - staff sergeants Kok Jian Wei, 29, and V Suresh, 32 - interviewed the suspect.
He confessed to molesting all five victims.
Said Staff Sgt Kok: "We worked very closely with the officers from Woodlands NPC. We gathered evidence and had discussions with them."
Gathered info
Before Thangavelu was caught, the investigation team had already interviewed the four victims and gathered information about him.
Talking to the victims helped them put together a profile of the serial molester.
The officers found out that the molester wore a cap that covered the top half of his face, that he rode a bicycle and that his victims were in short skirts.
Staff Sgt Kok said: "We already had a few complaints of a similar nature from the area and some evidence in the form of closed circuit television (CCTV) footage of the molests."
Interviewing the victims was not easy as they were young and traumatised by what had happened to them.
Staff Sgt Kok said of the 10-year-old victim: "When she first came in, she was crying. We kept reassuring her that she was safe and we gave her a drink.
"It was a delicate situation as she was clearly still upset. After some time, she calmed down and was able to talk to us.
"She told us that she saw him fleeing on his bicycle and that he wore a cap."
Staff Sgt Kok said that female officers sometimes sit in for the interviews to make the victim feel more comfortable. In the young girl's case, they didn't have to do that as she was calm enough to be interviewed soon after.
He said: "It's tough to interview these victims but that is the challenge and we have to do our job professionally."
On Aug 16, Thangavelu was sentenced to eight years jail and given 12 strokes of the cane after pleading guilty to three charges.
Deputy Public Prosecutor Kumaresan Gohulabalan told the court that the accused struck up a conversation with a 10-year-old girl at the lift lobby of a block in Woodlands Ring Road on May 18.
As the lift door was about to close, he rushed into the lift. CCTV footage in the lift showed him placing his hands on the victim's face and shoving her against the lift wall.
He hugged and kissed her but she put up a struggle and pushed him away. He was seen fleeing on his bicycle.
Two days later, he molested a 17-year-old girl in a lift, also in Woodlands.
For outraging modesty in a lift and causing wrongful restraint, Thangavelu could have been jailed for three to 10 years and caned on each charge.
Copyright ©2010 Singapore Press Holdings Ltd. Co. Regn. No. 198402868E. All rights reserved.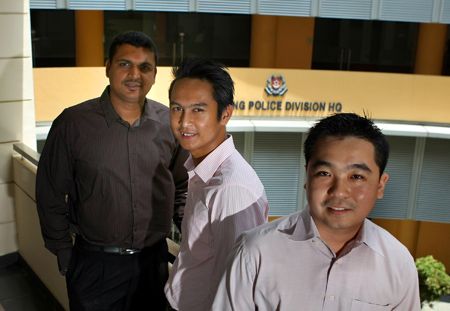 (From far left) Staff sgt V Suresh, Corporal Muhd Adnan Mohamed and Staff sgt Kok Jian Wei nabbed the serial molester.
---
---

The Straits Times, Singapore, 24 September 2010
Robber in goldsmith heist jailed 7 years
By Elena Chong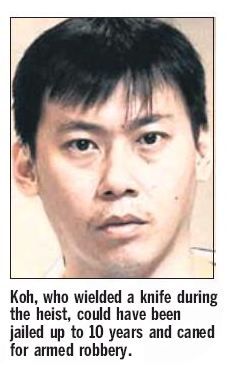 THE only one of three robbers arrested for an armed holdup of a Bedok Central goldsmith shop was yesterday given seven years' jail and the minimum 12 strokes of the cane.
The district court also banned Koh Koon Hong, 35, from driving for three years for motorcycle theft.
In addition, he was punished for riding without insurance coverage, and another three charges were considered during sentencing.
He had earlier pleaded guilty to pulling off the $857,441 heist with his accomplices at Yong Sheng Goldsmith in Block 210 New Upper Changi Road on April 23.
His accomplices, Tan Choon Huat, 52, and Lee Yeow Kwang, 48, are still at large.
Deputy Public Prosecutor Christina Koh told the court that Tan had masterminded the heist, and roped in Koh and Lee.
The three surveyed the area about a month beforehand and drew up a getaway plan.
On the afternoon of April 23, the trio -- wearing motorcycle helmets, surgical masks, sunglasses and gloves -- entered the shop and held up four sales assistants. Koh and Lee, each armed with a knife, stood guard over the staff while Tan leaped over the counter, prised open the show-cases with a crowbar and scooped the items into a sling bag.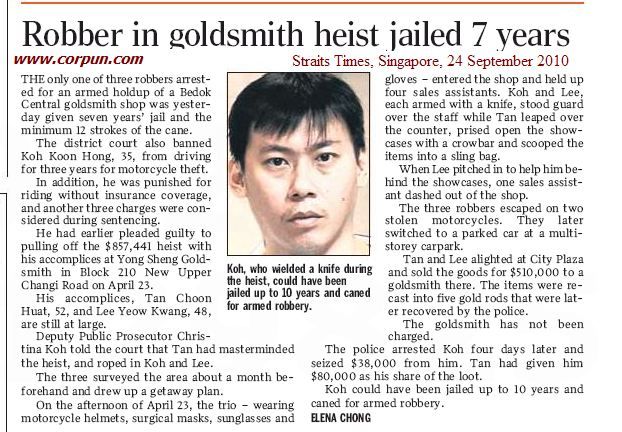 Click to enlarge
When Lee pitched in to help him behind the showcases, one sales assistant dashed out of the shop.
The three robbers escaped on two stolen motorcycles. They later switched to a parked car at a multi-storey carpark.
Tan and Lee alighted at City Plaza and sold the goods for $510,000 to a goldsmith there. The items were recast into five gold rods that were later recovered by the police.
The goldsmith has not been charged.
The police arrested Koh four days later and seized $38,000 from him. Tan had given him $80,000 as his share of the loot.
Koh could have been jailed up to 10 years and caned for armed robbery.