Today, Singapore, 14 August 2010
Five youths convicted of aggravated outrage of modesty
By Zul Othman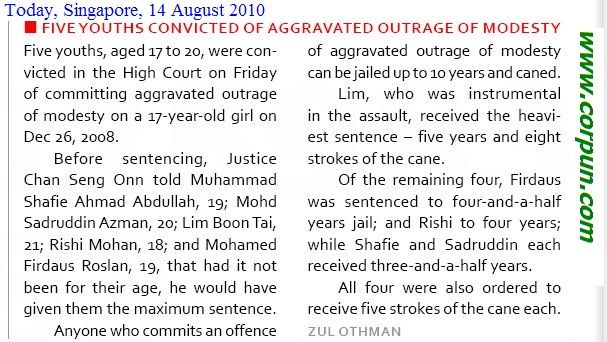 Click to enlarge
Five youths, aged 17 to 20, were convicted in the High Court on Friday of committing aggravated outrage of modesty on a 17-year-old girl on Dec 26, 2008.
Before sentencing, Justice Chan Seng Onn told Muhammad Shafie Ahmad Abdullah, 19; Mohd Sadruddin Azman, 20; Lim Boon Tai, 21; Rishi Mohan, 18; and Mohamed Firdaus Roslan, 19, that had it not been for their age, he would have given them the maximum sentence.
Anyone who commits an offence of aggravated outrage of modesty can be jailed up to 10 years and caned.
Lim, who was instrumental in the assault, received the heaviest sentence -- five years and eight strokes of the cane.
Of the remaining four, Firdaus was sentenced to four-and-a-half years jail; and Rishi to four years; while Shafie and Sadruddin each received three-and-a-half years.
All four were also ordered to receive five strokes of the cane each.
Country files: Corporal punishment in Singapore
Article: Judicial caning in Singapore