The Straits Times, Singapore, 1 July 2010
Transvestite killer gets 7 years' jail, 8 strokes
Selina Lum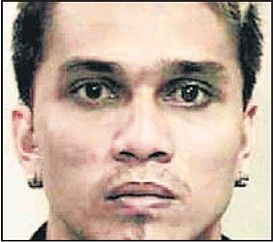 Astro Jakaria will be the first to be caned for manslaughter without intention to cause death since the 2008 Penal Code change.
A 28-YEAR-OLD man who killed the 61-year-old transvestite who took him in and supported him financially was jailed for seven years yesterday.
He was also ordered to be caned eight strokes – the first person to be caned for manslaughter without intention to cause death after the Penal Code was amended in 2008 to include caning as a sentencing option.
In sentencing Astro Jakaria, Justice Chan Seng Onn chided the Sabahan for not caring about the condition of his benefactor, Mr Abdul Khalid Othman.
Astro had tied a long-sleeved T-shirt around Mr Abdul Khalid's neck during a scuffle in the older man's Ang Mo Kio flat two years ago, strangling him to death.
The scuffle arose after the transvestite had performed oral sex on Astro and then asked to have sex with him.
Yesterday, Justice Chan said: "You... caused the death of a person who had mothered you, showed much care and concern for you, who had taken very good care of you in many aspects and provided you with financial assistance."
Click to enlarge
Astro, who stole the older man's jewellery before leaving the flat, was initially charged with murder.
He escaped the gallows in April after Justice Chan found him guilty of the lesser charge.
The judge said then that the prosecution had failed to prove beyond a reasonable doubt that Astro intended to kill Mr Abdul Khalid by tying the T-shirt around his neck.
Astro came to Singapore in 2007 to work as a cleaner and met Mr Abdul Khalid, who was also a cleaner.
He lived with the older man without paying rent and regarded him as his mother.
Mr Abdul Khalid, who wore women's clothes, cooked for him, bought him clothes and gave him money.
Yesterday, Astro's lawyer, Mr Shashi Nathan, said his client was overcome with guilt, anger and disgust after performing the sex acts and became outraged when the older man asked for more.
But Deputy Public Prosecutor Ng Cheng Thiam said Astro had overreacted. He could have just left after Mr Abdul Khalid made sexual overtures.
Astro could have been jailed for up to 10 years and fined.
---
---
Today, Singapore, 10 July 2010
Where S'pore, Switzerland differ
Fricker comes up in talks between two presidents
By Leong Wee Keat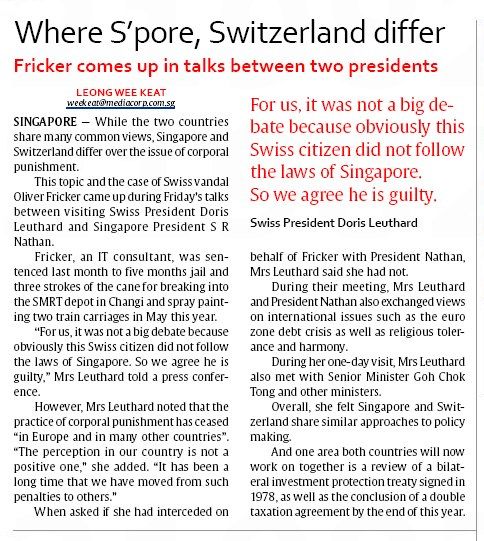 Click to enlarge
SINGAPORE -- While the two countries share many common views, Singapore and Switzerland differ over the issue of corporal punishment.
This topic and the case of Swiss vandal Oliver Fricker came up during Friday's talks between visiting Swiss President Doris Leuthard and Singapore President S R Nathan.
Fricker, an IT consultant, was sentenced last month to five months jail and three strokes of the cane for breaking into the SMRT depot in Changi and spray painting two train carriages in May this year.
"For us, it was not a big debate because obviously this Swiss citizen did not follow the laws of Singapore. So we agree he is guilty," Mrs Leuthard told a press conference.
However, Mrs Leuthard noted that the practice of corporal punishment has ceased "in Europe and in many other countries". "The perception in our country is not a positive one," she added. "It has been a long time that we have moved from such penalties to others."
When asked if she had interceded on behalf of Fricker with President Nathan, Mrs Leuthard said she had not.
During their meeting, Mrs Leuthard and President Nathan also exchanged views on international issues such as the euro zone debt crisis as well as religious tolerance and harmony.
During her one-day visit, Mrs Leuthard also met with Senior Minister Goh Chok Tong and other ministers.
Overall, she felt Singapore and Switzerland share similar approaches to policy making.
And one area both countries will now work on together is a review of a bilateral investment protection treaty signed in 1978, as well as the conclusion of a double taxation agreement by the end of this year.
---
Follow-up: 16 November 2010 - Swiss vandal released from prison
---
---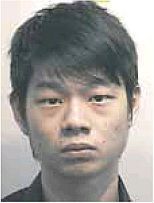 Today, Singapore, 20 July 2010
24 strokes, jail for repeat offender who threatened cops
By Shaffiq Alkhatib
A recalcitrant youth offender was sentenced to six years' jail and given the maximum 24 strokes of the cane for committing several offences, including threatening to kill a police officer.
Kevin Woo Ming Yang (picture), 19, was arrested on Dec 20 last year after officers checked his identity card in the Boat Quay area and found that he was wanted by a Reformative Training Centre.
Click to enlarge
Woo put up a struggle and challenged one of the officers to a fight. He also threatened to kill one of them upon his release.
The unemployed youth was also convicted of two counts of armed robbery in Marine Parade in June last year.