The Straits Times, Singapore, 2 June 2010
Man molested girl on date, slashed woman
Both offences committed after his release from reformative training
By Elena Chong
HE TOOK along a knife on his first date with a teen he came to know through social networking website Friendster.
Taking precautions, the 15-year-old girl asked two friends to accompany her on the date with then 22-year-old Christopher Neo Yong Heng on Aug 25 last year.
But when he saw the other two girls, he became angry and ordered them to leave. He then became aggressive, shouting at the victim and pulling her to a nearby block of flats where he molested her.
Yesterday, the unemployed man was jailed for four years and six months and given 12 strokes of the cane, after he admitted to outraging the modesty of the girl and slashing a stranger on the wrist and fingers at a void deck near Jalan Bukit Merah on Nov 1 while out on bail.
Assistant Public Prosecutor N.K. Anitha told the court on Monday that when the two girls lost sight of Neo and their friend, one of them called a male schoolmate for help.
At the staircase landing of Block 35, Chai Chee Avenue, the victim cried when he threatened to harm her friends.
He repeatedly tried to hug her but she pulled herself away each time. And when she tried to leave to answer a call from the male schoolmate, Neo blocked her path.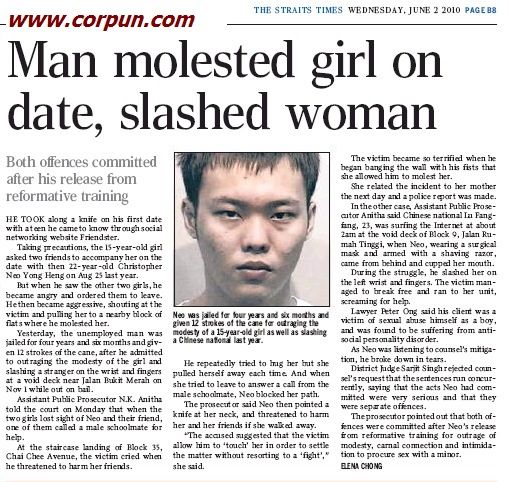 Click to enlarge
The prosecutor said Neo then pointed a knife at her neck, and threatened to harm her and her friends if she walked away.
"The accused suggested that the victim allow him to 'touch' her in order to settle the matter without resorting to a 'fight'," she said.
The victim became so terrified when he began banging the wall with his fists that she allowed him to molest her.
She related the incident to her mother the next day and a police report was made.
In the other case, Assistant Public Prosecutor Anitha said Chinese national Lu Fangfang, 23, was surfing the Internet at about 2am at the void deck of Block 9, Jalan Rumah Tinggi, when Neo, wearing a surgical mask and armed with a shaving razor, came from behind and cupped her mouth.
During the struggle, he slashed her on the left wrist and fingers. The victim managed to break free and ran to her unit, screaming for help.
Lawyer Peter Ong said his client was a victim of sexual abuse himself as a boy, and was found to be suffering from antisocial personality disorder.
As Neo was listening to counsel's mitigation, he broke down in tears.
District Judge Sarjit Singh rejected counsel's request that the sentences run concurrently, saying that the acts Neo had committed were very serious and that they were separate offences.
The prosecutor pointed out that both offences were committed after Neo's release from reformative training for outrage of modesty, carnal connection and intimidation to procure sex with a minor.
---
---

The Straits Times, Singapore, 3 June 2010
Jail, caning for molesting three women
By Elena Chong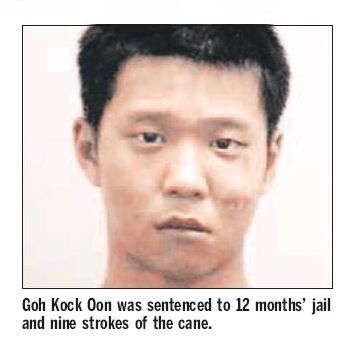 A FULL-TIME national serviceman was sentenced to 12 months' jail and nine strokes of the cane yesterday after pleading guilty to three counts of molestation.
On Nov 21, 20-year-old Goh Kock Oon was cycling at a park in Tampines Street 32 at about 10pm when he became sexually aroused on seeing a 19-year-old woman exercising in the fitness corner.
After parking his bicycle nearby, he walked up to the victim and squeezed her breasts from behind. Taken aback, the victim struggled, causing both of them to fall, said Deputy Public Prosecutor Gay Hui Yi. Goh got up and ran towards his bicycle.
He struck again that evening, grabbing the breasts of a 20-year-old woman while she was talking on the phone in Bedok Reservoir Road.

Click to enlarge
He molested his last victim, a 27-year-old, exactly a month later while she was waiting for her male friend at a void deck, again in Bedok Reservoir Road.
The DPP told the Community Court that Goh had several heated arguments with his girlfriend in early November last year and, as a result, came to despise women.
Goh's lawyer said in mitigation that his client's girlfriend is now pregnant with his child.
At the time of the offences, he said Goh suspected his girlfriend of prostituting herself and decided to teach women who wore revealing clothes a lesson.
He could have been jailed for up to two years or fined or caned, or received any combined sentence on each charge.
---
---

The Straits Times, Singapore, 25 June 2010
Man with pistol gets 12½ years, 17 strokes
He was caught while delivering contraband cigarettes in lorry
By Elena Chong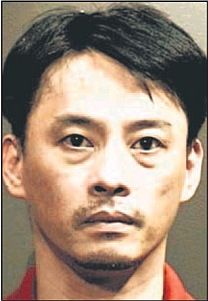 Low, 42, was sentenced yesterday for unlawful possession of contraband cigarettes, a firearm and five rounds of ammunition.
FOR the last decade or so, Low Hua Choon, 42, has kept a semi-automatic pistol given to him by a friend for safe-keeping.
When he was busted last July while delivering duty-unpaid cigarettes to customers, the pistol he hid in his lorry became a second millstone around his neck.
Low was yesterday sentenced to 12½ years' jail and 17 strokes of the cane for unlawful possession of contraband cigarettes, a firearm and five rounds of ammunition. He was also prosecuted for drug offences and obscene films that were found in his flat after his arrest.
His sentence was backdated to July 29 last year.
A district court heard that last July 27, his employer Ah Meng asked him to pick up a consignment of duty-unpaid cigarettes from a Malaysian-registered lorry in Woodlands. Low did so and returned to his rented flat in the East Coast.
Subsequently, a man called and asked for the cigarettes to be delivered to his customers in Chai Chee and Ang Mo Kio.
It was in Ang Mo Kio that Low was waylaid by Customs officers. On board his lorry were found 650 cartons of contraband cigarettes and the loaded pistol, which was wrapped in a cloth bag and placed in a black bag behind a seat.
Investigations showed that some time in 1998 or 1999, Low's friend, known only as Guan Choon, had sought his help to drive a Malaysian-registered car away from Woodlands as he was to be arrested for drug offences. Guan Choon also told Low about the pistol in its boot. Low became its custodian.
Low's lawyer Edmond Pereira said his client had at first kept the pistol above the ceiling boards of his previous home in Balestier. When he moved to East Coast Terrace some time before last July, he began stowing it in his lorry because the flat had no ceiling boards.

Click to enlarge
Mr Pereira said that many times, Low wanted to get rid of the pistol, but did not know how to, so he kept it in his lorry. He was "very sure" he would never need to use it, said Mr Pereira.
Singapore's gun laws are strict. In Low's case, because of a 1994 conviction for rioting and causing grievous hurt, he stood to be jailed five to 20 years and caned at least six times for carrying a firearm. Had he fired it, say, in a riot, abduction, extortion or robbery, it would have been an offence punishable by death.
---
---

The Straits Times, Singapore, 26 June 2010
Swiss vandal gets 5 months, 3 strokes
Vandals ordered paint, checked MRT depot, before graffiti attack
By Elena Chong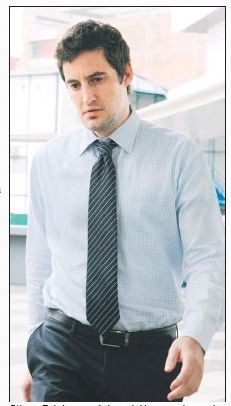 Oliver Fricker arriving at the courts yesterday for sentencing. His lawyer's argument that he had helped to highlight SMRT's security lapses cut no ice with the judge. -- ST PHOTO: WONG KWAI CHOW
SWISS national Oliver Fricker's vandalism of an MRT train was not committed on the spur of the moment but planned over a period of time.
In fact, the plot to break into an MRT train depot and spray graffiti on a train appears to have been hatched several months before, while his accomplice, Dane Alexander Lloyd, was still overseas.
The pair came to know each other 13 years ago in Australia and had kept in touch occasionally via e-mail.
When Lloyd, a 29-year-old Briton, came to Singapore for a holiday in May, he met Fricker, who was working here as an IT consultant.
Two days before his arrival, Lloyd e-mailed a supplier here to order 11 cans of spray paint for $95.
After collecting the paint on May 16, they did a recce on their target -- the SMRT train depot in Changi -- but left soon after because it was raining.
Later that night, after dinner at Lau Pa Sat, the pair returned to the site, observed the depot from different angles for a while, before picking a spot along the perimeter fence which was dimly lit.
Using a wire cutter, they cut their way through and headed straight for the nearest train parked there.
Fricker took the left side of the train, spraying the word "McKoy" while Lloyd worked on the right and used the word "Banos".
After the deed, Lloyd took the time to snap several photographs of their handiwork, which the men admired after they returned to Fricker's apartment at The Sail @ Marina Bay.
In all, more than 50 photographs and a video file of their act were later found on Fricker's laptop. The two men then took a trip to Hong Kong together for a few days. Fricker returned to work on May 21, but Lloyd stayed on there.
During this time, the vandalism was exposed by a young commuter, who posted the graffiti on the train on YouTube. SMRT subsequently made a police report of the break-in and Fricker was arrested a few days later.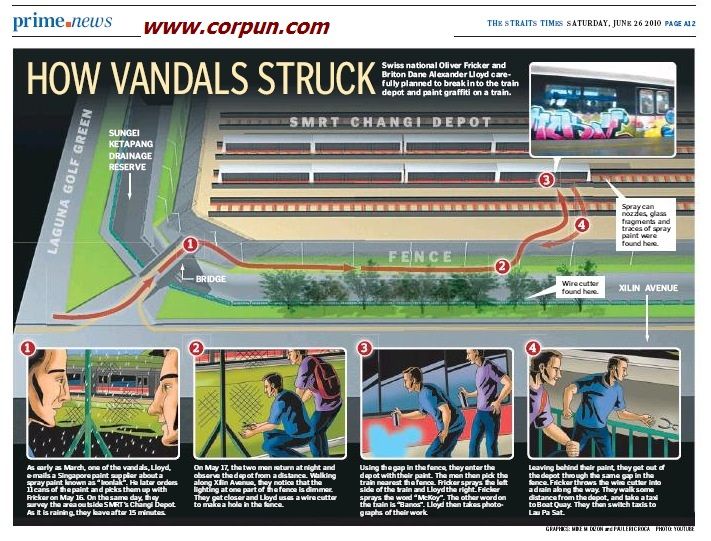 Yesterday, he pleaded guilty to both charges against him and was sentenced to three months' jail and the minimum three strokes of the cane for vandalism, and two months' jail for entering a protected place. The sentences are to run consecutively.
Under the law here, caning -- of between three and eight strokes -- is mandatory for convicted vandals. There is no caning for entering a protected place.
Duo's crimes not youthful bravado: Judge
Fricker's lawyer Derek Kang told reporters that his client intends to appeal, but opted to go into jail yesterday to begin his jail term pending the appeal.
Mr Kang had earlier pleaded for a fine or a short jail sentence for his client, a first-time offender. Fricker, he said, would be making full restitution for the damage caused by his action.
Senior District Judge See Kee Oon said Fricker and Lloyd "knew precisely what they wanted to do and had acted methodically under cover of darkness to achieve their objective".
The crimes were "not impulsive displays of youthful bravado", the judge said, but were "planned and carefully executed".
In fact, Lloyd had asked Fricker if it was legal to paint graffiti on trains in Singapore and Fricker had replied that it was illegal to do so.
The judge found that the cutting of the fence was an aggravating factor as it further demonstrated the detailed planning that was involved.
Earlier, Deputy Public Prosecutor Sharon Lim had asked the court to impose appropriate and consecutive jail sentences as Fricker had not only committed vandalism, but had intentionally broken through the fence of a protected place.
The incident had caused public disquiet about the security and safety of the public transport network, she added.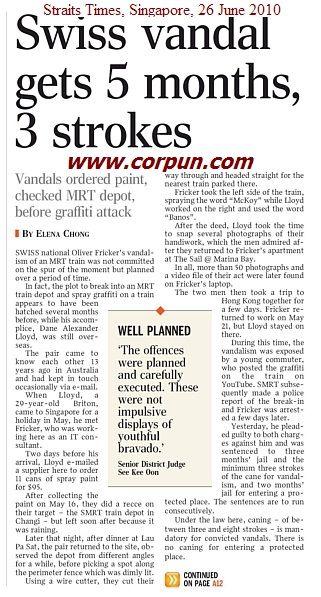 Click to enlarge
DPP Lim said the spraying of such marks with paint -- also known as tagging in graffiti sub-culture -- gave perpetrators a certain degree of street credibility and glory among members of graffiti sub-culture around the world.
She urged the court to send a strong signal that such practice of "graffiti tourism" would not be tolerated and would be severely dealt with in Singapore.
"A strong deterrent message needs to be sent to all would-be offenders that such unauthorised break-in and entry into a protected place to commit a crime is viewed very seriously by the authorities and will be punished accordingly."
DPP Lim had mentioned during her arguments that Fricker had a previous conviction in Switzerland 11 years ago, also for several spray-painting offences, and had been jailed for four months.
Mr Kang objected, saying this was not true, but the DPP said Fricker had admitted to this in his statement to the Singapore police.
But as the prosecution did not have documentary proof of this earlier conviction, nothing more was made of it.
The prosecutor said 15 SMRT maintenance officers had to take 1½ hours to remove the graffiti, and even then, there was still pink paint on one carriage.
The transport operator had to remove and replace the affected part of the film covering of the train. In all, Fricker's act cost the SMRT an estimated $13,800.
It also caused SMRT to come under heavy fire by the public, as well as Law and Second Home Affairs Minister K. Shanmugam, for the slack security at its depot.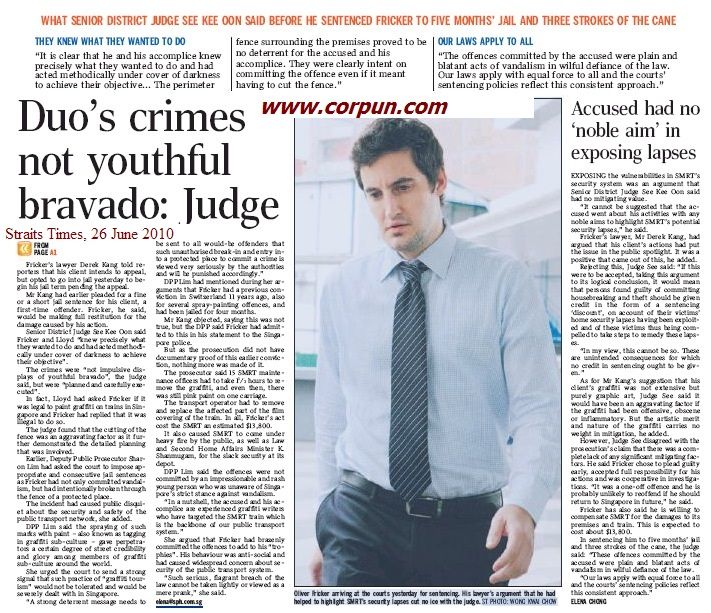 Click to enlarge
DPP Lim said the offences were not committed by an impressionable and rash young person who was unaware of Singapore's strict stance against vandalism.
"In a nutshell, the accused and his accomplice are experienced graffiti writers who have targeted the SMRT train which is the backbone of our public transport system."
She argued that Fricker had brazenly committed the offences to add to his "trophies". His behaviour was anti-social and had caused widespread concern about security of the public transport system.
"Such serious, flagrant breach of the law cannot be taken lightly or viewed as a mere prank," she said.
Accused had no 'noble aim' in exposing lapses
EXPOSING the vulnerabilities in SMRT's security system was an argument that Senior District Judge See Kee Oon said had no mitigating value.
"It cannot be suggested that the accused went about his activities with any noble aims to highlight SMRT's potential security lapses," he said.
Fricker's lawyer, Mr Derek Kang, had argued that his client's actions had put the issue in the public spotlight. It was a positive that came out of this, he added.
Rejecting this, Judge See said: "If this were to be accepted, taking this argument to its logical conclusion, it would mean that persons found guilty of committing housebreaking and theft should be given credit in the form of a sentencing discount', on account of their victims' home security lapses having been exploited and of these victims thus being compelled to take steps to remedy these lapses.
"In my view, this cannot be so. These are unintended consequences for which no credit in sentencing ought to be given."
As for Mr Kang's suggestion that his client's graffiti was not extensive but purely graphic art, Judge See said it would have been an aggravating factor if the graffiti had been offensive, obscene or inflammatory. But the artistic merit and nature of the graffiti carries no weight in mitigation, he added.
However, Judge See disagreed with the prosecution's claim that there was a complete lack of any significant mitigating factors. He said Fricker chose to plead guilty early, accepted full responsibility for his actions and was cooperative in investigations. "It was a one-off offence and he is probably unlikely to reoffend if he should return to Singapore in future," he said.
Fricker has also said he is willing to compensate SMRT for the damages to its premises and train. This is expected to cost about $13,800.
In sentencing him to five months' jail and three strokes of the cane, the judge said: "These offences committed by the accused were plain and blatant acts of vandalism in wilful defiance of the law.
"Our laws apply with equal force to all and the courts' sentencing policies reflect this consistent approach."
Copyright © 2010 Singapore Press Holdings Ltd.
---
RELATED VIDEO CLIPS

A 3-minute news report in two parts, from Razor TV (Straits Times Interactive), 25 June 2010. The first clip shows the vandalised train and explains how the two vandals broke into the supposedly secure train depot. In the second clip, Oliver Fricker is seen outside the court but makes no comment. His lawyer speaks briefly to the press, saying he is putting in an appeal against sentence. (Many weeks later it turned out that the appeal was only against the amount of jail time, not against the caning.)

HERE IS THE 1st CLIP OF TWO:

HERE IS THE 2nd CLIP OF TWO:

IMPORTANT: Copyright in this video material rests with the original copyright holders. These brief excerpts are reproduced under the "fair use" doctrine for private, non-profit, historical research and education purposes only. They must not be redistributed or republished in any commercial context.
---
Follow-up: 10 July 2010 - Where Singapore, Switzerland differ: Fricker comes up in talks between two presidents
---
---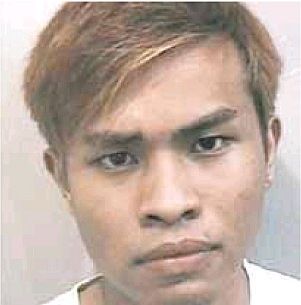 Today, Singapore, 30 June 2010
Jail, cane and fine for crimes
SINGAPORE -- A man has been sentenced to 38 months in jail for crimes, which include slashing a teenager on the back of the head.
Zulhilmi Alias (picture), 21 and unemployed, attacked 16-year-old student Suffaad Aidi at Woodlands Block 522, Woodlands Drive 14, at around 4am on Feb 12 last year.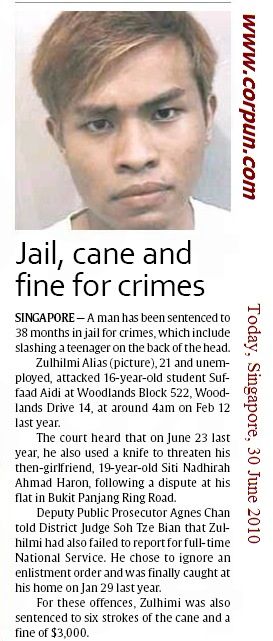 Click to enlarge
The court heard that on June 23 last year, he also used a knife to threaten his then-girlfriend, 19-year-old Siti Nadhirah Ahmad Haron, following a dispute at his flat in Bukit Panjang Ring Road.
Deputy Public Prosecutor Agnes Chan told District Judge Soh Tze Bian that Zulhilmi had also failed to report for full-time National Service. He chose to ignore an enlistment order and was finally caught at his home on Jan 29 last year.
For these offences, Zulhilmi was also sentenced to six strokes of the cane and a fine of $3,000.