The Straits Times, Singapore, 1 May 2010
Sex predator of underage girls gets 13 years' jail, six strokes
By Khushwant Singh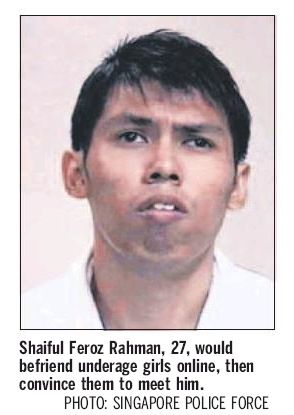 A FORMER retail assistant who persuaded underage girls to have sex with him should be jailed for a long time because he continues to be a danger to young and vulnerable victims, the High Court heard yesterday.
Agreeing, Justice Kan Ting Chiu sentenced Shaiful Feroz Rahman to 13 years in jail and six strokes of the cane for the statutory rape of a 13-year-old and on two counts of having carnal connections with a 14-year-old.
Deputy Public Prosecutor Edmund Lam said 27-year-old Shaiful was "an Internet sex predator who targeted underage victims to satisfy his lustful appetite".
The prosecutor also said that a psychiatric report found Shaiful was very likely to re-offend.
In June 2006, he had been jailed two months for having carnal connections with an underage girl. Upon his release, he was back to trawling the www.alamak.com chatroom on the Internet, befriending girls as young as 13.
He would get their cellphone numbers and send them text messages before convincing them to meet him.
When they did, he would have sex with them, usually at staircase landings of a multi-storey carpark in Woodlands.
The court ordered that the victims' names not be revealed.
Court documents showed that Shairful got to know a 12-year-old girl through the Internet chatroom in December 2006.
He claimed to be 17 and invited her out the following day, but she declined.
But they continued to exchange text messages. On Jan 7, 2007, they met at Admiralty MRT station in the north of Singapore and he bought her a meal at a McDonald's outlet.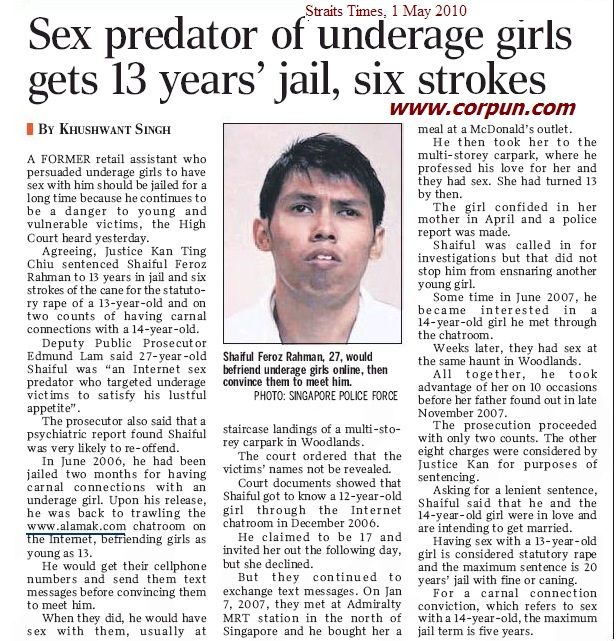 Click to enlarge
He then took her to the multi-storey carpark, where he professed his love for her and they had sex. She had turned 13 by then.
The girl confided in her mother in April and a police report was made.
Shaiful was called in for investigations but that did not stop him from ensnaring another young girl.
Some time in June 2007, he became interested in a 14-year-old girl he met through the chatroom.
Weeks later, they had sex at the same haunt in Woodlands.
All together, he took advantage of her on 10 occasions before her father found out in late November 2007.
The prosecution proceeded with only two counts. The other eight charges were considered by Justice Kan for purposes of sentencing.
Asking for a lenient sentence, Shairful said that he and the 14-year-old girl were in love and are intending to get married.
Having sex with a 13-year-old girl is considered statutory rape and the maximum sentence is 20 years' jail with fine or caning.
For a carnal connection conviction, which refers to sex with a 14-year-old, the maximum jail term is five years.
---
---
Today, Singapore, 7 May 2010
7 years' jail, 6 strokes of the cane for killing flat-mate
No mitigating circumstances, says judge
By Zulkifli Lothman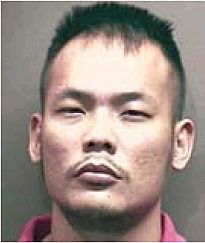 SINGAPORE -- Odd-job worker Lee Sze Chan (picture) was sentenced to seven years in jail and six strokes of the cane yesterday for causing the death of former flat-mate Lee Min Leong in a fight last year.
The 33-year-old, who originally faced a murder charge, had pleaded guilty on Wednesday to a reduced charge of culpable homicide.
Lee had told the court he was angered by the fact that the dead man, who was also known as "Ah Tee", had tried to stab him again.
During the fight last year, Ah Tee had taken out a knife and pointed it at Lee.
It brought back memories of a fight in 2007 when they were flat-mates.
Ah Tee had cut Lee with a broken glass then.

Click to enlarge
So, when Ah Tee pointed the knife at him, Lee attacked him -- punching and head-butting him and slamming his head against the floor. Ah Tee died three days later.
---
---
Today, Singapore, 14 May 2010
30 months' jail and 6 strokes of the cane for slashing his mother
By Shaffiq Alkhatib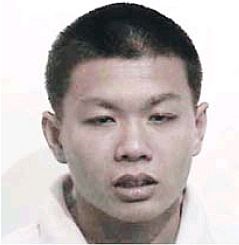 SINGAPORE -- Two years ago, Koh Kim Swee (picture) hit his mother on the head with a hammer and was jailed for 15 months. Now, the 23-year-old will have to spend 30 months behind bars and receive six strokes of the cane for slashing Mdm Lee Yoke Kuen with a knife earlier this year.
The latest incident took place at Block 287B, Jurong East Street 21 on the morning of March 18. Koh became agitated with his mum for supposedly washing his cup and shouted at her. Fearing for her safety, Madam Lee decided to leave the flat. But as she stepped out into the common corridor, Koh slashed her forehead with the knife.
When he tried to slash her again, Mdm Lee stopped him by holding on to the blade of the knife. She then knelt down and begged her son for mercy. As Koh returned to the flat, Mdm Lee ran to a lift, went down to the ground floor and sought the help of two neighbours, Nurul'ain Talib, 18, and Talib Abdul Rahman, 44.
She was sent to the National University Hospital for treatment.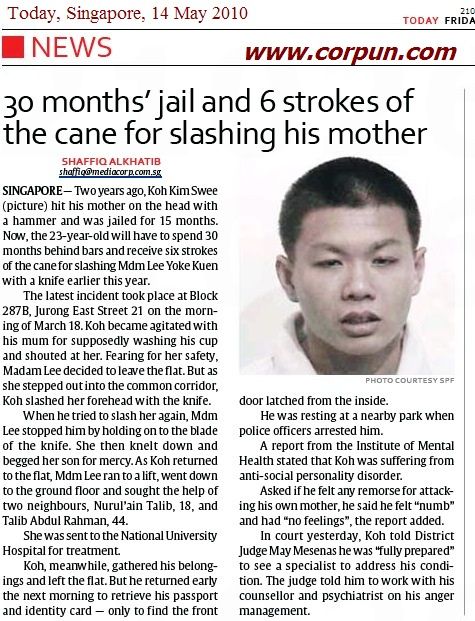 Click to enlarge
Koh, meanwhile, gathered his belongings and left the flat. But he returned early the next morning to retrieve his passport and identity card -- only to find the front door latched from the inside.
He was resting at a nearby park when police officers arrested him.
A report from the Institute of Mental Health stated that Koh was suffering from anti-social personality disorder.
Asked if he felt any remorse for attacking his own mother, he said he felt "numb" and had "no feelings", the report added.
In court yesterday, Koh told District Judge May Mesenas he was "fully prepared" to see a specialist to address his condition. The judge told him to work with his counsellor and psychiatrist on his anger management.