The Straits Times, Singapore, 8 April 2010
Duo get jail, cane for loan shark activities
Runner, backed up by his lookout, harassed occupants of four flats
By Elena Chong
Courts Correspondent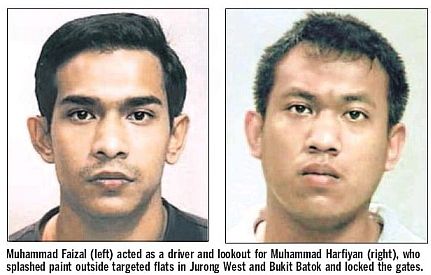 A LOAN shark runner who smashed the window panes and locked the main gates of four flats in Jurong West and Bukit Batok was jailed five years for harassment.
Muhammad Harfiyan Ahjiman, 22, was also sentenced to 10 strokes of the cane. He was convicted on five charges, with four others considered during his sentencing.
His accomplice, Muhammad Faizal Abdul Razak, 21, who drove him around and acted as his lookout, was jailed for three years and given eight strokes after he pleaded guilty to four charges.
Harfiyan paid Faizal $100 to drive him around and alert him if the police were on to them.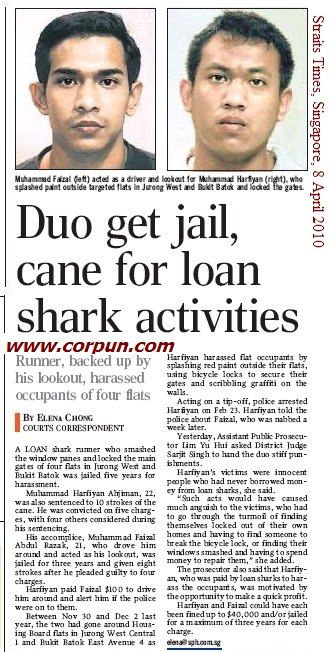 Click to enlarge
Between Nov 30 and Dec 2 last year, the two had gone around Housing Board flats in Jurong West Central 1 and Bukit Batok East Avenue 4 as Harfiyan harassed flat occupants by splashing red paint outside their flats, using bicycle locks to secure their gates and scribbling graffiti on the walls.
Acting on a tip-off, police arrested Harfiyan on Feb 23. Harfiyan told the police about Faizal, who was nabbed a week later.
Yesterday, Assistant Public Prosecutor Lim Yu Hui asked District Judge Sarjit Singh to hand the duo stiff punishments.
Harfiyan's victims were innocent people who had never borrowed money from loan sharks, she said.
"Such acts would have caused much anguish to the victims, who had to go through the turmoil of finding themselves locked out of their own homes and having to find someone to break the bicycle lock, or finding their windows smashed and having to spend money to repair them," she added.
The prosecutor also said that Harfiyan, who was paid by loan sharks to harass the occupants, was motivated by the opportunity to make a quick profit.
Harfiyan and Faizal could have each been fined up to $40,000 and/or jailed for a maximum of three years for each charge.