The New Paper, Singapore, 9 December 2010
He smashes a glass on victim's head
Man gets jail, cane for vicious parang attack outside coffee shop
By Amanda Yong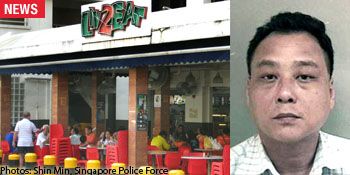 FIRST, the two men clashed verbally at a coffee shop.
Then, when Lim Poh Hin, 43, walked towards a nearby carpark, his opponent, Mr Ong Chin Teng, 50, followed.
Today, Mr Ong probably wishes he never did.
When his back was turned, a car appeared. Some men got out, took out parangs and sticks and gave Lim a parang.
For the next few minutes, they mercilessly slashed and bashed Mr Ong. In a final flourish, Lim smashed a glass against Mr Ong's head.
Mr Ong was so severely injured that he had to have two operations and was hospitalised for 10 days.
He had multiple stab wounds on his chest, back, limbs and scalp. A portion of his scalp was also sliced off, exposing part of his skull.
The piece of scalp was later found on the ground by a witness, a security guard.
The assault took place at 1.10am on April 1 last year at the open field outside a coffee shop in Bukit Panjang.
Details of the incident emerged during Lim's trial. He had denied being involved in the attack, but District Judge Hamidah Ibrahim found that it was not so.
She convicted him of one count of rioting while armed with a deadly weapon. He was sentenced to four years' jail and six strokes of the cane. He is appealing against both conviction and sentence.
During the trial, the court was told that Lim had known Mr Ong for about 10 years.
On the night of March 31 last year, Lim rang Mr Ong to say that he had wine to sell at a low price.
Later, he called Mr Ong again and said some of his friends did not like Mr Ong sitting at the coffee shop at Block 257, Bangkit Road, in Bukit Panjang.
Mr Ong replied that he and his friends were just having food and drinks there. Lim suggested that they meet there to talk. Mr Ong, who was with his wife at a canteen in Bukit Batok at the time, agreed.
When the couple arrived at around 11.30pm, Mr Ong joined a table occupied by four friends. Lim turned up with a male friend soon after.
Lim told Mr Ong that they did not like him to be sitting there. Mr Ong protested and got into a quarrel with Lim.
At this point, Mr Ong's friends intervened and told Lim to speak to Mr Ong in a calm manner. But Lim threw a glass at the table instead. Then he walked to the carpark and made a call on his mobile phone.
When Mr Ong went to the carpark, a car arrived. Its occupants then ganged up with Lim to attack Mr Ong.
Mr Ong told the court that he was slashed on his back. He fell and became unconscious, regaining consciousness only when bystanders helped him up and took him to hospital.
Bleeding from wounds
Witnesses told the court that Mr Ong had staggered towards the coffee shop bleeding from his wounds.
Lim's lawyer, Mr Kelvin Lim, argued that Mr Ong had not identified Lim as his assailant. Neither had any of the prosecution's six other witnesses implicated Lim.
But Judge Hamidah said the combined testimonies of the witnesses indicated that Lim was one of the men involved in the attack. Moreover, the accused had chosen not to take the stand and did not call any witnesses in his defence.
In her written judgment, Judge Hamidah said that Lim's decision to remain silent showed that he "obviously had something to hide and knew that his evidence would not stand up to scrutiny".
It also appeared that the attack was planned and pre-meditated.
The judge believed that Lim had been "setting up" Mr Ong and the situation was not one "where the offence was committed at the spur of the moment or out of pure spontaneity where tempers flared and could not be controlled".
It was also not a case where Lim had "just grabbed whatever was nearby and handy to assault" Mr Ong, the judge noted. Instead, there was a "conscious and deliberate decision made to use the parangs", which had been brought by the other attackers.
Besides taking an active role in the attack, Lim had given the final blow by using a glass to "whack" Mr Ong's head, Judge Hamidah wrote.
Another aggravating factor the judge considered was that this was a brutal attack in a public carpark in an HDB estate during the early hours of the morning.
Lim, who is married with three children aged seven, nine and 15, has previous convictions for gaming and being a member of an unlawful assembly. For rioting while armed with a deadly weapon, he could have been jailed 10 years and caned.
Copyright ©2010 Singapore Press Holdings Ltd. Co. Regn. No. 198402868E. All rights reserved.
---
---

The Straits Times, Singapore, 11 December 2010, p.B14
Man gets jail and caning for molesting stepdaughter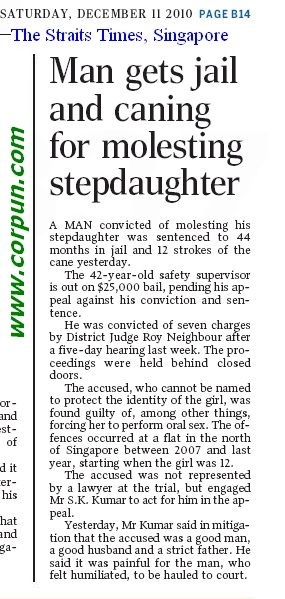 Click to enlarge
A MAN convicted of molesting his stepdaughter was sentenced to 44 months in jail and 12 strokes of the cane yesterday.
The 42-year-old safety supervisor is out on $25,000 bail, pending his appeal against his conviction and sentence.
He was convicted of seven charges by District Judge Roy Neighbour after a five-day hearing last week. The proceedings were held behind closed doors.
The accused, who cannot be named to protect the identity of the girl, was found guilty of, among other things, forcing her to perform oral sex. The offences occurred at a flat in the north of Singapore between 2007 and last year, starting when the girl was 12.
The accused was not represented by a lawyer at the trial, but engaged Mr S.K. Kumar to act for him in the appeal.
Yesterday, Mr Kumar said in mitigation that the accused was a good man, a good husband and a strict father. He said it was painful for the man, who felt humiliated, to be hauled to court.
---
---

The Straits Times, Singapore, 18 December 2010
Jail, caning for molesting 3 women at knifepoint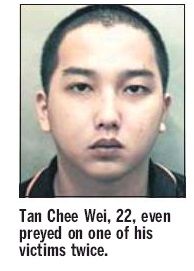 A MACHINE operator who molested three young women at knifepoint while wearing a surgical mask was jailed for five years yesterday.
Tan Chee Wei, 22, was also sentenced to 18 strokes of the cane for the assaults in the Jurong West area.
The Malaysian targeted one 23-year-old sales assistant twice, a district court heard.
He had followed her from a bus to her block of flats on Aug 16.
As she got out of the lift, he pulled out a penknife and forced her onto the sixth-floor staircase landing. He pulled down his shorts and her panties, then put on a plastic glove before touching her.
Nine days later, he saw her walking in the neighbourhood, followed her home and attacked her again. He fled when she screamed for help.
Tan also molested two other women at knifepoint on Aug 20 and Aug 22.
Yesterday, he looked dismayed as he was sentenced to 2½ years and six strokes for each of the three counts of aggravated outrage of modesty.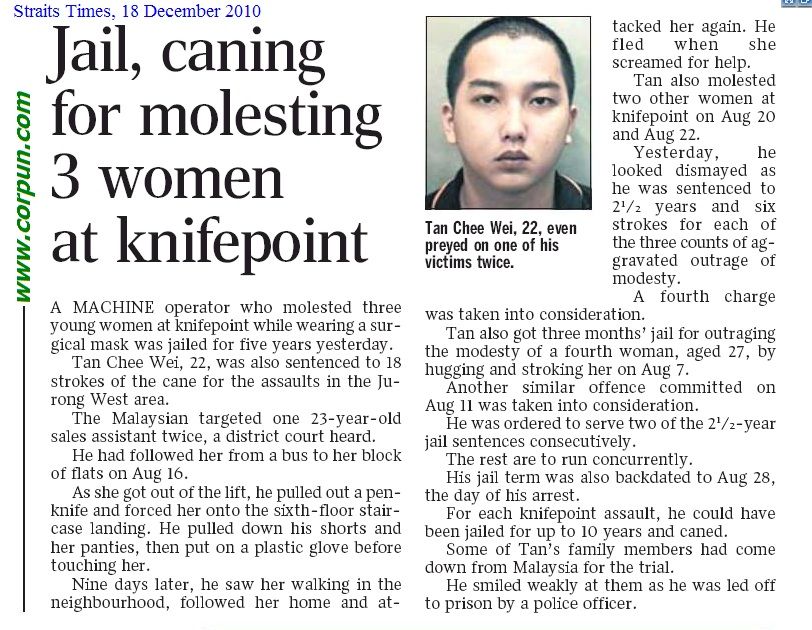 Click to enlarge
A fourth was taken into consideration.
Tan also got three months' jail for outraging the modesty of a fourth woman, aged 27, by hugging and stroking her on Aug 7.
Another similar offence committed Aug 11 was taken into consideration.
He was ordered to serve two of the 2½-year jail sentences consecutively. The rest are to run concurrently. His jail term was also backdated to Aug 28, the day of his arrest.
For each knifepoint assault, he could have been jailed for up to 10 years and caned.
Some of Tan's family members had come down from Malaysia for the trial.
He smiled weakly at them as he was led off to prison by a police officer.