Today, Singapore, 13 January 2011
Another Taiwanese loansharking offender ordered to be jailed, caned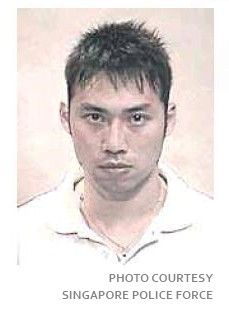 SINGAPORE -- The latest Taiwanese man to be convicted here of loansharking offences has been jailed for 46 months and given six strokes of the cane, the heaviest sentence imposed among the four Taiwanese nationals who have been convicted in the last four months.
The police said in a press release yesterday that Chen Ci Fan (picture) was charged last Friday with 12 counts of attempted harassment and four counts of conspiracy to commit harassment to borrowers under the Moneylenders Act.
It is not known if the four Taiwanese men were part of the same syndicate.
The others had been dealt with last year, according to the police.
Last September, Su Wei Ying, 28, and Wu Wei Chun, 24, were each convicted of seven charges of loanshark harassment.
Su was jailed 24 months and given 15 strokes of the cane, while Wu was sent to prison for 21 months and given 15 strokes of the cane.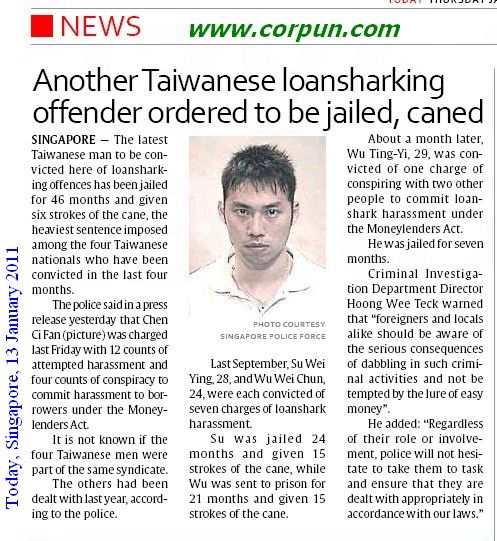 Click to enlarge
About a month later, Wu Ting-Yi, 29, was convicted of one charge of conspiring with two other people to commit loanshark harassment under the Moneylenders Act.
He was jailed for seven months.
Criminal Investigation Department Director Hoong Wee Teck warned that "foreigners and locals alike should be aware of the serious consequences of dabbling in such criminal activities and not be tempted by the lure of easy money".
He added: "Regardless of their role or involvement, police will not hesitate to take them to task and ensure that they are dealt with appropriately in accordance with our laws."
---
---

The Straits Times, Singapore, 28 January 2011, p.B20
Six years' jail for 2 'Kallang slashers'
Duo pleaded guilty to robbing man of $230 phone in violent rampage
By Elena Chong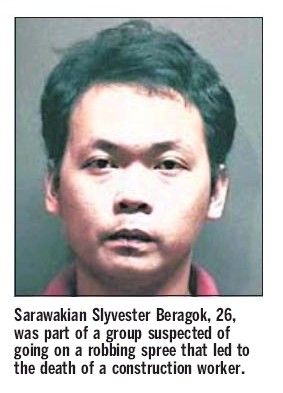 TWO of the seven "Kallang slashers" were each sentenced to six years' jail and 12 strokes of the cane yesterday.
Sylvester Beragok, 26, and Landa Sulai, 28, both Malaysians, pleaded guilty to robbing Mr Wang Jiu Sheng, 47, of a $230 mobile phone from under the MRT tracks near Lorong 17 Geylang in May last year.
They were with fellow Sarawakians Micheal Garing, Hairee Landak, Tony Imba and Peter Usit Musa when one or more of them used a parang to rob the Chinese national construction worker.
Peter, 22, is on trial for the same charge, as well as for robbing another foreign worker.
He was earlier tried with the two convicted yesterday, when they pleaded guilty after their statements were ruled admissible by the court.
Peter, however, continues to maintain he is innocent.
Micheal, 22, Hairee, 21, and Tony, 32, are each facing a charge of murdering an Indian construction worker. Their case is at the pre-trial stage.
Deputy Public Prosecutor Serene Seet said the group of Malaysians from Sarawak had been drinking in a rented room in Geylang when Micheal and Tony suggested that they go out and look for "kantau", which everyone understood to mean "to go out and rob" people.
Before leaving the room, Micheal took a parang, which had its own improvised paper sheath, and tucked it into the back of his trousers, under his shirt. That evening, they were walking around looking for potential victims to rob when they saw Mr Wang squatting next to the pavement under the MRT track, talking on his mobile phone.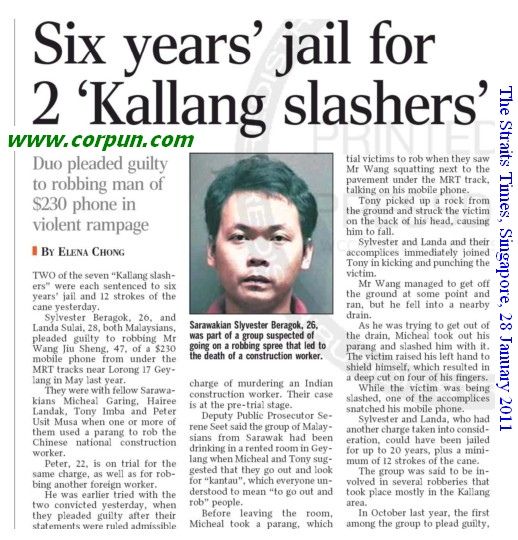 Click to enlarge
Tony picked up a rock from the ground and struck the victim on the back of his head, causing him to fall.
Sylvester and Landa and their accomplices immediately joined Tony in kicking and punching the victim.
Mr Wang managed to get off the ground at some point and ran, but he fell into a nearby drain.
As he was trying to get out of the drain, Micheal took out his parang and slashed him with it. The victim raised his left hand to shield himself, which resulted in a deep cut on four of his fingers.
While the victim was being slashed, one of the accomplices snatched his mobile phone.
Sylvester and Landa, who had another charge taken into consideration, could have been jailed for up to 20 years, plus a minimum of 12 strokes of the cane.
The group was said to be involved in several robberies that took place mostly in the Kallang area.
In October last year, the first among the group to plead guilty, former technician Shahman Milak, 21, was given two years and six strokes of the cane for attempted robbery.