The Straits Times, Singapore, 9 February 2011
Fatal attack: Man gets jail, caning for rioting
Accused first in group behind Teck Whye attack to be sentenced for cleaner's death
By Elena Chong
Court Correspondent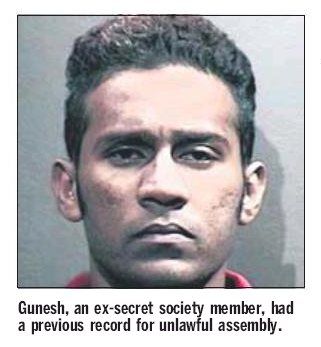 A MAN originally accused of murder was yesterday sentenced to 40 months' jail and six strokes of the cane for rioting.
Gunesh Kumar Loganathan, 25, who, together with others, had earlier been charged with the murder of a cleaner at Teck Whye Lane last year, is appealing against his sentence. The murder charge was earlier amended to rioting.
The accused admitted in a district court to being with four others in an unlawful assembly to cause hurt to Mr Lim Eng Soon and another person at Teck Whye Lane between Jan 24 and Jan 25 last year.
Mr Lim, 38, alias Orh Pa -- Hokkien for Black Panther -- died of head injuries after two members of the group struck him with a metal rod and pipe.
One of Gunesh's accomplices, Augustine William, 22, whose charge has also been reduced to rioting, will appear in court next Thursday. Two others, Sathya, 23, and Narendran Ravindran, 28, are facing a murder charge. Their case is pending before the High Court. The fifth unidentified member of the group is still at large.
Deputy Public Prosecutor Gail Wong told District Judge F.G. Remedios that Narendran had a dispute with a man known only as Eng Wah, a friend of Mr Lim's, at a coffee shop two weeks before the incident.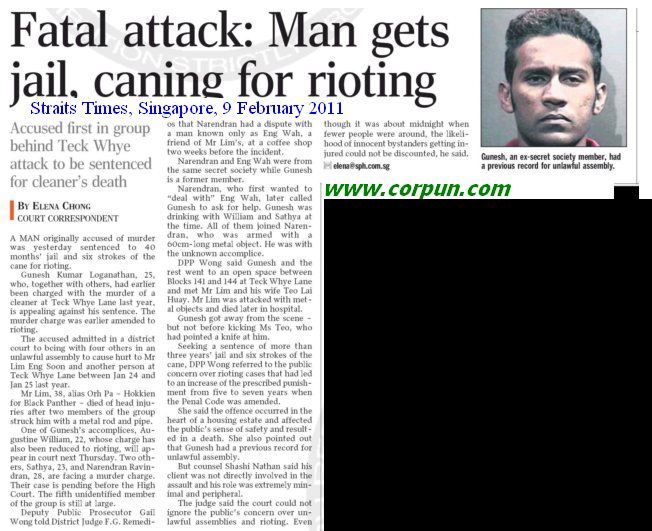 Click to enlarge
Narendran and Eng Wah were from the same secret society while Gunesh is a former member.
Narendran, who first wanted to "deal with" Eng Wah, later called Gunesh to ask for help. Gunesh was drinking with William and Sathya at the time. All of them joined Narendran, who was armed with a 60cm-long metal object. He was with the unknown accomplice.
DPP Wong said Gunesh and the rest went to an open space between Blocks 141 and 144 at Teck Whye Lane and met Mr Lim and his wife Teo Lai Huay. Mr Lim was attacked with metal objects and died later in hospital.
Gunesh got away from the scene -- but not before kicking Ms Teo, who had pointed a knife at him.
Seeking a sentence of more than three years' jail and six strokes of the cane, DPP Wong referred to the public concern over rioting cases that had led to an increase of the prescribed punishment from five to seven years when the Penal Code was amended.
She said the offence occurred in the heart of a housing estate and affected the public's sense of safety and resulted in a death. She also pointed out that Gunesh had a previous record for unlawful assembly.
But counsel Shashi Nathan said his client was not directly involved in the assault and his role was extremely minimal and peripheral.
The judge said the court could not ignore the public's concern over unlawful assemblies and rioting. Even though it was about midnight when fewer people were around, the likelihood of innocent bystanders getting injured could not be discounted, he said.
---
---
Today Online (web only), Singapore, 15 February 2011
No reprieve for final member involved in Geylang gang fight
He was not physically involved in attack, but his role was substantial: Judge
by Ng Jing Yng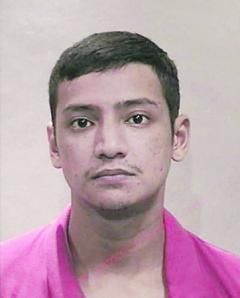 SINGAPORE - The final member involved in a Geylang gang fight, which resulted in the death of a man, was not given any lighter sentence yesterday, even though he was not armed or physically involved in the attack.
The lawyer for Mohamad Najiman Abdull Azis, 31, told the High Court in mitigation that his client stood four to five feet away during the attack and even shouted at the group to stop after several seconds.
But Justice Choo Han Teck said that Najiman played a substantial role and there was no need for him to join in the attack as many were already doing so.
The judge sentenced him to 12 years in jail and 10 strokes of the cane, the same punishment meted out to other gang members sentenced last year. Gang leader Suhardi Ali had been given the stiffest sentence: A 20-year jail term and 18 strokes of the cane.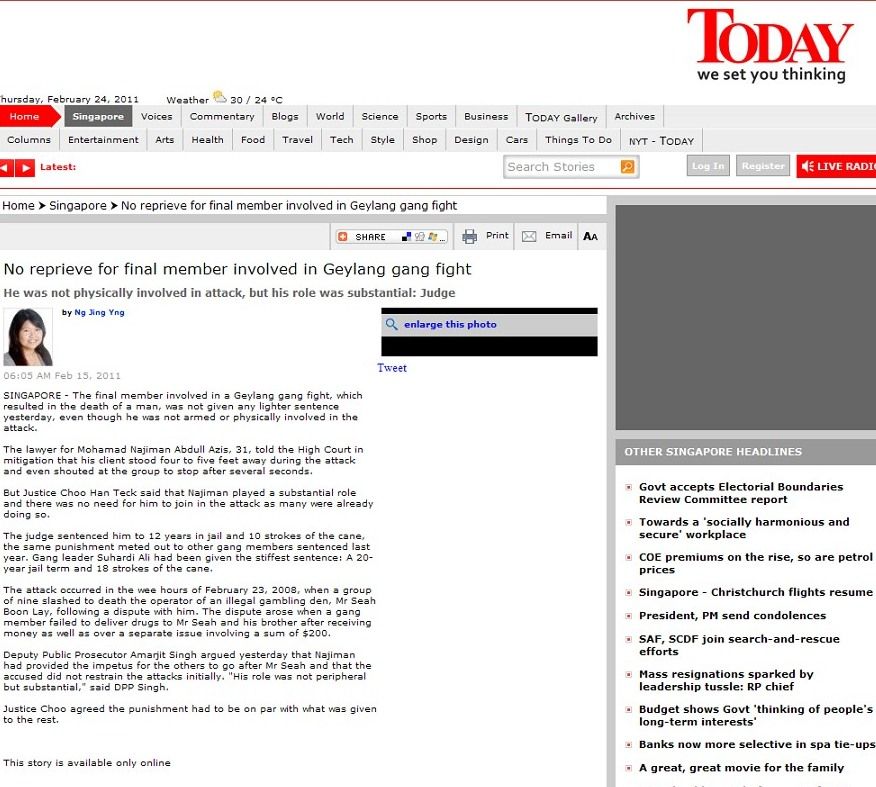 Click to enlarge
The attack occurred in the wee hours of February 23, 2008, when a group of nine slashed to death the operator of an illegal gambling den, Mr Seah Boon Lay, following a dispute with him. The dispute arose when a gang member failed to deliver drugs to Mr Seah and his brother after receiving money as well as over a separate issue involving a sum of $200.
Deputy Public Prosecutor Amarjit Singh argued yesterday that Najiman had provided the impetus for the others to go after Mr Seah and that the accused did not restrain the attacks initially. "His role was not peripheral but substantial," said DPP Singh.
Justice Choo agreed the punishment had to be on par with what was given to the rest.
Copyright 2011 MediaCorp Pte Ltd | All Rights Reserved
---
---

CNNgo.com (web only), 21 February 2011
Singapore's rules liberate, they don't oppress
When people curse Singapore for being overburdened with laws and restrictions, they forget how good we have it
By Glenn Connley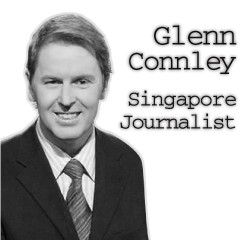 We've all seen the T-shirts: "Singapore is a fine country."
You know how the old joke goes, come to Singapore where you get fined for everything: spitting, chewing, littering, eating, drinking, smoking, farting, forgetting to flush -- you name it.
I suppose it's a little bit funny. But it's a gross exaggeration. In fact, these days, it's practically a myth. In cases where rules still exist to curb marginally harmful anti-social behavior, they are rarely, if ever, enforced.
The serious side to the fine joke is that it represents an entirely inaccurate attitude which many in the big wide world out there continue to hold about Singapore: that its desperately oppressed citizens live under the heavy burden of rules which govern even the most intimate aspects of their daily lives.
How do I say this without offending? It's total BS.
An extension to this misnomer is when foreign commentators -- some of whom have never set foot outside Changi Airport -- take pot shots at Singapore's harsh penalties for violations like vandalism or crimes against property which, in their countries, are considered minor offences.
The most celebrated case, of course, is that of American Michael Fay, whose sorry teenage backside was reddened by four strokes of the cane after he was found guilty of spray painting cars back in 1994.

Who could forget then-President Bill Clinton's impassioned (yet ultimately unsuccessful) plea to keep Fay's pristine butt cheeks intact?
We saw it all again last year when Swiss national Oliver Fricker was jailed and caned after breaking into a depot and spray painting a train with British accomplice Lloyd Alexander, who has since fled the country.
While the bleeding hearts were bleating about cases like Fricker and Fay, I was applauding.

Click to enlarge
The thing I love most of all about Singapore is the low tolerance to the moronic behavior which is ruining other cities. I love feeling secure wherever I go.
I love that there is no graffiti and I appreciate that all of the city's wonderful amenities and facilities are used, not abused.
I use the MRT most days. I live quite close to the Circle Line.
For me, train travel is far more pleasant than taking a taxi. It's cheap, cool, spotlessly clean and efficient beyond any public transport system I've ever seen anywhere else on this earth.
Recently I visited my beloved hometown of Melbourne, Australia, a city that regularly tops surveys which claim to measure the world's "most liveable" locales.
I had cause (if not the desire) to use the metropolitan train system back home.
Aside from being unreliable, slow, weighed down by a billion-dollar ticketing system which still doesn't work and being desperately overloaded, the carriages are old, covered in graffiti, littered with rubbish and uncomfortably hot.
More recently, I read of a new problem sweeping the city's train system. There is, apparently a "train surfing epidemic."
"Train surfing?" you may ask. It's exactly as it sounds.
Mindless teenagers -- and a few moronic 20-somethings -- get their kicks by climbing onto the roof or the outside of a suburban train and try to stay aboard as it hurtles through the network of tracks and tunnels.
"Metro busts more than 20 a month for train surfing in Melbourne," reported the city's most popular daily newspaper (and my old employer), the "Herald Sun" last month.
Okay, 20 is hardly an epidemic. But, to state the obvious, it is dangerous. Deadly, in fact. In 2008, a teenage boy died after being electrocuted while allegedly surfing a train in the city's western suburbs.
It all got me thinking back to Singapore's marvellous MRT. Train surfing simply couldn't, and wouldn't, happen here.
I recently wrote a column bemoaning the "kiasu curse" of locals barging onto trains without waiting for their fellow travelers to get off first. That's about as bad as it gets on the MRT.
Compare that to the problems confronting commuters in London, Paris, Munich or New York, which all have similar issues to Melbourne.
In England and the United States these days you also have the added nuisance of foul-mouthed, disrespectful teenagers intimidating their fellow commuters aboard suburban and inner city trains.
Give me a group of Singaporean kids lah-ing and ah-ing any day. At least the only thing they're damaging is the English language.
Linguistics aside, I have never for one second been uncomfortable on the MRT, even when it's packed.
I have never spotted a single swipe of spray paint and I'm convinced there are more dear old uncles sweeping invisible dust off the walkways than there are actual specs of dust in the system.
So, sure, you can mock this fine country and all its rules. You can exaggerate them, lie about them and throw them in my face whenever I travel to a so-called "more civilized" country.
You can criticize the penalties and regurgitate the tired old arguments about a brutal, medieval corporal punishment that treats young offenders as hard criminals when they themselves are the victims of a heartless society.
My heart bleeds.
But I'll tell you one thing ... the system works.
I've got the T-shirt to prove it.
© 2010 Cable News Network. Turner Broadcasting System, Inc. All Rights Reserved.
---
---

The Straits Times, Singapore, 25 February 2011
Fatal Teck Whye attack: Second man gets jail, caning
By Elena Chong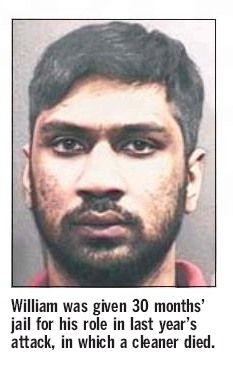 A SECOND man involved in an attack in which a cleaner died was jailed for 30 months and ordered to be given three strokes of the cane yesterday.
Augustine William, 23, was originally accused of murder in the incident in Teck Whye Lane last year and had admitted to a reduced charge of rioting.
He was with his friends Gunesh Kumar Loganathan, Sathya, Narendran Ravindran and an unknown man when two of them attacked Mr Lim Eng Soon with a metal rod and a metal pipe between 11.34pm on Jan 24 last year and 12.03am the next day.
Mr Lim alias Orh Pa (Hokkien for "black panther"), 38, died in hospital later that day.
Gunesh Kumar, 25, is currently behind bars for rioting. He is appealing against his sentence of 40 months' jail and six strokes of the cane imposed earlier this month. The cases against Sathya, 23, and Narendran, 28, are pending in the High Court.
Deputy Public Prosecutor Gail Wong said that two weeks before the incident, Narendran had a dispute with Mr Lim's friend, known only as Eng Wah, at a coffee shop in Teck Whye Lane. A fight erupted during which Narendran slapped Eng Wah.
Some time after the incident, Narendran told Gunesh about the fight and asked him to look for Eng Wah so that he could deal with him.
Eng Wah and Narendran are believed to be from the same secret society operating in Teck Whye. The others are former members, said the DPP.
The court heard that on the evening of Jan 24 last year, Narendran had called Gunesh while the latter was having drinks with William and Sathya, saying a fellow gang member was coming to "hammer" him.
Gunesh, William and Sathya met Narendran, who told them he was going to find out how many people Orh Pa had with him at the coffee shop. He would call them if there was any problem.
Click to enlarge
When Gunesh found out that Narendran was outnumbered, the three of them ran to the coffee shop at Block 138.
Along the way, William picked up a 1m-long wooden pole. When he arrived, the fight had just begun.
Narendran and Sathya were seen using weapons to hit Mr Lim in CCTV footage. William swung the pole at an unknown man, hitting him on the face and causing the pole to break into two. William surrendered two days later.
DPP Wong had urged the court to impose a sentence of more than three years and caning on William, citing aggravating factors. She said he had played an active role in the events leading up to the fight and had also joined in.
The offence occurred in the heart of a public housing estate, affecting public safety and security.
Lawyer Subhas Anandan said a crushing sentence was not necessary in this case as his client was not involved in the fight that led to the death. He said William was remorseful and regretted his impulsive act. He could have been jailed for up to seven years and caned.