The Straits Times, Singapore, 10 March 2011, p.B15
Jail, caning for cheat who broke glass panel
By Elena Chong
Court correspondent
A SELF-EMPLOYED man who cheated a 16-year-old student of about $3,200 and damaged a glass panel at the Subordinate Courts was sentenced to 10 months' jail and three strokes of the cane yesterday.
Daniel Lee Yang Siew, 35, was also ordered to pay compensation totalling $4,797 to the victim, Miss Vanessa Ho Shi Yuan, and the Subordinate Courts.
A district court heard that Lee, claiming to be Mark Kyo, advertised online for models in November 2008, promising potential models a high income.
When Miss Ho, now 19, found out that she had to give him a sum of money first, she lost interest in the job. But he persuaded her to meet him the following day, Nov 12, to view a photo shoot, which was cancelled because of rain.
Between Nov 12 and Nov 27, he deceived her into giving him her iPhone and a $1,410 gold pendant, which he pawned, and her laptop, which he sold. He then spent the proceeds on himself.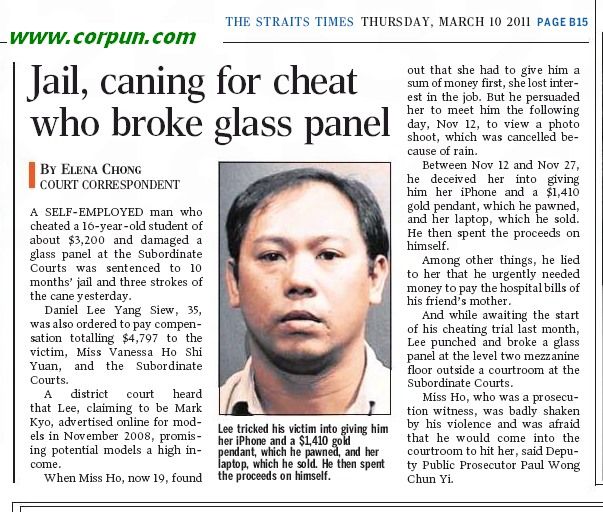 Click to enlarge
Among other things, he lied to her that he urgently needed money to pay the hospital bills of his friend's mother.
And while awaiting the start of his cheating trial last month, Lee punched and broke a glass panel at the level two mezzanine floor outside a courtroom at the Subordinate Courts.
Miss Ho, who was a prosecution witness, was badly shaken by his violence and was afraid that he would come into the courtroom to hit her, said Deputy Public Prosecutor Paul Wong Chun Yi.
---
---
Today, Singapore, 17 March 2011
Man in illegal moneylending franchise: It's jail, fine and caning
By Shaffiq Alkhatib
Picture of Tok Leong Hai from AsiaOne, 17 March 2011
SINGAPORE -- A man who ran an illegal moneylending franchise was sentenced yesterday to four years and four months in jail, fined S$151,000 and ordered to receive 21 strokes of the cane.
The police have also seized his illgotten gains worth more than S$107,000 in all and they will be forfeited to the state.
Tok Leong Hai, 34, had pleaded guilty to 21 of the 82 charges against him.
He had given out loans totalling more than S$35,000 between 2008 and last year, charging his debtors interest rates of up to 20 per cent.
At his behest, two of his runners had also harassed debtors who could not repay their loans.
Deputy Public Prosecutor (DPP) Sherlyn Neo told the court Tok ran a franchise of an unlicensed moneylending firm led by a man known as "Ah Neng".
Click to enlarge
Tok, who used to be one of Ah Neng's debtors, had agreed to be part of the business after he was unable to repay his loans totalling S$110,000.
DPP Neo said Tok was tasked to liaise with debtors who had to be approved by Ah Neng.
The two men shared their profits equally. Tok was arrested on Aug 4 last year. By then, he had acquired about 60 active debtors with outstanding loans totalling some S$60,000.
---
---

The Straits Times, Singapore, 25 March 2011, p.C16
Jail and cane for robbing prostitute
Man also admits to stealing nephew's laptop and selling it
By Elena Chong
Court Correspondent
HE HELPED an accomplice rob a Chinese national of items worth $332. He also stole a laptop from his nephew worth $3,968.
Yesterday, Abusali S.K. Pakir Mydin, 31, unemployed, was sentenced to a total of four years' jail and 12 strokes of the cane on the two charges.
His accomplice, Mohamed Fazel Hamzah, 31, is at large.
Deputy Public Prosecutor Eunice Chong told the court that Mohamed had called Abusali on Nov 18 last year and suggested committing robbery as he needed cash.
At about 9pm, they drove around in a six-seater vehicle to various places looking for an easy target. When they failed to find any, they drove to Geylang about 12.30am.
Mohamed hatched a plan to entice a prostitute to enter their vehicle; then they could drive to a deserted place and rob her. Abusali would sit behind so that his presence would not be detected.
DPP Chong said, at about 4am, Mohamed got out of the vehicle in Lorong 22 Geylang and approached Ms Chen JinBo, 39. He asked if she was willing to provide a massage at a nearby hotel. She agreed and asked for $100.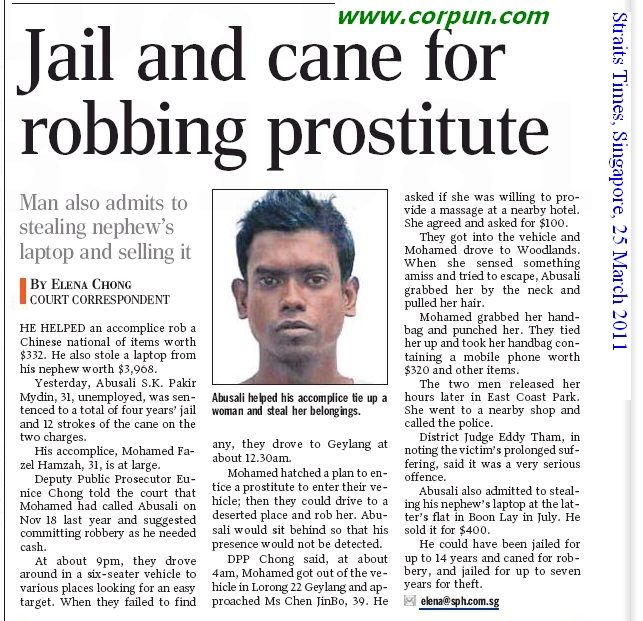 Click to enlarge
They got into the vehicle and Mohamed drove to Woodlands. When she sensed something amiss and tried to escape, Abusali grabbed her by the neck and pulled her hair.
Mohamed grabbed her handbag and punched her. They tied her up and took her handbag containing a mobile phone worth $320 and other items.
The two men released her hours later in East Coast Park. She went to a nearby shop and called the police.
District Judge Eddy Tham, in noting the victim's prolonged suffering, said it was a very serious offence.
Abusali also admitted to stealing his nephew's laptop at the latter's flat in Boon Lay in July. He sold it for $400.
---
---

The Straits Times, Singapore, 29 March 2011, p.B7
Death of six-year-old
Family friend jailed 16 years for killing boy
He gets 8 strokes too for kicking, stamping on child in his care
By Khushwant Singh
THE man who kicked and stamped on a six-year-old, killing him, was jailed 16 years by the High Court yesterday.
Mohammad Johan Rashid, a jobless 32-year-old, will also be dealt eight strokes of the cane for what he did in November 2009 to Muhammad Nor Rashidy Rahmat.
Mohammad Johan had already escaped the gallows when the initial murder charge was amended to one of culpable homicide; the 16 years he will now serve is also short of the maximum sentence of life imprisonment for the offence.
But it is in line with the more than 15 years which the prosecution urged Justice Choo Han Teck to hand down.
Deputy Public Prosecutor David Khoo told the court that Mohammad Johan had set upon a "vulnerable and defenceless child" in a vicious and cruel manner without justification.
In 2009, Mohammad Johan and his girlfriend Siti Roudha Amir were regularly baby-sitting Rashidy and his younger brother. They were the nephews of his friend, referred to as Ms Nurleyana Amin in court documents.
The two boys were living in Kallang Bahru with their maternal grandmother Asmah Asmoneh, 58, a hawker stall assistant, while their parents were in jail for drug consumption.
On Nov 17, 2009, Central Narcotics Bureau (CNB) officers raided the flat and arrested Siti.
Mohammad Johan, on the run for dodging his urine tests, was with Rashidy at Jurong Point shopping mall at the time. He was told about the raid in a phone call from Madam Asmah.
Click to enlarge
Afraid his girlfriend would confess to taking drugs with him and that CNB officers could be lying in wait for him at the Kallang Bahru flat, he did not take the boy back there. Instead, he and Rashidy went to Siti's flat in Mei Ling Street.
Three days later, he was warned by Rashidy's aunt Nurleyana that the family would go to the police unless he returned the boy within 12 hours.
Upset by the threat, he slapped the boy when he refused to take a bath. The boy insisted on going home and flung a games console on the floor.
Infuriated, Mohammad Johan kicked and stamped on the child. When the boy blacked out, he administered cardiopulmonary resuscitation, but to no avail. He then stuffed the body into a trolley bag and dumped it near the Kallang River.
He was arrested on Nov 25 at a hotel in Guillemard Road.
Yesterday, his lawyer, Mr Thangavelu, told the court that his client was "truly affectionate" towards the boy and had intended only to discipline the child for talking back.
The child had 10 broken ribs and a lacerated lung, an autopsy revealed.
"Such acts should not be condoned," said Justice Choo when passing sentence.
From the dock, Mohammad Johan flashed a thumbs-up at two women in the public gallery, believed to be his friends.
Outside the court, Madam Asmah told reporters in Malay: "He took the life of a young boy... That man should be made to pay for what he did."
Along with life imprisonment, Mohammad Johan could also have been caned up to 24 strokes.