The Straits Times, Singapore, 2 April 2011
'Heartbeat molester' gets 10 years' jail, 21 strokes
Serial molester preyed on 28 schoolgirls, aged nine to 11, over 11 years
By Elena Chong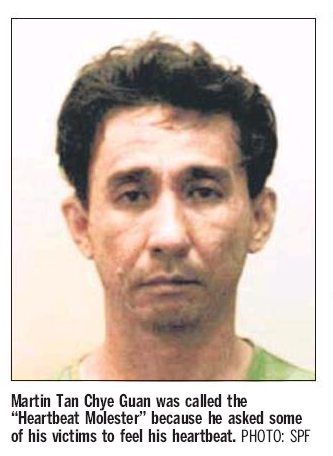 FOR 11 years, the serial molester operated in the heartland, preying on young girls returning home from school.
By the time he was caught, 28 girls had become his victims.
Yesterday, Martin Tan Chye Guan -- dubbed the "Heartbeat Molester" by the police because he asked some girls to feel his heartbeat -- was sentenced to 10 years' jail and 21 strokes of the cane.
Described by the prosecution as possibly the worst serial molester in Singapore, the 48-year-old pleaded guilty to eight charges of molesting girls aged nine to 11 at staircase landings of HDB blocks between July 1999 and October last year.
Twenty other similar considered in sentencing.
Tan was remanded for psychiatric examination last month and diagnosed with paedophilia. He was found to "pose a risk to non-acquainted, female children, especially those in primary school (six to 12 years old)", according to consultant psychiatrist Kenneth Koh.
He said Tan would most likely prey on lone victims and pose a danger to society.
Tan, a parcel courier and part-time property agent, was arrested last November after police were tipped off by a member of the public when his CCTV image was released through the media.
The court heard Tan would usually wear sunglasses to shield his identity, pretend to ask for directions, and lure the victim to a staircase landing.
At times, he would ask the girl to feel his heartbeat, read her palms, expose himself and force her to touch him.
Deputy Public Prosecutor Agnes Chan said that in four of the instances, Tan posed as a Chinese national who was lost. In one such case on Sept 30 last year, he entered a lift with an 11-year-old girl and told her he wanted to find his friend's unit.
After a while, he said he felt tired and invited her to sit next to him at a staircase landing. There, he grabbed her hand to touch his chest to feel his heartbeat, then slid her hand towards his lower abdomen.
Shocked, she pulled her hand away. He left when she threatened to call the police if he did anything further.
Eight days later, he approached a nine-year-old at a lift lobby in Sengkang and forcibly pulled her to a staircase landing in a nearby block. There, he molested her.
Pressing for a stiff sentence, DPP Chan told District Judge Roy Neighbour that Tan had shown himself to be a persistent menace and danger to society by committing multiple offences on young victims over the past 11 years.
"The accused is clearly a risk... and needs to be incarcerated for a substantial period of time to safeguard the safety and interests of the public."
She said Tan took advantage of the victims' kindness to exploit them, morally corrupted their minds and left them emotionally scarred.
"Based on the available precedents, it appears that the accused may ostensibly be the worst serial molester in Singapore," she added.
His acts were committed in the most brazen and audacious manner and right in the residential heartland.
In her victim impact statement, the 11-year-old said she now feels very scared whenever she goes home late, and would ask her friend to accompany her to her block. She hides behind her mother whenever the lift door opens and she sees a man standing there.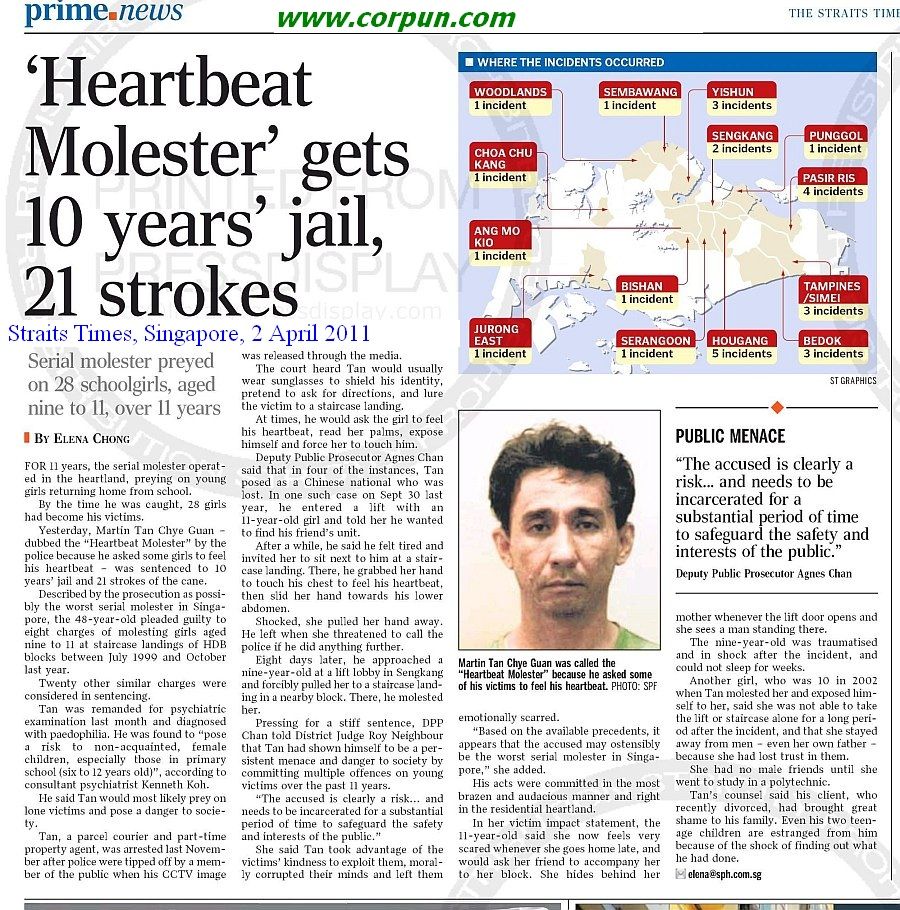 Click to enlarge
The nine-year-old was traumatised and in shock after the incident, and could not sleep for weeks.
Another girl, who was 10 in 2002 when Tan molested her and exposed himself to her, said she was not able to take the lift or staircase alone for a long period after the incident, and that she stayed away from men -- even her own father -- because she had lost trust in them.
She had no male friends until she went to study in a polytechnic.
Tan's counsel said his client, who recently divorced, had brought great shame to his family. Even his two teenage children are estranged from him because of the shock of finding out what he had done.
---
---

The Straits Times, Singapore, 5 April 2011
S. Korean jailed for housebreaking, theft
By Elena Chong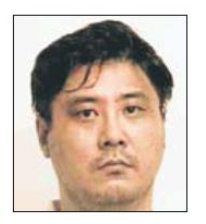 A SOUTH Korean national who burgled an office in Chinatown Point five years ago returned here last October with a false travel document and committed a fresh slew of housebreaking and theft offences.
Choi Hee Soo (right), 36, re-entered Singapore with his life savings of $20,000, which he had hoped to multiply by gambling with it in the casinos. When he lost all of it, he became desperate.
He took to doing what he had done before -- break into office premises. He committed 37 burglaries and stole cash and property totalling about $97,500.
Yesterday, he was jailed for 4½ years for housebreaking and theft. He was sentenced to another six weeks and three strokes of the cane for entering Singapore without a valid pass. Thirty-five other charges were taken into consideration.

Click to enlarge
Assistant Public Prosecutor Puvaneswari Sandirasekaran said Choi's first burglary was committed in a shipping company at Chinatown Point in May 2006. His haul then comprised $2,000 and a Rolex watch worth $10,830. Between last Oct 21 and Nov 1, he broke into other premises, netting property worth $68,117.
The court heard that he had entered Singapore illegally through the Tuas checkpoint on Oct 20 using a false passport. It was also told he had wanted to relocate his wife and three daughters to Malaysia with money he was hoping to win at the gaming tables.
---
---

The Straits Times, Singapore, 20 April 2011, p.B6
Cabby broke relative's arm over dog 'abuse'
By Khushwant Singh

Taxi driver Louis Goh, 34, who had been jailed before, was yesterday sent to prison again. Upset over the standard of care given to his dog, he had attacked his brother-in-law and fractured his arm in two places.
Yesterday, he pleaded guilty to causing grievous hurt to Mr Yap Kwang Fue two years ago and was sentenced to 1½ years' jail and three strokes of the cane.
A district court heard that Goh handed over his dog, a shih tzu, to his younger sister in 2007 as he had no time to look after it.
He later became unhappy with its care as he had seen faeces stuck to its fur.
When he found out it had been hurt in a collision with a cyclist, he decided to punish Mr Yap.
On March 9 in 2009, he drove to his sister's home in Jurong West. At about 9am, armed with a metre-long pole and a penknife, he ambushed the 33-year old machinist at the void deck.
Caught by surprise, Mr Yap could only try to block the blows from the pole. When passers-by intervened, Goh fled.
Doctors at the National University Hospital treated Mr Yap for the two fractures on his right arm and cuts on his head and left arm. He was given three days' medical leave.
Asking for a lenient sentence, Goh said he had to support his wife and two children, aged three and four, as well as a mentally ill mother.
He added in Mandarin: "He hit my dog and he is not guilty but when I hit him, it's not okay."
Assistant Public Prosecutor Lydia Goh said Mr Yap had denied abusing the dog but Goh still attacked him. She pointed out that he had planned to assault Mr Yap at the void deck while the latter was on his way to work.
The prosecutor added that Goh had a history of violence. In 2006, he was jailed for a month for causing hurt to a motorist and breaching a personal protection order by hitting his wife.
Click to enlarge
District Judge Eddy Tham noted that Goh had not learnt from his previous convictions and would still resort to violence when things did not go his way.
The judge said Goh had set upon the victim with a pole and a penknife, which fortunately was not used, with such force and intensity that it left Mr Yap with two fractures.
After the hearing, Mr Yap told The Straits Times that he was in the midst of a divorce.
Goh's family members said the dog was put to sleep in May 2009 as it had grown sickly and went blind.
---
---
Straits Times Interactive (web only), 21 April 2011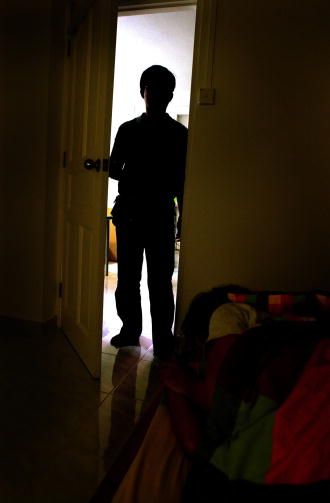 An 18-year-old youth was sentenced to 10 years in jail and 12 strokes of the cane for raping his then 14-year-old step-sister. -- ST PHOTO ILLUSTRATION: JOYCE LIM
Youth sentenced to jail, caning for raping step-sister
By Elena Chong
A YOUTH who was on home leave when he raped his 14-year-old step-sister was jailed for 10 years and ordered to be given 12 strokes of the cane on Wednesday.
As a result, the girl gave birth to a baby girl early last year. The child has since been fostered out.
The 18-year-old accused had earlier admitted to two charges of rape in February and March 2009, with another two taken into consideration during the sentencing. A Community Court had heard that the girl, now 16, did not consent to him having sex with her.
She had in fact called out to her half-brother to get the keys of the bedroom when the accused pulled her in and locked the door on the first occasion. He raped her the following month (March 2009) when he was again on home leave. He had been sent to the home for rioting.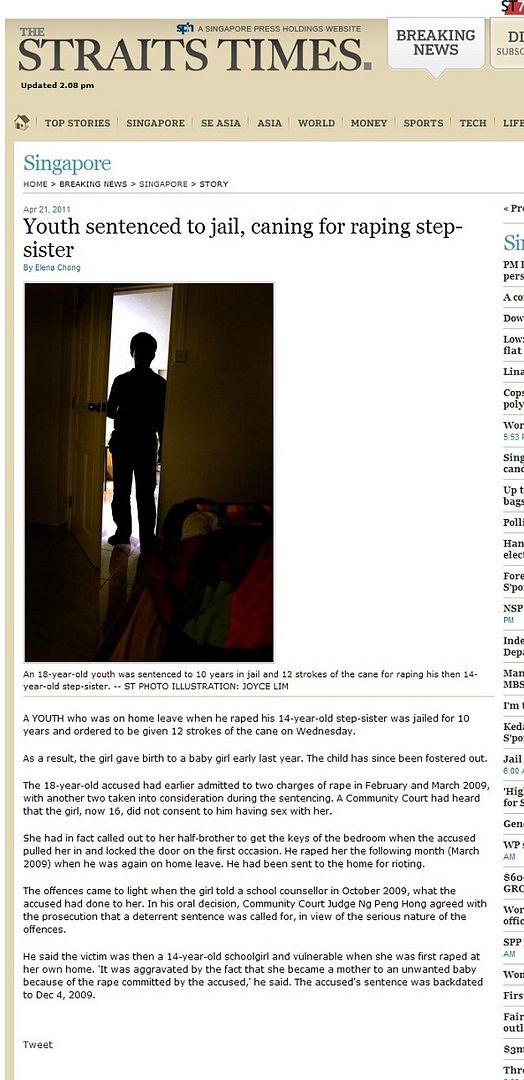 Click to enlarge
The offences came to light when the girl told a school counsellor in October 2009, what the accused had done to her. In his oral decision, Community Court Judge Ng Peng Hong agreed with the prosecution that a deterrent sentence was called for, in view of the serious nature of the offences.
He said the victim was then a 14-year-old schoolgirl and vulnerable when she was first raped at her own home. 'It was aggravated by the fact that she became a mother to an unwanted baby because of the rape committed by the accused,' he said. The accused's sentence was backdated to Dec 4, 2009.
Copyright © 2011 Singapore Press Holdings Ltd.