Knoxville News-Sentinel, Tennessee, 4 December 2007
Loudon principal investigated in alleged paddling of 11-year-old
By Hugh Willett and Marti Davis
(extract)
The Loudon County school system is investigating allegations of excessive force by a middle school principal after complaints from parents who say their 11-year-old boy was spanked.
Loudon Schools superintendent Edward Headlee said he met with Fort Loudon Middle School principal Steven Williams this morning to discuss the allegations.
Headlee said the boy's grandmother had given permission for the principal to paddle the child rather than be disciplined with a two-day suspension from school. Paddling is allowed under the policy of the Loudon County School Board, said Headlee, as long as a witness is present during the paddling. The school resource officer was present during the paddling, Headlee added.
Loudon Police Chief James "Bear" Webb said the boy's grandmother filed a police report Friday alleging that Williams used excessive force when he struck the child twice on the buttocks with a paddle. Webb said the issue was in the hands of the district attorney general's office.
The child's grandmother said she took the boy to a Loudon pediatrician who made a medical report and took pictures of the child's bruises. The report and photos were taken to Headlee's office, she said.
Headlee said the central office will continue to investigate the matter and that no determinations have yet been made about the appropriateness of Williams' paddling the boy. The person in charge of investigating such matters was out of the office at a meeting today, he added.
[...]
© 2007 Knoxville News Sentinel
---
RELATED VIDEO CLIP

Two-minute news report from WATE-6 Knoxville (4 December 2007) about the above case. The district superintendent, who was investigating the allegation of excessive force used in the padding, is interviewed. He points out that paddlings are administered only with parental consent, which had been given in this case. He seems confident that the matter can be resolved. He does not address what seems to be the underlying issue of whether bruised buttocks are necessarily an indication of the use of excessive force. In passing, he mentions that, in this school district, only male students may be spanked.




HERE IS THE CLIP:

IMPORTANT: Copyright in this video material rests with the original copyright holders. This brief excerpt is reproduced under the "fair use" doctrine for private, non-profit, historical research and education purposes only. It must not be redistributed or republished in any commercial context.
---
---
The Columbus Dispatch, Ohio, 5 December 2007
School paddling ban sought
The few districts that still paddle say their communities accept it
By Catherine Candisky
The Columbus Dispatch
Few schools in Ohio still rely on a paddle to deal with misbehaving students.
Nonetheless, two state representatives introduced legislation yesterday to outlaw corporal punishment in schools, arguing that it's time for Ohio to join 29 other states with similar bans.
"This legislation is a no-brainer," said Rep. Brian G. Williams, an Akron Democrat and former superintendent of the city school district.
"There are alternative ways of discipline. Send a child to a counselor, in-school suspension and e-schools."
Jon M. Peterson, a Delaware Republican co-sponsoring the bill, stressed that the proposal would not interfere with a parent's ability to discipline a child, just punishment in school.
The bill also would maintain current protections for teachers, principals and other school employees in the use of reasonable and necessary force to protect students and property or to confiscate weapons.
According to state statistics, 17 of Ohio's 613 school districts reported using corporal punishment in the 2005-06 school year, most clustered in the southern and northeastern part of the state. In all, 270 students were on the receiving end of 453 paddlings.
John Maynard, principal of South Point High School in Lawrence County, said his district still practices corporal punishment and urged lawmakers to consider that community views on paddling differ.
While some see it as unnecessary, he said, many in his district view it as an effective discipline and deterrent to bad behavior, although it is not used nearly as much as it once was.
"Years ago, someone would be pulled into the hall and given licks," said Maynard, who acknowledged being paddled himself as a South Point student. "But you don't see (a principal) walking around with a paddle today."
According to state statistics, 47 South Point students were paddled 81 times in the 2005-06 school year.
Under current law, local school districts set their own policies on student discipline. State lawmakers tried to ban corporal punishment in 1994 but ran into opposition and ended up adopting less-stringent restrictions. Under the compromise, school boards must adopt a resolution in favor of corporal punishment if they want to use it and parents must consent before it is used on their child.
Most districts didn't, effectively creating a ban across much of the state.
At a news conference in the Statehouse, Peterson and Williams said they disagree with those who believe the issue is best dealt with locally.
"If it's wrong, it's wrong. Ceding authority to a local district is misplaced," Peterson said. "Hitting a child as a means of discipline can often lead to injury and has not been proven to be any more effective than other methods."
Copyright © 2007, The Columbus Dispatch
---
Follow-up: 11 December 2007 - Strickland supports paddling ban
---
---
The Dallas Morning News, Texas, 6 December 2007
Caddo Mills school board backs principal in paddling incident
Boy, 15, says he was bruised and unfairly targeted
By Karin Shaw Anderson
The Dallas Morning News
The Caddo Mills school board released a statement Wednesday night in support of high school principal Brian McKamy after a closed-door session to discuss paddling allegations made against him by a student.
"It is unfortunate that a public servant with a reputation for fairness that has dedicated his life to children has been wrongly maligned," the written statement said.
Fifteen-year-old Jay Walden and his father, Rick Walden, have accused Mr. McKamy of taking paddling too far last month, leaving Jay's buttocks bruised and covered in welts.
The family also accused Mr. McKamy of unfairly targeting Jay for punishment while granting student athletes leniency.
Thirty students and a few parents gathered outside the school district's administration building Wednesday night as school board President Jeremy Coddington read the board's statement. Afterward, the crowd stood and applauded. Mr. McKamy said he was relieved.
Mr. Walden and his attorney declined to comment Wednesday night.
The board took no official action, Mr. Coddington noted, and the school district may still need to defend itself if the Waldens file suit.
The school board statement said: "Mr. McKamy did not violate the accuser's legal rights, nor did Mr. McKamy violate the law. Mr. McKamy's actions were consistent with school board policy."
Mr. Walden alleges Mr. McKamy paddled Jay on Nov. 7 for coming to school with holes in his pants, in violation of the dress code -- even though Jay had changed his pants before school started.
During the closed portion of the meeting, students outside the building held handmade signs and voiced support for the principal.
"I'm an athlete, and he pushed us more, actually," senior Jose Morales said. "He paddled me once last year. ... Sure, it stung a little, but it wasn't so much pain as feeling a little bit humiliated. I really appreciate what he did for me."
Parent Diane Ippolito skipped her Wednesday night Bible study to wait with the crowd in the cold.
"I thought this was important," she said. "We love Mr. McKamy. I go to church with the man. I trust him implicitly."
Ms. Ippolito said Mr. McKamy shows his support for youngsters beyond the school grounds, teaching high school-level Sunday school.
"He's got very high expectations, and he's raised the bar for these kids," she said.
Senior Victoria Summers said she once got three detentions at the same time from Mr. McKamy, but she felt the punishment was fair. "He's going to make sure you get the consequences you deserve," she said.
Dina Guthery disagreed, saying she felt that her daughter was unreasonably punished after defending herself when another girl started a fight with her at a football game. Ms. Guthery and her husband were the only two people at the gathering who weren't there to support the principal.
Parent Shawn Moloney said she approves of the way Mr. McKamy handled punishment for her two older children.
"He truly does care for the students," she said. "If there's something going on at school, he's the first to call."
---
---
Dayton Daily News, Ohio, 11 December 2007
Strickland supports paddling ban
Introduction of legislation to outlaw corporal punishment in schools brings issue into spotlight.
By William Hershey
Staff Writer

COLUMBUS -- State Rep. Brian Williams, former superintendent of Akron public schools, calls paddling an "antiquated way of changing behavior" that should be abolished in schools.
Terry Leeth, raised in Tipp City and now assistant superintendent of Western Local Schools in Pike County, said residents of that district want to preserve paddling as a "last resort" punishment.
Williams and Leeth are on opposite sides of a debate reignited last week when Williams, D-Akron, and Rep. Jon Peterson, R-Delaware, introduced House Bill 406 to prohibit corporal punishment in schools.
Gov. Ted Strickland is supportive and would sign such legislation, said his spokesman, Keith Dailey.
A law that took effect in 1994 discourages paddling. But in a concession to local control, it permits districts to use paddling by following procedures such as establishing a community task force and studying discipline in the district.
Last year, Pike County's Western Local Schools reported the highest number of paddlings at 99.
The style of punishment was used in just 17 of Ohio's 614 school districts, none in the Dayton area. Altogether, 270 students received 453 paddlings. Ohio is one of 21 states that permit corporal punishment.
Leeth said her district tried banning it but the community wanted it back.
"The parents have to fill out a paper saying they're OK with it," she said. Only the principal does the paddling, she said.
Williams said research shows the punishment is counterproductive, does not change behavior and can cause children to become more aggressive.
---
local12.com (WKRC-TV), Cincinnati, Ohio, 11 December 2007
Push To Ban Paddling In Schools
By Larry Davis
Local 12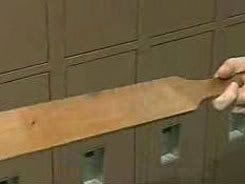 28 states ban paddling in schools, but Indiana, Kentucky and Ohio are all among the states that still allow corporal punishment. A bill was introduced in Ohio last week to prohibit paddling in schools and Governor Ted Strickland says he would sign the legislation if it passes. 17 Ohio school districts still use the method today, including Adams County Schools.

In this developing story, Local 12 Larry Davis talked to superintendents on both sides of the debate.

It's been many years since a paddle was used to discipline students in the Ross Local Schools. Like other districts, corporal punishment was phased out. Opponents said it was cruel. And parents told schools...hands off.

Todd Yohey, Ross School Superintendent: "I think most parents would have difficulty having any other adult touch their child in the form of a spanking or a paddling and so why would they support a teacher or a principal or a superintendent doing so."

Larry Davis: "Back in the day when I was in school and if a teacher or a principal came at you with this and asked you to come this way young man, you knew you were in big trouble. Well, today there are still some schools who see this as an effective tool."

"Corporal punishment is something you do as a last resort."

The paddle is still being used in the Adams County/Ohio Valley Schools, only when other disciplines, such as suspension or detention, fail. Nine students, all elementary, were given corporal punishment last year. It's a practice that many parents in the predominantly Appalachian district actually support.

"We at one time didn't have a policy permitting corporal punishment, but then it was reintroduced to the system at the request of some of our taxpayers."

At Ross, school officials think other forms of discipline, suspensions and detentions work well, the paddle isn't needed.

"I think the key in disciplining children is knowing what tool is going to be effective in modifying that child's behavior."
© 2007 Clear Channel Broadcasting, Inc.
---
Hamilton Journal-News, Ohio, 11 December 2007
Area school districts against paddling students
By Linda Ebbing
Staff Writer
BUTLER COUNTY -- The Hamilton City School District has elected not to allow corporal punishment "because of the liability, not because it's not effective," said board President Larry Bowling.
"A child thinks about his activities if he knows there is a potential to get swats -- that's a fact," Bowling said.
Ohio law allows a school board to adopt a corporal punishment policy in its district, Bowling said.
However, that could soon change.
A bill to ban paddling in school was introduced by state Reps. Jon Peterson, R-Delaware, and Brian Williams, D-Akron last week. Current law allows corporal punishment, but only after a school district follows certain procedures. Most of Ohio's 612 districts do not permit spanking.
Several Butler County school officials said that paddling was banned in their district about 20 years ago.
Society is different now and educators have to keep up with the times, said Tom Alf, principal of New Miami High School.
"We have to reflect on what's best for students in this day and age," Alf said.
Todd Yohey has been in education for 20 years, the past four as superintendent of the Ross Local School District.
Yohey said he has never worked in a district that permitted corporal punishment.
"Personally, I do not believe corporal punishment should be part of a school district's discipline plan. I do draw the line there, however," Yohey said.
"I do believe that spanking can be an effective discipline tool for parents to use."
This story contains information from staff and wire reports.
Copyright 2007 Hamilton Journal-News, Hamilton, Ohio, USA. All rights reserved.
---
Follow-up: 17 January 2008 - Lawmakers push law that would ban paddling at school
---
---
The Chattanoogan, Chattanooga, Tennessee, 28 December 2007
Bring Back The Paddle
By Roy Exum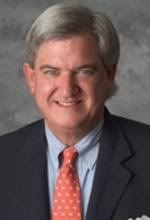 Roy Exum
When school begins next week, now that the holidays have passed, allow me to offer up a novel idea because from all I've seen and all I've read, the discipline problems of educating our young are growing by leaps and bounds.

While this will both infuriate and assault the very senses of my more liberal friends, I think we ought to equip our principals, the police we ever so politely call our "resource officers," and our athletic coaches with the time-proven method of deterrent called "the board of education".

I say we ought to start swatting our miscreants once again. I'm talking about the paddle.

Think about it. It has now been three days since Christmas morning and today, somewhere, "cabin fever" will close in on some household and some wild child will get a well-deserved swat. The very second after that happens, peace and tranquility will return because all the other kids ain't about to follow suit. Remember how it used to be?

There is not one person who sits in our Legislature, our County Commission or our City Council who cannot recall - some quite vividly - of what it meant to "earn a whipping." They'll also recall that once the fury was over, it was absolutely over.

If that sounds cruel, sadistic or abusive, then you are missing my point. I contend we've gotten so weak, so condescending, we've taken away the ultimate penalty and I, for one, know full and well the only way I ever made it through school was by avoiding being "lifted out of my loafers."

That we would disrupt an entire school day by calling the police, booking a juvenile, going to court and suspending a child from school is absolute nonsense when compared to waiting that horrible one hour in the office until the principal "found the time" to firmly press the back of your pants.

Over the holidays I spent some time with a guy who had been educated by the finest private schools in Britain. He went on to be graduated from Oxford and is today involved in all sorts of international business, but last week we were talking about high school life and he, having never been in the South, wondered what it was like when you misbehaved, as all boys do.

I told him when I was coming along they'd call you to the office, pop you two or three times, and the incident would be over, forgotten, and he allowed that he hadn't been nearly as lucky. It turns out he went to one of those very posh and proper boarding schools and, when he and his mates would err, they would actually have to drop their trousers so the master of the school could be assured the cane had left an ample mark.

I told him I couldn't help but wonder what would happen here because the school superintendent proposed not long ago we should begin classes later in the day so children wouldn't be tardy. "Once with the cane and they'll never, ever, be late again," was his answer.

What about the girls? "Same thing exactly. The head mistress used the same procedure and there never was a problem there. Not many people at all go back for a second time."

While I am no proponent of caning young girls, I do know a paddle has saved many a young soul. Back in the '60s, when I was going to high school, those with detentions would serve one a day by spending 55 minutes after school in study hall.

The more hardy among us could "work off" the detention after school, which was decidedly better than reading an algebra book for an hour, and those who had after-school jobs or played on athletic teams had the option of getting the detention "popped off" right after lunch every day.

The wait to get one "popped off" is almost as bad as the act itself and I'll promise you that I was never hit with a paddle, not once, that I didn't remind myself that whatever I had done wasn't worth getting whacked with that stick again.

Understand, we were never bludgeoned or clubbed or whipped in an unmerciful way. Usually it was "one and done" and the incident was over, the error forgotten and the debt paid in full. They didn't call your parents or a judge or the police, either.

So here's my proposal -- let's let the kid decide. If a child at Brainerd or Ooltewah or Red Bank or wherever gets in a fight, let's say, give him the option of calling the cops and going to the detention center and getting his daddy to hire some slick-haired lawyer ... or, bend over the desk and taking his licks with all to be forgotten and forgiven.

I mean, why don't we try it? I've seen the liberal approach. I've seen the "let's talk this through" theory. I've watched the bleeding hearts cite the case histories and I've seen all of them fail.

Give the "resource officer" a new resource and I'll bet a dime to a doughnut you'll see far greater results than you can ever imagine. Just ask any parent of today's children how "it used to be" and you'll find the missing link, so help me you will.

One more; send a note home with each child, explaining they must give their permission for the officer to paddle their child if he gets out of line. My guess is that the response would be enormous because those parents remember all too well what kept them in tow.

Trust me on this one, you swat a gnat a time or two and that bug will quit buzzing.