wtok.com (News 11 WTOK-TV), Meridian, Mississippi, 9 November 2007
Parents Object to Paddling
Reporter: Lindsey Brown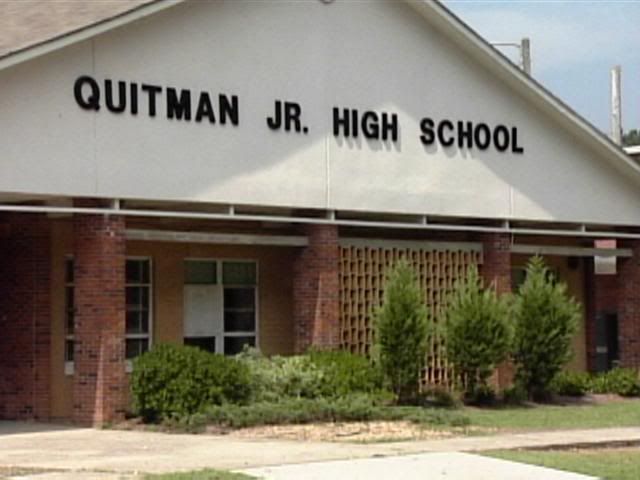 Quitman, Miss. -- Newscenter 11 was contacted by the parents of a Quitman Junior High School student who say a paddling of their son Thursday went too far.
And according to the parents, it was over an incomplete school assignment. They say their son has severe bruises on his buttocks and marks on his legs from a belt.
The parents say they took the child to the Watkins Memorial Hospital emergency room to be checked out.
As for the district, superintendent Suzanne Hawley told Newscenter 11 Friday that she can't confirm personnel matters, but that the incident is being investigated.
Hawley did confirm that the principal wasn't at school Friday.
The parents have since obtained legal counsel and backed out of a scheduled interview.
The parents say the school had permission to paddle their son, only if they were first notified, and they say that didn't happen Thursday.
Copyright © 2002-2007 - Gray Television Group, Inc.
---
---
Clarion-Ledger, Jackson, Mississippi, 13 November 2007
Trial set in corporal punishment case involving educator
Ex-principal allegedly bruised 18-year-old Maben girl during paddling
By Shelia Byrd
The Associated Press
A Maben woman hopes the trial of a former East Webster High School principal will push education officials to abolish corporal punishment.
Bill Brand, now a teacher at the high school in Webster County, was scheduled to be tried on simple assault charges Wednesday in Justice Court.
However, Hugh Gibson, the attorney for the Webster County School Board, said he expected the trial to be rescheduled.
The charges stem from a March 2007 incident in which 18-year-old Audrey Pee was paddled for violating a school dress code.
Audrey's mother, Linda Pee of Maben, said Brand struck her daughter twice, leaving her bruised from the paddling.
She said her daughter also was paddled by Brand six years ago.
"I feel that he poses a threat," Linda Pee said Monday. "He's a danger to every child in that school as long as he's able to paddle them."
She said she wants school officials to ban corporal punishment.
Pee said she signed a notification slip that informed school officials she did not want her daughter to be paddled.
Gibson disputed that claim, saying Audrey Pee's name was not on the school's "do not spank" list. Gibson said the allegation Brand paddled the student too severely has raised concerns about the paddling policy.
"The big issue is how would anyone ever spank a child without worrying if it is too severe?" Gibson said.
Gibson said he would recommend the board eliminate the "do not spank" list. He said the board revised its policy this year to require parents to make a personal visit to schools to decline corporal punishment for their children.
Jimmy Pittman, superintendent of Webster County schools, would not comment about the case or the district's corporal punishment policy.
Audrey Pee was paddled after she wore a pair of sweat pants that exposed her ankles to school, her mother said.
Linda Pee said the dress code rule against cropped pants was adopted on a day when her daughter was absent and was not mentioned in the student handbook.
She said Brand did not check the school's "do not spank" list, but instead asked her daughter if she was on it. Audrey Pee told him she was not on the list, her mother said.
"She knew I signed the form and she took the form back to school," Linda Pee said.
"I think they destroyed the form after he paddled her because it was not in the folder after I called him."
Linda Pee also alleged Audrey Pee suffered retaliation for the charges against Brand. The teenager did not graduate this spring after failing a geometry course, her mother said.
[...]
In Webster County, 346 of the about 2,000 students in the district were paddled during the 2006-07 school year, according to the state Department of Education.
© 2007 The Clarion-Ledger
---
Follow-up: 16 April 2008 - Judge finds Brand not guilty in paddling case
---
---
Dallas Morning News, Texas, 29 November 2007
Caddo Mills student says high school's paddling punishment left marks
By Karin Shaw Anderson
The Dallas Morning News
Rick Walden chose the brick home at the end of a blacktop lane because Caddo Mills schools are good, and the house was within sight of those campuses nestled in rural East Texas.
"I thought it would be safe for my two boys," Mr. Walden said.
He's since changed his mind.
Mr. Walden and his 15-year-old son, Jay, filed a complaint Tuesday with the Caddo Mills Police Department. It accuses Caddo Mills High School principal Brian McKamy of using excessive force when he paddled Jay on Nov. 7 after a dress code violation.

COURTNEY PERRY/DMN
Caddo Mills High School sophomore Jay Walden displays the jeans he wore that violated his school's dress code. He and his father have filed a police report, alleging the paddling he received for the infraction was excessive.
Repeated phone calls to Mr. McKamy's office and home were not returned. Caddo Mills ISD superintendent Vicki Payne also declined to comment.
Dennis Eichelbaum, the school district's attorney, said federal law prohibits him from discussing the paddling incident. He said school officials appeared to have followed the right policies and procedures.
Caddo Mills city attorney Andy Messer said police are investigating the criminal complaint. But he said no charges have been filed against Mr. McKamy.
Generally, state law defines assault as a Class A misdemeanor, which is punishable by up to a year in jail and/or a maximum fine of $4,000.
Texas law allows school districts to administer corporal punishment in disciplinary cases. Some districts – Dallas ISD, for example – have banned the practice.
'Holding my insides in'
Minutes after receiving three knee-buckling swats with a heavy board, Jay said, he went to a school restroom to compose himself. He took down his pants and took cellphone photos of dark red and purple marks on his buttocks.
"I didn't cry," Jay said proudly.
Photo shot with camera phone by Jay Walden
Jay said he lost his balance from the force of the swats. Mr. McKamy used his back belt loop twice to pull him up before hitting him again, he said.
"All I'm worried about is holding my insides in," Jay said of the painful walk to the restroom afterward. "I stayed in the bathroom about five minutes just to cool down and wash my face."
The sophomore said his troubles with Mr. McKamy began last school year. Caddo Mills is a football town, he noted. The Fighting Foxes are headed into the 2A state quarterfinals this weekend.
Mr. McKamy, a former football coach, shows favoritism to the team, Jay said, letting players wear longer-than-regulation hair while freely issuing detentions and night-school assignments to non-athletes.
Photos from the school Web site show some male athletes with hair that hits below their eyebrows and earlobes, which would violate the school dress code.
Family history
The history between the principal and the Walden family runs even deeper.
Mr. Walden said Mr. McKamy called him last year and said he was preparing charges against Jay for beating up a girl on the school bus. The girl's parents later notified Mr. Walden that Jay was not the assailant. In fact, he wasn't even on the bus that day.
Mr. Walden said he never received an apology.
Mr. Walden said the principal once accused him of trying to defend his son's misdeeds – including wearing his hair too long.
"Your son said you were a redneck," Mr. Walden said Mr. McKamy told him.
This school year, Jay had already received one detention for neglecting to take a completed school project home. Then came the run-in with Mr. McKamy on Nov. 1.
On that morning, Jay was getting ready for school at his mother's house in Greenville when he realized that the only jeans he had with him were torn near each knee. He called his father and asked him to bring some new pants to school.
"I told Jay to be standing there, waiting on me," Mr. Walden said.
Mr. McKamy was standing next to Jay when his father arrived and handed him the jeans. Mr. Walden said the principal didn't realize Jay was in violation of the dress code until that moment.
Mr. Walden said Jay changed into the new pants 20 minutes before school started.
"The boy tried to take care of it before school started, and he did," Mr. Walden said.
Later that day, Jay was called to the school office and told he would be assigned to night school because of the dress code violation.
"I know I broke the rules," Jay said. "But I thought if I did get caught, it would just be a warning. In the handbook, it says that you get a warning, and I have not had a warning this year."
Alternate punishment
Mr. Walden said the following happened next:
Mr. Walden went out of town, and Jay spent the week with his mother, who had moved from Greenville to McKinney. She called the school and tried to reschedule his night school assignment because of the distance she would have to travel to Caddo Mills to pick up Jay from school.
Mr. McKamy told her that couldn't be arranged, and he would instead paddle Jay.
Mr. Walden acknowledged that he had signed a consent form agreeing to corporal punishment as an option if Jay got in trouble at school. But he argued that he – not Jay's mother – should have been notified about the paddling.
"I have custody of my boys," he said.
Mr. Walden said more bad blood developed when he complained about the severity of the paddling. Ms. Payne, the district's superintendent, threatened to give Jay more punishment for using his cellphone to take, and show, photos of his buttocks during school hours, according to Mr. Walden.
"Why are they trying to paint me as a bad parent and him as a troubled child, when you can plainly see what they've done?" he said.
Mr. Walden withdrew Jay and his younger son from Caddo Mills schools. He plans to enroll them in Greenville schools a few miles up the road. He also plans to send Jay to talk with a counselor about the incident.
"I'm just trying to cope with what has been done to my son," Mr. Walden said.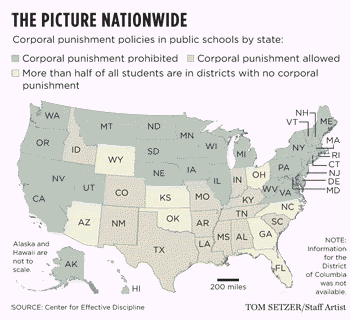 Nov. 1: Jay Walden was given notice of a night school assignment for wearing torn jeans to school in violation of the school dress code.
Nov. 7: Jay was paddled in lieu of night school. Jay took cellphone photos of marks on his buttocks and showed them to students.
Nov. 27: Jay's father, Rick Walden, filed a criminal complaint with the Caddo Mills police department, accusing principal Brian McKamy of assault. Mr. Walden withdrew Jay from school later that day.
---
Follow-up: 6 December 2007 - Caddo Mills school board backs principal in paddling incident