Hartselle Enquirer, Alabama, 10 January 2008
City schools report higher number of disciplinary actions
By Cliff Knight
Hartselle Enquirer
Hartselle's five public schools combined reported a 23 percent increase in student misbehavior resulting in disciplinary action in 2006-07, according to figures published in a state-mandated accountability report that tracks school safety and discipline.

The report, which was filed with the State Board of Education in June 2007, shows Hartselle schools had 167 incidents, or 45 more that the 122 that were reported in the prior year.
Hartselle Junior High School led all of the other schools with 69 incidents, an increase of 26; Hartselle High School had 19 fewer incidents from 58 to 39; Burleson was up by seven from 25 to 32; Crestline gained eight, from 18 to 26; and Barkley Bridge reported its first incident in three years.

The state's Education Accountability Law requires that copies of the annual report be distributed to media representatives, parent organizations and legislators no later than Dec. 31 of the year it is completed.

Fighting was listed as the cause behind 37 of the incidents and 18 of those occurred at HJHS. Other incident types reported were: defiance of authority, 29, assault, 19; harassment 18; persistent disobedience, 15; disorderly conduct, 15; threats/intimidation, nine; and profanity, eight. Other incidents included possession of weapon, two; drugs possession, two; and sexual offenses, two. The incidents resulted in disciplinary action as follows: suspensions, 41; corporal punishment, 45; alternative school, 23; and alternative setting, two.
---
---
The Register-Herald, Beckley, West Virginia, 10 January 2008
Love calls for restoration of corporal punishment
By Mannix Porterfield
The Register-Herald
(extract)
CHARLESTON -- Memories of a three-hole paddle used to assure law and order in the classroom leave Sen. Shirley Love thinking corporal punishment needs to be restored in West Virginia.
Love saluted Gov. Joe Manchin's call in his State of the State message for a special panel to examine the problem of bullying that intimidates students and teachers alike.
"When I went to school, they had a paddle," Love, D-Fayette, reflected a day after Manchin's speech.
"I was afraid of that paddle. That paddle had three holes in it. When it had three holes, I found out one time when the principal popped me three licks with it. That made a little more pain and suffering."
Once home that day, Love came in for a second round of punishment at the hands of his father.
"I got disciplined from two ends," he said. "It wasn't too many times, but it was enough that it was a deterrent. And I think the deterrent is still there. I've always believed in corporal punishment. I think the good Lord was for corporal punishment. You read the Bible."
Love commended Manchin's plan to deal with bullying and to deny students their driving privileges if they attack a student or teacher, or introduce a weapon onto campus.
"Teachers are afraid they'll get sued," Love said. "They can't discipline a youngster even verbally now. It's gone a little far over the line."
[...]
Copyright © 1999-2006 cnhi, inc.
---
The Register-Herald, Beckley, West Virginia, 14 January 2008
Editorial
The paddle
State Sen. Shirley Love has called for the paddle to be brought back into schools. We couldn't agree more.
Last week we reported Sen. Love's intention and, of course, we get the pacifists responding with their claims of paddling being abusive and cruel.
One person said suspensions, detentions and a note to the parents would be enough and suggested they would "backhand" a teacher if they tried to paddle their child. There's some real genius in that kind of thinking.
This is the perfect example of why we need the paddle back. In far too many households the children are allowed to do what they please, have little or no discipline and then their parents scream about litigating when their brat gets out of control and somebody in the school system tries to do something about it.
Kids quite simply think they can basically get away with anything at school, including bullying and threatening teachers, administrators and other students. Why? Because there are no real repercussions and they are being emboldened by the attitudes which start at home.
To say some of these youths are brazen is to put it lightly. There is no fear, disrespect is rampant and school personnel are essentially helpless when it comes to delivering effective measures of discipline. This doesn't even take into account the disruption to those who want to learn.
Notes and days out of school don't work. The threat of the paddle would serve as a deterrent.
For those who don't like the thought of the corporal punishment, fine. Home school your kids or put them in a private institution, because taxpayers shouldn't have to straighten out your delinquents.
Copyright © 1999-2006 cnhi, inc.
---
---
The Daily Record, Wooster, Ohio, 17 January 2008
Lawmakers push law that would ban paddling in school
By Marc Kovac
Dix Capital Bureau
COLUMBUS -- Calling it a morally repugnant practice, two state lawmakers gave opening testimony Tuesday for a bill that would ban corporal punishment in Ohio schools.
House Bill 406, sponsored by Reps. Jon Peterson, a Republican from Delaware, and Brian Williams, a Democrat from Akron, would affect 17 districts in the state that still administer paddling as a means of discipline.
"There is nothing to indicate that beating our children furthers (advanced learning)," Peterson told the House's Education Committee. "We all agree that discipline is important, but we should be focused on effective discipline."
Under existing state law, school districts that have adopted the appropriate policies and resolutions can administer corporal punishment.
Among the districts that have done so are Hillsdale Local in Ashland County (10 paddlings administered to 10 students in 2005-06) and North Central in Wayne County (one paddling administered to one student), according to statistics provided by the lawmakers.
Under the proposed legislation, schools would be banned from paddling students. Districts would still be allowed to use appropriate "force and restraint as is reasonable and necessary to quell a disturbance threatening physical injury to others, to obtain possession of weapons or other dangerous objects upon the person or within the control of the pupil, for the purpose of self-defense, or for the protection of persons or property," according to an analysis conducted by the state's Legislative Service Commission.
Instances of corporal punishment have decreased to fewer than 500 last year from upward of 68,000 two decades ago, Peterson said, adding children with disabilities, who are poor or who are part of minority groups have received disproportionate use of the practice.
"Most developed countries in this world have already banned the practice," he said. "We would become the 30th state in this country to ban the practice. It is time to do so."
He added, "We should not give government employees in schools the right to beat our children. ... The practice serves no useful purpose and should be banned in the state of Ohio."
Williams, a retired teacher and superintendent, agreed, adding the legislation would not affect parents' ability to discipline at home.
It "does not address the rights of parents at home or in their community to provide discipline to their children," he said. "Hitting children to control their behavior in schools has always been a controversial issue, and few would support that it is effective in changing bad behavior."
Marc Kovac is the Dix Newspapers Capital Bureau chief.
---
Follow-up: 29 January 2008 - Bill would ban corporal punishment in Ohio schools
---
---
Commercial Appeal, Memphis, Tennessee, 21 January 2008
Basketball coach on the bench at Ridgeway Middle with hopes of one day returning to beloved Hamilton High
By Jason Smith

Nikki Boertman/The Commercial Appeal
Ridgeway Middle School basketball coach Ted Anderson gets a hug from eighth-grader Sheldon Dawson following the team's 68-26 postseason victory over Lanier Middle School on Thursday.
Ted Anderson still bristles at the memo addressed to him from Memphis City Schools dated June 9, 2004.
It instructed the iconic former Hamilton High boys basketball coach to collect his personal items from the school, then to never set foot there again.
"It was degrading," said Anderson, who 3½ years ago was suspended indefinitely from coaching for paddling and being verbally abusive to his players.
Anderson, a 1964 graduate of Hamilton and former senior class president, was transferred to Ridgeway Middle School, where he continues to teach history.
"That was the low point in my life. That was my school," Anderson said. "I mean, I'm interwoven into the very fiber of Hamilton High School. ... That night I did not close my eyes. I went to bed, but I didn't sleep all night long, thinking about that stuff. It hurt me, man."
Fast forward to 2008, and Anderson, now 64 and recently reinstated as a coach by MCS interim Supt. Dan Ward, is itching to get back into high school coaching.
He's also eager to see corporal punishment brought back to MCS.
"When I left, I knew that within three to five years, corporal punishment was going to be back in Memphis City Schools," said Anderson, whose suspension from coaching was followed five months later by the Memphis Board of Education's decision to abolish paddling.
"This is the fourth year right here, and it's close to coming back. That, or some real viable alternative. The Blue Ribbon (Behavior) Initiative was something to wash your (butt) with. It was nothing.
"This is the South, man, and young black boys don't respect nothing but strength. ... 'Sit down before I whip your (butt).' They respect that. ... Quick, fast and in a hurry, 'Bend over here, boy, you've got three licks.' Then it's 'Thank you, Coach. I was wrong. It won't happen again,' and that's it."
In November, five months after a federal jury ruled in favor of Anderson in a civil case brought against him by former Hamilton player Martin Nolan for alleged physical and verbal abuse, Anderson was asked by Ridgeway Middle principal Lisa Henry to coach the school's boys basketball team.
Anderson agreed to coach the team for one year, but after coaching the Roadrunners' first game of the season, he was informed by MCS that he remained suspended indefinitely from coaching.
Anderson explained to Henry and Ward that his suspension from coaching was for one year, a period of time agreed upon by himself and former MCS superintendent Carol Johnson.
Johnson, now the superintendent of Boston Public Schools, backed Anderson's claim in a Dec. 6 memo addressed to Henry.
"Coach Anderson was initially suspended for an unspecified amount of time," Johnson wrote. "However, in a follow-up discussion with him, we agreed that the suspension would be lifted after one year and pending resolution of the case.
"The case was resolved in summer 2007."
On Jan. 11, Anderson was reinstated as a coach by Ward. He coached the Roadrunners' final regular-season game, and on Thursday, guided Ridgeway Middle to a 68-26 postseason victory over Lanier Middle.
Anderson, dressed sharply in a gray suit, yellow tie and chocolate-brown gatorskin shoes, was back.
"It's a lot different, man. For one thing, in high school, they figure they know something already, so they don't literally hang on your every word like these kids," Anderson said.
"So I'm having some double joy -- the joy from being back in it and joy from seeing the excitement in their eyes and learning from somebody that's been through the wars."
MCS athletic director Wayne Weedon said he and Johnson had agreed Anderson could get back into coaching prior to Johnson's leaving for Boston -- just not at Hamilton.
"I had several conversations with Dr. Johnson prior to her leaving about Coach Anderson getting back into coaching, and we both agreed that if he wanted to coach somewhere other than Hamilton, that we would take a look at it," Weedon said.
"She said that she was interested in seeing him coach again. ... But we felt like going back to Hamilton was not in the best interest of the district and not in the best interest of Coach Anderson."
Anderson admitted he originally told Johnson and Weedon he only wanted to coach at Hamilton. And while he won't rule out a return to his high school alma mater, he is content to coach elsewhere this fall if a good situation presents itself.
"I'm excited about the possibility of returning to high schools and the possibility that I might be returning to Hamilton," he said.
"Though they have a coach now, I'm still excited about the possibility that I might one day be back at Hamilton.
"I knew that in the end, I was going to come out of this smelling like a rose, because I believe in right over wrong. The wheels of justice turn very slow and it might take a little while, but right always prevails over wrong, man."
© 2008 Scripps Newspaper Group
---
---
McDowell News, North Carolina, 23 January 2008
Mother, activist protest student's paddling
By Britt Combs
Activists say that McDowell County is behind the times in still using corporal punishment in schools. On Tuesday night, two of them asked the School Board to get to the bottom of the issue.
Elizabeth Stevens, the mother of a boy who was paddled last month at Phoenix Academy, and Peggy Dean, member of Parents and Teachers Against Violence in Education, asked the board to hear their concerns at their regular meeting Tuesday.
The Board declared a closed session for the hearing, citing state law allowing them to meet in closed session when discussing disciplinary measures.
Before the closed session, school attorney Sharon Parker asked repeatedly for the pair to lower their picket signs. Eventually Parker took the signs and carried them outside.
The controversy stems from a paddling Stevens' son Joey received last month. Accounts of the event disagree on several points.
Stevens said that her son was paddled for defending himself. On Dec.13 Joey was having trouble with bullies who were making him the butt of their jokes, according to his mother's account. After a boy called Joey names repeatedly, Joey asked him to stop. When the boy would not quit Joey told him to "shut up." This happened three times during the class, she said.
Joey told the McDowell News that he has had problems with bullies in class since transferring to Phoenix.
Stevens said that the bullies get more lenient treatment from the teacher.
"All I ask for is consistency," she said. She explained that when Joey sees a student getting away with certain behavior he is bound to mimic that behavior. "Inconsistency is the worst thing imaginable for kids with ADHD."
School officials will not comment on the cause of the paddling, but Alternative Education Director Marcie Lewis agrees that it takes three strikes in a 45-minute period to earn a spanking at Phoenix.
"In that particular classroom we use 'assertive discipline,' which means that the student is redirected after any outburst, or any time they are off-task," she explained. "They get check marks on the board and have to get three in the period before they are referred to the office."
Stevens said that her son called her before he was punished, asking her to prevent the spanking.
"On the day of the paddling, Joey called me, very upset beforehand and wanted me to tell the teacher not to paddle him," she stated. "I heard the teacher in the background telling him that she would not get on the telephone with me. I had no chance to stop the incident beforehand."
The teacher, Kathy Horn, asked Tony Davis, a teacher at the ALC, to paddle Joey. Davis paddled Joey in the presence of two witnesses: Horn and Joey's one-on-one worker, Scott West.
Stevens was shocked at the sight of Joey's buttocks that night. She showed The McDowell News pictures she took of Joey's bruised and battered bottom. The photos were taken some 12 hours after the paddling.
Superintendent Dr. Ira Trollinger said that Joey had asked the teacher not to spank him due to an injury sustained during a basketball game the day before, and that that was where most of the bruises came from.
Stevens flatly denied Trollinger's version, saying that the ball game in question had taken place a week earlier and that no bruising from his fall were visible before the paddling.
Stevens complained to the Sheriff's Office and took her son to the Emergency Room for treatment.
Her frustration escalated when she turned to the school administration for answers. It took three weeks to get any response, she said.
When Trollinger agreed to meet with her, Stevens brought along a cassette recorder. She played the tape for the McDowell News. On the tape he can be heard explaining the reasons for corporal punishment.
"We try to use any option other than out-of-school suspension," he said. He told Stevens that OSS meant time lost from class, but paddling meant the student could return to his work and quickly put the matter behind him.
On the same tape Lewis said that Joey had been referred for discipline 10 times that semester. "He got in trouble the first day for touching a girl's breasts," she said. She also said that Joey tended to panic and over-react before and during paddling, throwing himself on the floor, banging his head and screaming.
The issue, countered Stevens, is not about past incidents but the paddling of Dec. 13.
"I consented to corporal punishment, but never to the beating that he received," she said. She said that she felt she could not return her son to school and that Joey was fearful that if he returned it could happen to him again.
"My son has been traumatized," she said. She has begun home schooling Joey. She stated that to send him back would be tantamount to "neglect."
She said that she has sought legal counsel. "Only when justice has been served," she said, "can my child truly begin to heal."
The School Board's closed session with the protesters went on more than half an hour. Stevens and Dean were upset by the cold reception. Dean said that some board members were unwilling to hear from an outsider.
"Lynn Greene and Brian Piercy told me to go back to Union County," she said. "It's natural to say 'you're from out of town,' but they can't ignore the issue." She said she felt that some of the board members "got it."
Stevens was very disappointed. "Greene said he will never vote to stop corporal punishment," she recounted. She said that the closed session denied her the chance to speak and be heard.
Dean was already looking forward to the next step. "It's good to know what kind of bullies we're dealing with," she said, referring to Parker's preventing the pair from displaying their signs.
School officials differ with Stevens on several points.
Chairwoman Priscilla Owenby expressed confidence in Trollinger to handle the matter appropriately.
"It saddens me that this has become an issue," she said, "in light of the fact that she gave her consent, and the paddling took place in front of two witnesses."
Trollinger agrees that the matter was handled as professionally as anyone could want.
"We investigated the matter and reviewed the policy," he said. "All witnesses agree that the spanking was very light, and that all appropriate procedures were followed."
Lewis would only comment on the policy at Phoenix and refused to address the accusations made by Stevens.
"We have a professional code of ethics that we have to follow," she said. As much as we may want to comment one way or the other, we can't." Asked if there were any chance that the teacher may have shown favoritism toward one boy or the other, Lewis is adamant in her denial.
"It sometimes is frustrating," she said, "when we may want to give a student a break, but we require absolute consistency in enforcing the rules. We cannot make any exceptions in policy for one student.
"I take the pats on the back for the good things that go on here," she stated, "so I'll take the lumps too." She said that ultimately the responsibility was hers.
Stevens hopes her son's ordeal will be a wake-up call. "Reflect on all the violence recently surrounding our county," she said. "Violence (has become) a societal norm." She hoped the community would make something good come of the event by banning corporal punishment entirely.
The published School Board policy provides that corporal punishment be administered at a particular school subject to the principal's approval. The principal need not approve each instance, but must define under what circumstances paddling is appropriate.
Students must be informed what sorts of behavior will be likely to earn them a paddling. A student cannot be spanked in front of other students. A child can only be spanked in the presence of a witness. The parent must be informed that the student was paddled and why.
---
wspa.com (WSPA News Channel 7), Spartanburg, South Carolina, 28 January 2008
Mom Says School Spanking "Crossed The Line"
By Connie LeGrand
North and South Carolina are among less than a dozen states which do not ban corporal punishment in schools. Although policies vary from district to district, there are schools which still paddle students. A mom in Western North Carolina says on December 13, 2007, the practice went too far.
Elizabeth Stevens of Nebo, NC says her 12-year-old son was paddled while attending Phoenix Academy in McDowell County. She admits he got into trouble sometimes, and she allowed the District to paddle him. She says prior to December, it never caused marks. She says the last time was different.
"He had pink bruises on his buttock area. He had a full paddle mark across his butt. He had burst blood vessels. I'd never seen anything like it."
Stevens, who is a nurse, took pictures and filed a complaint with the McDowell County Sheriff's Office. An investigation found accusations of possible child abuse "unfounded", according to an incident report and the case was marked "closed".
Last week Stevens took her concerns to the School Board asking them to consider banning corporal punishment in McDowell County schools. She says, "What's enough, but what's too much? Apparently on the day that Joey was paddled, that line was crossed."
Today we spoke with McDowell County School District Superintendent Dr. Ira Trollinger, who says he is not permitted to talk about individual cases. He did say he has not found any evidence of wrong-doing in any paddling cases this school year, and that the School District will not consider altering its policy at this time.
"We do use it, and it is in our policy and many of our Board members feel strongly that we ought to keep it in our policy. North Carolina law allows us to do that, but we don't use it that often."
Elizabeth says until that policy changes, Joey will have to learn his lessons at home. She has been homeschooling Joey since the paddling.
Stevens contacted the organization: Parents and Teachers against Violence in Education, Inc. Peggy Dean says a complaint was filed with the N.C. Dept of Education on Joey's behalf.
Copyright 2008 Media General Inc., All Rights Reserved
---
RELATED VIDEO CLIPS

(1) TV news report (1 minute 30 seconds) from WSPA tv (28 January 2008) of which the above is an online text version. Comments by mother and stills of the student's marked bottom. School superintendent, briefly interviewed, notes that there was nothing untoward in the paddling. The local County Sheriff found no case for accusations of child abuse.




(2) An Associated Press video report (23 January 2008) on the same case.




HERE ARE THE CLIPS:
IMPORTANT: Copyright in these video materials rests with the original copyright holders. These brief excerpts are reproduced under the "fair use" doctrine
for private, non-profit, historical research and education purposes only. It must not be redistributed or republished in any commercial context.
---
---
The Plain Dealer, Cleveland, Ohio, 29 January 2008
Bill would ban corporal punishment in Ohio schools
By Edith Starzyk
Plain Dealer Reporter
In Mogadore, students who get into a bit of trouble have a choice: 30 minutes of detention or one whack with a paddle.
About a dozen of them picked the paddle in 2005-06, the most recent count available.
But the tiny Portage County district and 16 others that allow corporal punishment would lose the option if a bill now in the Ohio House's education committee is approved.
"Some students would rather bend over and take a little stinging for a few seconds rather than sit after school for half an hour," said Terry Byers, who does double duty as Mogadore's superintendent and the principal of the high school and junior high.
Byers, who describes himself as an "old school" administrator, says he's ready to go with the flow if the legislature takes away paddling.
Since 1994, very few Ohio districts have used corporal punishment.
State Rep. Brian Williams, a Democrat from Akron, said it's time Ohio joined the 29 other states that ban corporal punishment. He sponsored the bill along with State Rep. Jon Peterson, a Republican from Delaware.
"Paddling doesn't work," Williams said. "It doesn't change student behavior in a positive way. It's degrading and humiliating to have a little child bend over and smack them on the buttocks."
A former superintendent of the Akron public schools, Williams said almost all districts used the paddle when he began teaching in the 1960s. He swatted students a few times himself, but stopped because he found it so troubling.
There are better discipline alternatives now, he said, ranging from suspensions and Saturday school to special counseling programs.
Nadine Block has tracked the use of corporal punishment for years as a founder of the Columbus-based Center for Effective Discipline. In 1984, more than 68,000 students were paddled in Ohio public schools, she said, a far cry from the 270 paddled in 2005-06.
The tide began turning in 1985 when a state law allowed local school boards to drop corporal punishment as a disciplinary measure.
Then in 1994, a statewide ban on corporal punishment took effect but still allowed for local control. If a school board followed a set of procedures, it could still set up a paddling policy, though parents could opt out.
To Block, the need for local control is "a shallow argument" in an era when the state is involved in just about every aspect of public education. "It's the duty and the right of the state to protect children," she said. "And the state has already determined hitting is harmful -- it's banned in day care centers, foster care homes and institutions. "I can't hit my neighbor, my spouse or my neighbor's dog, but it's OK to hit a child in school?"
Block, a former school psychologist, can tick off a long list of other reasons for banning corporal punishment. Among them:
Minority and special-education children are paddled more frequently than their classmates.
Many times the infractions are minor, like talking or not bringing in homework. "It's a lawsuit waiting to happen," she said.
© 2008 The Plain Dealer. All Rights Reserved.
---
myfoxcleveland.com (Fox 8 TV), Cleveland, Ohio, 29 January 2008
To Paddle or Not? State Lawmakers to Decide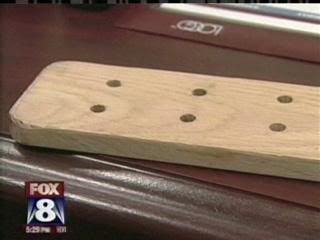 29 states have banned corporal punishment in their schools, Ohio is not one of them. That could soon change due to a bill co-sponsored by State Representative Brian Williams (D-Akron), asking Ohio lawmakers to ban corporal punishment.
To paddle or not to paddle? That's the question before state lawmakers.

29 states have banned corporal punishment in their schools, Ohio is not one of them. That could soon change and one school district will have to change their practices if that happens.

When students in the Mogadore School District get into trouble, they get a choice: a whack with a paddle or a 30 minute detention.

The district superintendent, Terry Byers, who's also the principal of Mogadore High School, says students get the choice when it's usually for minor offenses like talking, being late to class, and not coming to class prepared.

"Some prefer to take the whack and others serve the detention." said Byers, "The majority serve the detention."

Byers says he is the one who renders the punishment if a student chooses the paddle. He says it is done in his office.

"It's not difficult. I've been doing it for 30 years, so it's old school for me."

But while some parents may find the paddle offensive, one parent FOX 8 talked to says she does not have a problem with corporal punishment in schools.

Shelley Baer says, "Back when I went to school we had spankings and I think a lot of kids probably turned out a little better."

The Portage County District could lose that option if a bill now in the Ohio House's Education Committee is approved.

State Representative Brian Williams (D-Akron), one of the bill's co-sponsors, says it is time Ohio joins the 29 other states that have banned corporal punishment. He says paddling just does not work.

Since the 1990's, very few Ohio districts have used corporal punishment. In Mogadore, the superintendent says he likes to give his students a choice.

"For some students it may not make a difference. Others it does." says Byers, "It's like any form of discipline. Some you could do whatever and they'll still misbehave, or some, detention or a whack will straighten them up."

In 2005 and 2006, Byers says 13 students in Mogadore opted for corporal punishment instead of detention. Three of those students went under the paddle twice that year. Byers says these were the latest figures available.

The superintendent says if the law changes, then paddling will no longer be an option at his school district. "If that's what the law says then we'll abide by the law. It's not a problem."
---
RELATED VIDEO CLIP

2-minute TV news report from Fox 8 (Cleveland) tv (29 January 2008) of which the above is an online text version. A school principal, who uses paddling when it is requested as an option by the student, explains what is involved. The paddle is shown. A politician who is trying to abolish CP at State level also speaks, as does a pro-spanking mother.





HERE IS THE CLIP:
IMPORTANT: Copyright in this video material rests with the original copyright holders. This brief excerpt is reproduced under the "fair use" doctrine
for private, non-profit, historical research and education purposes only. It must not be redistributed or republished in any commercial context.
---
Follow-up: 27 April 2008 - Paddle policy stuck in committee