Daily Herald, Arlington Heights, Illinois, 19 March 2009
Ex-Elgin preacher convicted of battery for spanking girl
By Josh Stockinger
Daily Herald Staff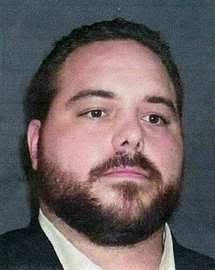 A former Elgin preacher was sentenced to one year of court supervision Wednesday for repeatedly spanking a 12-year-old girl as part of religious counseling sessions prompted by her claims she was molested by her stepfather.

The Rev. Daryl P. Bujak, 33, also must perform 80 hours of community service, pay court costs and a fine of $350, and have no contact with the girl, now 16, or any similar contact with other children.

Kane County Judge Allen M. Anderson found Bujak guilty of misdemeanor battery but not guilty of failure to report a sexual abuse allegation the Richmond girl made in March 2005, when the spankings began.
Bujak pleaded for the judges mercy, saying there were "many things I would have done differently" when the girls family sought him out for Christian counseling.

"I do acknowledge the situation was over my head," Bujak said.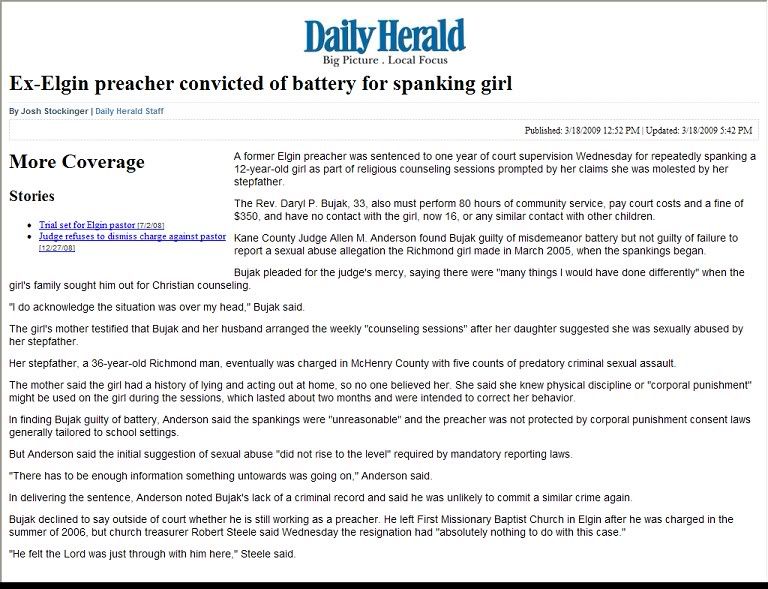 Click to enlarge
The girls mother testified that Bujak and her husband arranged the weekly "counseling sessions" after her daughter suggested she was sexually abused by her stepfather.

Her stepfather, a 36-year-old Richmond man, eventually was charged in McHenry County with five counts of predatory criminal sexual assault.

The mother said the girl had a history of lying and acting out at home, so no one believed her. She said she knew physical discipline or "corporal punishment" might be used on the girl during the sessions, which lasted about two months and were intended to correct her behavior.

In finding Bujak guilty of battery, Anderson said the spankings were "unreasonable" and the preacher was not protected by corporal punishment consent laws generally tailored to school settings. But Anderson said the initial suggestion of sexual abuse "did not rise to the level" required by mandatory reporting laws.

"There has to be enough information something untoward was going on," Anderson said.

In delivering the sentence, Anderson noted Bujak's lack of a criminal record and said he was unlikely to commit a similar crime again.

Bujak declined to say outside of court whether he is still working as a preacher. He left First Missionary Baptist Church in Elgin after he was charged in the summer of 2006, but church treasurer Robert Steele said Wednesday the resignation had "absolutely nothing to do with this case."
"He felt the Lord was just through with him here," Steele said.
---
---
The Press-Register, Mobile, Alabama, 31 March 2009
State Bar Association pulls Thomas' law license
By Gary McElroy
Staff Reporter
(extract)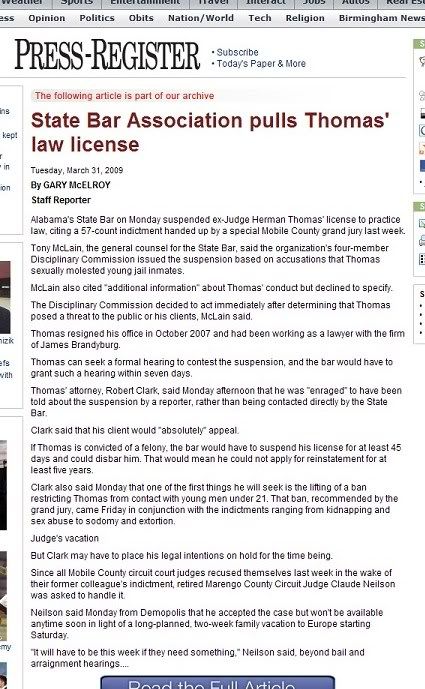 Click to enlarge
Alabama's State Bar on Monday suspended ex-Judge Herman Thomas' license to practice law, citing a 57-count indictment handed up by a special Mobile County grand jury last week.
Tony McLain, the general counsel for the State Bar, said the organization's four-member Disciplinary Commission issued the suspension based on accusations that Thomas sexually molested young jail inmates.
McLain also cited "additional information" about Thomas' conduct but declined to specify.
The Disciplinary Commission decided to act immediately after determining that Thomas posed a threat to the public or his clients, McLain said.
Thomas resigned his office in October 2007 and had been working as a lawyer with the firm of James Brandyburg.
Thomas can seek a formal hearing to contest the suspension, and the bar would have to grant such a hearing within seven days.
Thomas' attorney, Robert Clark, said Monday afternoon that he was "enraged" to have been told about the suspension by a reporter, rather than being contacted directly by the State Bar.
Clark said that his client would "absolutely" appeal.
If Thomas is convicted of a felony, the bar would have to suspend his license for at least 45 days and could disbar him. That would mean he could not apply for reinstatement for at least five years.
Clark also said Monday that one of the first things he will seek is the lifting of a ban restricting Thomas from contact with young men under 21. That ban, recommended by the grand jury, came Friday in conjunction with the indictments ranging from kidnapping and sex abuse to sodomy and extortion.
Judge's vacation
But Clark may have to place his legal intentions on hold for the time being.
Since all Mobile County circuit court judges recused themselves last week in the wake of their former colleague's indictment, retired Marengo County Circuit Judge Claude Neilson was asked to handle it.
Neilson said Monday from Demopolis that he accepted the case but won't be available anytime soon in light of a long-planned, two-week family vacation to Europe starting Saturday.
"It will have to be this week if they need something," Neilson said, beyond bail and arraignment hearings [...]
© 2009 al.com All Rights Reserved.
---
RELATED VIDEO CLIP

News report (1 min 47 secs) -- NBC15 TV on Judge Herman Thomas (Mobile, Alabama) -- 9 March 2009. This is a couple of weeks earlier than the above news item, before the State Bar Association had intervened, and covers the decision of another judge not to allow Thomas to practise in his courtroom.




HERE IS THE CLIP:

IMPORTANT: Copyright in this video material rests with the original copyright holders. This brief excerpt is reproduced under the "fair use" doctrine for private, non-profit, historical research and education purposes only. It must not be redistributed or republished in any commercial context.
---
Follow-up: 9 April 2009 - State Bar: Thomas Is A "Sexual Predator"