Seattle Times, Washington, 3 October 2007
Judge resigns; complaints include spanking inmates
By Phillip Rawls
The Associated Press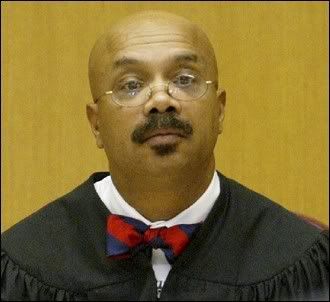 Alabama Circuit Judge Herman Thomas
MONTGOMERY, Ala. — A judge once considered for a prominent federal appointment has resigned amid investigations of possible judicial and sexual improprieties, including allegations that he spanked male inmates in a private courthouse room.
The resignation of Circuit Judge Herman Thomas ends what was once viewed as one of Alabama's most promising legal careers, although his legal problems continue.
"We do have a criminal investigation going on," Mobile County District Attorney John Tyson said after Thomas' resignation Monday.
Thomas, 46, had been suspended with pay since March, when a state judicial panel filed the first of a series of charges accusing him of unduly helping relatives and friends with their legal troubles and taking cases away from other judges — without permission — to change defendants' legal status or reduce sentences.
Thomas resigned shortly before 5 p.m. Monday, which was the deadline for judicial prosecutors to file any additional charges before his Oct. 29 trial.
"While I do not believe that I ever intentionally violated any canon of judicial ethics, I recognize that the controversy surrounding me has been disruptive and unproductive for the life of this community," Thomas said in a resignation statement.
After the ethics charges were filed against Thomas, allegations arose that he had removed several male inmates from the Mobile jail and taken them to a private room in the courthouse, where he spanked them.
The president of the local NAACP chapter accused investigators of coercing inmates to make allegations against Thomas.
Also, a 6-year-old lawsuit surfaced in which an inmate accused the judge of offering to provide help with inmates' cases in return for sexual favors. "Judge Thomas categorically denies all of that," defense attorney Dave Boyd said.
In 1997, some of Alabama's top Democrats recommended President Clinton appoint Thomas as the first black federal judge in south Alabama. The background check on Thomas dragged on for months and Clinton never made a formal nomination.
Copyright © 2007 The Seattle Times Company
---
Follow-up: 12 July 2008 - Sentence by ex-judge challenged: Drug offender says his refusal to be paddled resulted in unfair sentence from Herman Thomas