wkrg.com (WKRG-TV), Mobile/Pensacola, Alabama, 9 April 2009
State Bar: Thomas Is A "Sexual Predator"

By Jessica Taloney
Reporter
A former judge accused of paddling inmates will not get his law license back any time soon.

A three person panel of the Alabama State Bar's Disciplinary Commission upheld a previous decision to suspend Herman Thomas' license, despite Thomas denying under oath all of the allegations in a 57 count indictment.

"I'm not guilty," said Thomas, in his first interview since his arrest earlier this month. "There is no doubt that people assisted these inmates in telling these lies on me."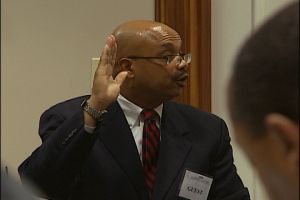 During the two hour hearing, Thomas testified about the nature of his relationship with each of the nine inmates named in the indictment. Thomas acknowledged going to Mobile Metro Jail to pick up two of the inmates on separate occasions, but he said he gave one of the inmates a ride home and the other he took to his court chambers to mentor.

In addition to paddling inmates, Thomas is also accused of forcing them to perform sexual acts in exchange for leniency in the courtroom. Tony McLain, General Counsel for the Alabama State Bar, introduced into evidence pictures of the room where the sexual abuse allegedly happened and forensic DNA evidence allegedly found in the room.

"When you have the mounting amount of information and the number of people coming forward, especially with someone in a high place such as a judge, wanting to provide information which obviously is embarrassing to them individually and the responsibility they have to back it up, leads us to the conclusion he is a dangerous individual," said McLain, who also agreed with the testimony of Jeremy McIntrye, Asst. General Counsel, who called Thomas a "sexual predator."

Thomas' wife sat behind him during the hearing, and afterwards she clung to his arm as he talked to News Five about his desire to continue working in the community.

Thomas's attorney, Bob Clark, says his first court appearance in the criminal case will likely be April 17th.
WKRG.com © 2009 Media General Inc.
---
RELATED VIDEO CLIP

WKRG-TV news report, 9 April 2009 (1 min 54 secs), of which the above is an abbreviated text version. Thomas is interviewed and denies everything.




HERE IS THE CLIP:

IMPORTANT: Copyright in this video material rests with the original copyright holders. This brief excerpt is reproduced under the "fair use" doctrine for private, non-profit, historical research and education purposes only. It must not be redistributed or republished in any commercial context.