New Straits Times, Kuala Lumpur, 4 June 2008
Despatch rider gets lower jail term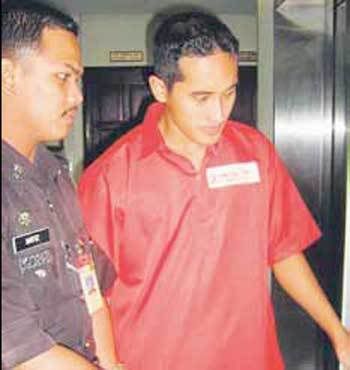 Muhamad Fairuz Mohd Razali being led out of the courtroom after proceedings.
SHAH ALAM: A 23-year-old despatch rider was all smiles yesterday when his three-year jail sentence and four strokes of the rotan for drug possession was reduced.
The High Court instead sentenced Muhamad Fairuz Mohd Razali to two years' jail and three strokes.

Judge Datuk Mohd Zaki Md Yasin reduced the sentence after counsel Afifuddin Hafifi told him that Muhamad Fairuz was not represented by a lawyer when he was sentenced at the Kuala Kubu Baru magistrate's court on Feb 5.

Muhamad Fairuz had pleaded guilty before magistrate Mohd Zaki Abd Rahman to possessing 23.86gm of cannabis in a room at the Highland Hotels in Genting Highlands at 3.15pm on Dec 20 last year.

At that time, Muhamad Fairuz, who was not represented, did not mitigate for a lower sentence.
The magistrate, however, recorded in his notes that the appellant's mitigation was that he had pleaded guilty, which had saved the court's time and cost, and that he was a first offender.

After he was sentenced, Muhamad Fairuz appointed Afifuddin to appeal against the sentence.

Afifuddin yesterday said his client was supporting his mother and three siblings.

"His father died in 1996 and left him fending for his family," he said, adding that he had also co-operated with police during investigations.
Copyright © 2008 NST Online. All rights reserved.
---
---
New Straits Times, Kuala Lumpur, 10 June 2008
Ex-religious teacher fails to get jail term reduced
PUTRAJAYA: A former religious teacher outlined several mitigating factors to have his jail sentence reduced for heroin possession, but the Court of Appeal was not convinced. The appellate court yesterday reaffirmed the decision of the Sessions Court in 1999, which sentenced Ismail Jusoh to 18 years' jail and 10 strokes of rotan. The High Court had upheld the conviction and sentence two years later.

Ismail, 39, however, is expected to walk out a free man in December after a one third remission of the sentence for good behaviour. He has been in prison since his arrest on Dec 18, 1996.

He will, however, be whipped 10 times before being freed.

Ismail told the court that he was now coaching young offenders in jail to prepare them for public examinations.

"I also give talks to National Service trainees," Ismail said, adding that he was a first-time offender and was remorseful.

Deputy Public Prosecutor Jamhirah Ali, however, told the court that the appellant was in possession of 14.85g of heroin, which was close to the 15g mark for a person to be charged with trafficking.

"Being a religious teacher, he was not a good role model," she said.

Ismail was charged with possessing heroin within the compound of a mosque in Jabi, Setiu, about 8.50am on Dec 18, 1996.
© Copyright 2008 The New Straits Times Press (M) Berhad. All rights reserved.
---
---
New Straits Times, Kuala Lumpur, 11 June 2008
Indon contract worker, self-employed escape gallows
By Phuah Ken Lin
An Indonesian contract worker and a self-employed man escaped the gallows today after they pleaded guilty to two separate charges of drug possession. Fahkri Muhammad, 26, and Lee Kee Teik, 29 were originally charged with trafficking cannabis and methamphetamine, respectively.

Both pleaded guilty when the charges were amended to possession.

High Court judge Datuk Abdul Rahim Uda sentenced Fahkri to eight years' jail and 10 strokes of the rotan.

Fahkri, from Acheh, was charged with possessing 478.8 grammes of cannabis at Block K of Taman Pelangi in Bukit Tengah, Seberang Prai Tengah, about 10.15pm on Sept 3, 2003.

He was arrested the same day.

Fahkri was represented by S. Reethinakumar while Deputy Public Prosecutor Mohd Rehan Mohd Aris prosecuted.

In mitigation, Reethinakumar pleaded for a lenient sentence as Fahkri had lost contact with his family members after the Dec 26, 2004, tsunami in Acheh which destroyed his home.

In a separate case, Abdul Rahim sentenced Lee to 10 years' jail and 10 strokes of the rotan for possessing 81.61 grammes of methamphetamine at a Caltex petrol station along Jalan Permatang Rawa in Seberang Prai Tengah about 10.50pm on March 29, 2001.

Lee, who was arrested the same day, was represented by Ranjit Singh Dillion. DPP Zalina Awang prosecuted.

Both men were ordered to begin their sentences from their dates of arrest.
© Copyright 2008 The New Straits Times Press (M) Berhad. All rights reserved.
Article: Judicial caning in Malaysia
Topics A to Z: Caning in Malaysia