New Straits Times, Kuala Lumpur, 9 July 2008
Reluctant trip home for illegals
By Roy Goh
(extract)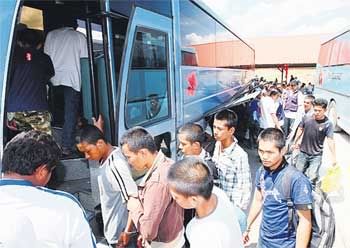 Some of the Filipinos at the temporary detention centre in Menggatal, near Kota Kinabalu, boarding a Sandakan-bound bus yesterday before being deported to the Philippines.
KOTA KINABALU: Filipino Nuramin Anslim alias Tikboy was jailed three times and caned twice since 1992 for staying in Sabah illegally.
Yet last December, the 34- year-old Filipino paid 3,000 pesos (RM210) to re-enter the state illegally, only to be caught again in February.

He was subsequently convicted for overstaying, caned one more time and was deported yesterday together with his wife Suraya Mukman and two daughters, Putri, 18 months and Nur Saadiah, 7.

They were among 249 Filipinos deported by the Federal Special Task Force yesterday after serving their sentences for overstaying.

The foreigners were taken by air-conditioned buses from the temporary detention centre in Menggatal near here to Sandakan where they boarded a ferry back to Zamboanga in the Philippines.
Federal Special Task Force assistant director Major Mohd Rizam Ayob said in the first five months of this year, 9,670 foreigners were deported to their countries of origin.

Of the total, 6,925 were Filipinos and 2,335 were Indonesians.

Between 1990 and last year, 298,601 foreigners have been deported and this included 161,704 Filipinos and 132,187 Indonesians.

Mohd Rizam said there were at present 230,000 foreigners working as labourers in Sabah and estimated that there were about 130,000 to 150,000 illegal immigrants in the state.
[...]
---
---
Bernama News Agency, Kuala Lumpur, 9 July 2008
Man gets jail and whipping for firearm possession
SHAH ALAM, July 9 (Bernama) -- The Sessions Court here today sentenced a part-time production house crew member to eight years jail and six strokes of the rotan for illegal possession of a revolver.
Mohamad Alif Fauzi, 23, pleaded guilty to possessing the firearm in Taman Selasih, Batu Caves, at 6.45pm on June 13.
Judge Azimah Omar jailed him for another three years for possession of one round of .38 ammunition at the same place and time, the sentences to run concurrently from the date of his arrest on June 13.
Mohamad Alif pleaded for leniency, saying that he was a first offender and that he had parents to support but assistant public prosecutor Suzana Abdul Latif said firearm possession was a serious offence which carried a maximum of 14 years jail and six strokes of the rotan.
She also said that there were now many cases of armed robberies, putting the safety of the police as well as the public at risk.
She said a guilty plea did not automatically qualify one for leniency and the sentences for the two crimes should run consecutively.
Azimah said Mohamad Alif had committed a serious offence and the punishment she meted out must take into account public safety as well as serve as a lesson to him and a deterrent to others. -- BERNAMA
Copyright © 2008 Yahoo! Southeast Asia Pte Ltd. (Co. Reg. No. 199700735D). All Rights Reserved.
---
---
The Star, Kuala Lumpur, 19 July 2008
Youth spared the gallows
GEORGE TOWN: An odd-job worker on trial for trafficking in 411.5gm of cannabis was ordered by a High Court to be jailed seven years and whipped 10 times after he pleaded guilty to a lesser charge of drug possession.
Mohamad Khuzairi Khusaini, 22, yesterday admitted to an alternative charge of having the drug in front of a house in Kampung Bagan, Teluk Kumbar here, at 4.40pm on Oct 9, 2004.
In pleading for leniency, defence counsel K. Simon Murali said the primary aim of a sentence was to reform or rehabilitate the offender and in this case his client had shown remorse and expressed a desire to return to the correct path.
He said Mohamad Khuzairi was only 18 when he was arrested and was at that time in the process of entering a Giat Mara centre, adding that Mohamad Khuzairi intended to pursue his ambition of becoming an automotive engineer after this.
DPP Muna Mohamed Jaafar pressed for a deterrent sentence, saying that drug offences were serious and prevalent.
To this, Justice Abdul Rahim Uda said: "Must the court wield the big stick against a first-time offender just because the offence he committed is serious? The court must also assess other factors such as public interest, and the offender's remorse and his age."
© 1995-2008 Star Publications (Malaysia) Bhd (Co No 10894-D)
---
---
The Star, Kuala Lumpur, 21 July 2008
Caning fails to deter illegal immigrants from returning
By Muguntan Vanar
KOTA KINABALU: Caning has failed to deter 4,326 illegal immigrants from returning to the state to seek employment.
Sabah Immigration Department director Datuk Baharon Talib said that the illegal immigrants were found working illegally in the state after they caned and jailed before being deported back to their home country.
He said the 4,326 illegal immigrants were found working in small towns, plantations, timber mills, workshops, plantations and restaurants between 2004 and June this year.
"Some have been deported up to seven times and we have found them back here based on our statistics," Baharon said, adding that the caning was only imposed on adult males by the courts. Women, children and elderly persons are spared.
Baharon, who was responding to various calls for caning to be imposed on locals found guilty of employing illegal immigrants, said that there had been no caning imposed on employers.
However, he said several companies were charged or fined by the courts for not paying the compulsory levies.
Calls for more stringent action against local employers have been growing in the state where a massive exercise to flush out illegal immigrant is expected to begin early next month.
Chief Minister Datuk Musa Aman has also appealed to local employers to stop harbouring or employing illegal immigrants and urged locals particularly those in rural areas to assist authorities in weeding out illegal immigrants.
The state said it was keen to see all migrant workers properly documented with proper work permits.
© 1995-2008 Star Publications (Malaysia) Bhd (Co No 10894-D)
---
---
New Straits Times, Kuala Lumpur, 23 July 2008
20 years for sex assault on 5-year-old girl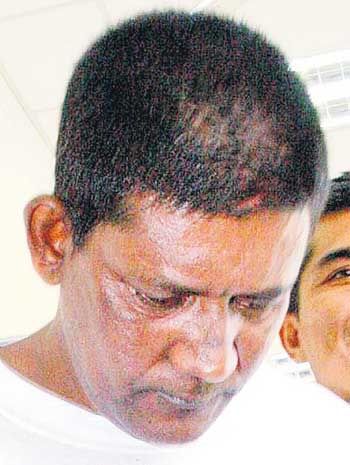 K. Kamalason had shoved a piece of wood into the victim's private parts

KUANTAN: A 47-year-old man was yesterday sentenced to 20 years' jail and 20 strokes of the rotan on a charge of raping a young girl on Christmas Day two years ago.

K. Kamalason, a labourer in a timber company, pleaded guilty. He attacked the girl, then aged 5, at the Bukit Setongkol Chinese cemetery at 6.45 pm on Dec 25, 2006.

The offence under section 376 of the Penal Code carries a maximum jail term of 20 years and up to 24 strokes of the rotan upon conviction.

Sessions Court judge Ahmad Zamzani Mohd Zain ordered the sentence to start from yesterday.

Kamalason, who stood in the dock wearing a white T-shirt and tracksuit, showed no emotion when the sentence was passed.

Eleven people gave evidence at the trial as Kamalason, who was unrepresented, had initially pleaded not guilty.

According to the facts of the case, he had coaxed the girl into taking a ride on his motorcycle to a nearby sundry shop on the pretext of buying her sweets.

Instead, he took her to the Bukit Setongkol Chinese burial ground here, hit her head with a hard object and shoved a piece of wood into her private parts.

He then left, leaving the victim sprawled on the ground.

The traumatised girl suffered excessive bleeding.

Police arrested Kamalason at his house two days later.

Yesterday, Kamalason pleaded for a lighter sentence, saying he had to support his wife, ageing mother and two children, aged two and six.

However, deputy public prosecutor Ahmad Fadhli Mahmud pressed for a deterrent sentence.

"He has ruined a girl's life along with her family's as they will find it difficult to forget the incident."

Ahmad Fadhli said offences against young children were on the rise, citing the case of Nurin Jazlin Jazimin who was sexually abused and killed.

He submitted reports of similar cases in support of his argument that Kamalason should be given the maximum punishment.

Copyright © 2008 NST Online. All rights reserved.