New Straits Times, Kuala Lumpur, 1 May 2008
9 years' jail and caning for sodomy
SHAH ALAM: A homeless man, who lured two teenage boys with an offer of nasi lemak bungkus but later sodomised them, was sentenced to nine years' jail and six strokes of the rotan. Ramli Abdullah, 29, yesterday pleaded guilty at the Sessions Court to committing the offence against a 17-year-old boy and his 14-year-old friend in March.

Ramli, who was unrepresented, told Judge M. Gunalan that he wanted a lower jail term, but did not mind more of the whipping.

Ramli sodomised the 17-year-old boy in an empty house in Serendah between 11pm on March 30 and 8am on April 1.

For this he was sentenced to eight years' jail and three strokes of the rotan.

For sodomising the 14-year-old friend in the same place at 11pm on March 30, Ramli was sentenced to nine years' jail and three strokes.

Ramli had previous convictions for firearms possession and breaking into a building.

Gunalan, in passing the sentence, said despite Ramli's guilty plea and repentance, public importance was paramount in such cases.

He ordered the jail terms to run concurrently.

According to facts, Ramli befriended the boys in Serendah and introduced himself as "Joe".

He later invited them to have nasi lemak bungkus in his house and they followed him.

Upon reaching the abandoned house, he told the boys that if they wanted to eat, they would have to let him sodomise them.

The boys tried to escape but were beaten and confined.
© Copyright 2008 The New Straits Times Press (M) Berhad. All rights reserved.
---
---
New Straits Times, Kuala Lumpur, 10 May 2008
Man gets 10 years' jail for drug possession
KUALA LUMPUR: A 25-year-old, charged with trafficking cannabis, was sentenced to 10 years' jail and 10 strokes of the rotan on a reduced charge of possessing 1.8kg of the drug. Jarrod Christian Harry pleaded guilty to committing the offence behind the Federal Hotel, Jalan Bukit Bintang, here at 1pm on Dec 13, 2004.

Harry and his friend Colin Paul Funk, 38, were first charged on Nov 21, 2005, with trafficking. Harry was offered a reduced charge at the High Court yesterday.

Funk, however, was not offered a reduced charge and he claimed trial to the trafficking charge.

In mitigation, counsel Datuk Rabinder Singh said Harry was only 21 at the time of arrest and was a young offender.

"He is the eldest of four siblings and has been doing many odd-jobs to support his family in Malacca. He has been in remand for four years and he regrets his actions," he said.

Rabinder added the court should consider that the drugs involved were not hard drugs like morphine or heroin, and that there was no element of violence involved. He added that the drugs were found in a car and not on Harry.

Police, who had been monitoring a car near the Federal Hotel around noon on the day of the incident, noticed Harry entering the car.

Harry was approached and a large plastic bag with a shoebox was found in the car containing a block of dried leaves believed to be cannabis.

Investigations revealed that Harry was in possession of the drugs in a room at the hotel, and he later took the item into the car.

Funk's trial has been fixed for June 9.
© Copyright 2008 The New Straits Times Press (M) Berhad. All rights reserved.
---
---
New Straits Times, Kuala Lumpur, 13 May 2008
Jail and rotan for duo who raped teacher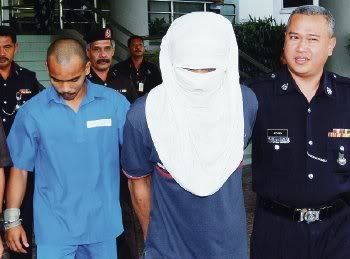 Azakir Fadzil (second from right) and Mahathir Azhar Mohd Khairy (left) being taken to the Tapah prison after sentencing yesterday.
SHAH ALAM: A 24-year-old teacher was leaving her house in Ipoh three years ago when she was abducted by two men armed with a parang.
She was forced into their Perodua Kancil and was taken to two banks where she was forced to withdraw an undisclosed amount of money.

Not satisfied, they then drove her all the way to a secluded area in Rawang, where the two men took turns raping her in the car.

When she cried out for help, she was slapped and ordered to be quiet. She tried to escape but failed.

After they had finished with her, they left her by the roadside where she stopped a passing motorist who took her to the nearest police station.
Yesterday, her two attackers, Azakir Fadzil, 34, and Mahathir Azhar Mohd Khairy, 26, were sentenced to 15 years' and 12 years' jail respectively by the Sessions Court.

Judge M. Gunalan also ordered each of them to receive six strokes of the rotan.

The jail terms were ordered to begin from the date of their arrests -- Azakir on May 9, 2005, and Mahathir on Aug 28, 2005.

The duo had admitted to raping the then 24-year-old woman at an area near a jungle, at the end of Jalan KPK 4/1, Kundang Industrial Area in Rawang between 3pm and 6pm on Aug 24, 2005.

In mitigation, Azakir and Mahathir, who were not represented, said they were willing to receive more whipping so that the jail term could be reduced.

Both also asked that they serve their sentence in Tapah prison to be close to their families. The judge allowed this.

Assistant public prosecutor Wan Zuraida Wan Nawan told the court that Azakir had nine previous convictions and Mahathir had two.

Azakir's previous convictions include drug-related offences, theft, trespassing and having in his possession stolen items. All offences were committed between 1994 and 2003 in Perak.

Mahathir had a drug-related offence and was charged with possession of stolen property. The offences were committed in 2002 and 2003.
Copyright © 2008 NST Online. All rights reserved.
---
---
The Star, Kuala Lumpur, 16 May 2008
15 years' jail, 16 strokes for rapist stepfather
KLANG: A driver started raping his stepdaughter when she was only six years old and the crime went on for five years.
He repeatedly forced her to have sex with him and even made the child perform oral sex on him.
Yesterday, the 34-year-old man pleaded guilty in a Sessions Court to two charges of raping and forcing the girl to perform oral sex on him at their house in Kampung Perepat, Kapar.
He admitted to committing the offence between 2002 and April 26 this year.
The girl, now 11, had revealed the matter to her teacher.
She told her teacher on May 5 that her stepfather had raped her several times and it had started when she was six.
However, she could not recall the date and time of the incidents, which took place in the living room, bedroom and bathroom of their house.
Although she told her mother, no action was taken as her stepfather had promised not to do it again after a quarrel with her mother.
The girl did not lodge a police report because she was too afraid of her stepfather.
On July 29, the girl lost her mother to cancer, but she continued to live with her stepfather as she had nowhere else to go.
In mitigation, the accused asked for a lenient sentence, saying that he regretted what he had done and promised not to repeat it.
However, Assistant Public Prosecutor Siti Syuhada Alwi asked the court to impose a deterrent sentence, saying that it was a serious offence.
"He has destroyed the life and future of a young and brilliant girl," she said.
Judge Awang Kerisnada Awang Mahmud sentenced the man to 15 years' jail and for him to be given 16 strokes of the rotan.
Awang Kerisnada also ordered the child be placed under the care of the Welfare Department.
© 1995-2008 Star Publications (Malaysia) Bhd (Co No 10894-D)