New Straits Times, Kuala Lumpur, 2 April 2008
Fish breeder pleads guilty to possessing cannabis
SHAH ALAM: A 25-year-old part-time fish breeder pleaded guilty at the Shah Alam High Court to an amended charge of being in possession of cannabis. Azri Rahman Abdul Manan was sentenced to nine years' jail and 10 strokes of the rotan.

He committed the offence in a house at Lot 938, Jalan Bagan Tengkorak, Tanjung Karang, Kuala Selangor, at 4.10am on May 26, 2006.

A raid carried out by police uncovered 260g of leaves sealed in 12 plastic sheets in a jacket pocket. Tests by the Chemistry Department identified the contents as cannabis.

Counsel Saladin Mohd Yasin representing Azri said his client regretted his action and wanted a second chance.

He said Azri got involved in drugs because of his addiction and not for trafficking.

"Coming from a family of seven siblings, the accused was working as a part-time fish breeder to help ease his family's burden. His father is a farmer while his mother is a homemaker," said Saladin.

Azri was initially charged on Sept 6, 2006, with trafficking in 260g of cannabis.

High Court judge Datuk Syed Ahmad Helmy Syed Ahmad ordered the sentence to run from the date of arrest.
© Copyright 2008 The New Straits Times Press (M) Berhad. All rights reserved.
---
---
The Star, Kuala Lumpur, 5 April 2008
Jail and rotan for two found guilty of rape
MUAR: The Sessions Court here on April 2 sentenced two men to 54 years in jail and whipping after finding them guilty of three rape charges committed separately against two underage victims two years ago.
In the first case, Jamil Jaya Said Ibrahim, 36, who faced two charges, was sentenced to 38-years imprisonment and 22 strokes of rotan.
Jamil Jaya, who was not represented, was found guilty of raping a nine-year-old girl in a plantation at Jalan Tok Raja, Kampung Bukit Treh on Oct 21, 2006 and was sentenced to 20 years jail and ordered to be given 12 rotan strokes. For the second charge of forcing the girl to have oral sex at the same time and place, Judge Mohamad Haldar Abdul Aziz sentenced the accused to 18 years jail and be given 10 strokes of the rotan.
However, the court also ordered the jail sentences to run concurrently and sentences to begin from the date of arrest on March 28, 2007.
Later, Mohamad Haldar sentenced Mohd Hairul Tafrizad Jamil, 21, to a 16-year jail term and ordered him to be given 10 strokes of the rotan after the court found him guilty of raping an underaged girl on February 8, 2006.
Mohd Hairul, who committed the offence with 15 others who are still at large, was found guilty of raping the girl, aged 15, at a Chinese cemetery near Bukit Kangkar between 8.30pm and 10.30pm. The court also ordered for the sentence to begin from the date of arrest on March 6, 2008.
© 1995-2008 Star Publications (Malaysia) Bhd (Co No 10894-D)
---
---
The Star, Kuala Lumpur, 18 April 2008
Whipping for illegal road racers
By Kuldeep S. Jessy
KUALA LUMPUR: Habitual illegal road racers and Mat Rempits will face whipping under proposed amendments to the Road Transport Act 1987.
Federal Traffic chief Senior Asst Comm II Datuk Hamza Taib warned that once the amendments became law, they may be given three strokes of the rotan.
Those who are underage could face up to 100 hours of community service under the supervision of the Welfare Department.
Currently, police charge those involved in illegal racing under Section 42 (1) of the Act, which carries a maximum RM15,000 fine or not more than five years' jail, and a two-year suspension of the driving licence.
Under the proposed Section 42 (A), illegal racers can be jailed for up to five years and fined not less than RM5,000, and have their licences suspended for three years for a first offence.
"The penalty for second-time offenders would be a minimum of 10 years' jail, three strokes of the rotan, not less than RM10,000 fine, and not less than a five-year suspension of the driving licence," SAC Hamza told reporters after Inspector-General of Police Tan Sri Musa Hassan launched the Public Bank-police safety campaign, to address the Mat Rempit problem among youths, in Kuala Lumpur yesterday.
A proposed Section 42 (A)(B) would also allow the police to seize the motorcycles used and for the machines to be disposed of once a conviction is obtained.
However, a proposal to take action against spectators under the same Act was rejected by the committee chaired by the Transport Ministry.
SAC Hamza said police would also take action against organisers of illegal racing under existing preventive laws.
© 1995-2008 Star Publications (Malaysia) Bhd (Co No 10894-D)
---
---
The Star, Kuala Lumpur, 25 April 2008
30 years for rape, assault
By Mugantan Vanar
KOTA KINABALU: Two men, who kidnapped a 22-year-old university student and raped and assaulted her during a 10-hour hell ride nine days ago, will spend the next 30 years in jail.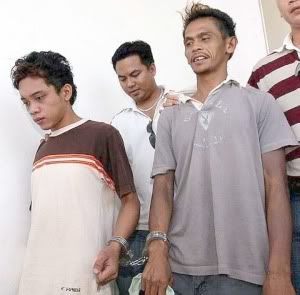 Multiple charges: Arifin (right) and Sahrizal being escorted by policemen to the courthouse in Kota Kinabalu Thursday.
Unemployed Mohd Sahrizal Suhaili, 20, of Kg Pirasan in Kota Belud and Mohd Ariffin Bidin, 29, from Kg Tarap, Bongowan, pleaded guilty to a total of 13 charges including abduction, rape, oral sex, assault and car thefts in a sessions court and magistrate's court here yesterday.
Sahrizal was sentenced to a total of 28 years of imprisonment, 20 strokes of the rotan and fines for six charges while Ariffin was jailed 32 years and three months, and given 25 strokes of the rotan and fines after pleading guilty to seven charges.
Sessions court Judge Duncan Sikodol in sentencing them said public interest demands that they be meted with severe punishment after taking into account their guilty plea and Sahrizal's age.
The prosecution led by Senior Federal Counsel Suhaimi Ismail urged the court to mete a severe sentence as they had taken away the "glow and shine of a young girl forever."
Public interest demands that they have to be punished severely, he said, as their action could not bring back the victim's virginity.
Suhaimi said the 22-year-old Universiti Malaysia Sabah student and her friends had just arrived at Kingfisher Park in a van to attend a religious function when the two in a stolen car approached her as she was walking behind her friends.
He said Sahrizal pulled the girl into a Kancil driven by Ariffin and they headed towards Kota Kinabalu City at about 6.45pm on April 15.
The two managed to flee towards the Kota Kinabalu – Tambunan old road and during the ride, Sahrizal tied the girl's hands with tape and tore her clothes. When she resisted, he punched, kicked and bit her numerous times before raping her.
Sahrizal forced her to perform oral sex on him before Ariffin raped her twice. The ordeal ended when their car overturned near Kampung Rompon in Tambunan after a police chase at about 4am on April 16.
Police found the girl in a state of shock inside the car while the two suspects managed to flee. Police in Keningau arrested them separately over the next 36 hours.
The defence counsel in mitigation said that the duo had no intention to assault the girl but did so because she struggled.
© 1995-2008 Star Publications (Malaysia) Bhd (Co No 10894-D)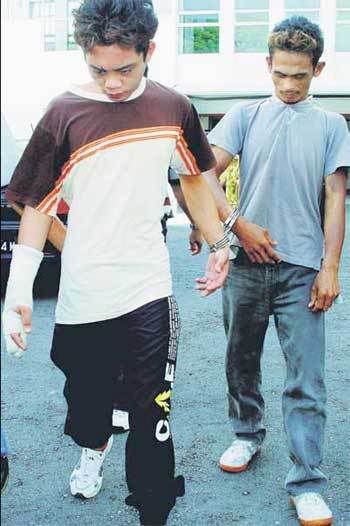 Another picture of Sahrizal (left) and Arifin, from the New Straits Times, 25 April.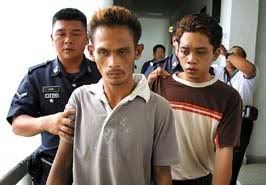 Another picture of Sahrizal (right) and Arifin, from the Daily Express, Kota Kinabalu, 25 April.
---
---
The Star, Kuala Lumpur, 30 April 2008
57 years jail and 12 strokes for raping relative
KUALA LUMPUR: A 56-year-old man with six previous convictions was sentenced to 57 years in jail and 12 strokes of the rotan after the Ampang Sessions Court convicted him of raping a relative thrice.
Hamzah Dollah was found to have raped the 20-year-old woman in a container in Kampung Sungai Tekala, Hulu Langat, at 9pm on Oct 17, 2003, and twice in a fruit orchard hut in Kampung Tuntong, Batu 21, Jalan Sungai Lui, Hulu Langat, at about 10pm on Oct 19 and 26, 2003.
In at least one incident, he raped the victim in front of his wife.
The offence under Section 376 of the Penal Code carries up to 30 years in jail and not less than 10 strokes of the rotan on each count.
Judge Noradidah Ahmad ordered Hamzah to serve 18 years for the first count, 19 years for the second and 20 years for the third consecutively.
She also did not exempt the man from whipping despite his age, citing the 2006 amendment to the law that allows a convicted rapist above 50 years to be caned.
Deputy Public Prosecutor Roszianayati Ahmad told the court earlier that the victim had believed in Hamzah and was willing to follow him because she wanted to find a job.
Roszianayati said Hamzah had not repented even though he had been sent to jail for a number of offences including theft, possessing stolen property and breach of trust since 1978.
In mitigation, Hamzah appealed for the court to give concurrent jail terms and promised to be good for his five-year-old child, whom he said needed love. – Bernama
© 1995-2008 Star Publications (Malaysia) Bhd (Co No 10894-D)