New Sabah Times, Kota Kinabalu, 6 October 2007
Ten years for rape of minor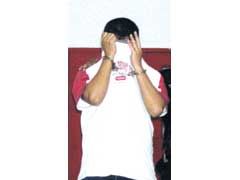 Sii being led to prison after his conviction
KOTA KINABALU: A Sarawakian contractor was yesterday to be jailed 10 years and lashed five times after he was found guilty of raping an underage girl four years ago.
Sii Yii Dung, 48, who was on the run after jumping bail, would serve his punishment from the date of his arrest on April 29 this year. Sessions Judge Ravinthran N. Paramaguru in his ruling said that the prosecution had proven the case beyond reasonable doubt.
Sii who was composed when the judgment was handed down, raped the girl then aged 13 years in a hotel room, between 4am and 8am on Nov 14, 2003. He was first charged on June 9, 2004 and was released on bail. He jumped bail until police arrested him in Sarawak.
A total of 11 witnesses testified against him with the court ordering him to enter his defence on April 30 this year.
Sii was represented by counsels Datuk VK Liew and Ram Singh while the prosecution was led by Deputy Public Prosecutor Amir Hamdzah Othman.
---
---
New Straits Times, Kuala Lumpur, 24 October 2007
Rapist-robber gets 18 years and rotan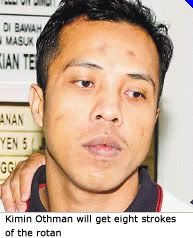 SHAH ALAM: Two women were not only robbed in their home by an intruder who entered through an unlocked kitchen window, but one of them was also raped while the other watched helplessly.
Yesterday, their assailant Kimin Othman, was sentenced to 18 years' jail and ordered to receive eight strokes of the rotan.
He was sentenced by Sessions Court judge Datin Zabariah Mohd Yusof after pleading guilty to one count of rape and two counts of armed robbery.
Kimin, who was armed with a knife, admitted to raping one of his victims and robbing her of her cell phone, wallet, RM30, house and motorcycle keys in her home in Batu Caves between 6.30am and 7.30am on April 20 three years ago.
He also pleaded guilty to robbing the woman's friend of her cell phone and gold ring, worth a total of RM800.
Both his victims were then aged 21.
Zabariah sentenced Kimin to 12 years' jail and ordered him to receive five strokes for rape and another six years and three strokes for robbing his victims.
She ordered the jail terms to run consecutively from the date of his arrest on April 21, 2004.
Earlier in mitigation, Kimin who was unrepresented, pleaded for leniency as he had repented, saying he had two children aged eight and three.
© Copyright 2007 The New Straits Times Press (M) Berhad. All rights reserved.