New Straits Times, Kuala Lumpur, 18 September 2007
'Guilty', but he wants to get off easy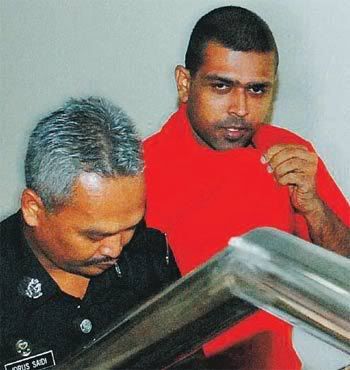 D. Yogeshwaran being escorted by a policeman at the Ipoh court.
IPOH: A 25-year-old contract worker yesterday made known his intention to plead guilty to multiple counts of robbery and molest.
But D. Yogeshwaran hopes to be sentenced for only some of the offences, with the rest taken into consideration during sentencing.

In asking magistrates Radzilawatee Abdul Rahman and Norashima Khalid, in separate courts, to grant a six-week grace period to enable Yogeshwaran to re-apply for some of the cases to be taken into consideration, his counsel T. Shan said this followed recent developments.

In Bukit Mertajam recently, Yogeshwaran pleaded guilty to nine similar offences and was sentenced for only six. The other three were taken into consideration.

The father of three was sentenced to three years' jail and one stroke of the rotan on each charge. The sentences are to run concurrently.
On March 19 last year, Yogeshwaran was charged with robbing accounts clerk P. Kalieswary, 24, of two gold rings worth RM100 each, a RM200 necklace and a RM400 gold bangle, at knifepoint, at Anest Marketing & Engineering, in Persiaran Klebang Industry IGB, off Jalan Kuala Kangsar.

The offence allegedly took place about 9am on April 12 last year.

He was also charged on May 27 last year with using a penknife to rob clerk Yuzraini Yousri, 22, of a RM150 handphone and with molesting her at the top floor of a building in Jalan Tasek, Taman Musim Bunga near here, at 8.30am on April 6 last year.

The two cases were mentioned before Radzilawatee.

Yogeshwaran also allegedly used a penknife to rob Zuli Mazrina Zainal Abidin, 23, of RM25 and molested her at Kedai Syarikat Pioneer Alliance Enterprise, in Jalan Medan Ipoh 6, Bandar Baru Medan Ipoh, at 10.15am on April 8last year.

He was also charged with robbing P. R. Kalyani, 43, of a gold chain with locket worth RM1,000. He was accused of using a knife during the incident in premises along Jalan Ipoh, at 9.20am on March 19, last year.

Yogeshwaran claimed trial to all the charges. Both magistrates fixed Oct 29 for re-mention of cases.
Copyright © 2007 NST Online. All rights reserved.
---
---
New Straits Times, Kuala Lumpur, 21 September 2007
Sorry sight but judge unmoved
By Rita Jong
Jefry Abdullah being led to the lock-up after proceedings yesterday.
SHAH ALAM: A 36-year-old security guard was a sorry sight when he arrived at the High Court yesterday.
He was limping and could only murmur when asked to explain why his six years' jail sentence on each of six counts of raping a girl 20 years his junior, should not be increased in an appeal by the prosecution.
Jefry Abdullah's meek reply was that the girl came onto him and that he could not control his sexual urges.

He also pleaded for sympathy saying he was a diabetic and prior to the incidents, he had fractured his arm and leg in an accident. This irked judge Datuk Mohd Zaki Md Yasin who told him it was not reason enough to spare him from a longer jail sentence.

Instead, Jefry's six years' jail sentence by the Klang Sessions Court was increased to 18 years.
The father of five was teary-eyed in court but this failed to save him from a tongue-lashing by Mohd Zaki for his crimes.

"You are old enough to be her father. If your portrayal of her as 'gatal' is true, you should be guiding her and not taking advantage of her.

"How can you say you could not control your sexual urges? You are a married man," he said.

"Your injuries were prior to the incidents and that did not stop you from raping her."

With that, Mohd Zaki said he found the Sessions Court judge had erred in sentencing Jefry and ordered him to serve 18 years behind bars. He upheld the 12 strokes meted by the lower court.

On Dec 20, 2005, Jefry, who worked at the Institut Kemahiran Belia in Sepang, was sentenced to six years' jail and two strokes of the rotan on each charge.

The jail terms were ordered to run concurrently from the date of his arrest on Nov 28, 2005.

He had pleaded guilty to raping the then 14-year-old girl, whom he befriended through SMS (short messaging system), at various places, including at the institute, in the bushes and in his house in Sepang, between April 14 and Nov 27, 2005.

Earlier, Jefry said he had five sons, aged between three and 11 years-old. He last saw his wife and children in June when they visited him in prison.

DPP Alfred Egin submitted that Jefry should be ostracised from society for a long time.

"Even if she had seduced him, consent is not an issue in this case as she was a minor.

"He had committed some of the offences in his kitchen while his wife was at home."

Egin added that Jefry did not deserve leniency just because he pleaded guilty, as more importance had to be placed on public interest in this case.
Copyright © 2007 NST Online. All rights reserved.
---
---
New Straits Times, Kuala Lumpur, 22 September 2007
Jail and rotan for rape, abduction
By Rita Jong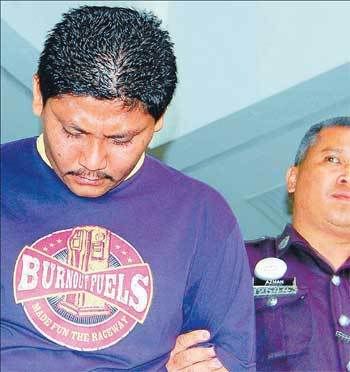 Mohd Noor Annuar Othman being led out of court after sentencing yesterday.
SHAH ALAM: A Sessions Court judge yesterday sent a stern warning to sexual offenders: there'll be zero tolerance for crimes against young girls.
In sentencing Mohd Noor Annuar Othman, 28, who was found guilty of abducting and raping a 12-year-old girl, judge Datin Zabariah Mohd Yusof said sexual predators must be dealt with severely.

"Young girls should be protected and people like you (Mohd Noor) should not take advantage of their innocence.

"Imagine the stigma the victim and her family have to live with. I can't even begin to imagine how a parent would feel if such a thing happened to their children."

Zabariah added that the number of sexual offences on the rise was alarming. "We read about how children are abducted and sexually assaulted. This is becoming rampant.

"Therefore, the court has to send a strong message to society and to would-be offenders by meting out a deterrent sentence."

Zabariah sentenced Mohd Noor to 19 years in jail and ordered him to be whipped five times.

She sentenced him to 15 years' jail and five strokes of the rotan for rape and another four years' jail for kidnapping. The jail terms were to run consecutively from yesterday.

Zabariah found Mohd Noor guilty of kidnapping the then 12-year-old girl at an oil palm plantation in Guthrie Plantation, Batu 20, Jalan Sungai Serai, Kuang, at 1.30am on April 12, 2004.

He was also found guilty of raping the girl between 1.30am and 4am at the same place.

The trial saw 11 prosecution witnesses testifying. Mohd Noor was the only defence witness.

Zabariah, however, granted Mohd Noor's counsel K. Santha's application for a stay of execution pending appeal.

She raised Mohd Noor's RM4,000 bail to RM6,000 in one surety, and ordered him to report to the nearest police station once a month.

In mitigation, Santha, who was assisted by Jaspal Singh Mann, said her client was married with a two-year-old son.

"He is the sole breadwinner of his family and he is also supporting his parents and mother-in-law."

DPP Afizi Othman said he sympathised with Mohd Noor's situation but public interest could only be served by imposing a deterrent sentence.

"He should have thought of the consequences of his actions before committing the crime."
Copyright © 2007 NST Online. All rights reserved.
Country files: Judicial CP in Malaysia
Article: Judicial caning in Malaysia
Topics A to Z: Caning in Malaysia