Daily Mail, London, 1 August 2007
Malaysian minister defends caning of prisoners as gruesome video appears on internet
By David Williams
(extract)
Strapped on a wooden frame, a prisoner braces himself for the brutal onslaught.
Within moments of the first blow being struck by the cane-wielding official, the skin on his buttocks breaks and the raw wound begins to open.
Lash after lash after lash follows until his flesh is reduced to a bloody mess. With each blow, the body flinches and there is a cry.
Prepare to suffer: The official raises his cane high in the air to deliver the first blow to the prisoner
The caning was meted out in a jail in Malaysia, where the authorities insist that it is a legitimate punishment.
However, a video of the flogging has caused an outcry after it was posted on the Internet and seen around the world.
In images condemned by Malaysia's own lawyers, the unidentified male prisoner, thought to be a drug dealer, is shown being struck 20 times on his bare buttocks with a rotan - a bamboo-like cane.
The Bar Council of Malaysia, which represents 8,000 lawyers, has called for such punishment to be abolished and stepped up its campaign after highlighting the video images.
Impact: The prisoner is heard crying out in pain on the video, which has angered human rights campaigners
The six-minute clip, entitled Malaysian Caning Judicial Corporal Punishment, was posted on www.liveleak.com, an international video-sharing site.
"We are against the death penalty and corporal punishment," said council president Ambiga Sreenevasan.
"It's against all international human rights norms and the various conventions on torture. It's inhumane and degrading."
However, deputy internal security minister Fu Ah Kiow defended the punishment. He said the video clip was recorded at a local prison and is used in drug prevention and other anti-crime campaigns.
He would not reveal details of the prisoner involved. But the man was understood to be a drug dealer who received dozens of lashes, as well as a lengthy prison term.
In the video, he is seen being led away after the beating then shown undergoing a medical examination.
The minister added: "The video is a means to educate the public and to show how hideous caning can be. It is a deterrence for drug traffickers and drug addicts.
"Somehow somebody duplicated it and posted it on the website, but it's not done by our officials. It is for education and training purposes, there's no big deal about it."
Flogging is widely used in Malaysia for various offences including drug crimes, rape and illegal entry into the country.
WARNING: THIS VIDEO CONTAINS GRAPHIC SCENES
[...]
---
---
New Straits Times, Kuala Lumpur, 10 August 2007
Restaurant owner gets rotan and jail for hiring illegals
By Jason Gerald John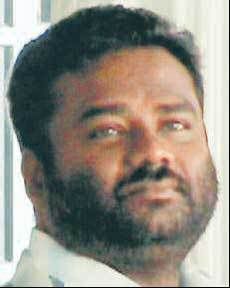 Varatheraaj V. Santrian was sentenced to 10 months' jail
JASIN: For the first time, an employer was ordered to be given a stroke of the rotan for employing six foreign workers without a valid pass.
Besides the rotan, S. Varatheraaj V. Santrian, of Taman Datuk Thamby Chik Karim in Batu Berendam, was jailed for 10 months.

Varatheraaj, 33, a restaurant operator, was arrested on March 17, 2005, for employing six Indian workers, three of whom had been brought in to work in the plantation sector at Felda Kumai in Pahang. The other three had expired social visit passes.

He was first charged at the Central Malacca magistrate's court on March 18, 2005 and the case was transferred to the Jasin magistrate's court following the transfer of magistrate Sharina Ali Pitchay here.

The six workers hired by Varatheraaj were V. Suthakar, 26; C. Rakkappan, 34; V. Ravichandran, 34; Michael Assari, 33; P. Vallali, 47, and a man identified as Jamaluddin, 30.
The six started work at Varatheraaj's restaurant, Merdeka Corner, a week before the restaurateur was arrested.

The accused's counsel, Azrul Zulkifli Stork, managed to get a stay of execution of the sentence until his appeal to the High Court is heard.

Varatheraaj, in mitigation, urged the court for a lenient sentence as he had to take care of his aged parents.

Immigration Department DPP Azlan Abdul Latif called for a severe sentence and caning as actions by employers such as Varatheraaj, was the cause of an influx of foreign workers, especially illegal immigrants and those who wrongfully used their permits and social visit passes.

"I hope that the sentence passed on the accused would be a deterrent to others," said Azlan.
Copyright © 2007 NST Online. All rights reserved.
---
New Straits Times, Kuala Lumpur, 11 August 2007
Editorial
Cracking the whip
IN the mix of measures the government has deployed to fight illegal immigration, a crucial link always seemed to be missing somewhere in the defences. Over the years, immigration laws have been tightened, enforcement beefed up, and occasional offers of amnesty made, but the results remain unimpressive.

One reason for this is that while much attention is focused on nabbing and punishing the immigrant, there hasn't seemed to be an equal emphasis on making sure the employer is made to face the law with sufficient severity.

However, the tipping point needed to address this imbalance may have arrived. On Thursday, restaurant owner S. Varatheraaj V. Santrian became the country's first employer to be punished with a stroke of the cane, alongside a 10-month jail term, for harbouring six Indian workers.

For too long, the battle seems only to have focused on one side of the traffic, and the numbers speak for themselves: as of March last year there were 362,958 overstayers arrested and deported, but only 186 employers charged.

And while one in three illegal foreign workers convicted in the first three months of this year was sentenced to be whipped, no guilty employer has ever been lashed, even though the Immigration Act allows corporal punishment as a maximum penalty.

The Act was even amended five years ago to make caning mandatory, but three years later, Indonesia's Manpower Minister Fahmi Idris — our neighbour being a major source country of illegal immigrants — famously remarked how he was still waiting for a Malaysian court to cane an offending employer.

With the country's illegal worker population estimated at a whopping half a million, the sheer extent of the problem may understandably cause some to prefer tougher border enforcement as the way to go instead of dealing firmly with the sordid business of labour exploitation.

But in trying to turn the tide on an influx driven mainly by the search of jobs offered by willing hirers, the point to note is that it takes two to tango. Behind every illegal immigrant is an employer smug in the knowledge that his fate, at worst, will only be a slap on the wrist in the form of fines.

By demonstrating just how far the authorities are willing to go when laying down the law, a much-needed message will be sent out to those creating the demand for illegal workers in the first place: that when it comes to manpower recruitment, they no longer have any choice but to follow the rules.
© Copyright 2007 The New Straits Times Press (M) Berhad. All rights reserved.
---
---
New Straits Times, Kuala Lumpur, 23 August 2007
Rapist dad gets 50 years' jail
By Rita Jong
SHAH ALAM: He had raped and molested his three daughters many times. And yet, after he was sentenced yesterday, his daughters and wife walked up and spoke to him.

His eldest daughter even offered to hold his hands but he was handcuffed. The mother and children spent 10 minutes with him before the accused was taken to the Sungai Buloh prison.

They were not in court earlier when Sessions Court judge Azimah Omar lambasted the man, a former general worker with the Selayang Municipal Council.

"Why should the court show you mercy when you had shown none at all to your daughters?" the judge asked.

"You should be providing for and protecting them, instead, you have destroyed their future.

"No religion condones such behaviour. Imagine the pain your daughters had to endure," she said, almost choking on her words.

Such offenders, Azimah added, must be severely punished to remind the accused of his actions and to relay a message to would-be offenders.

"Let this be a warning to all the fathers that such punishment awaits them. They should would not even think of committing such a heinous act.

"You (the accused) can apologise and repent but it is too late.

"What's done is done and you cannot be forgiven for what you did," said Azimah.

With that, she sentenced him to 50 years in jail and ordered that he be whipped 24 times.

The 45-year-old father of eight had earlier claimed trial to six counts of rape and three counts of outraging the modesty of the three girls between the ages of 14 and 16.

Yesterday was supposed to be the continuation of the trial. The girls were supposed to take the stand, but before they could do so, their father changed his plea.

In mitigation, his counsel Gerard Lazarus pleaded for leniency, saying the accused had pleaded guilty, saving the court's time and cost.

"Since his remand, he has repented and became a religious teacher. He wants to apologise to his daughters and wife," he said.

Deputy public prosecutor Hana Hadinah S. Mohd Ghazali, however, said the accused raped his daughters many times and that such offenders must be ostracised from society for a long time.
© Copyright 2007 The New Straits Times Press (M) Berhad. All rights reserved.
Country files: Judicial CP in Malaysia
Article: Judicial caning in Malaysia
Topics A to Z: Caning in Malaysia