New Straits Times, Kuala Lumpur, 7 July 2007
14 years' jail, rotan for two Sathia gang members
By Rita Jong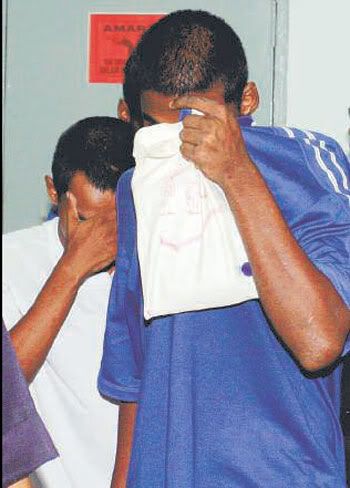 C. Bhagiaraj (right) and Mohd Fauzi Mohd Faizal pleaded guilty to eight counts of armed robbery.
KUALA LUMPUR: It was the end of the road for three members of the notorious Sathia gang when they were sentenced to between four and 14 years' jail for a spate of armed robberies.
C. Bhagiaraj, 23, Mohd Fauzi Mohd Faizal, 24, and a 19-year-old juvenile pleaded guilty to eight counts of armed robbery.

The robberies were committed in five separate incidents in Kajang and Semenyih in 2004 and 2005. They are said to have amassed more than RM266,000.

Armed with parang, Bhagiaraj, Mohd Fauzi and the juvenile robbed:

• S. Sandi of a Ssangyong Rexton SUV, RM75,000, four mobile phones and jewellery at No 27, Jalan Desa Serdang 18, Kajang, at 12.45pm on Dec 29, 2004;
• P. Segaran of a car, RM8,000, four mobile phones, a CD player and jewellery at No 39, Jalan 2/16 Kajang Prima, Hulu Langat, at 11.30am on Feb 11, 2005;
• P. Selvam of jewellery and RM500 at 2A, Jalan 1, Taman Desa Mewah, Semenyih, Kajang, at 1.15pm on Feb 24, 2005;
• K. Moniamah of a Toyota Hilux SUV, RM2,500, a bank account book and jewellery at No 30, Jalan 8, Taman Hiew Pioh, Semenyih, Hulu Langat, at 1.30pm on Feb 25, 2005; and
• D. Ragunathan, D. Kogulanathan, M. Kumuthavalli and S. Pathmarathy of valuables, including two mobile phones and jewellery, at No 2, Jalan Temenggong 14/7, Bandar Mahkota Cheras, Kajang, at 2.20pm on Feb 19, 2005.

With the exception of one offence, all were committed with the participation of others, who are still at large.

The trio had pleaded guilty on May 9 and were sentenced yesterday.

In sentencing, Ampang Sessions Court judge Noradidah Ahmad said the offences committed were serious.

"You used a parang and your victims were traumatised. Many of the stolen goods were also not recovered," Noradidah said.

She sentenced Bhagiaraj and Fauzi to 14 years in jail and ordered that they receive five and three strokes of the rotan respectively.

The juvenile was sent to Henry Gurney School until he reached 21, and was ordered to serve six years' jail upon his release from the reform school.

The sentences are to run from the date of their arrest on March 1 last year.

ASP A. Vasu prosecuted while all three accused were not represented.

The Sathia gang, which made headlines in 2005, was believed to be involved in at least 10 robberies in Kajang.

One member, Sudesan Arumugam, 30, managed to break out from the lock-up at the Ampang Jaya magistrate's court in August last year, and is still on the run.
Copyright © 2007 NST Online. All rights reserved.
---
---
The Star, Kuala Lumpur, 14 July 2007
Jail and rotan for man who raped schoolteacher
IPOH: A man who was a minor when he raped a 26-year-old religious schoolteacher was sentenced to 12 years in jail.
Sessions Court judge Ahmad Nasfy Yasin also ordered the man, now 22, to be whipped three times for raping the teacher in her hostel room at Sekolah Agama Ma'ahad Al Aziz in Parit, about 60km from here.
The man was 17 years and 11 months old when he broke into her room, robbed and raped her on March 24, 2003, between 3.30am and 4.30am.
The man's parents burst into tears when the judge rejected his application for a stay of execution pending appeal.
Ahmad Nasfy, who found the man guilty at the end of the trial on June 29, said this was a tragic incident for the victim who had to live with the trauma for her entire life.
"The accused also beat her and hurt her until she fainted. It was when she was unconscious that she was raped," he said.
He then ruled that the Child Act 2001 did not apply in this case and sentenced the man.
© 1995-2005 Star Publications (Malaysia) Bhd (Co No 10894-D)
---
---
Daily Express, Kota Kinabalu, 25 July 2007
Raping and sodomising niece: Man gets 25 yrs, 17 strokes
Kota Kinabalu: A 38-year-old farmer from Kudat, who raped and sodomised his underage niece, was sentenced by the Sessions Court here Tuesday to a total of 25 years' jail plus 17 strokes of the cane.
The farmer, who was supposed to be tried for three days, changed his plea to guilty before Judge Ummu Kalthom Abdul Samad to raping his 11-year-old niece in January 2004 and Sept 23, 2005 in a house at a village in Kudat.
He also admitted to sodomising the girl on Sept 23, 2005 at the same place.
Ummu ordered him to serve eight years' jail plus five strokes of the cane for the first offence and 10 years and seven years' jail for the second and third offences, respectively.
The farmer was ordered to serve the jail term on the first count from January 2004, while the second and third sentences would run concurrently from Sept 23, 2005.
Ummu also ordered the man to be caned five times for the first offence and another six times for the second and third offences, respectively.
The first and second counts were framed under Section 376B of the Penal Code, which carries a jail term of between six years and 20 years and liable to be whipped on conviction. The third count was under Section 377B of the Penal Code, which provides for a jail term of between five years and 20 years and also liable to be whipped if found guilty.
Earlier, Deputy Public Prosecutor Mohd Hafeez Abd Ghani told the court that the victim lodged a police report on Nov 19, 2006 that she was raped by her uncle since January 2004.
The victim said the incidents occurred at her grandmother's house whenever she was alone.
[...]
Copyright © Daily Express, Sabah, Malaysia
---
---
New Straits Times, Kuala Lumpur, 26 July 2007
10,299 aliens tried, only 33 deported
By Deborah Loh
(extracts)
PUTRAJAYA: Special Immigration courts have tried 10,299 illegal immigrants since they began hearing cases on Dec 15 last year. But of that figure, only 33 were deported as of July 24. It is no wonder therefore that overcrowding at Immigration detention centres or depots has reached a critical stage.
The department's enforcement director Datuk Ishak Mohamed said there were at present 1,700 illegal immigrants ready to be deported, but could not leave as they were still waiting for their travel papers.
[...]
Investigations by Immigration officers usually take 14 days during which time the illegals are placed in depots.

If they are charged and plead not guilty, they are held in jail for the duration of their trial. Upon conviction and end of their jail sentence, they are returned to the detention centres to await deportation.

Of those tried by the special courts up to Tuesday, 5,657 have been sentenced to jail and 2,922 sentenced both to jail and to be whipped.

Seventy-four were handed compound fines, 126 were freed and for 1,887 the cases are continuing.
© Copyright 2007 The New Straits Times Press (M) Berhad. All rights reserved.
Country files: Judicial CP in Malaysia
Article: Judicial caning in Malaysia
Topics A to Z: Caning in Malaysia