New Straits Times, Kuala Lumpur, 8 June 2007
Jailed but shows no remorse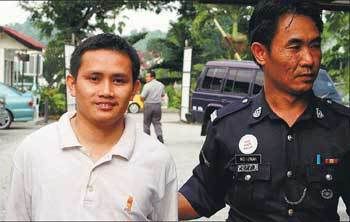 Mohd Fauzi Imbap Abdullah leaving the court after sentencing.
PETALING JAYA: Two 12-year-old boys will have to deal with the trauma for the rest of their lives.
But the man who pleaded guilty to sodomising them seemed more interested in arranging to have his belongings collected.

All 28-year-old Mohd Fauzi Imbap Abdullah had to say in the Sessions Court yesterday in his own defence was: "I have come here from Sarawak to work so I can take care of my sickly and aged parents."

Fauzi was charged with sodomising the two boys at a Perkim children's shelter in Damansara Utama.

One was sodomised three times — twice in April and once in May. The other was sodomised in March.
After forcing himself on the boys, he would lock them in their rooms.

The incidents were reported to police after one of the boys told his sister what had happened. Fauzi was arrested on May 28.

Fauzi showed no remorse in his mitigation plea.

After comments about his parents, he seemed more interested in arranging for his belongings, and some of a cousin's, to be retrieved from his room.

"Some of my cousin's things are in my room. If they (Perkim officers) can contact him, he can remove my things."

Judge Nurmala Salim sentenced him to 12 years' jail and four strokes of the rotan for each of the first three charges, and 10 years and two strokes for the fourth. The charges are to run concurrently. In passing sentence, she said: "What you did was disgusting."
Copyright © 2007 NST Online. All rights reserved.
---
---
New Straits Times, Kuala Lumpur, 9 June 2007
16 years 'too long' for drug offender
By Rita Jong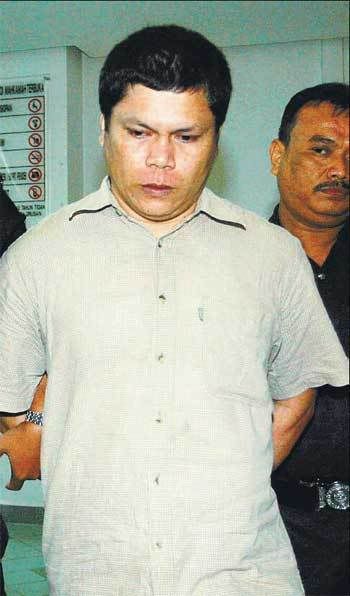 Henok Sibuea being led out of the courtroom after sentencing.
SHAH ALAM: A 30-year-old Indonesian came to Malaysia three years ago looking for greener pastures.
Henok Sibuea thought he could make a better living here as a labourer at the Port Klang jetty to support his four children and his wife back home in Sumatra.

Yesterday, his hopes were dashed when the High Court sentenced him to 16 years' jail and ordered him to receive 10 strokes of the rotan for possession of 5,341 grammes of cannabis.

Judicial commissioner Abang Iskandar Abang Hashim sentenced Henok after he pleaded guilty to a reduced charge.

He ordered the jail term to run from the date of his arrest on Nov 6, 2004.
Henok committed the offence behind the Bomba Security Complex, Jalan Pelabuhan Utara in Port Klang at 4.30pm on Nov 6, 2004.

The accused claimed trial to trafficking when he was charged in November 2004.

After four witnesses testified, the prosecution offered a reduced charge and Henok pleaded guilty.

Yesterday, Henok was shocked with the sentence as he was seen shaking his head in disbelief and was also over heard telling police officers that 16 years' jail was too long.

Earlier in mitigation, counsel Rosal Azimin Ahmad pleaded for leniency saying his client regretted his action.

"He came to this country in October 2004 hoping to provide a better living for his family in Sumatra. About a month later, he was arrested for the drug offence.

"He has been in remand for almost three years and hopes to be reunited with his family soon," he said.

Deputy public prosecutor Shoba Venu Gobal, however, pressed for a deterrent sentence to teach the accused a lesson and to relay a message to would-be offenders on the severity of drug offences.

In another case in the same court, lorry driver Mohamad Shahref Ismail, 35, was sentenced to 10 years' jail and ordered to receive 10 strokes of the rotan after he pleaded guilty to possessing 1,851 grammes of cannabis.

The father of four committed the offence along Jalan Persiaran Industri, Jalan Tembaga Sri Damansara in Sungai Buloh at 2.15pm on Jan 20, 2004.

He was initially charged with trafficking and claimed trial, but changed his plea when the prosecution offered a reduced charge.

Abang Iskandar ordered the jail term to run from the date of his arrest.

Shoba prosecuted while Mohamad Shahref was represented by counsel Sazali Sulaiman.
Copyright © 2007 NST Online. All rights reserved.
---
---
New Straits Times, Kuala Lumpur, 26 June 2007
Five bus hijackers jailed
By Lydia Gomez
KUALA LUMPUR: Bus hijacks, armed robberies and escape from a police lock-up five years ago put members of a notorious band of armed robbers under the public spotlight. They made headlines when they targeted a busload of travellers in an airport coach. They hijacked the vehicle and robbed nine people of air tickets, cash and valuables worth RM50,000.

Armed with parang, knives and axes, the gang of seven planned their heist well enough to escape with the loot in a getaway car. However, all of them were arrested within two months of the incident.

Last week, five of them — Zaidi Mohamad, 30, Rozali Ridzwan, 36, Jamil Razif Elias, 24, Shamsul Hezat Sabri, 31, and a 24-year-old youth — pleaded guilty to nine counts of armed robbery after they hold up passengers of the coach headed towards the Kuala Lumpur International Airport at 6.40am on Feb 22, 2002.

The bus, which was headed to the airport from the LRT station in Jalan Chan Sow Lin, was hijacked about 2km from the Sungai Besi toll plaza.

At the Sessions Court yesterday, the five received jail sentence of between eight and 10 years, and two to three strokes of the rotan.

Zaidi, Rozali and Jamil were sentenced to nine years' jail on each charge and three strokes of the rotan each.

For Shamsul, however, judge Noradidah Ahmad passed a 10-year jail term for each charge and three strokes of the rotan as he had a previous conviction for possessing dangerous weapons.

The 24-year-old youth, who was underage at the time of the offence, received eight years' jail for each charge and two strokes of the rotan.

The sentences will run concurrently from the date of their arrests in February and March, 2002.

Before delivering the judgment, Noradidah said although the five had pleaded guilty to the charges, it was not a point for mitigation as seven witnesses had already been called to testify before the change of plea.

"This has not exactly saved the court's time. The offence is serious as you have robbed an airport coach. This service is used even by foreign tourists and the case received wide media coverage. It has shed a bad light on the country," she said.

In the incident, a gang member got onto the bus armed with a parang and yelled rompak (robbery) before ordering the driver to slow down.

He instructed the passengers to place their hands behind their heads while the other robbers rummaged through the luggage, taking cash, passports and jewellery.

Twenty minutes later, one of them ordered the driver to head to a rest area along the highway and all of them jumped into a waiting red Ford Ranger and fled.

The gang, led by Izuddin Saudin, 30, or known as Din Jerawat, grabbed headlines again in 2002 when Izuddin and Rozali fled the lock-up at the Selangor police headquarters weeks after their arrest.

Rozali surrendered to police while Izuddin was arrested at Zoo Negara in April that year.

Izuddin and another accomplice, Sulaiman Ibrahim, 36, pleaded not guilty to the nine charges.

Their case will be mentioned on July 18.
© Copyright 2007 The New Straits Times Press (M) Berhad. All rights reserved.
---
---
The Star, Kuala Lumpur, 26 June 2007
Judge flays man for raping daughter
SHAH ALAM: A Sessions Court judge told a factory worker convicted of raping his daughter that he was like "an animal that eats its young".
"It is a dreadful act," Judge Azimah Omar told the 40-year-old man, who has four other children.
"How could you do this? She is too young. She is your own daughter, who is only three.
"She is supposed to get all the protection from her father," scolded the judge.
She slapped the factory worker with the maximum jail sentence of 40 years – 20 years on each of two rape charges against him.
She also ordered him to be given 24 strokes of the rotan – 12 whippings for each of the two charges – for raping the three-year-old child two years ago.
The man had pleaded guilty to the offence, committed at a house in Kampung Paya Gombak, Batu 19, Kuang, on March 19, 2005, and Nov 9 the same year.
He was detained on June 27 last year and charged in July.
In delivering her judgment, Judge Azimah said the man must be given a deterrent sentence for the "unforgivable and disgusting act".
She added that pleading guilty could not be a mitigating factor.
"He didn't even have compassion for his own daughter and took advantage of the young kid," she said, adding that the girl would have a black page in her life.
The judge said it was not a mere punishment for the accused but also a stern warning to all fathers who might do such things to their own flesh and blood.
According to the facts of the case, the man first raped the child in a bedroom at between 8am and 8.30am on March 19, 2005. His wife caught him in the act.
The other incident on the night of Nov 9 occurred in the living room.
The child's mother saw the girl lying naked next to her father, who was also naked.
He told his wife it was coconut oil when the mother noticed some liquid on the girl's private part and questioned him.
Unsatisfied with the answer, his wife took the girl to a hospital and later lodged a police report.
DPP Hana Hadinah S. Mohd Ghazali prosecuted, while lawyer Suzian Mukhtar represented the accused.
© 1995-2005 Star Publications (Malaysia) Bhd (Co No 10894-D)
---
---
The Star, Kuala Lumpur, 28 June 2007
Bid to abolish caning for child offenders
KUALA LUMPUR: The Women, Family and Community Development Ministry is proposing to amend the Child Act 2001 to do away with the provision that allows the Court of Children to mete out caning to child offenders.
A ministry official who confirmed this said the move was to conform to the International Convention on Children's Rights, of which Malaysia is a signatory.
Under Section 91 of the Act, the court can order the child offender, if male, to be whipped with a light cane not more than 10 times.
The whipping, however, must be within the court premises and in the presence, if he/she desires to be present, of the parents or parent or guardian of the child.
The official said the proposal was still at the ministry level and once completed, would be submitted to the Attorney-General.
Yesterday, the Sixth National Conference on Child Abuse and Neglect on Status of Child Protection in Malaysia: Multi-Disciplinary Agency Role organised by the Malaysian Association for the Protection of Children (MAPC) spoke of the abolishment of the provision.
Speaker Dr Farah Nini Dusuki, who is a law lecturer and MAPC vice-president, said that while corporal punishment within the penal system was being reviewed, there were no concrete steps towards abolishing the practice at homes and in schools.
She said Malaysia was not among the 18 countries which had prohibited corporal punishment on children in the home, school and legal institutions.
"Many people view beating with belts or canes by parents at home as a private matter and there is no legal sanction against this unless it results in severe injury.
"In schools, it is mandated by the Education Ministry to be carried out by the principal, assistant and disciplinary teachers.
"But the fact is that teachers themselves are beating students even for the smallest mistakes such as not bringing their books or not standing up straight at school assemblies," she said.
Dr Farah Nini said that there were alternative ways to discipline children rather then resort to physical punishment, as this could lead to child abuse.
© 1995-2005 Star Publications (Malaysia) Bhd (Co No 10894-D)