New Straits Times, Kuala Lumpur, 18 May 2007
Addict seeks more strokes for daughter's love
By Rita Jong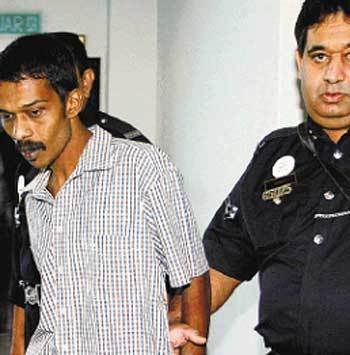 Mohammad Zulkifli Baseer Ahamad Kan being led out of the courtroom after the proceedings.
SHAH ALAM: A 30-year-old man made an unusual request before he was sentenced by the High Court yesterday for drug possession.
"I am prepared to receive more strokes of the rotan if it means serving less time in jail," Mohammad Zulkifli Baseer Ahamad Kan told judge Datuk Mohd Zaki Md Yasin.

This took the court by surprise, but when he explained the reason, it touched the hearts of those in the public gallery.

"I have a five-year-old daughter and I just want to be there for her," he said.

The girl was present yesterday accompanied by Zulkifli's family.

Dressed in a pale yellow dress, she seemed oblivious to her father's situation. She sat quietly at the public gallery and constantly smiled at her father.

"Have you seen how prisoners are whipped in jail?" Mohd Zaki asked Zulkifli, to which he replied: "Yes".

"And you think you can withstand the pain?" the judge asked him again.

Zulkifli, a divorcee, said he was willing to do anything so that he could be with his daughter.

Mohd Zaki then sentenced him to 10 years' jail and 10 strokes of the rotan.

Zulkifli, a technician, pleaded guilty to a reduced charge of having in his possession 287g of cannabis at his apartment No. A-2-15, Seri Indah Mas Apartment, Jalan PBS 14/2, Taman PBS, Seri Kembangan at 12.10am on June 27 last year.

Under the Dangerous Drugs Act 1952, he is liable to a maximum 20 years' jail and minimum 10 strokes of the rotan.

Earlier in mitigation, counsel Ariff Azami Hussein said his client had shown remorse by pleading guilty at an early stage of the case.

He also informed the court that Zulkifli had two previous convictions in Penang.
Copyright © 2007 NST Online. All rights reserved.
---
---
New Straits Times, Kuala Lumpur, 26 May 2007
Worker gets 60 years for sodomy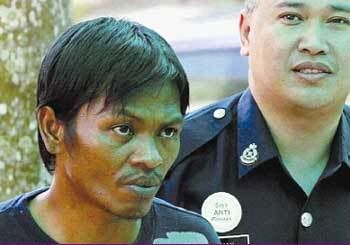 Abdul Rahim Abdul Rahaman being led out after he was sentenced yesterday.
SHAH ALAM: A 35-year-old City Hall contract worker was sentenced to a total of 60 years' jail and ordered to be whipped 22 times yesterday for 22 counts of sodomy against a 15-year-old boy.
Abdul Rahim Abdul Rahaman was sentenced at two Sessions Courts here after he pleaded guilty to committing the offences at a flat in Jalan Mutiara Gombak, between April 18 and May 9 this year.

Judge Datin Zabariah Mohd Yusof sentenced the accused to 28 years' jail and 10 strokes of the rotan for 10 charges while judge Azimah Omar sentenced him to 32 years' jail and 12 strokes of the rotan for the other 12 charges.

Azimah ordered the jail term to run consecutively.

Rahim, who was unrepresented, wept when he admitted his guilt.

However, he claimed it was the boy who seduced him.


"He liked me and even stayed at my house when he told me he ran away from home about two years. I told him to leave but he refused," he said.

Azimah replied that it was against the law to commit carnal intercourse.

"You are an adult who should have known better," she said.

"Such social ills are on the rise and a deterrent sentence must be meted out to reflect the severity of the offence."
---
---
The Star, Kuala Lumpur, 28 May 2007
Move whips up interest
The Anti-Trafficking in Persons Bill is seen as a progressive bill. Should the Government stop at this or go on to remove corporal punishment from all existing legislation?
Comment by Shaila Koshy
(extracts)
THE last week of the Dewan Rakyat [Parliament] meeting flagged Malaysia internationally for two very different reasons.
Courtesy of the Internet, reports of the sexist remarks made in the House and subsequent reaction were picked up by several Internet news digests and for those who prefer a visual and aural account of their news, the incident is on YouTube.
That aside, the House did well in passing the Anti-Trafficking in Persons Bill 2007 that covers illegal conduct committed inside or outside Malaysia as long we are the receiving country or transit point.
[...]
Minister in the Prime Minister's Department Datuk Seri Nazri Aziz told Parliament that by enacting this law the Government could ratify the Protocol to Prevent, Suppress and Punish Trafficking in Persons, Especially Women and Children (TIP Protocol) that supplements the United Nations Convention Against Transnational Organised Crime, which Malaysia acceded to in September 2004.
[...]
The Executive must be credited for originating this bill but the amazing fact about the bill is that the Attorney General's draftsman did not include whipping because the TIP Protocol does not recognise whipping as a form of punishment.
In lieu, Malaysia has provided for hefty jail terms (three to 20 years) and fines (RM50,000 to RM500,000).
So, has the Government embraced international human rights norms or was it constrained to do so?
If the former, it must remove whipping from the Penal Code, Kidnapping Act, Firearms (Increased Penalties) Act, Dangerous Drugs Act and the Immigration Act, among others.
"If it is because it is contrary to the concept of human rights then it is an indication that we are accepting the culture of human rights," says Suhakam chairman Tan Sri Abu Talib Othman.
"The Government should not stop at the Anti-Trafficking in Persons Bill but should review all existing legislation that provides for whipping and remove that provision. We will support them in such a move."
"This is a progressive bill and one hopes it would be a precursor to other efforts to review present legislation which provides for whipping," says International Movement for a Just World president Dr Chandra Muzaffar.
"Also, as a mode of punishment, whipping - which is cruel and dehumanising - has been proven to be ineffective in tackling the root causes of the crime."
Does the new bill sans whipping mean civil society in Malaysia is becoming more "civilised?"
"I don't know whether it is a reflection of a change of heart or an attempt to respond to international pressure," says Dr Chandra who was appointed to the Chair in Global Studies under the Centre for Policy Research and International Studies at Universiti Sains Malaysia in April.
"One swallow doesn't make a summer but one hopes that this will lead to other changes."
Noting the Malaysian Bar had passed a resolution against corporal punishment at its annual general meeting in March, its president Ambiga Sreenevasan, welcomes the Government's recognition of international norms regarding corporal punishment.
"The UN considers whipping an inhuman and degrading form of punishment; logically, the Government should remove whipping from all the statute books."
So, if the bill is not to score points internationally or get off the US Watch List, the Government must see to it that all existing laws are whipping-free.
© 1995-2005 Star Publications (Malaysia) Bhd (Co No 10894-D)
---
---
Borneo Post, Kuching, 29 May 2007
Penalty upped from one to 12 strokes of rotan
KUCHING: The High Court here yesterday increased the whipping penalty from one to 12 strokes of the rotan for a former court clerk convicted of committing three counts of criminal breach of trust (CBT).
In enhancing the penalty, Judicial Commissioner Hamid Sultan Abu Backer allowed the Senior Federal Counsel's appeal against inadequacy of sentence passed on Jim Girim, 27, from Kampung Triboh, Serian.
Hamid also maintained the six years and nine months' jail against the respondent who has been convicted under Section 409 of the Penal Code, which provides a maximum penalty of 20 years in jail and with a fine and whipping.
On April 17 last year, Jim pleaded guilty before Sessions Court Judge Timothy Finlayson Joel who also discharged and acquitted him from six other charges in consideration of his guilty plea. The jail term was to take effect from April 17, 2006.
According to the charges, Jim misappropriated at least RM2,200 being settlements of court fines at the Serian District Office between June 11 and July 4, 2001.
DPP Siti Rafidah Zainuddin appealed.