New Straits Times, Kuala Lumpur, 3 April 2007
38 years, 32 strokes for rapist bomoh
By Regina Lee
Bomoh Zulkifly Mustafa will probably spend the rest of his life behind bars. And he has to brave 32 strokes of the rotan.
In the Sessions Court yesterday, he was sentenced to 40 years' jail and 18 strokes of the rotan on two charges of raping his daughter's friend.
He pleaded guilty to raping the 17-year-old girl in his home in Taman Desa Bandar Country Homes, Rawang, between 10pm and 11pm on July 18, 2004, and about 5pm the following day at the same place.
For the first offence, he was sentenced to 20 years' jail and eight strokes, and for the second, 20 years' jail and 10 strokes, the sentences to run concurrently.
However, Zulkifly, 45, will serve these sentences only after the expiry of another sentence, also for rape. He was sentenced on Feb 5 this year to 18 years' jail and 14 strokes of the rotan for raping a college student in Johor. This means the total jail term is 38 years with 32 strokes of the rotan.
In sentencing Zulkifly yesterday, Sessions Court judge Azimah Omar told him: "You have no compassion and only care about your lust.
"You should be kept away from society, especially young women."
According to the facts of the case, the victim was at Zulkifly's home to celebrate his daughter's birthday on July 17, 2004, and spent two nights there. She was in the kitchen on July 18 when about 9pm, Zulkifly's wife, Masriah Ahmad, told her that Zulkifly wanted to see her in his bedroom. When the girl went to Zulkifly's bedroom, he persuaded her to undergo a nikah batin (spiritual marriage) before raping her.
The couple sent the girl back to her hostel the following morning but picked her up about 4.30pm. Zulkifly claimed he wanted to "heal" her and took her to his home again and raped her.
Zulkifly was charged with these offences on July 27, 2004, but jumped bail. The law finally caught up with him when he was arrested on Feb 7 last year for raping the college student in Johor on Feb 2.
Deputy public prosecutor Hana Hadinah S. Mohd Ghazali prosecuted.
The police are searching for Masriah, who is still at large.
She was charged with abetting Zulkifly but she, too, jumped bail. [...]
Copyright © 2007 NST Online. All rights reserved.
---
---
The Star, Kuala Lumpur, 5 April 2007
10 years' jail and rotan for cabby on drug charge
SHAH ALAM: A 41-year-old taxi driver was jailed 10 years and ordered to be given 10 strokes of the rotan by a Sessions Court here for possession of heroin.
R. Morgan was charged under Section 39A(2) of Dangerous Drugs Act 1952, which provides for the maximum life imprisonment and whipping upon conviction, for having 75 packets of heroin weighing 9.24g.
He was found guilty of committing the offence at Taman Gombak Greenwood on Aug 22, 2004.
Prosecuting officer Asst Supt Azhar Abu Bakar said police found the heroin in an envelope under the seat of his taxi.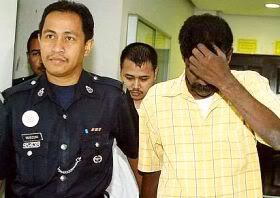 Morgan (right) being led away by a police officer at the Shah Alam Sessions Court on Wednesday.
Morgan's lawyer Nini Shirma Rahmat had earlier appealed for a lighter sentence on the grounds that he was the sole breadwinner for his sister, a single mother, and three other younger sisters.
Judge Azimah Omar, however, said the court viewed the offence seriously.
"I hope this case will be a lesson to the public and a lesson for you to turn over a new leaf," she told Morgan after ordering the sentence to run concurrently from the date of arrest.
[...]
© 1995-2005 Star Publications (Malaysia) Bhd (Co No 10894-D)
---
---
New Straits Times, Kuala Lumpur, 10 April 2007
Man gets six years for rape
By Brenda Lim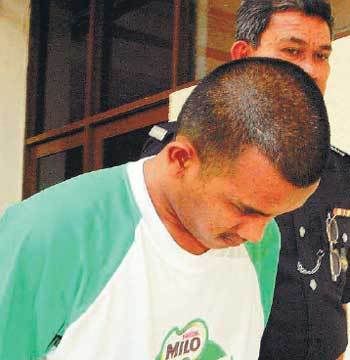 Zuleffendi Taju Aripin being led out of the court yesterday.
IPOH: What was supposed to have been a happy occasion turned into a nightmare for a teenager who was raped on the eve of her 15th birthday.

Looking forward to her birthday, the girl had accepted an offer for a joyride from a 28-year-old man.
But two hours later, she returned home in tears.

The man had dropped her off at a shopping centre after raping her. She walked home and told her mother what had happened.

Yesterday, her rapist, Zuleffendi Taju Aripin of Plot 83E, Jalan Juara, Kampung Manjoi Baru, was sentenced by the Sessions Court to six years' jail and three strokes of the rotan.

The storekeeper had pleaded guilty to raping the girl at a football field near Jalan 5, Jalan Kampar, Pasir Puteh, between 6.30pm and 8.15pm, on March 26.
"He is remorseful and apologises to the court and to the victim," said counsel Pardeep Singh Gill, when asking judge Tan Hooi Leng to impose a minimal sentence.

He said Zuleffendi, a divorcee with a 6-year-old child, had co-operated with the police and saved the court's time and cost by pleading guilty.

Pardeep, acting on instructions of the Legal Aid Centre, said that this was Zuleffendi's first offence.

Zuleffendi, he said, earned RM400 a month.

Deputy public prosecutor How May Ling, however, asked for a deterrent sentence, saying the facts of the case showed that Zuleffendi had acted violently and caused injuries to the victim.

Public interest and the girl's age should also be taken into consideration, she said.

How cited case laws on the physical and mental sufferings experienced by rape victims, including humiliation, degradation and guilt.

Zuleffendi's actions should be punished as the "gravest crime against humanity", she said.

The offence carried a jail term of between five and 20 years and convicted offenders could also be whipped.

Tan ordered Zuleffendi to be jailed for six years from the date of his arrest on March 28.
Copyright © 2007 NST Online. All rights reserved.
---
---
New Straits Times, Kuala Lumpur, 28 April 2007
Cane my client and set him free, lawyer tells prison
By V. Anbalagan
KUALA LUMPUR: A lawyer is urging the Prisons Department to cane his client and set him free. Lawyer Hisham Teh Poh Teik yesterday wrote to the Kajang prisons urging them to give Siau Hui Peng the 10 strokes at one go and to set him free immediately.

"Get it over and done with. My client is now being detained illegally," Hisham told the New Straits Times.

Hisham represented Siau who was convicted for drug possession and sentenced to 12 years jail and 10 strokes of the rotan.

Siau was initially sentenced to the gallows but the Court of Appeal commuted the sentence to 12 years and 10 strokes. That was on April 10.

Siau was arrested in 1999 and has been in prison for the past eight years. After taking into account the one-third remission for good behaviour, he was to be set free on April 10 when the Court of Appeal reduced his sentence.

But there was still the matter of caning.

The prosecution and Siau had 14 days to file their appeal to the Federal Court and it expired on Tuesday.

If the proceedings are to be followed closely, Siau should have been caned on Wednesday and released immediately.

Hisham is now crying foul and accusing the authorities of illegal detention.

"Why can't they just give him the 10 strokes and get it over and done with?" Hisham asked.

"I was told that the department is waiting for confirmation from the Court of Appeal before releasing him. This is ridiculous," he said.

Hisham said the department should have checked with the courts and not wait for the judiciary to inform them.

He said the Criminal Procedure Code stated prison authorities would execute the caning only after the accused or the prosecution had exhausted their appeals.

"But none of the parties in this case have appealed and the two-week period for appeals expired on Tuesday. The whipping should have been carried out on Wednesday."

Hisham said it took three years before the case was heard in the Court of Appeal and this was because the appeal records at the Johor Baru High court was delayed.

"We had filed the notice of appeal 10 days after judgment but had to wait for the notes of evidence and exhibits to be documented before case management," he said, adding that this process took almost three years before Siau's appeal was finally heard.

"My client seems to be the victim of administrative delays," he said.

The Court of Appeal sentenced Siau, to 12 years jail and 10 strokes of the rotan for possessing about 50 gm of heroin and monoacetlymorphine at a rubber smallholdng in Ulu Tiram, Johor on Jan 26, 1999.

The appellate court had allowed his appeal by reducing his dadah trafficking charge to possession.
© Copyright 2007 The New Straits Times Press (M) Berhad. All rights reserved.