The New Zimbabwe, Birmingham, UK, 21 August 2012
Penis thorn prickle pupils to be caned
By Staff Reporter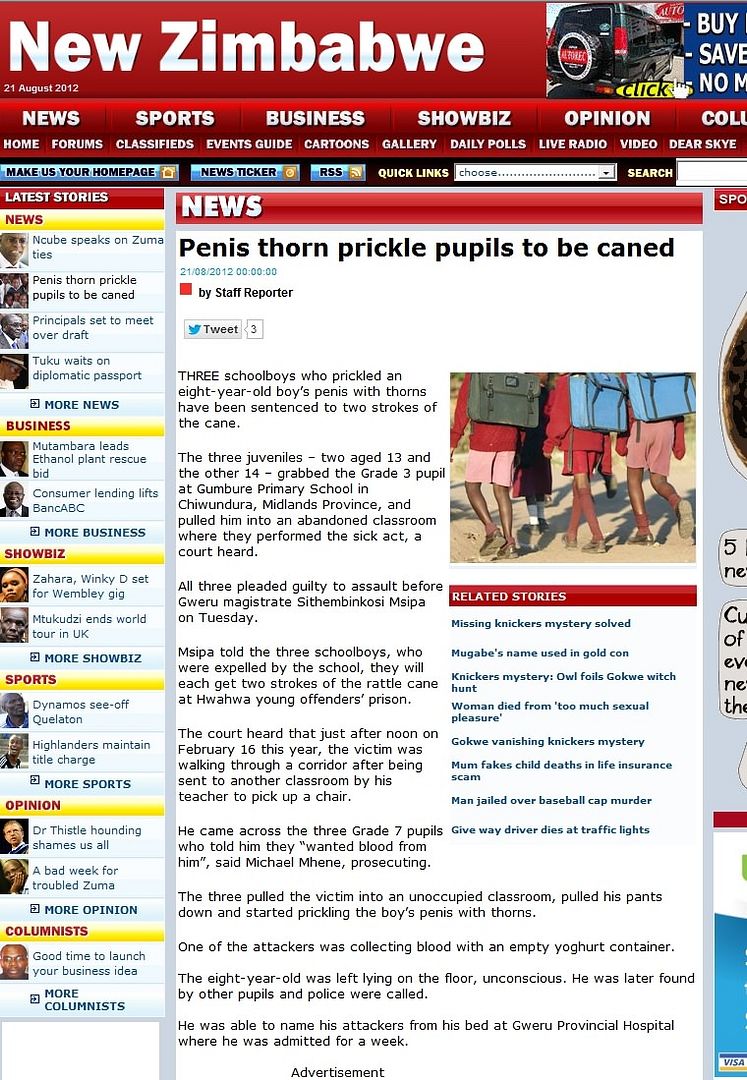 Click to enlarge
THREE schoolboys who prickled an eight-year-old boy's penis with thorns have been sentenced to two strokes of the cane.
The three juveniles -- two aged 13 and the other 14 -- grabbed the Grade 3 pupil at Gumbure Primary School in Chiwundura, Midlands Province, and pulled him into an abandoned classroom where they performed the sick act, a court heard.
All three pleaded guilty to assault before Gweru magistrate Sithembinkosi Msipa on Tuesday.
Msipa told the three schoolboys, who were expelled by the school, they will each get two strokes of the rattle [sic] cane at Hwahwa young offenders' prison.
The court heard that just after noon on February 16 this year, the victim was walking through a corridor after being sent to another classroom by his teacher to pick up a chair.
He came across the three Grade 7 pupils who told him they "wanted blood from him", said Michael Mhene, prosecuting.
The three pulled the victim into an unoccupied classroom, pulled his pants down and started prickling the boy's penis with thorns.
One of the attackers was collecting blood with an empty yoghurt container.
The eight-year-old was left lying on the floor, unconscious. He was later found by other pupils and police were called.
He was able to name his attackers from his bed at Gweru Provincial Hospital where he was admitted for a week.
© New Zimbabwe News