NewsDay, Harare, 23 July 2012
Four strokes for teenage robber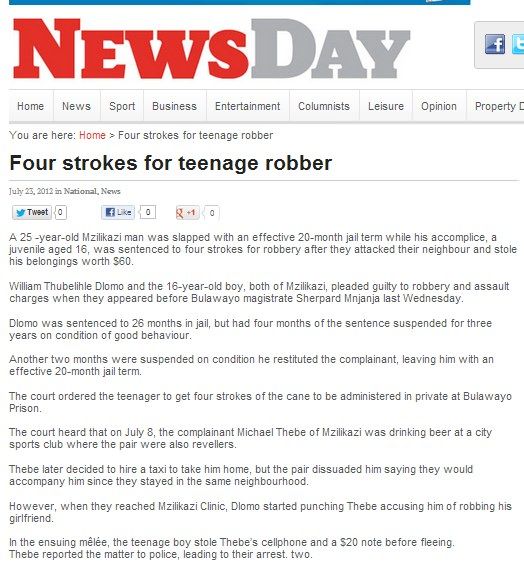 Click to enlarge
A 25 -year-old Mzilikazi man was slapped with an effective 20-month jail term while his accomplice, a juvenile aged 16, was sentenced to four strokes for robbery after they attacked their neighbour and stole his belongings worth $60.
William Thubelihle Dlomo and the 16-year-old boy, both of Mzilikazi, pleaded guilty to robbery and assault charges when they appeared before Bulawayo magistrate Sherpard Mnjanja last Wednesday.
Dlomo was sentenced to 26 months in jail, but had four months of the sentence suspended for three years on condition of good behaviour.
Another two months were suspended on condition he restituted the complainant, leaving him with an effective 20-month jail term.
The court ordered the teenager to get four strokes of the cane to be administered in private at Bulawayo Prison.
The court heard that on July 8, the complainant Michael Thebe of Mzilikazi was drinking beer at a city sports club where the pair were also revellers.
Thebe later decided to hire a taxi to take him home, but the pair dissuaded him saying they would accompany him since they stayed in the same neighbourhood.
However, when they reached Mzilikazi Clinic, Dlomo started punching Thebe accusing him of robbing his girlfriend.
In the ensuing melee, the teenage boy stole Thebe's cellphone and a $20 note before fleeing. Thebe reported the matter to police, leading to their arrest.
© 2012 NewsDay Zimbabwe. All Rights Reserved.
---
---
NewsDay, Harare, 24 July 2012
Man loses teeth in beer brawl
Click to enlarge
A Nkayi man lost two teeth in a beer brawl after he was assaulted with a stick by a 17-year-old juvenile after they argued over who would buy the next round of beer.
This came to light on Friday when the juvenile from Sembeula, Nkayi, appeared before Nkayi resident magistrate Ndumo Masuku facing assault charges.
He was convicted on his own plea of guilty and was sentenced to undergo corporal punishment of three strokes.
In passing sentence, the court considered the juvenile's age, hence the decision to give him a non-custodial term.
"In the circumstances, the accused's violent and alcoholic behaviour is worrisome given his age. He certainly needs an effective deterrent sentence," Masuku said.
"However, juveniles should be spared imprisonment at all costs especially when they are first offenders and canning is appropriate in the circumstances."
Charges against the juvenile were that on Wednesday last week, he was drinking beer with the complainant, Alfred Moyo.
Moyo bought beer and the pair drank together. However, when it was the juvenile's turn, he refused to buy the beer.
A misunderstanding arose between the two and the juvenile picked up a stick and struck Moyo once on the mouth.
Moyo broke two teeth and made a report to the police, leading to the juvenile's arrest.
[...]
© 2012 NewsDay Zimbabwe. All Rights Reserved.