Corpun file 24150 at www.corpun.com
The Herald, Harare, 17 September 2012
Rapist teenager to be caned
Court Reporter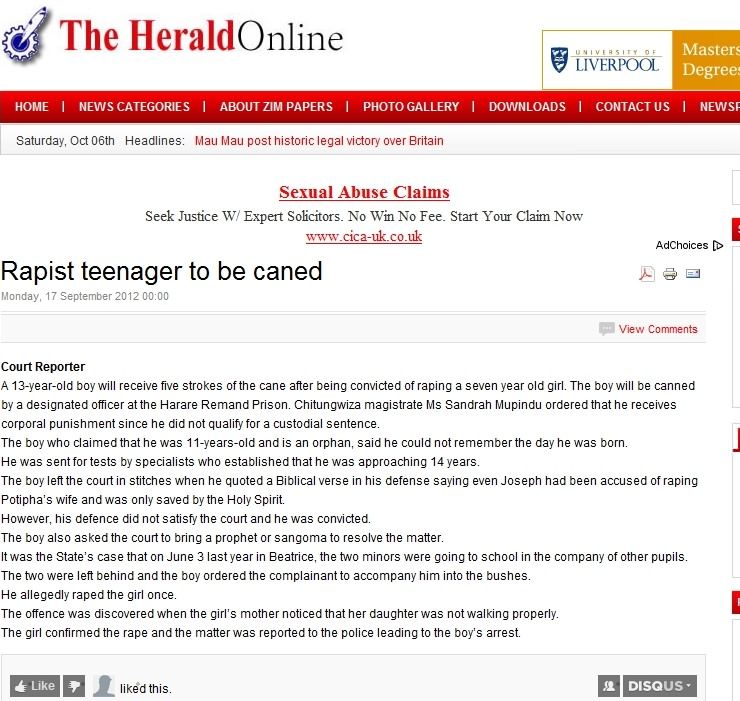 Click to enlarge
A 13-year-old boy will receive five strokes of the cane after being convicted of raping a seven year old girl. The boy will be caned by a designated officer at the Harare Remand Prison. Chitungwiza magistrate Ms Sandrah Mupindu ordered that he receives corporal punishment since he did not qualify for a custodial sentence.
The boy who claimed that he was 11-years-old and is an orphan, said he could not remember the day he was born.
He was sent for tests by specialists who established that he was approaching 14 years.
The boy left the court in stitches when he quoted a Biblical verse in his defense saying even Joseph had been accused of raping Potipha's wife and was only saved by the Holy Spirit.
However, his defence did not satisfy the court and he was convicted.
The boy also asked the court to bring a prophet or sangoma to resolve the matter.
It was the State's case that on June 3 last year in Beatrice, the two minors were going to school in the company of other pupils.
The two were left behind and the boy ordered the complainant to accompany him into the bushes.
He allegedly raped the girl once.
The offence was discovered when the girl's mother noticed that her daughter was not walking properly.
The girl confirmed the rape and the matter was reported to the police leading to the boy's arrest.