whnt.com (WHNT-TV News 19), Huntsville, Alabama, 6 April 2012
Huntsville School Superintendent Bans Corporal Punishment
By Venton Blandin
Parents in Huntsville no longer have to ask if a teacher can hit their child as punishment. The school district banned corporal punishment.
The superintendent first started talked about banning corporal punishment at the beginning of the school year. Dr. Casey Wardynski said he did not like it, teachers could not use it, but soon realized he had to do more to make it go away for good.
Dr. Wardynski removed corporal punishment from Huntsville City Schools in August.
The state says ripping the corporal punishment page out of the school district's policy book did nothing.
"The Alabama Department of Education requires that we have to a corporal punishment policy," said the district's Human Resources Director Belinda Williams.
The superintendent has issued a new policy on the subject.
"This sort of puts a period on that sentence. The sentence is corporal punishment will not be used in Huntsville City Schools. This policy is the period," said Dr. Wardynski.
Dr. Wardynski believes his new policy makes it clear where the school district stands.
"We closed the loop to forbid it since the state does authorize it," added Dr. Wardynski.
Beth Moore has a child at Huntsville High School. She understands the policy now.
"I'm glad it's gone and we don't have to worry about it because some do and some don't. Now, it is not an issue. It is gone, period," said Moore.
Joseph Hare has children in elementary and middle school. He does not mind giving corporal punishment to his children, but thinks the hitting stops there.
"I personally wouldn't want someone hitting my children. I support the superintendent if he thinks it is not a good thing for the school system," added Hare.
WHNT NEWS 19 did some checking around with other school districts the area to ask about their corporal punishment policy. Madison City Schools told us they banned paddling years ago. Madison County Schools still allows it.
[...]
Copyright © 2012, WHNT
---
---
heartlandconnection.com (KTVO-TV), Kirksville, Missouri, 24 April 2012
Paddle or no paddle, that's the question
By Ela Soroka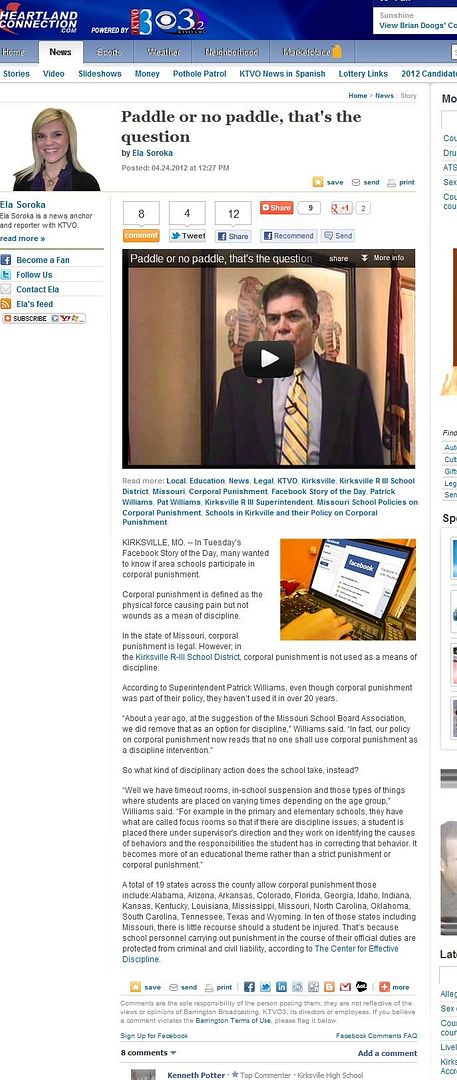 Click to enlarge
KIRKSVILLE, MO. -- In Tuesday's Facebook Story of the Day, many wanted to know if area schools participate in corporal punishment.
Corporal punishment is defined as the physical force causing pain but not wounds as a mean of discipline.
In the state of Missouri, corporal punishment is legal. However; in the Kirksville R-III School District, corporal punishment is not used as a means of discipline.
According to Superintendent Patrick Williams, even though corporal punishment was part of their policy, they haven't used it in over 20 years.
"About a year ago, at the suggestion of the Missouri School Board Association, we did remove that as an option for discipline," Williams said. "In fact, our policy on corporal punishment now reads that no one shall use corporal punishment as a discipline intervention."
So what kind of disciplinary action does the school take, instead?
"Well we have timeout rooms, in-school suspension and those types of things where students are placed on varying times depending on the age group," Williams said. "For example in the primary and elementary schools, they have what are called focus rooms so that if there are discipline issues, a student is placed there under supervisor's direction and they work on identifying the causes of behaviors and the responsibilities the student has in correcting that behavior. It becomes more of an educational theme rather than a strict punishment or corporal punishment."
A total of 19 states across the county allow corporal punishment those include: Alabama, Arizona, Arkansas, Colorado, Florida, Georgia, Idaho, Indiana, Kansas, Kentucky, Louisiana, Mississippi, Missouri, North Carolina, Oklahoma, South Carolina, Tennessee, Texas and Wyoming. In ten of those states including Missouri, there is little recourse should a student be injured. That's because school personnel carrying out punishment in the course of their official duties are protected from criminal and civil liability, according to The Center for Effective Discipline.
© Copyright 2012 Barrington Broadcasting Group, LLC