Corpun file 23499 at www.corpun.com
KWES NewsWest 9 TV, Midland-Odessa, Texas, 1 September 2011
Texas School Paddlings Must Have Parental Consent
Staff Report
NewsWest 9
No more swats in school unless you give the okay. A new state law went into effect on Wednesday. If you don't want your kid spanked in school, you can stop it.
Parents and guardians have to submit a written and signed statement saying they won't allow it.
Guardians just need to submit a written and signed statement that says they won't allow it.
But in Midland and Odessa schools, it's nothing new.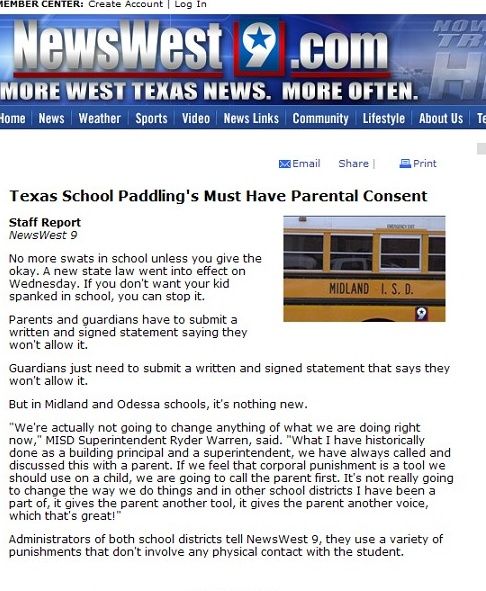 Click to enlarge
"We're actually not going to change anything of what we are doing right now," MISD Superintendent Ryder Warren, said. "What I have historically done as a building principal and a superintendent, we have always called and discussed this with a parent. If we feel that corporal punishment is a tool we should use on a child, we are going to call the parent first. It's not really going to change the way we do things and in other school districts I have been a part of, it gives the parent another tool, it gives the parent another voice, which that's great!" [sic].
Administrators of both school districts tell NewsWest 9, they use a variety of punishments that don't involve any physical contact with the student.
All content © Copyright 2000 - 2011 WorldNow and KWES. All Rights Reserved.
---
---
Corpun file 23636 at www.corpun.com

WMBF-TV, Myrtle Beach, South Carolina, 14 September 2011
Darlington County School District responds to paddling 'award'

Click to enlarge
DARLINGTON, SC (WMBF) - You would think paddling in schools is a thing of the past, but 11 school districts in South Carolina still do it.
Darlington is one of them. In fact, an organization called the South Carolina Coalition to Abolish Corporal Punishment awarded Darlington County Schools with the 'Top Hitter Award' of dishonor.
Executive Director of the SC Coalition to Abolish Corporal Punishment, Maureen Young said Darlington County is the second highest district in terms of the number of students paddled in the state this past year.
The organization called every school in the district to obtain the number of instances each school had. Young said when she asked the state superintendent for the information, it wasn't collected.
She says there were 79 instances where elementary aged students in Darlington County were paddled.
Lamar Elementary leads with 24 instances and Saint Johns Elementary follows with 22 instances.
A district spokesperson says schools use paddling as a last resort.
Tamra Bramlett grew up in Darlington County and said she was paddled while attending Elementary School and is okay with it.
"Paddling works when write-ups don't help anymore, when school suspensions doesn't help anymore, it really lets the children think about what they had done," said Bramlett.
Darlington resident, Robert Watford said, "it's okay. Teachers aren't going to get out there and whip them and bruise them up... I don't go for that as long as they do it the right way."
A district spokesperson says only elementary schools in the district practice paddling and parents are notified before this action is taken.
There is also a required witness that must be present when a child is paddled.
Mackenzie Grisham just relocated to Darlington County and said she's surprised paddling is still being done anywhere in the United States.
"I definitely think parents should be the only people physically disciplining their children... I mean, physical discipline is on the edge anyway whether it's okay or not," said Grisham.
A spokesperson for the district says schools use other methods of punishment before paddling becomes an option and that those paddled only represent one percent of the student body in the county.
The coalition also released data that 51 of the instances where students were paddled were Black males, 11 were Black females, 15 were White males and 2 were White females.
After the press release about the award was sent out, Darlington County Schools sent out a response to the award:
From Darlington County School District
DARLINGTON, SC -- Recently an organization called the "SC Coalition to Abolish Corporal Punishment" sent out a press release indicating the Darlington County School District (DCSD) is one of three South Carolina school districts to win the "Top Hitter Award". According to the Coalition, DCSD is the second highest district in terms of the number of students paddled during the 2009-10 school year.
Teachers and principals in the Darlington County School District (DCSD) utilize a wide variety of discipline tools to address inappropriate student behavior. The district also employs extensive positive reinforcement methods at every level -- kindergarten through high school -- to recognize and reward good behavior.
The DCSD policy permits administrators to paddle students under very strict conditions. Following district expectations, students are only paddled with permission and knowledge of the parents or guardians. It is dispensed by school administrators under strict conditions. A witness must be on hand and the punishment is administered in private, away from other students.
In the year reported, principals in Darlington County School District administered corporal punishment 79 times, which involved less than one percent of the entire student population of the district at the time. The punishment is usually a last resort, following numerous other discipline attempts such as silent lunch, no recess, work detail, loss of privileges, principal conferences, discussion with parents, and in-school suspension.
The Coalition's website lists several alternatives to corporal punishment. The Darlington County School District already uses many of the programs they suggest, including character education, student recognition programs, peer mediation, and Positive Behavior Intervention and Support (PBIS) in DCSD schools every day. In addition, all of the "prevention strategies" provided are part of regular DCSD school operations.
"We do not encourage paddling, but we recognize that some parents feel strongly that paddling is an acceptable method of discipline for their children. Even then, we use it as a last resort. Corporal punishment is one option for a small percentage of students," said Audrey Childers, Public Information Officer. "Instead we put a great deal of emphasis and focus on recognizing the positive behavior and actions of our students. Ultimately, we want all our students to succeed in school."
Copyright 2011 WMBF News. All rights reserved.
---
RELATED VIDEO CLIP

TV news segment, "Darlington County School District responds to paddling 'award'" (2 mins 35 secs), WMBF Myrtle Beach, SC, 14 September 2011, of which the above is a heavily abbreviated text version. Crystal Moyer reports. Statistics are given for each school in the district. Several parents are interviewed, most of whom approve of CP at school. It is made clear that paddling is used only for elementary students in Darlington County, and that parents always have the option to exempt their students from the punishment.

HERE IS THE CLIP:

This video clip is not currently available.




IMPORTANT: Copyright in this video material rests with the original copyright holders. This brief excerpt is reproduced under the "fair use" doctrine for private, non-profit, historical research and education purposes only. It must not be redistributed or republished in any commercial context.
---
---
Corpun file 23633 at www.corpun.com
The Dothan Eagle, 20 September 2011
Corporal punishment policy reviewed in Ozark
By Ebony Horton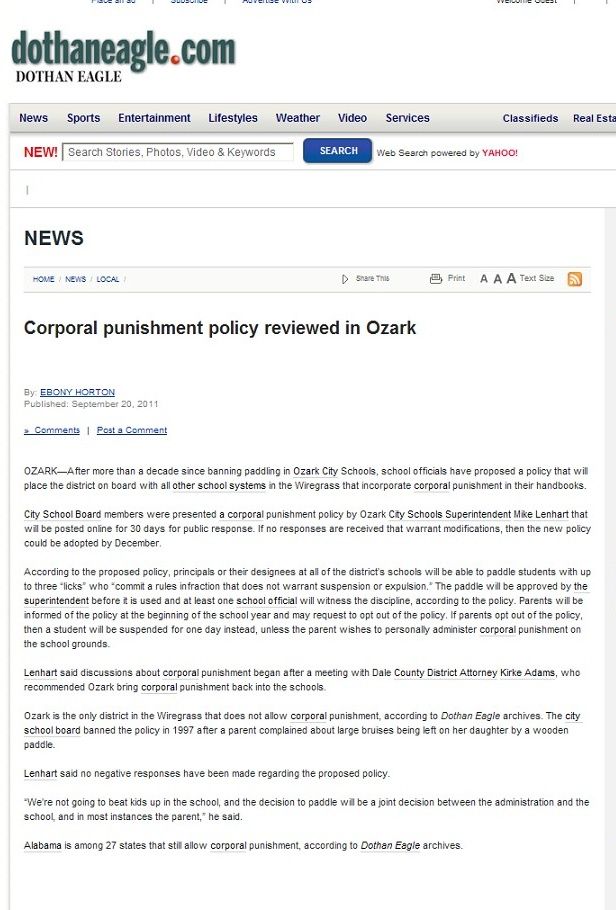 Click to enlarge
OZARK -- After more than a decade since banning paddling in Ozark City Schools, school officials have proposed a policy that will place the district on board with all other school systems in the Wiregrass that incorporate corporal punishment in their handbooks.
City School Board members were presented a corporal punishment policy by Ozark City Schools Superintendent Mike Lenhart that will be posted online for 30 days for public response. If no responses are received that warrant modifications, then the new policy could be adopted by December.
According to the proposed policy, principals or their designees at all of the district's schools will be able to paddle students with up to three "licks" who "commit a rules infraction that does not warrant suspension or expulsion." The paddle will be approved by the superintendent before it is used and at least one school official will witness the discipline, according to the policy. Parents will be informed of the policy at the beginning of the school year and may request to opt out of the policy. If parents opt out of the policy, then a student will be suspended for one day instead, unless the parent wishes to personally administer corporal punishment on the school grounds.
Lenhart said discussions about corporal punishment began after a meeting with Dale County District Attorney Kirke Adams, who recommended Ozark bring corporal punishment back into the schools.
Ozark is the only district in the Wiregrass that does not allow corporal punishment, according to Dothan Eagle archives. The city school board banned the policy in 1997 after a parent complained about large bruises being left on her daughter by a wooden paddle.
Lenhart said no negative responses have been made regarding the proposed policy.
"We're not going to beat kids up in the school, and the decision to paddle will be a joint decision between the administration and the school, and in most instances the parent," he said.
Alabama is among 27 states that still allow corporal punishment, according to Dothan Eagle archives.
Dothan Eagle © Copyright 2011 Media General Communications Holdings, LLC. A Media General company.
---
---
Corpun file 23639 at www.corpun.com
The Enquirer, Cincinnati, Ohio, 21 September 2011
Ban sought on corporal punishment in Ky. schools
By William Croyle

Click to enlarge
There were 1,573 incidents of corporal punishment in Kentucky's public schools in 2009-10, according to the latest data from the Kentucky Center for School Safety.
Carolyn McCarthy, a U.S. congresswoman from New York, is introducing today the "Ending Corporal Punishment in Schools Act," hoping to nationally ban the practice of children being struck by school employees.
Kentucky is one of 19 states where corporal punishment is legal. McCarthy introduced similar legislation last year, but it died in committee.
"To me, it's a cycle of child abuse and violence, teaching children that hitting is OK," McCarthy said in a teleconference Wednesday.
She was joined by Deborah Vagins with the American Civil Liberties Union, who called corporal punishment a "devastating practice."
"This bill will help provide the protection students need to help achieve academic success," Vagins said.
Though it's legal in the state, Lisa Gross, spokeswoman for the Kentucky Department of Education, said Commissioner Terry Holliday is against the practice.
"We don't like it," Gross said. "It is not an effective way to deal with student discipline."
The Kentucky Center for School Safety report shows that the 1,573 incidents in 2009-10 was down from 3,460 five years earlier.
In the 2007-08, 2008-09 and 2009-10 school years there were no corporal punishment incidents in the 18 districts in Boone, Campbell, Kenton, Gallatin, Grant and Pendleton counties. Most Northern Kentucky districts have policies prohibiting such action.
In Boone County Schools, where there are more than 19,000 students, Superintendent Randy Poe said corporal punishment has been prohibited for at least 20 years.
"Whether corporal punishment is an effective means or not is debatable," Poe said. "But there are other ways of handling situations, and we prefer those other ways."
In Covington Independent Schools, which had more than 4,800 suspensions from 2007-10 due to law or board violations, there was no corporal punishment during that time.
"It's been gone for so long, longer than I've been here," said Rick Ross, executive director of learning support, who has been with the district since 1999. "We feel we have a repertoire of other punishments that work."
Districts with the most corporal punishment incidents from 2007-10 were Pike County (1,068), McCreary County (632), Bell County (567), Pulaski County (345), Harlan County (338) and Floyd County (337). All are in southern or eastern Kentucky.
McCarthy said the latest data from the U.S. Department of Education's Office of Civil Rights shows that more than 200,000 students annually are victims of corporal punishment nationwide, with black children and children with disabilities experiencing it the most.
The other 18 states where corporal punishment is legal are Alabama, Arizona, Arkansas, Colorado, Florida, Georgia, Idaho, Indiana, Kansas, Louisiana, Mississippi, Missouri, North Carolina, Oklahoma, South Carolina, Tennessee, Texas and Wyoming.
Ohio banned it in 2009.
Copyright © 2011 nky.cincinnati.com. All rights reserved.
---
---
Corpun file 23638 at www.corpun.com
The Times & Democrat, Orangeburg, South Carolina, 22 September 2011
Calhoun County schools move to eliminate corporal punishment
By Larry P. Jordan
T&D Correspondent
(extract)
Click to enlarge
Calhoun County School District is moving to eliminate corporal punishment.
The school board unanimously approved eliminating corporal punishment during its Monday night meeting.
Superintendent Steve Wilson said it is time to make the change.
He called the change a non-violent program that would prohibit corporal punishment by staff and parents on school property.
Wilson also gave an update on the disposition of the John Ford property. He said he met with concerned citizens, who expressed their desires for the property.
[...]
---
---
Corpun file 23643 at www.corpun.com
The Independent Mail, Anderson, South Carolina, 24 September 2011
Saying 'No' to the 'Board of Applied Psychology'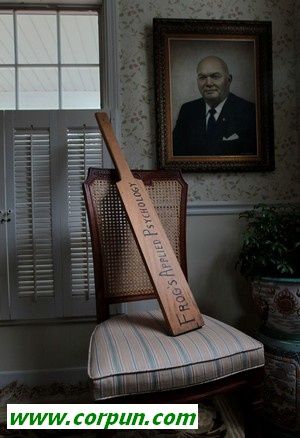 By Liz Carey
During his tenure at Boys High in Anderson, Principal Carroll "Frog" Reames was never afraid to apply the "Board of Applied Psychology" to a student's backside to "help him make better choices."
But today, the idea of a principal choosing corporal punishment as a discipline option is abhorrent to some.
In South Carolina, 13 of the state's 85 school districts allow paddling, according to Maureen Young, executive director of the South Carolina Coalition to Abolish Corporal Punishment.
Only three of the eight school districts in Abbeville, Anderson, Oconee and Pickens counties ban corporal punishment. In three others, the punishment is rarely, if ever, used.
But in Williamston-based Anderson School District 1, 80 students were paddled in the 2009-10 school year. That number, while representing far less than 1 percent of the students in the district, placed the district at the top of the coalition's recently released list of most "hitting" school districts in the state.
District 1 joined Darlington County School District and Abbeville County School District as the top three districts that paddle, Young said.
The students paddled ranged from kindergarteners to seniors in high school.
According to statistics Young acquired from the districts, of the students paddled in District 1, there were 26 in kindergarten and first grade, the two most prevalent grade levels for spanking. The next-highest grade level was fourth grade, with 12 students paddled, followed by eighth grade with 10.
Darlington paddled 79 students, and Abbeville paddled 62.
But Young said the numbers for Abbeville are those for 2008-09 because the district refused to provide Young with the information unless she paid $50 to cover researching her request, and Young chose to use the previous year's data instead.
Two schools districts that allowed paddling in 2009-10 no longer allow corporal punishment. They are Sumter School District 17 and Georgetown County School District.
In fact, Young's statistics show that Sumter School District 17 had 81 incidents of corporal punishment, but Young chose not to include the district in the "Top Hitter" list.
"Sumter 17 was actually higher than Anderson District 1, but since they have opted to ban corporal punishment, I chose to give them a 'Get out of jail free' card," Young said.

Click to enlarge
Georgetown County School District reported 24 students paddled, while Dillon School District 2 reported 17, and Dillon School District 1 reported 15. Iva-based Anderson School District 3 ranked sixth on the list with 14 students paddled, followed by Hampton School District 1 with 13, Greenwood School District 51 with 12, and the School District of Oconee County with 9. Clarendon School District 3 reported 5, and Lancaster County School District reported four students paddled.
"Why are these 11 school districts still paddling?" Young said. "Are the students less well-behaved than other South Carolina students? Are the teachers more poorly trained than other South Carolina teachers? If other districts can get along without it and find alternatives to paddling, why can't these districts?"
Wayne Fowler, superintendent for Anderson District 1, said the district's policy allows corporal punishment, but it is only used as a last resort and often at the parents' request.
"We do not use it as one of our first strategies," Fowler said. "That's the reason we don't have any problems with it. When we get to that point, the parents are either suggesting it or 100 percent supporting it."
Anderson District 1's policy on corporal punishment has been in place since 1976, he said, and was revised in 1997.
Fowler said the number of students paddled in 2009 represented .008 percent of the district's 9,250 students.
"Over the years, there have been less and less [sic] instances of corporal punishment. We use all of the other strategies for discipline that we have before we use corporal punishment - like detention, positive reinforcement, positive behavior intervention strategies," he said. "We only use it when all other things have been ineffective. And we respect the right of parents to make choices in the discipline of their students. Some of them ask us to use corporal punishment on their children because that is what they use at home."
If parents do not want corporal punishment administered, the school will honor that request, Fowler said.
Hunt Meadows and Powdersville elementary schools accounted for 34 of the paddled students, statistics showed. Sixty-five of the students paddled were white males. The majority of students paddled in District 1 were in elementary school, while only two were in high school.
Fowler said there were no spankings at Wren High School, Wren Middle School or West Pelzer Elementary School.
Fowler said elementary schools are limited in their disciplinary measures as they don't have the capacity to hold in-school suspensions or other disciplinary measures often used in middle schools and high schools.
"In some of the cases, the students will ask the principal if that (corporal punishment) is a possibility instead of doing other punishments like after-school detention," Fowler said. "One of our elementary schools has 650 children, and three were spanked. I would be more than willing to assure you that those children's parents were involved in the process."
Spanking in the past
Years ago, Frog Reames used his paddle to help students learn to take responsibility for their actions, said Reames' daughter, Caroline Tolbert.
"He would say, 'Son, God has given you a brain, and the taxpayers are paying for you to learn how to use it. Your parents want you to understand that you need to grow from a boy into a man. You can learn all kinds of things here and be whatever it is you want to be, but if you can't seem to get it, there's a part of your body to which I can apply the "board of applied psychology" to help you understand better,'" Tolbert said. "It was to hold them accountable. It was a price to pay for bad choices."
Tolbert said the punishment at the time was something her father took seriously and used as a measure to help students understand the consequences of their actions.
Bill Land, an Anderson historian, wrote about Reames in his book "Me and Eddie at Boys High," a fictional account of his time at the school.
"We never considered it corporal punishment. If you got licks from Frog Reames, you deserved them," Land said. "Nobody wanted them, of course. When you're 16, 17, 18, you don't want to get licks. But a lot of people who got them never went back in there again."
One of Reames' paddles was donated to the Anderson County Museum for part of its education display. Another one was auctioned off during a recent Boys High Reunion. Tolbert said she has one still at her house.
Land said that while he never got a paddling from Reames, it was something that men now talk about when they reminisce about their childhood.
"He wasn't afraid to give them, and when you've got a school with all boys, sometimes he needed to," Land said. "You respected him for doing it. And when he gave you licks, after he was done, he would put his arm around you. He did what he had to do."
In a 2008 survey by ABC News, two-thirds of all parents approved of spanking children, and half said they do it to their own kids. Nearly a quarter of the parents surveyed said it was all right to do in schools.
Studies have shown that nearly 65 percent of American parents approve of spanking children. But just 26 percent say grade-school teachers should be allowed to spank students at school. Even among the nearly 50 percent of parents who say they spank their kids at home, 67 percent said teachers should not be allowed to spank students.
Research has indicated that spanking is ineffective.
According to a study by Elizabeth Gershoff, an associate professor of human development and family services at the University of Texas at Austin, there is little evidence that physical punishment improves children's long-term behavior, and there is substantial evidence that physical punishment makes it more likely, not less, that children will be defiant and aggressive in the future.
Gershoff wrote that evidence suggests physical punishment puts a child at risk for increased mental health problems and physical abuse.
Some districts oppose
In the Upstate, Honea Path-based Anderson School District 2 and city of Anderson-based Anderson School District 5 and the School District of Pickens County all have policies against paddling. Pendleton-based Anderson School District 4 has no policy against corporal punishment, but reported no students paddled.
Lee D'Andrea, superintendent of District 4, said it was a policy that needed to be re-evaluated.
"I would say this policy is four years old. Given the climate, we probably need to revisit that. It has been available as a resource in the past, but as indicated by the data, we did not use that last year," D'Andrea said. "It's something that is used as a last resort. We're trying so hard to use positive behavior, appropriate interventions and collaboration with parents in terms of discipline."
D'Andrea said the district has strict stipulations about how corporal punishment can be administered. The policy requires documentation not only of the type of punishment administered, but also of the person administering the punishment, the names of the witnesses, the date and location of the punishment, and the punishments administered to the student prior to the corporal punishment.
And if parents request that the district not use corporal punishment on their children, it will not be used, she said.
For D'Andrea, the use of corporal punishment may be OK for home use, but not for use in schools.
"In a study of child development, the best consequences for misbehavior are directly related to the inappropriate behavior so the child can make a connection and build intrinsic motivation and self-discipline," she said. "I think it's every parent's personal choice at home, but corporal punishment in the school when it's someone else's child but your own has very serious circumstance surrounding it, and the liability is huge."
Liability is one of the key factors in why corporal punishment is not used in District 2, Superintendent Tommy Chapman said.
Over the past 10 years, the district has not used corporal punishment, Chapman said. But the decision, he said, came from parents changing their mind once the punishment had been administered.
"There have been occasions where parents have asked that we paddle their children, but if those students come home with any kind of mark then there is the potential for threats of lawsuits," Chapman said. "If they didn't like the way things looked or what the child said once they got home after receiving that punishment, we dealt with a lot of repercussions of that. We felt that we needed to not be a part of that and not make that an option for parents and students."
Instead, the district uses in-school suspension, suspension and expulsion, as well as a system of demerits for students.
In District 5, policy outlines specifically what steps can be taken to discipline students. While corporal punishment isn't specifically banned, said district spokesman Bill Baker, it hasn't been used since Superintendent Betty Bagley took over 11 years ago and requires board approval to use.
"I don't know precisely when our district stopped allowing corporal punishment, but in talking to some of our longest-serving administrators, I believe it was stopped in the mid-1990s," Baker said. "Even before that, it appears it was used only at the request of parents or with their approval."
Parental authorization is necessary for spanking in District 3.
The only other Anderson County school district that allows spanking, District 3, uses it only on grade-school students, said Superintendent Gail Southard. Since 1997, she said, the district's policy has been to use that as a last resort for children in kindergarten through eighth grade.
"However, despite the policy, we do not use corporal punishment in the middle school," she said. "We have parental consent forms that parents fill out that say whether or not it is OK to use corporal punishment on their child. I have one principal who will still call the parent if they have to use corporal punishment, even if they have a parental consent form on file."
With more than 2,500 students in the district, and with only about 1,200 in the elementary schools, the number of students being spanked is about 1 percent. Southard said one elementary school principal averages one spanking per year.
Southard said there has been no complaint in her district about the use of corporal punishment.
"I think that if we were using that on children whose parents are not in favor of it, the result would be different," Southard said. "But in many cases, we have parents who request that be used on their children."
© 2011 Scripps Newspaper Group
---
---
Corpun file 23642 at www.corpun.com
The Huntsville Times, Alabama, 25 September 2011
Proposed federal ban would end paddling in schools
By Crystal Bonvillian
The Huntsville Times
HUNTSVILLE, Alabama -- Madison County principals may have to retire their paddles.

Click to enlarge
A U.S. congresswoman introduced legislation on Thursday seeking a federal ban on the use of corporal punishment in schools. The Ending Corporal Punishment in Schools Act, introduced by Rep. Carolyn McCarthy, D-N.Y., would allow federal education officials to withhold federal funding to school districts that allow corporal punishment.
It would also provide competitive grants to states wanting to improve their schools' climate and culture.
Alabama is one of only 19 states that allow corporal punishment in its schools. According to the most recent data from the federal Office for Civil Rights, there were more than 220,000 incidents involving corporal punishment in U.S. schools during the 2006-2007 school year.
In Alabama, that number was more than 33,000.
Madison County, the only local system that still allows corporal punishment, had 307 incidents of paddling in 16 of its 26 schools during the 2010-2011 school year. Central School took the lead with 95 paddlings, followed by Sparkman Ninth Grade with 48 incidents, according to district reports.
Alex Hughes, Central's principal, said Friday that paddling is used at his school only with the permission of a student's parents.
"When we discipline somebody at Central School, we always call the parents," Hughes said. "Generally, if it's bad enough to warrant the principal's office, the punishment is either paddling or ISS (in-school suspension)."
Huntsville Superintendent Casey Wardynski last month asked the school board to rescind its policy allowing corporal punishment in the city's schools.
Wardynski, a retired Army colonel, said that the practice is not used in the military or in prisons, so it shouldn't be used in schools. The board agreed, voting unanimously to remove the policy from the books.
The punishment was not greatly used in Huntsville's schools before the ban. Data from the 2009-2010 school year, the most recent made available, showed that Chapman and Westlawn middle schools and Butler and Johnson high schools were the only schools to use the punishment that year.
Westlawn students were paddled 23 times and Butler students, 17 times. Chapman administrators wielded the paddle just three times, and those at Johnson just once.
Madison City Schools banned corporal punishment in its schools in 1998.[sic - it was actually 1999 -- C.F.]
Hughes said he wouldn't be bothered if the nationwide ban is passed. The school gives parents the choice of corporal punishment solely because it is part of the district's discipline policy.
"As long as it's board policy, we'll continue to offer it as an option to the parents," Hughes said.
Times readers are divided on the issue. Some who commented on al.com and Facebook argued that McCarthy and the federal government don't have the constitutional right to legislate how local schools discipline children.
Other readers supported the practice.
"Don't act like an idiot in school and you won't have to worry about corporal punishment," said one commenter calling himself "jarhaid."
Another, dubbed "msaggie," said that the proposed ban made no sense.
"I also remember when I was in school, we had corporal punishment and we all made it," she said.
On the other side of the debate, some readers argued against allowing school officials to paddle students.
"I am against paddling in schools," Briana Smith Felch said on the Times' Facebook page. "If anyone is going to paddle my child, it will be me. Not a grandparent, friend or teacher."
Some responded that paddling should never be used as a punishment. Kevin Watson, who grew up in Indiana, recalled his kindergarten teacher hitting him so hard that he limped home, his backside covered with welts.
Watson's misbehavior? Spilling his milk.
"Granted this was the late '70s (1978-1979), but it does give some perspective as to why corporal punishment in schools should not be allowed," Watson said. "And in an era of extreme litigation, a ban on corporal punishment protects not only students, but teachers and administrators."
Cornelia Welch Watson recalled a similar experience in Huntsville, where she said her sixth-grade teacher broke a wooden paddle on a fellow student.
"What worried me (and most of the other kids in the class) was the uncontrolled rage demonstrated against a boy who didn't misbehave more than anyone else," Welch Watson said. "It seemed pretty personal, and that doesn't seem appropriate in a school setting."
© 2011 Alabama Live LLC. All Rights Reserved.
---
---
Corpun file 23651 at www.corpun.com
The Daily Iberian, New Iberia, Louisiana, 27 September 2011
Make spanking decision locally
By Jeff Zeringue
The Daily Iberian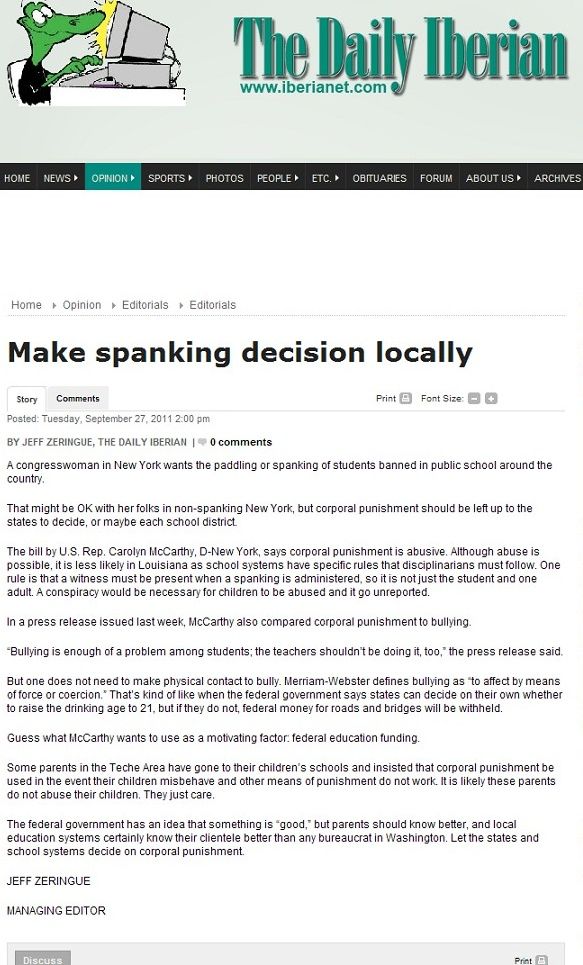 Click to enlarge
A congresswoman in New York wants the paddling or spanking of students banned in public school around the country.
That might be OK with her folks in non-spanking New York, but corporal punishment should be left up to the states to decide, or maybe each school district.
The bill by U.S. Rep. Carolyn McCarthy, D-New York, says corporal punishment is abusive. Although abuse is possible, it is less likely in Louisiana as school systems have specific rules that disciplinarians must follow. One rule is that a witness must be present when a spanking is administered, so it is not just the student and one adult. A conspiracy would be necessary for children to be abused and it go unreported.
In a press release issued last week, McCarthy also compared corporal punishment to bullying.
"Bullying is enough of a problem among students; the teachers shouldn't be doing it, too," the press release said.
But one does not need to make physical contact to bully. Merriam-Webster defines bullying as "to affect by means of force or coercion." That's kind of like when the federal government says states can decide on their own whether to raise the drinking age to 21, but if they do not, federal money for roads and bridges will be withheld.
Guess what McCarthy wants to use as a motivating factor: federal education funding.
Some parents in the Teche Area have gone to their children's schools and insisted that corporal punishment be used in the event their children misbehave and other means of punishment do not work. It is likely these parents do not abuse their children. They just care.
The federal government has an idea that something is "good," but parents should know better, and local education systems certainly know their clientele better than any bureaucrat in Washington. Let the states and school systems decide on corporal punishment.
---
---
Corpun file 23648 at www.corpun.com
The Times-News, Twin Falls, Idaho, 30 September 2011
Corporal Punishment in Castleford? Not for Much Longer
By Julie Wootton
Click to enlarge
In the 290-student Castleford School District, an old-fashioned spanking remains one way of controlling student misbehavior.
"We don't use it very often," Superintendent Andy Wiseman said. "But having it there, we know it's possible."
The small-town school district about 25 miles southwest of Twin Falls may have to change its policy on doling out corporal punishment if a bill introduced last week in Congress becomes law.
Rep. Carolyn McCarthy, D-New York, introduced the "Ending Corporal Punishment in Schools Act," which would prohibit the practice in schools nationwide and restrict federal funding for districts that don't comply.
Wiseman said his district would change its policies to comply with the law, if passed.
McCarthy's bill defines corporal punishment as "paddling, spanking and other forms of physical punishment, however light, imposed upon a student."
Idaho is one of 19 U.S. states where it's legal to discipline students using corporal punishment. However, out of a sampling of eight Magic Valley school districts contacted by the Times-News, only the Castleford district allows it.
Brady Dickinson, principal at Canyon Ridge High School, said he didn't think any school districts allowed the practice anymore.
"It's probably not even a discussion that's been had (in the Twin Falls School District) in the last 15 years," he said.
Wiseman estimated the form of punishment is used fewer than five times per year. Other methods to change a student's behavior are used first.
"I don't think it would work for some kids," he said of spanking or other forms of physical punishment. "We don't go there unless parents say they think it's what works."
Corporal punishment is listed in Castleford's policies as one option for discipline, but it carries a list of conditions: there can't be any malice behind the action; there must be due process; a witness has to be present; and the student's parents must be notified both verbally and in writing.
Administrators are also the only ones allowed to use corporal punishment for a student, Wiseman said.
Greg Lowe, superintendent of the Wendell School District, said students can be taught most effectively without using any kind of physical force.
"There are other strategies that are so much more effective and help our students," he said.
The Wendell, Twin Falls, Kimberly, Gooding and Minidoka County school districts are a few examples of districts that don't allow corporal punishment.
Many districts do allow school personnel to restrain a student if his or her behavior puts themselves or others at risk, which would still be allowed under McCarthy's bill.