kctv5.com (KCTV), Kansas City, Missouri, 8 August 2011
To spank or not to spank? That is the question area school districts face
By DeAnn Smith
Digital Content Manager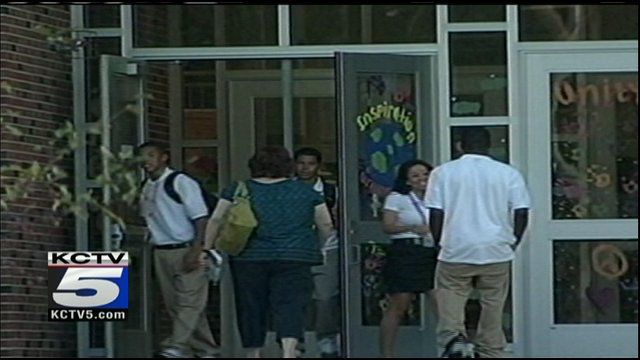 KANSAS CITY, MO (KCTV) -- The 12-inch wooden board that school principals toted hasn't completely gone the way of the Dodo bird, but few districts still spank misbehaving students.
"It's very old-fashioned," said child psychologist Jan Roosa. "Children take it very personally."
He says swatting a child doesn't work and instead creates a rebellious attitude.
"This sets them up for getting down on themselves," Roosa said.
Missouri and Kansas both allow corporal punishment but most area school districts have chosen to ban it as a form of discipline. Sometimes social workers get involved when it is used.
Missouri Rep. Margo McNeil, herself a former educator, has tried to no avail to get the General Assembly to prohibit spanking students.
"I just think it sends the wrong message," McNeil said. "There are many other tools to elicit more positive behavior than to spank."
But some parents want educators to have the option of spanking when other disciplinary measures fail.
"The more you instill in them now, the better off they are tomorrow. The reason our kids are so out of control is no one disciplines anymore," parent Dallas Finch said.
Another parent, Gary Lenoir, concurs.
"I would give them my full support in corporal punishment," Lenoir said.
But other parents disagree.
"I certainly didn't like it and it didn't make me a better student," Bernadette Gittings said.
Tanjoin Webb said discipline starts at home.
"I don't believe people should be spanking children. They might hurt them accidentally," she said.
Some districts seek parents' permission before spanking naughty students. Most school districts post their corporal punishment policy on their website. Go to your school district's website and look for board policies.
School districts allowing spanking include Jefferson City, Knob Noster, Poplar Bluff and Adair County. Those prohibiting include Kansas City, Lee's Summit, Hickman Mills, Liberty, Blue Valley and Shawnee Mission.
Copyright 2011 KCTV. All rights reserved.
---
RELATED VIDEO CLIP

TV news segment, "Schools and corporal punishment" (2 mins 35 secs), KCTV Kansas City, MO, 8 August 2011, of which the above is an abbreviated text version. Heather Staggers reports. Brief comments from an anti-CP "expert" and a politician, plus four parents, two of whom are in favour of paddling. Paddling and non-paddling districts in the local area are listed. The news anchor reminds parents that they can look up their school district's policy on the internet.

HERE IS THE CLIP:

IMPORTANT: Copyright in this video material rests with the original copyright holders. This brief excerpt is reproduced under the "fair use" doctrine for private, non-profit, historical research and education purposes only. It must not be redistributed or republished in any commercial context.
---
---
waka.com (WAKA-TV), Montgomery, Alabama, 24 August 2011
Paddling is Still Allowed in Montgomery Schools and Across Alabama
By Amanda McKenzie
Now that the school year is under way, you may be surprised to know that paddling is still allowed in Montgomery and other schools in Alabama. While some parents are perfectly okay with this form of discipline, if you're not -- there's action you need to take.
For the majority of the country, this kind of punishment has been outlawed. Today only 21 states allow some form of corporal punishment in schools and Alabama is on that list.
"Well I think that's one of the things Alabama got right," parent Kenneth Dickerson said.
"Absolutely not," parent Preston Hornsby said. "I don't believe in spanking at home and I certainly wouldn't want a teacher or school administrator to spank my child."
Dickerson said he remembers the paddle from when he went to school and has used spanking to successfully raise four kids.
"The Bible says if you spare the rod, you spoil the child, and that's my opinion," he said.
More than half of the United States has outlawed corporal punishment, but Alabama still allows it. Only a principal can administer three swats to the buttocks with the permission from the parents.
"A lot of times, if you were to paddle a child for hitting someone else, you're hitting a child for hitting someone," Shannon Schmidt, a Montgomery public school positive behavior coach said. "So is that really teaching them the appropriate way to handle their emotions or handle the situation? So you want to turn it around and talk with them about what they did wrong."
In the last school year, 150 elementary school students and 78 middle school students were paddled. The Montgomery public schools are using a relatively new program called Positive Behavior Intervention, which encourages more discussion and counseling before corporal punishment is used as a last resort.
Corporal punishment such as paddling, will not be given to a student more than twice a semester, and will not be administered to any preschool or kindergarten students.
If you don't want your child paddled, there's action you have to take. Each school year, you must write and deliver a dated letter to the principal's office to opt out of this kind of punishment.
---
RELATED VIDEO CLIP

TV news segment (2 mins 35 secs), "Disciplining in school", WAKA-TV Montgomery (CBS8), Alabama, 24 August 2011, of which the above is a text version. Amanda McKenzie reports. Comments from an anti-CP "expert" and two parents who take differing views. The focus is on Montgomery itself, where paddling is no longer common (statistics are quoted), and where parents can opt their students out of it by sending in a letter each year.

HERE IS THE CLIP:

IMPORTANT: Copyright in this video material rests with the original copyright holders. This brief excerpt is reproduced under the "fair use" doctrine for private, non-profit, historical research and education purposes only. It must not be redistributed or republished in any commercial context.
---
---
The Clay County Progress, North Carolina, 25 August 2011
Policy will ban spanking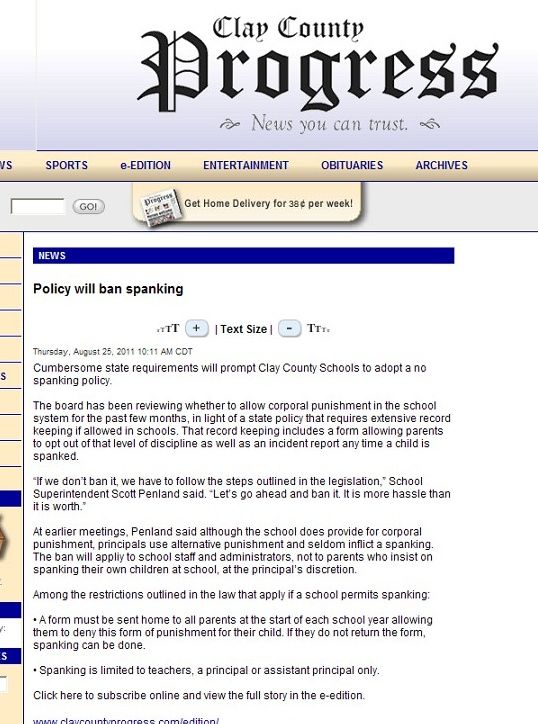 Click to enlarge
Cumbersome state requirements will prompt Clay County Schools to adopt a no spanking policy.
The board has been reviewing whether to allow corporal punishment in the school system for the past few months, in light of a state policy that requires extensive record keeping if allowed in schools. That record keeping includes a form allowing parents to opt out of that level of discipline as well as an incident report any time a child is spanked.

"If we don't ban it, we have to follow the steps outlined in the legislation," School Superintendent Scott Penland said. "Let's go ahead and ban it. It is more hassle than it is worth."

At earlier meetings, Penland said although the school does provide for corporal punishment, principals use alternative punishment and seldom inflict a spanking. The ban will apply to school staff and administrators, not to parents who insist on spanking their own children at school, at the principal's discretion.

Among the restrictions outlined in the law that apply if a school permits spanking:

-- A form must be sent home to all parents at the start of each school year allowing them to deny this form of punishment for their child. If they do not return the form, spanking can be done.
-- Spanking is limited to teachers, a principal or assistant principal only.
---
Follow-up: 6 October 2011 - Board of education votes to ban corporal punishment
---
---
The McDowell News, North Carolina, 25 August 2011
New school rules cover sex offenders, student behavior, attire, more
By Britt Combs
(extracts)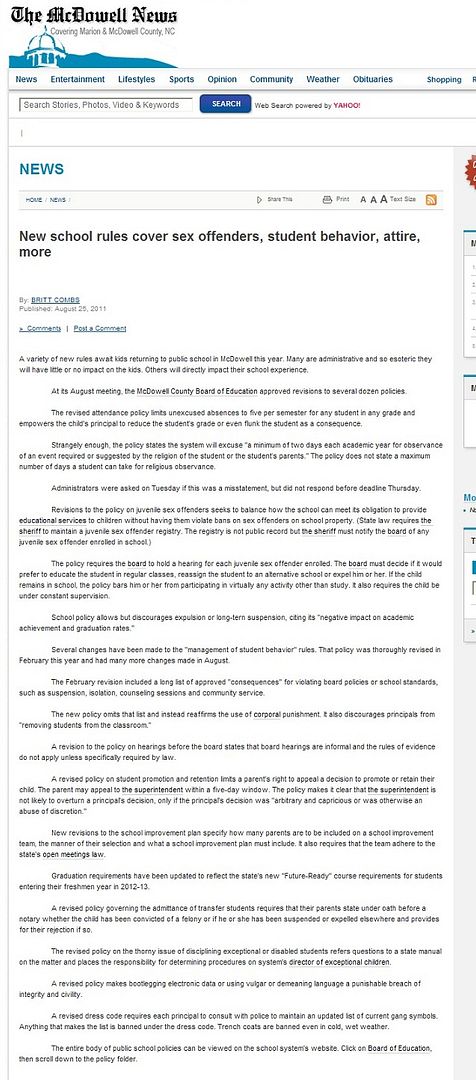 Click to enlarge
A variety of new rules await kids returning to public school in McDowell this year. Many are administrative and so esoteric they will have little or no impact on the kids. Others will directly impact their school experience.
At its August meeting, the McDowell County Board of Education approved revisions to several dozen policies.
[...]
School policy allows but discourages expulsion or long-term suspension, citing its "negative impact on academic achievement and graduation rates."
Several changes have been made to the "management of student behavior" rules. That policy was thoroughly revised in February this year and had many more changes made in August.
The February revision included a long list of approved "consequences" for violating board policies or school standards, such as suspension, isolation, counseling sessions and community service.
The new policy omits that list and instead reaffirms the use of corporal punishment. It also discourages principals from "removing students from the classroom."
A revision to the policy on hearings before the board states that board hearings are informal and the rules of evidence do not apply unless specifically required by law.
[...]
The Mcdowell News © Copyright 2011 Media General Communications Holdings, LLC. A Media General company.