Corpun file 23913 at www.corpun.com
The Port Arthur News, Texas, 8 March 2012, p.1
'A last resort'
State, local school district allow corporal punishment
By Brandon Janes
The News staff writer
Click to enlarge
As the Port Arthur police investigates an alleged assault by an administrator at a Port Arthur ISD elementary School, the district maintains a policy that permits principals to use corporal punishment in schools, under certain guidelines.

PAISD deputy superintendent Mark Porterie confirmed that corporal punishment was used at Travis Elementary February 29, as previously reported, however he referred all questions about the incident to PAPD.

"This is not a normal occurrence that we are dealing with," said Port Arthur Police Department detective Keith May. "We are looking to identifying her rights as an administrator and looking to understand whether she superseded [sic] her rights as an administrator."

Meanwhile, corporal punishment, as a policy chosen by the school district, continues to be widespread in public schools across the state.

Texas is one of 20 states that still allows corporal punishment, according to the U.S.  Department of Education.

"Most of our districts use it as a last resort," said Curtis Clay, assistant director of the Texas School Safety Center, a state-funded organization that provides training for school safety. "Most of the large school districts have a policy against it," said Clay. "Others may have policies but rarely use it."
Click to enlarge
Corporal punishment is permitted as a form of discipline in Port Arthur ISD schools, according to the student handbook, but under guidelines that include filling out paperwork and following a set of rules.

According to the Port Arthur local policy, "Corporal punishment shall be administered only by an employee who is the same sex as the student."

Other rules include, "The instrument to be used in administering corporal punishment shall be approved by the principal."

Port Neches-Groves ISD and Nederland ISD have similar policies allowing corporal punishment in their schools. According to Clay, 40 of the 1,025 school districts in Texas have banned corporal punishment, however Texas continues to lead the country in corporal punishment.

In the 2006-2007 school year more than 49,000 Texas students were paddled, according to the U.S. Department of Education. The issue came up in the 82nd Texas Legislature and a new corporal punishment bill was passed that allowed the discipline technique to be continue in public schools.

"House Bill 359 (the new corporal punishment law) was a contentious bill on the house floor," said Ramiro Canales, assistant executive director of government relations for the Texas Association of School Administrators. "What was so unique about that bill was that it gave parents the option to opt out," said Canales.

According to the Texas education code and PAISD, PN-GISD and NISD local corporal punishment policies, the discipline technique may be administered as long as parents are given the option to submit a signed statement prohibiting the use of corporal punishment on their child.

Parents must re-submit the statement each school year.

"School districts have the option of adopting the policy or not," said Canales. "It is an issue of parental rights versus school's rights."
---
---
Corpun file 23923 at www.corpun.com
StateImpact Florida, National Public Radio, 12 March 2012
Why Florida Schools Want the Right to Paddle Misbehaving Students
By Sarah Gonzalez
The wooden paddle sits on the principal's desk at Sneads High School in Jackson County, Fla.
Spanking in school may seem like a relic of the past.
But in Florida, students from pre-schoolers to high school seniors are still being paddled by teachers and principals.
In parts of the state, mostly in the rural north, getting spanked at school, on your butt, with a wooden or fiber-glass board, is just part of being a misbehaving student.
"I been getting them since about first grade," said Lucas Mixon, now a junior at Holmes County High School in Bonifay, Fla.
"It's just regular. They tell you to put your hands up on the desk and how many swats you're going to get."
Florida is one of 19 states that still allow public schools to paddle, according to the Center for Effective Discipline.
The most recent data shows 3,661 students were spanked in 2010, according to the Florida Department of Education.
Most schools districts in Florida have opted out of using corporal punishment. But almost every county in rural north Florida have policies to allow schools to paddle students.
State Rep. Ari Porth, a Democrat, sponsored a bill to ban school corporal punishment statewide.
He said where students live should not determine whether they get spanked at school.
"When I heard that this practice still exists, I was mortified," Porth said. "No child should not feel completely safe when they go to school."
But the bill failed. It never even reached a committee in the Florida legislature.
And that's just fine for parents like Bud Glover of Bonifay, Fla., a small town 15 miles from the Alabama border.
It's a place where tradition is valued and paddling is considered tradition.
"I got my butt beat and I know what's right and wrong. And my children are going to know what's right and wrong, Glover said.
Glover represents the feelings of many parents in this part of Florida who support such punishment.
"I think the problem with society is we quit paddling."
He says the state should not tell parents in his small town how to discipline their children.
But in South Florida, student Camila Cacho, a junior at Miami Beach High School is astonished that the state still allows the practice.
"That's so dumb, why would we allow people to hit students?" Cacho said. "I would feel embarrassed. That's degrading."
Students Make Paddles in Wood Shop
The instrument often used in school spankings is a wooden or fiber-glass paddle.

Sarah Gonzalez / StateImpact
Holmes County High School principal Eddie Dixson with senior Cole Long. Long thinks all schools should paddle students to teach kids "discipline and respect."
There are no statewide regulations on what the paddles should look like, so each school district creates their own.
The paddle at Holmes County High School looks like really short row-boat paddle. It's about 16 inches long, 5 inches wide and a half an inch thick.
You can't buy them at a store, so Holmes County High asks woodshop students to make it.
Senior Cole Long has never made a paddle, but he's been on the receiving end of one.
He says he's been paddled for things like, "throwing papers, throwing pencils, a couple times for cussing, back-talking.
"I used to be a really wild child," he said.
A couple months ago, Long won $7,200 at a bull-riding competition in Texas. But even for a bull-rider, Long says the paddle stings, depending on who's doing the spanking.
"The assistant principal, he hurts, he hurts," Long said. "I've had it plenty of times from him and he gives it to us a little bit more."
Long thinks all schools should paddle students because he says the spankings teach students discipline and respect. And much of the community agrees.
Paddling without Parental Consent
But every once in a while, a parent from one of these small towns will object, like Tenika Jones of Levy County.
Last year, the principal at Joyce Bullock Elementary sent home a waiver asking parents for permission to paddle students.
Jones didn't sign it. But her son, Geirrea Bostick, was paddled anyway.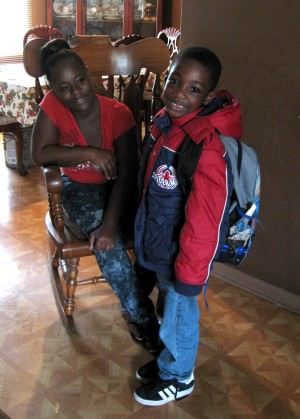 Sarah Gonzalez / StateImpact Florida
Gierrea Bostick, 6, was paddled on his second week of pre-school without the consent of his mom, Tenika Jones. The paddles left welts on Gierrea's bottom and Jones has filed a notice to sue the Levy County School District.
He was five at the time. It was his second week of pre-school.
Gierrea says the principal spanked him twice for slapping another boy on the school bus. He says the principal first told him to take his jacket off.
"Then she spank me on my booty," Gierra said.
"I cried all the way home. It was really hard."
The paddling left welts on Gierrea's bottom and his mom was outraged.
"If I would have hit my son how she hit him, I would have been in jail, I would have been on the news, I would have been messed up trying to get my children back," Jones said. "She whipped him up and to me that's child abuse."
Jones has filed a notice to sue the Levy County School District for paddling her son without her permission.
But Robert Rush, a civil right attorney in Gainesville says state law does not require schools to get parental consent.
"If the school board and the principal specifically authorize corporal punishment, it can be administered lawfully against the parents' wishes," Rush said.
Rush says the school principal sets the policy for paddling. And if the school acts in accordance with that policy, then "it's very hard to sue them," he said.
"They're immune both civilly and criminally by law."
But Rush says attorneys could argue excessive force was used.
The school's principal, Jamie Handlin, and the school district would not comment because they're in pre-litigation.
But Handlin told the Williston Pioneer newspaper, "Nothing was violated.
"I disciplined out of love not anger," she said.
Supporters: Paddling Keeps Kids in School
School are the only public institution where hitting is allowed. It's not allowed in prisons, hospitals, mental institutions or the military.
The most recent statistics show that 223,190 students in the U.S. received corporal punishment in 2006, according to the Center for Effective Discipline.
But school corporal punishment in general has been on the decline.
New Jersey was the first state to ban school corporal punishment in 1867.

Sarah Gonzalez / StateImpact Florida
The paddle at Madison County Central elementary and middle school hangs on the door of the principal's office, though he does not administer the punishment himself. The fiber-glass paddle was made by a member of the community.
The next state, Massachusetts, didn't follow until more than 100 years later, when child protection laws started popping up and paddling students starting falling out of fashion.
New Mexico is the most recent state to ban paddling just last year.
Deborah Sendek, a clinical child psychologist with the Center for Effective Discipline, says many studies on school corporal punishment show paddling does not deter students from misbehaving.
"What we tend to see is the students who are paddled are paddled repeatedly throughout the course of the academic year and the following year and the following year," Sendek said. "That's one of the things that tells us it's not effective."
And Sendek says paddling can have negative short and long term physical and psychological consequences.
"The rule in school may be that we only hit for certain things and we only hit with a paddle," Sendek said. "But if we have a culture where we believe its okay to hit, then it can be generalized."
But supporters of school corporal punishment argue that paddling keeps kids in school, because the alternative for students with bad behavior would be suspension.
Willie Williams, principal at Madison County Central elementary and middle school, agrees.
The only problem is he can't bring himself to administer the punishment. And when others do it, he says he can't watch.
"I'm a softy really at heart," Williams said. "I actually have to walk out."
As principal, Williams could ban the practice at his school. And Williams said he would, "if I believed in that. But I am a part of the community."
And Williams says this community supports school corporal punishment. And in rural Florida that's not likely to change anytime soon.

Jessica Pupovac / StateImpact
Most districts do not paddle students, and the ones that do are largely located in Northern Florida.
---
---
Corpun file 23965 at www.corpun.com
The Fayetteville Observer, North Carolina, 21 March 2012
Robeson, Columbus school systems are North Carolina leaders in paddling students
By Emery P. Dalesio
The Associated Press
Click to enlarge
RALEIGH -- Fewer North Carolina children are being paddled, an increasing trend after one of the school districts that most often used corporal punishment dropped the practice this month.
A report to the state school board last month showed that two school districts accounted for 62 percent of the 891 uses of corporal punishment in the 2010-11 academic year that ended last June. Robeson County led the state's handful of remaining counties that mete out physical pain to discipline children with 359 cases, followed by Columbus County with 193.
Columbus County schools suspended paddling earlier this month, days after seeing the collected data, Superintendent Alan Faulk said Tuesday.
"That just caught the attention of board members," Faulk said of the state report. "We want to utilize other forms of discipline."
North Carolina is among fewer than 20 states that allow paddling. Only about a dozen of the state's 115 school districts practice corporal punishment. Gaston County is one of several school districts on the 2010-11 report that have since dropped physical punishment.
The state school board has stayed out of the question of whether to employ corporal punishment, leaving that decision to local school districts. State school board chairman Bill Harrison said he hopes the General Assembly will ban the practice, while state schools Superintendent June Atkinson said positive reinforcement is a better technique for molding children.
State law defines corporal punishment as intentionally inflicting physical pain to discipline a student. A law that took effect this academic year allowed a parent or guardian who objected to paddling to block administrators from administering it on their child. That opt-out option was available in the 2010-11 school year for the parents of disabled students.
During the 2009-10 school year, there were 1,160 cases of corporal punishment statewide, led by Robeson County schools with 296 cases, the Department of Public Instruction said. There were 990 cases in the 2008-09 academic year, led by Burke County with 329 cases.
"If there is any good news, it is that corporal punishment is being used less and less in our public schools," said Tom Vitaglione, who authored a report on the state data for the advocacy group Action for Children North Carolina.
Paddling has its supporters, including parents, who believe a little pain can correct childhood misbehavior, Faulk said.
In 2010-2011, when Robeson County public schools led the state in cases of corporal punishment, parents or guardians were required to give written consent for their child to be paddled and that remains the policy today, assistant superintendent DeRay Cole said.
Robeson County's high use of paddling helps explain why American Indians students, who make up 42 percent of the school district in the heartland of the Lumbee tribe, made up 311 cases. That trailed only white students, who represented 331 incidents last year.
By far, the most common reason schools gave for paddling a student last year was disruptive behavior, cited in 40 percent of the 891 incidents, the state report said. Other reasons given include aggressive behavior, insubordination, inappropriate language, and cellphone use, the report said.
Copyright - The Fayetteville Observer, Fayetteville, N.C.