guardian.co.uk (web only, not in print version of The Guardian), London, 4 April 2012
Pupil behaviour worse since abolition of caning, warn teachers
Corporal punishment should not be reintroduced but ministers have failed to suggest a deterrent as effective, conference hears
By Jessica Shepherd
Education correspondent

School canes being made during the last century. Corporal punishment was outlawed in schools in 1987. Photograph: Hulton Getty/Getty Images [Note by C.F.: According to the picture agency, this is worker Mrs Edith Hook testing canes at a factory in Hayward's Heath, Sussex, on 28 June 1965.]
Children's behaviour has grown considerably worse since the abolition of corporal punishment 25 years ago, teachers have warned.
Successive governments have failed to introduce an effective way to deal with misbehaviour since striking pupils with a cane or slipper was outlawed in 1987, the annual conference of the Association of Teachers and Lecturers (ATL) heard.
Teachers said detentions fail to deter pupils, while exclusions and suspensions are only handed out in the most serious cases because inspectors take a dim view of schools that regularly exclude children.
"The forms of discipline currently available to teachers for dealing with inappropriate behaviour remain totally inadequate," Julian Perfect, a London teacher told the conference.
Perfect said while he did not support the reintroduction of corporal punishment, it was worth noting there had been "no attempt to introduce any new method of sanction into schools -- that has the same effect as a deterrent for inappropriate behaviour as corporal punishment had."
Children's behaviour has deteriorated further over the past few years, he said.
"Persistent, low-level rudeness and disruption seems to have become a fact of life in education today and no longer raises eyebrows or seems to merit special attention," Perfect said, quoting a secondary school teacher who did not want to be named.
Ministers -- past and present -- have failed to suggest "any novel methods for disciplining pupils" that give teachers "meaningful authority", Perfect said.
The Education Act 2011 gives teachers the right to search pupils for banned items, such as mobile phones. The law also removed a requirement to give parents a day's notice if their child was handed a detention.

Click to enlarge
Mary Bousted, ATL's general secretary, warned that pupils were becoming spoilt "little Buddhas".
She said parents were failing to define boundaries for their children. "Far too many children are waited on hand and foot. They don't make their beds or do the Hoovering," she said. "It doesn't do them any favours if you make them little Buddhas. It certainly doesn't help them in school because they end up not understanding their responsibilities to other children."
She added that children had begun to believe their teachers were there to "serve them".
A poll of 814 teachers, conducted by ATL and published last week, found a third had been hit or kicked by a student in the last academic year.
© 2012 Guardian News and Media Limited or its affiliated companies. All rights reserved.
---
The Daily Telegraph, London, 5 April 2012, p.8
Running wild, the idle pupils spoilt by their middle-class parents
Little Buddhas are never asked to help at home, says teachers' leader
By Graeme Paton
Education Editor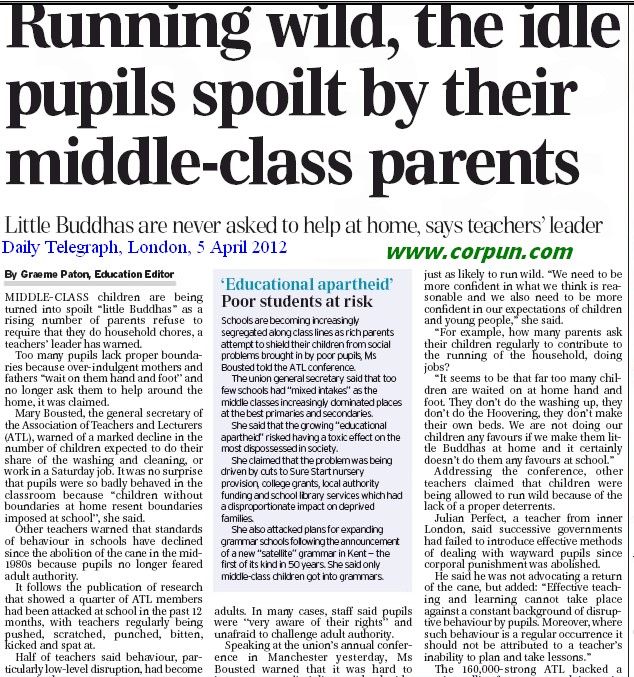 Click to enlarge
MIDDLE-CLASS children are being turned into spoilt "little Buddhas" as a rising number of parents refuse to require that they do household chores, a teachers' leader has warned.
Too many pupils lack proper boundaries because over-indulgent mothers and fathers "wait on them hand and foot" and no longer ask them to help around the home, it was claimed.
Mary Bousted, the general secretary of the Association of Teachers and Lecturers (ATL), warned of a marked decline in the number of children expected to do their share of the washing and cleaning, or work in a Saturday job. It was no surprise that pupils were so badly behaved in the classroom because "children without boundaries at home resent boundaries imposed at school", she said.
Other teachers warned that standards of behaviour in schools have declined since the abolition of the cane in the mid-1980s because pupils no longer feared adult authority.
It follows the publication of research that showed a quarter of ATL members had been attacked at school in the past 12 months, with teachers regularly being pushed, scratched, punched, bitten, kicked and spat at.
Half of teachers said behaviour, particularly low-level disruption, had become worse in the past two years.
The biggest problems cited by teachers included children failing to pay attention, showing disrespect, using mobile phones in class and directing verbal abuse at adults. In many cases, staff said pupils were "very aware of their rights" and unafraid to challenge adult authority.
Speaking at the union's annual conference in Manchester yesterday, Ms Bousted warned that it was hard to impose proper discipline at school without the support of parents.
She also said that "bad behaviour isn't just the preserve of poor children and parents", saying middle-class pupils were just as likely to run wild. "We need to be more confident in what we think is reasonable and we also need to be more confident in our expectations of children and young people," she said.
"For example, how many parents ask their children regularly to contribute to the running of the household, doing jobs?
"It seems to be that far too many children are waited on at home hand and foot. They don't do the washing up, they don't do the Hoovering, they don't make their own beds. We are not doing our children any favours if we make them little Buddhas at home and it certainly doesn't do them any favours at school."
Addressing the conference, other teachers claimed that children were being allowed to run wild because of the lack of a proper deterrents.
Julian Perfect, a teacher from inner London, said successive governments had failed to introduce effective methods of dealing with wayward pupils since corporal punishment was abolished.
He said he was not advocating a return of the cane, but added: "Effective teaching and learning cannot take place against a constant background of disruptive behaviour by pupils. Moreover, where such behaviour is a regular occurrence it should not be attributed to a teacher's inability to plan and take lessons."
The 160,000-strong ATL backed a motion calling for new research into suitable alternative disciplinary measures to alleviate the "debilitating effects on children who want to learn and teachers who want to teach".
---
---
The Guardian, London, 17 April 2012
Caning in schools
How will the coalition cope with corporal punishment?
Cartoon by Ros Asquith
© 2012 Guardian News and Media Limited or its affiliated companies. All rights reserved.
---
Note by C.F.: For the avoidance of doubt, this is a joke about the 2010-2015 Conservative/Liberal Democrat UK coalition government. There has been gossip that some Conservative Ministers might privately wish they could reintroduce corporal punishment in schools, but the government certainly has no plans to attempt to do so and, even if it did, there is not the smallest prospect of any such move securing a parliamentary majority.