The Daily Telegraph, London, 15 May 2012
Notebook
The old boys get the cane at our prep school reunion
How we chattered happily away about the whackings, the liver every Tuesday and the school's obsession with our bowels.
By Oliver Pritchett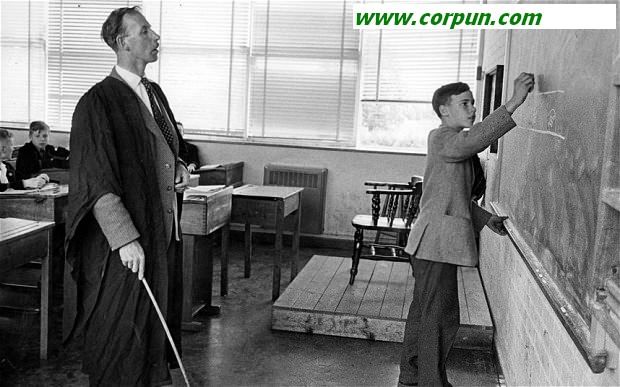 The headmaster produced the cane used by the teachers on us in the olden days, and we passed it around with great ceremony
[stock photo used in web version only, not in print edition]
I used to be scornful of people who went to reunions. They were living in the past, wallowing in old glories, refusing to face up to today's realities and, worst of all, boring on and on about things that no longer matter. As I've got older, curiosity has overcome my sense of the ridiculous. What did ever happen to old Cartwright?
The other day, I confess, I actually went to an over-60s' reunion lunch at a London restaurant for old boys of the prep school I left 60 years ago. There were about 30 of us, furtively eyeing the names on each other's lapel badges, looking around the room for a half-recognised face and breezily inquiring, "What year were you?"
I had hardly taken three steps into the room before I was waylaid by a jovial gent who said he remembered me as the White Rabbit in a school production of Alice in Wonderland. Oh, those glory days.

Click to enlarge
In an old school photograph I spotted the gym master who once held me by my ankles over the banisters of the spiral staircase, three floors up, as a cruel joke. I was terrified then, but now am inclined to brag about it. In our day the school was formal and basic, but now, of course, it's co-ed and caring, successful and fashionable.
It was kind of the headmaster to arrange the lunch and set us old codgers free to roam in reminiscence. Our stories meant nothing to him, but he could look round the table and see all of us grey-haired, pink-faced chaps chattering happily away about the whackings, the liver on Tuesday, the school's obsession with our bowels, the master who scrawled on our faces with red ballpoint pen when we got Latin grammar wrong, and the rice pudding with a few currants in it, known to us as Retreat from Moscow.
Eventually we shut up for long enough to allow him to make a speech and at the end of this he suddenly produced the cane used by the teachers on us in the olden days. It was an elegant, curved and slender piece of work, shiny with swishing. We handed it round the table with great ceremony, from old boy to old boy, and then the happy chattering started up again.
© Copyright of Telegraph Media Group Limited 2012
---
Note by C.F.: The photo is nicely evocative of a 1950s boys' private school, but we should not assume -- as the Telegraph's picture editor evidently has -- that what the schoolmaster is holding is necessarily a punishment cane. I think it is more likely to be a pointer, for pointing at the blackboard. For a teacher at such a school to wave a cane around when not actually using it to punish somebody with, though not completely unknown, would have been frowned upon, as would using it to punish for errors in schoolwork, as is possibly implied here.
Illustrated article: School corporal punishment in Britain
Other external links: UK school CP
Archive 2012: UK corporal punishment