Mail Online (web only), 30 March 2012
Headmaster only permitted to use a 'thin flexible cane'
Six blows on the rump! Extraordinary records reveal how corporal punishment was meted out in our schools
Youngsters were given smacks and slaps
Items discovered by head as he tidied school basement
Bad behaviour including biting ears and repeated acts of violence
By Phil Vinter
It may seem hard for youngsters of today to believe, but just 30 years ago badly behaved schoolchildren as little as six could expect 'six blows on the rump'.
Scribbled notes from a headmaster reveal how one unruly pupil guilty of 'bullying, vandalism and general acts of thuggery' was disciplined in this manner.
The punishments dealt out in the 1970s and 80s were detailed in a book entitled 'Record of Corporal Punishment' found by headmaster Mike Wood as he looked for artefacts to help with his primary school's centenary celebrations.
The fascinating previously unseen records of Greenfield Primary in Oldham, Greater Manchester, illustrate how corporal punishment was dished out to naughty pupils in Britain's schools.
Other youngsters were given smacks and slaps for a range of misdemeanours including biting, an attack on a girl's neck, 'continual disruptive behaviour' and 'repeated acts of vandalism and indiscipline.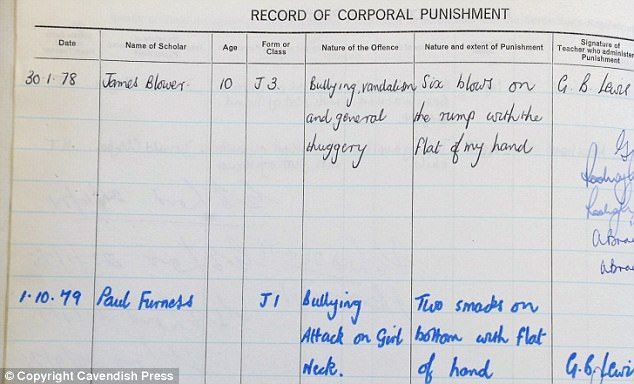 Learning the hard way: The record of corporal punishment from Greenfield Primary School in the late 1970s records how 'six blows on the rump' and 'two smacks on the bottom' were dished out as punishments to naughty children
The book was accompanied by a list of rules set down by council officials which said that corporal punishment could only be inflicted for 'very grave offences until other methods have been tried and failed.'
The rules stated it could only be used as a method of disciplining children by the headmaster or teachers with at least three years experience using a 'thin flexible cane' supplied by the education authority.
All details of canings and actual number of slaps or smacks had to be recorded in the book and any girls deemed to have been naughty would have to be caned by women teachers with relevant teaching experience.
Other old school artefacts found by Mr Wood as he tidied the school's basement included the original building plans, the first class register from 1912 and a ledger detailing the £3,959 it cost to build the school in the run up to World War One.
The hand-drawn plans even show a dividing wall across the school and playground which separated the boys from the girls to prevent them from mixing.

Tough love: These entries from the early 80s show that one pupil received 'three blows with back of hand on rump' and another was given 'one slap on back of leg'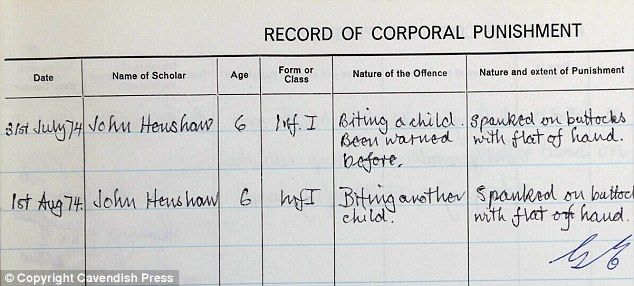 Troublesome tykes: These two six-year-olds were both 'spanked on the buttocks with the flat of the hand' in 1974 for biting another child [Actually there are not "two six-year-olds" here -- they are plainly the same boy spanked twice on two consecutive days -- C.F.]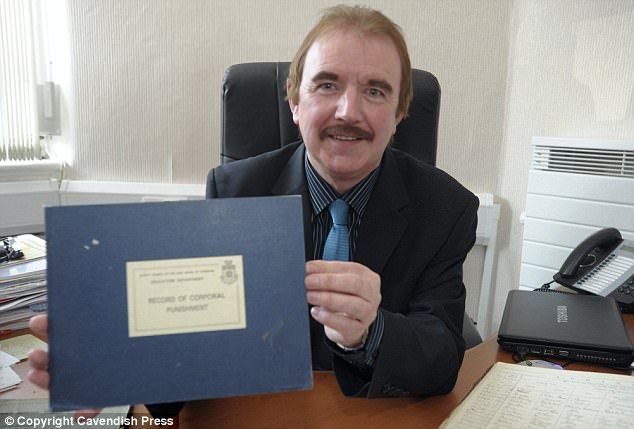 Find: Current Head Teacher Mike Wood couldn't believe his luck when he discovered the school's Record of Corporal Punishment book from the 1970s and 80s in the school's cellar

Rules and regulations: West Riding County Council rules on corporal punishment show that only the Head Master was permitted to administer force and that only a 'flexible cane' should be used
Also discovered were old photographs of the first pupils at the school which was previously based a local Methodist church.
Mr Wood who has been headteacher at the 433 pupil building since 1998 said: 'Things have totally changed here over the years and it is fascinating to look back.
'The Corporal Punishment book recorded when a child was punished, who by and what the punishment was and it would be signed off by the teacher that had implemented that punishment.
'One of the things a child had been punished for was 'biting and general thuggery.'
'Now it's more mutual respect, we listen to the children and value their opinion and they respect us for that. Children used to have to sit in silence years ago but now at school children collaborate, help each other and they're listened to more.
'We seek their opinions and they feel more involved. I think that makes for a really happy environment.'
[...]
As well as the cane, the slipper was also widely used in schools as a less formal alternative and sometimes a leather strap was used in the hand.
But in 1987 corporal punishment was outlawed in state schools by Parliament after opponents said it was tantamount to 'violence or abuse.' In other private schools it was banned in 1999.
Government research has since suggested many Britons believe that the removal of corporal punishment in schools has been a contributory factor in what is perceived to be a general decline in pupil behaviour.
A 2008 poll of 6,162 UK teachers by the Times Educational Supplement found that one in five teachers, and 22% of secondary teachers, would still back the use of caning in extreme cases.
© Associated Newspapers Ltd
---
Note by C.F.: Contrary to the silly headline on this sloppily written piece, there is of course nothing at all "extraordinary" about these documents, which are just standard school punishment books such as are held in various local archives (although one is not nowadays supposed to be allowed to look at them until they are 100 years old), recording some fairly unremarkable punishments. The only unusual thing here is that the Daily Mail, cavalier as ever, has reproduced confidential records from as recently as 1982 without blanking out the names -- probably a contravention of the Data Protection Act.