The Straits Times, Singapore, 6 January 2012, p.B8
Teen gets jail and cane for rioting with weapons
He is the sixth person to be dealt with over gang fight that left one man dead and another injured
By Elena Chong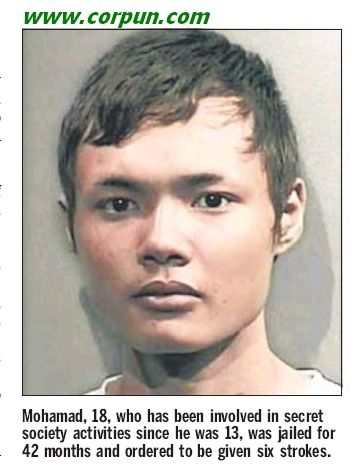 THE teen was told to show up at Chill Bar -- not for a night of carousing, but to prepare for a showdown with other gangs.
In the ensuing confrontation in the early hours of July 23, 2010, a 28-year-old man suffered multiple injuries and later died in hospital while a 41-year-old was slashed in the back.
Yesterday, Mohamad Ja'afar Zakaria, 18, was jailed for 42 months and ordered to be given six strokes of the cane.
He is the sixth person to be dealt with so far in the incident.
Mohamad, who had been involved in secret society activities since he was 13, admitted rioting with a deadly weapon in an unlawful assembly near Cuppage Plaza.
Deputy Public Prosecutor Peggy Pao-keerthi Pei Yu said a member of Mohamad's gang, which operated in Marsiling, had rounded up fellow members including Mohamad to "stand by" at Chill Bar in Cuppage Plaza that night for a fight with two gangs.
They were told by another member that weapons had been prepared and were kept in a van parked nearby.
Mohamad and four others waited outside Cuppage Plaza for their rivals to turn up.
About 10 to 15 minutes later, he saw 20 to 30 people walking towards them from Orchard Road. Those in front had parangs and some were yelling Hokkien vulgarities.
He ran towards Kramat Road and picked up a knife from the van. In the confrontation, he chased a rival gang member down Koek Road and slashed the victim's back. Before that, he saw one of the men in a group of about five slashing a person lying on the floor inside Orchard Plaza.
The court heard that Mohamad and his friends later took a cab to Boat Quay. That night, he was detained when he tried to leave for Malaysia via Woodlands Checkpoint.
DPP Pao-keerthi highlighted the significant role played by Mohamad in the secret society-related armed confrontation. She said a strong signal that such anti-social and corrosive behaviour would not be condoned must be sent.
A reformative training sentence would not be enough to express society's disapproval of his conduct, which displayed a disturbing level of bloodthirstiness, she said.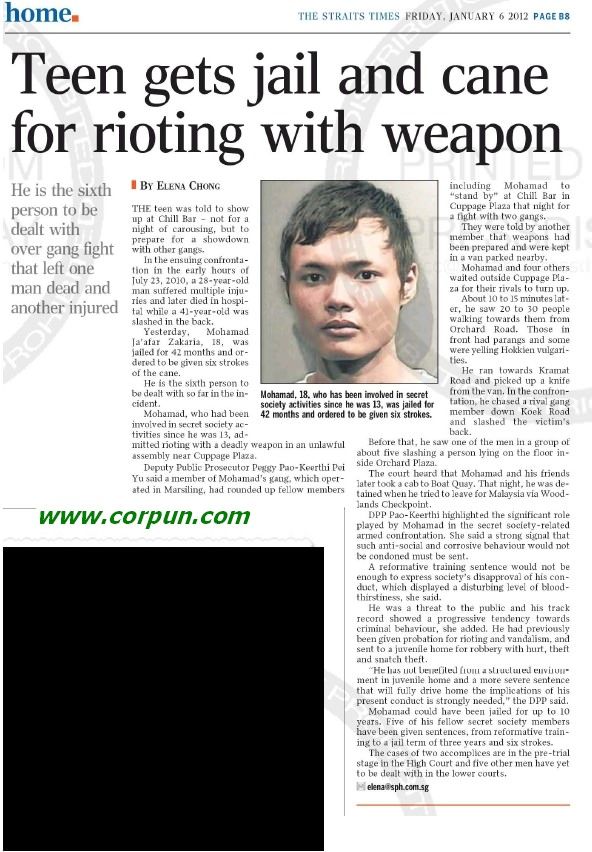 Click to enlarge
He was a threat to the public and his track record showed a progressive tendency towards criminal behaviour, she added. He had previously been given probation for rioting and vandalism, and sent to a juvenile home for robbery with hurt, theft and snatch theft.
"He has not benefited from a structured environment in juvenile home and a more severe sentence that will fully drive home the implications of his present conduct is strongly needed," the DPP said.
Mohamad could have been jailed for up to 10 years. Five of his fellow secret society members have been given sentences, from reformative training to a jail term of three years and six strokes.
The cases of two accomplices are in the pre-trial stage in the High Court and five other men have yet to be dealt with in the lower courts.
---
---

The Straits Times, Singapore, 12 January 2012, p.B11
Worker attacked foreman with pole
By Elena Chong
A CONSTRUCTION worker was yesterday sentenced to nine months' jail and three strokes of the cane for attacking his foreman with a metal pole.
Chinese national Wang Fei, 34, pleaded guilty in a district court to causing hurt with a dangerous weapon.
The court heard that on Dec 5 last year, foreman Liu Xijun had commented that Wang was not doing well in his work while signing his time card at a construction site in Seletar Aerospace Park.
Wang was upset by his remark and found a 43cm-long metal pole that he wrapped with a safety vest and kept in a tent shelter, intending to use it later.
Two hours later, at about 7pm, he retrieved the weapon and waited for Mr Liu to appear.
When he saw Mr Liu walking out of the worksite, he unwrapped the pole and used it to hit the foreman on his head and left shoulder.
Mr Liu, 42, fled and was chased a short distance before Wang was stopped by fellow workers. The police were summoned, and Mr Liu was taken to hospital with minor injuries.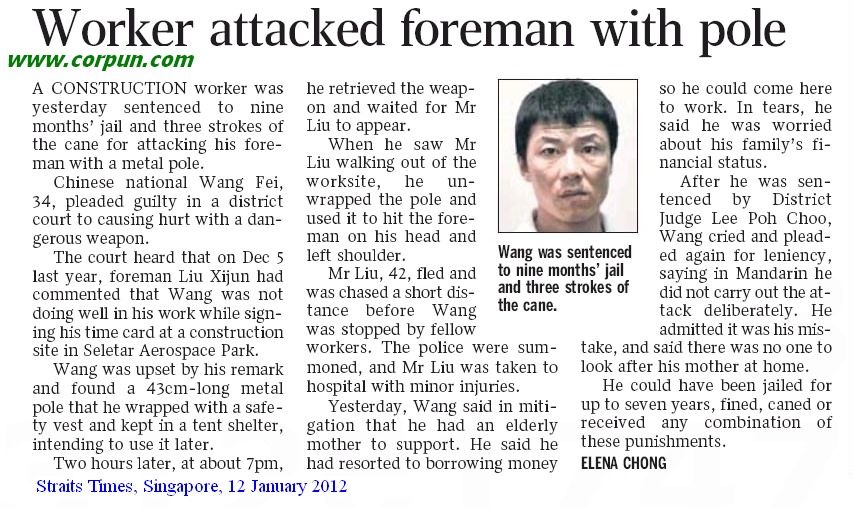 Click to enlarge
Yesterday, Wang said in mitigation that he had an elderly mother to support. He said he had resorted to borrowing money so he could come here to work. In tears, he said he was worried about his family's financial status.
After he was sentenced by District Judge Lee Poh Choo, Wang cried and pleaded again for leniency, saying in Mandarin he did not carry out the attack deliberately. He admitted it was his mistake, and said there was no one to look after his mother at home.
He could have been jailed for up to seven years, fined, caned or received any combination of these punishments.
---
---

The Straits Times, Singapore, 19 January 2012, p.A4
IT analyst escapes rape charge
He forced himself on woman, but is accused of aggravated outrage of modesty instead
By Fiona Low
A MARRIED man and a woman met online and chatted over the Internet for two months before deciding to get together in person.
On their first date, they went to a karaoke pub and then walked on the beach on Sentosa, where they kissed.
Ng Han Tong, 37, tried touching the 31-year-old woman inappropriately that night, but she resisted and he stopped.
They were chatting online the next day when he suggested that they meet again, and assured her they would only kiss. She agreed to see him.
But their second date in two days ended with the woman resisting his advances in a Chinatown hotel room before telling the police that he had raped her.
Ng, also known as Jimmy Ng, was first charged with rape, but the prosecution later reduced the charge to one of aggravated outrage of modesty.
The IT analyst pleaded guilty and was yesterday sentenced to three years in jail and six strokes of the cane.
The maximum penalties for the offence are a jail term of between two and 10 years and caning.
The court heard that Ng and the woman met online in January 2010 and went on their first date in March.
On their second date, the following day, they went to a pub before checking into the Hotel 81 Cosy in Jiak Chuan Road.
The court heard that the woman agreed to go to the hotel because he said they would just spend time kissing.
Once in their hotel room, they began kissing. But Ng then progressively removed all of the woman's clothes, even though she tried to push him away.
Ng took off his clothes too, and ignored the woman when she said she did not want to have sex with him.
The court heard that Ng kept trying to persuade her to perform various sex acts and she resisted most of his suggestions.
At one point when he was on top of her, Ng ignored her attempts to push him away and went ahead to have sex. He did not use a condom.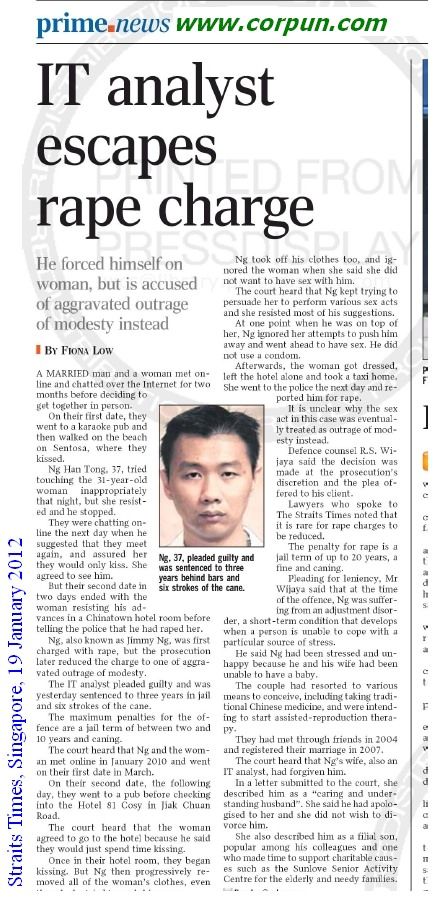 Click to enlarge
Afterwards, the woman got dressed, left the hotel alone and took a taxi home. She went to the police the next day and reported him for rape.
It is unclear why the sex act in this case was eventually treated as outrage of modesty instead.
Defence counsel R.S. Wijaya said the decision was made at the prosecution's discretion and the plea offered to his client.
Lawyers who spoke to The Straits Times noted that it is rare for rape charges to be reduced.
The penalty for rape is a jail term of up to 20 years, a fine and caning.
Pleading for leniency, Mr Wijaya said that at the time of the offence, Ng was suffering from an adjustment disorder, a short-term condition that develops when a person is unable to cope with a particular source of stress.
He said Ng had been stressed and unhappy because he and his wife had been unable to have a baby.
The couple had resorted to various means to conceive, including taking traditional Chinese medicine, and were intending to start assisted-reproduction therapy.
They had met through friends in 2004 and registered their marriage in 2007.
The court heard that Ng's wife, also an IT analyst, had forgiven him.
In a letter submitted to the court, she described him as a "caring and understanding husband". She said he had apologised to her and she did not wish to divorce him.
She also described him as a filial son, popular among his colleagues and one who made time to support charitable causes such as the Sunlove Senior Activity Centre for the elderly and needy families.