The Straits Times, Singapore, 2 December 2011, p.B12
Jail and caning for suicidal slasher
Chef drank bleach after sex with woman, then turned on her after his suicide bid failed
By Elena Chong
Court correspondent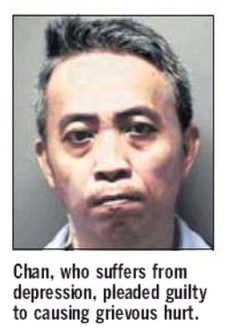 A CHEF who stabbed a woman three times after a failed suicide bid was yesterday jailed for 4½ years and ordered to be given six strokes of the cane.
Chan Hong Kok, 41, pleaded guilty to causing grievous hurt to Chinese national Yu Xiaofang, who was here on a social visit pass.
The attack occurred at the Fragrance Hotel Imperial in Penhas Road, off Lavender Street, on the morning of Sept 9.
Deputy Superintendent of Police Lim Siew Choo told the court that soon after Chan, a divorcee, had checked into the hotel on the previous evening, he sent a text message to Ms Yu, 29.
She arrived in a taxi at about 2.30am. The court was not told of the relationship between them.
In the room he gave her two sleeping pills, which he said were contraceptives, and she took them.
After they had sex, he took the remaining three sleeping pills. Both fell asleep.
A few hours later he woke up, went to the toilet and drank some bleach that he had prepared. He vomited a few times and went back to sleep.
When Chan woke up and realised that his suicide attempt had failed, he decided to end his life by stabbing himself with a knife he had brought along.
The court was not told why he wanted to kill himself.
When he saw the victim washing in the toilet, he decided to attack her as he was afraid that she might call for help if she saw him trying to take his own life.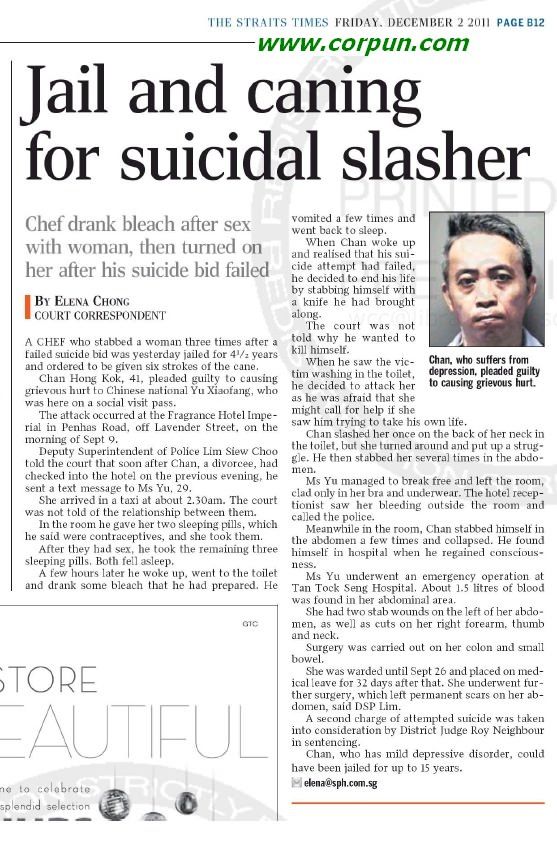 Click to enlarge
Chan slashed her once on the back of her neck in the toilet, but she turned around and put up a struggle. He then stabbed her several times in the abdomen.
Ms Yu managed to break free and left the room, clad only in her bra and underwear. The hotel receptionist saw her bleeding outside the room and called the police.
Meanwhile in the room, Chan stabbed himself in the abdomen a few times and collapsed. He found himself in hospital when he regained consciousness.
Ms Yu underwent an emergency operation at Tan Tock Seng Hospital. About 1.5 litres of blood was found in her abdominal area.
She had two stab wounds on the left of her abdomen, as well as cuts on her right forearm, thumb and neck.
Surgery was carried out on her colon and small bowel.
She was warded until Sept 26 and placed on medical leave for 32 days after that. She underwent further surgery, which left permanent scars on her abdomen, said DSP Lim.
A second charge of attempted suicide was taken into consideration by District Judge Roy Neighbour in sentencing.
Chan, who has mild depressive disorder, could have been jailed for up to 15 years.
---
---

The Straits Times, Singapore, 6 December 2011, p.A3
Jail and caning for bashing wife
Husband attacked her after she stopped him from hurting daughter
By Elena Chong
Court correspondent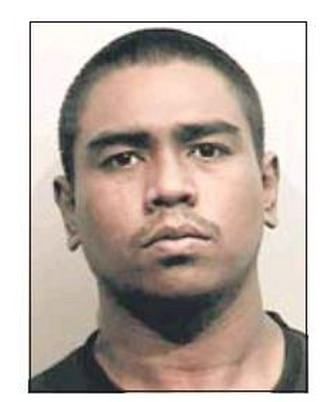 AN ODD-JOB worker stripped his wife naked, bound her with wires and beat her after she tried to stop him from bullying their two-year-old daughter.
Abdul Haleem Mohamed Nasser (right), 27, used his elbows to fracture two of Madam Nur Ruzanna Jamaluddin's ribs and a bone in her pelvis.
He also told his wife of three years that he wanted to throw her out onto the street, yelling in Malay: "You think I don't dare to place you naked outside the house."
Yesterday, Haleem was sentenced to a year and three months in prison and six strokes of the cane after pleading guilty to causing grievous hurt and threatening his 24-year-old wife.
Assistant Public Prosecutor Ashraf Hassan said the attack took place on March 2 after the toddler was sick in the living room.
Haleem began shouting at her, and then placed his hand on her neck. Fearing for the child's safety, his wife tried to grab her.
An argument broke out between the couple. Haleem slapped his wife, pulled her hair and pushed her into the bedroom. She refused to talk to him, making him even angrier.
He went to get some wires and a roll of adhesive tape. He then stripped his wife naked and tied her hands and legs. When she struggled and shouted, Haleem elbowed her three times in the body and thigh.
She pleaded with him to stop, so he stuffed a piece of cloth into her mouth and covered it with tape.
Mr Ashraf said Haleem then threatened Madam Nur Ruzanna. A short while later, he removed the wires and tape, and told her to get dressed. But she refused as she was in great pain.
Haleem then grew agitated, said Mr Ashraf. He tied his wife up again before leaving the flat in Bedok South Road.
She later managed to free herself and shouted for help. Her neighbour called the police. The victim spent a night at Changi General Hospital, and was given four days of medical leave.

Click to enlarge
Haleem has previous convictions for sex with an underage girl, offences under the Films Act, robbery, and dishonestly misappropriating property.
Lawyer Jason Dendroff said his client was depressed at the time of the attack because he had lost his job after he was injured in a forklift truck accident, and was finding it hard to get another one.
Mr Dendroff said his client was remorseful and regretted what he had done. He never intended to harm his wife, who had forgiven him and was still married to him.
She had submitted two letters in his mitigation, saying that she was aware he was stressed out because he could not find a job and they were facing financial problems.
She said she still loved him and wanted to save her marriage.
"Even though he is a bad-tempered man, he takes care of the family well and loves all of us," she said.
Haleem could have been jailed for up to 10 years, fined or caned for grievous hurt. Criminal intimidation carries a maximum penalty of up to two years in prison and a fine.
---
---

The Straits Times, Singapore, 10 December 2011, p.B17
24 strokes for man who robbed cabbies
By Khushwant Singh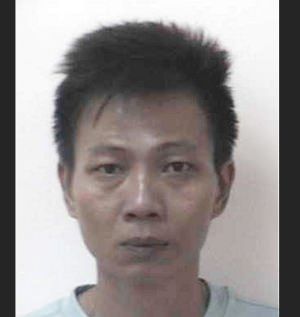 [pic from web version only, not in print version]
A JOBLESS man, who robbed seven cabbies in less than three weeks, was sentenced yesterday to 6½ years in prison and 24 strokes of the cane.
Ng Kheng Yew, 43, robbed the victims of between $90 and $600, a district court heard. The taxi drivers were all in the Bukit Merah area when they were robbed.
Yesterday, he pleaded guilty to three counts of robbery. Four other robberies and the unlawful possession of a Swiss Army knife were taken into consideration by District Judge Liew Thiam Leng in the sentencing.
Ng's crime spree started on Oct 24. At 9pm, he flagged down a taxi along Jalan Bukit Merah and told cabby Tay Chor Kwee, 57, to take him to the end of Bukit Merah Lane 3.
There, Ng pointed the blade of the penknife at the cabby's neck and robbed him of $90 and a cellphone valued at $200.
He struck again eight days later robbing another cabby of $400 and a $100 cellphone in the same area.
On Nov 4, he got away with $600. The very next day, he robbed a cabby of $100.
Click to enlarge
He grew so brazen he committed two robberies on Nov 6. At 3.40am, his takings were $100; at 9.20pm, it was $192.
Three days later, he boarded the taxi driven by Mr Lim Soon Huat, 52, at 7.35pm on the pretext of going to Bukit Merah Lane 1. There, Ng threatened the cabby with the penknife and fled with $100.
Police were on his trail by then and he was arrested that evening.
The stocky man, who has a string of drug and theft convictions since 1986, pleaded for a lenient sentence as he said he had to care for an aged mother who suffers from multiple ailments.
He was expressionless when the sentence was passed.
The minimum sentence for theft committed between 7pm and 7am is a three-year jail sentence and 12 strokes of the cane.
---
---

The Straits Times, Singapore, 20 December 2011, p.A12
Loan shark runner returns to crime day after his ankle tag is removed
By Khushwant Singh and Fiona Low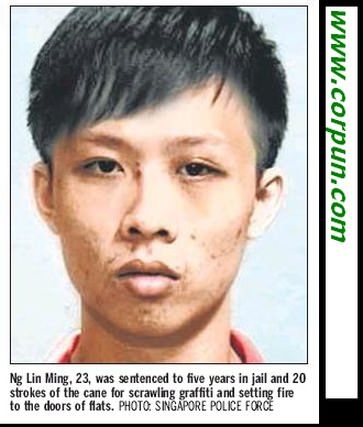 CONVICTED loan shark runner Ng Lin Ming returned to his old ways just a day after his electronic ankle tag was removed.
The 23-year-old had recently completed about 2½ years of reformative training for harassing debtors.
But instead of learning his lesson, he went on to offer his services to an illegal moneylender, a court heard.
Yesterday, Ng was sentenced to five years in jail and 20 strokes of the cane after pleading guilty to scrawling graffiti on walls and setting fire to the doors of flats.
Deputy Public Prosecutor Seraphina Fong said he was sentenced to reformative training at the Changi Prison Complex in August 2008.
Ng was released in April this year and fitted with the electronic tag. The day after it was removed, on Oct 7, he called a loan shark known only as Henry to ask for work.
Over the next two weeks, he scribbled demands for repayment on the wall of a ninth-floor staircase landing in Woodlands Drive, set fire to a nearby door with lighter fluid, then scrawled more graffiti in a lift lobby in Jurong West.
He also burned the door of a flat in Bukit Panjang and wrote on a wall at a staircase landing in Hougang. Each assignment earned him about $500.
Ng was arrested at home on Oct 24 after police received a tip-off.
As a repeat offender, he could have been jailed for between two and nine years, fined up to $60,000 and caned five to 10 times for each offence where there was damage to property.
When The Straits Times visited Ng's home in Yishun, his younger brother, 19-year-old full-time national serviceman Ng Boon Khoon, said that Ng was a very private person who never told the family how he earned a living.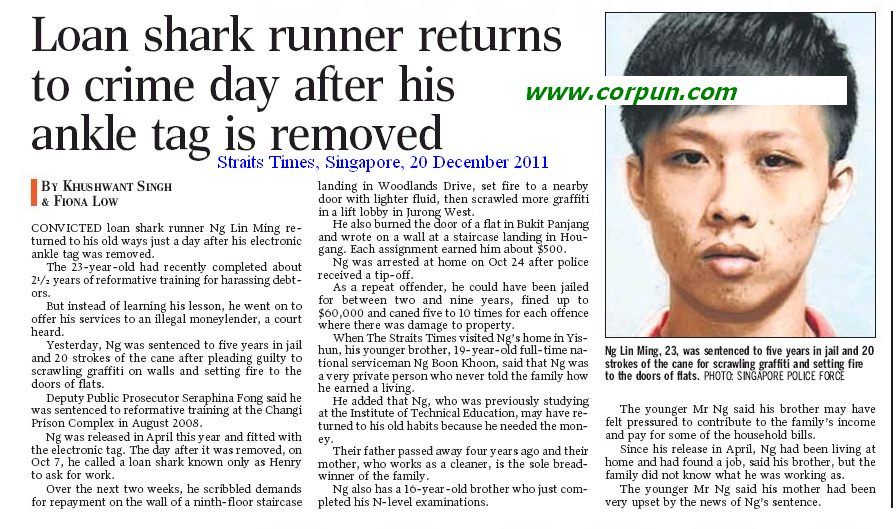 Click to enlarge
He added that Ng, who was previously studying at the Institute of Technical Education, may have returned to his old habits because he needed the money.
Their father passed away four years ago and their mother, who works as a cleaner, is the sole breadwinner of the family.
Ng also has a 16-year-old brother who just completed his N-level examinations.
The younger Mr Ng said his brother may have felt pressured to contribute to the family's income and pay for some of the household bills.
Since his release in April, Ng had been living at home and had found a job, said his brother, but the family did not know what he was working as.
The younger Mr Ng said his mother had been very upset by the news of Ng's sentence.